'Mysterium' – Steinway to Heaven?
 Pianist Antonio Artese Channels Alexander Scriabin's Obsession with Music, Scents and Colors
Italian jazz and classical pianist Antonio Artese may be on the verge of fulfilling a 100-year legacy. For performances staged recently in Cremona, Ferrara, Florence and elsewhere in Italy, Artese has been incorporating sights, sounds and aromatics as a nod to Alexander Scriabin's abandoned, multi-media and multi-sensorial event, Mysterium.
Begun in 1903, but left unfinished at the time of Scriabin's death in 1915, Mysterium was to be the fusion of the Russian composer's musical and mystical philosophies and Theosophical beliefs. Few of the legendary composer's contemporaries have benefited, even posthumously, from the aura of mystique that surrounds Scriabin's piano compositions. Many cite Scriabin's radical approach to harmony, fascination with the occult ideas of Madame Helena Blavatsky, and application of the so-named "mystic chord," said to awaken a form of gnostic wisdom in the listener and performer.
It's long been a matter of speculation as to how Scriabin would have realized Mysterium. The composer envisioned the work as an apocalyptic or purification ceremony, of sorts, to be staged over several days in the Himalayan Mountains in an effort to touch the divine. Incense was to be burned and candles and/or electric lighting arranged, offering attendees (gulping up the rarified air) a mind-altering vision of heaven.
"Electricity may have been available to Scriabin, but who knows what he could have done with technology we have today?" Artese tells PLSN from Florence, Italy. No one is certain, but Artese offers us tantalizing possibilities through immersive lighting, specially designed scents, and evocative, harmonically rich piano pieces. Just as Scriabin wished to achieve Nirvana, Artese seeks to elevate our mental state. Sensual elements of Artese's near-otherworldly productions germinate within the psyche and alter our perception through a simultaneous infusion of visual, olfactory and auditory stimuli.
"I think that is what Scriabin was saying: there is a deeper kind of knowledge, a little bit of mysticism not in a religious way, but in exploring another dimension through the music," says Artese.
‡‡         Smell of Jasmine
It was once believed, perhaps erroneously, that the symphony Prometheus: The Poem of Fire and Mysterium were created as a result of the neurological condition synesthesia — a crossing or blending of the senses, such as tasting color or associating musical tones with different hues.
Today, most music historians doubt Scriabin had synesthesia, but few would deny that he left us with a body of work paralleled by few composers of the late 19th and early 20th Century.
Although Artese admits that he's not technically a synesthete, he relates to the condition from an "aesthetic point of view," he says. A leisurely tour through Granada, Spain, confirmed this, as Artese experienced a strange conflation of sensory and cognitive pathways, revealing a Eureka moment. "I entered a small courtyard and it was at sunset, almost dusk," says Artese. "I saw a guy playing guitar by himself, some etudes by [Fernando] Sor. It hit me, this light of the sunset, which was almost blue and green. This very low-dimmed light had lit the guitarist, and then there was this incredible smell of jasmine. It was floating in the air."
The intoxicating fragrance, mixed with the visual and audio information his brain was processing, enhanced the power and enjoyment of the music. It was then and there Artese knew he wanted — and needed — to make a change in the way his presented his solo piano show.
"I said, 'What if I play a nocturne by Chopin and put the blue lights on and smell jasmine and orange blossom?'" Artese says. "I started studying more about the olfactory impact and how we select fragrances and how we can dilute them, how we can we spray them…"
Artese developed a relationship with master perfumer Sileno Cheloni of Aqua Flor, and has since used custom fragrances for his piano recitals. "Now that Antonio is also working as an olfactory specialist there, and has studied more on perfumery, he intends to create special mixtures in the Aqua Flor lab for future editions of Mysterium," says Samantha Stout, lighting designer for Artese, who also happens to be Antonio's wife.
"I reviewed some of his collections and, magically, when you start smelling something that has a little bit of character you can connect immediately certain things to that," says Artese. "What I do is find what common traits exist between a fragrance and a piece of music."
Number 16 prelude, in B-flat Minor of Scriabin's 24 Preludes, Op. 11, for instance, inspires certain fragrances. The lighting design is based on "the color of fire," says Artese, while frankincense, amber, oud, work well as complementary aromas. "The fragrances are related to the darkness of the … intervals that are generated within the piece and also the dynamics," says Artese. "It starts soft and then it goes fortissimo."
Fragrances used for Artese's own composition, "Inner Garden," were inspired by walks through the botanical garden in Florence, Giardino dei Semplici. "Especially certain times of day," says Artese. "These are inner discoveries, focusing on the inner promenade, in yourself. I tweak these fragrances because I want something more related to the lavender, rosemary, olibanum or sandalwood in it."
As pleasant and unmistakably musky as these scents can sometimes be, the danger in working with perfume is unwittingly allowing a particular aroma to choke the room. Too little of a certain smell and the audience member will not be transported; too much and he/she might be restless or motivated to run for the exit.
"One of the last performances we did we played before 1,200 people, and we had to figure out how to diffuse fragrances," says Artese. "There are lots of machines you can use as diffusers, but they saturate the environment. The fragrance needs to settle before the next one is detected. Small droplets will fall to the ground, and if you have enough ventilation … you will experience the aromas, but will not be overwhelmed by them."
"We usually get some volunteers, especially for the big auditorium, where we use four fans, almost one in each corner, and four volunteers who will spray the perfume in front of the fan at the right moment," says Stout.
‡‡         Three "Moments," Three Colors
Artese's Mysterium is divided into three sections, and these "moments," says Samantha Stout, are accompanied by a trio of color: blue, red and green. The lighting design is immersive, the hues rich, saturating, almost musky.
"The light wash should be behind the pianist and piano, so that the audience sees him enveloped in the color," says Stout. "Additionally, I look to spread light to the floor and ceiling for an immersive effect. I make two complementary groups of lights so that I can blend subtle shades of color, creating different hues that mix together while the entire effect remains in the core color — blue, red and green — of that section of the concert. "I'm doing a busking effect, active lighting control with the dimmers, while Antonio plays piano," Stout adds. "The concert uses a lot of darkness. We are denying the audience visual so they are forced to use their other senses. The lights come up slowly in pure blue as the piano music starts. During the course of playing the three nocturnes [Chopin], I'll add a little bit of red channel and then go back to pure blue. Next I'll add the green channel and then return to pure blue."
"Nocturnes, obviously, immediately call for shades of blue and fragrances that are slightly cold and more floral, in my opinion," says Artese. "If you want to be keen about that, you can use some tropical flowers, like frangipani or jasmine, together with some ambers and vanilla. That gives you an idea of a garden at night."
"I like to have at least 24 channels and a master dimmer so that I can have two groups of colored lights and at least one white fixture for Antonio's spot, so I can control the RGB's separately and easily fade in and fade out, to and from black," says Stout.
A typical performance sees Stout controlling anywhere from eight or ten BeamZ LED Flat PAR 64 fixtures. "I set most of the fixtures on the floor and point to the walls and ceiling," says Stout. "I typically bring two stands to raise two lights and illuminate Antonio."
Unique opportunities and challenges presented by different venues are determined by space and architecture. "I try to use the geometry of the hall, because a lot of times we are in these cool venues," says Stout. "There will be a cornice or a work of art or strange ceilings that are fun to work with, and I'll use a two-toned color effect to my advantage."
Artese and Stout have envisioned a number of changes to the show, including staging it in the round and controlling the lighting effects by triggering cues from Artese's Steinway grand piano. For now, however, good old tried-and-true methods and analog solutions are the approach.
"Samantha is playing the light board exactly how I play the piano," says Artese, who employs a Yamaha C7 when a Steinway is unavailable through local musical instrument providers. "She follows her own intuition, so the idea is to create lighting effects on the spot."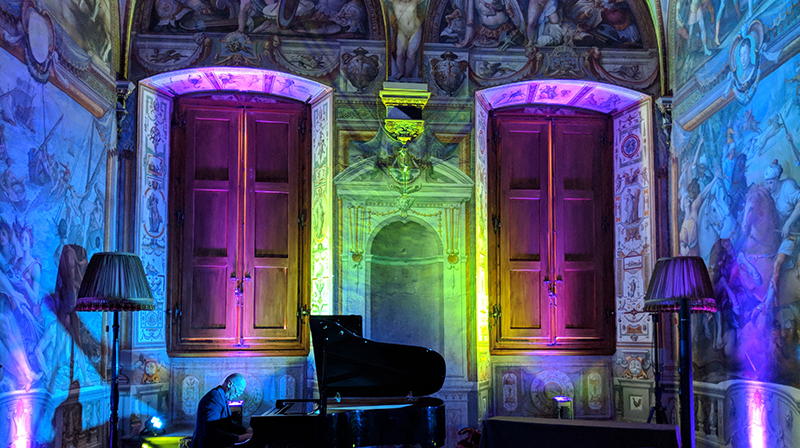 ‡‡         Personal Journey
No question that the Mysterium shows are mystical, even spiritual. But they are also quite subversive, touching audiences on deep psychological levels and working on the minds of the audience members.
"These concerts make the audience lose an aspect of control," says Stout. "Because your sense of smell goes directly to the limbic system of the brain, which is attached to memory, you could have an audience in which every single person has a different experience, starting from the first fragrance [of the show]."
"It's your own individual inner journey," says Artese. "Believe it or not, Mysterium is the antithesis to virtualization, because you need to be there [in the hall] and need to function as a sentient human being involving all your senses.
"Connection with an audience is important and gives the performer energy," Artese continues. "It's not a one-way street from the performer to the audience. You draw energy from them and amplify or change it and give it back to them. You want to remain in this continuum. The performer — and the audience — should want to lose themselves in the music."
Leave a Comment: