NAMM Evolves with Large Lighting and Theatrical Presence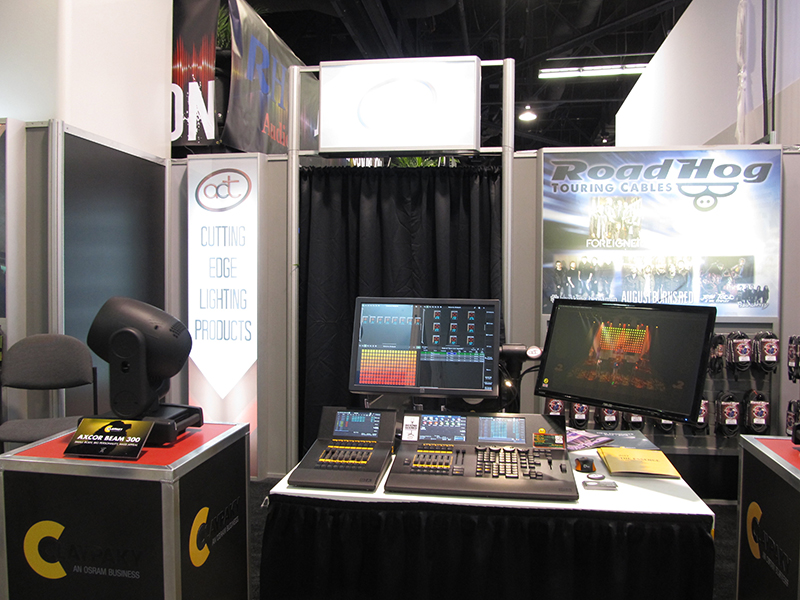 NAMM is certainly not a new show for the entertainment business. It's an annual event held in Anaheim every January and is one of the two largest music product trade shows in the world. Its European counterpart is the Musikmesse in Frankfurt. NAMM stands for the National Association of Music Merchants. The group has evolved into an international association whose members now include commercial companies, distributors, affiliates and manufacturers.
The sprawling trade show has long attracted musicians and backline technicians. Audio personnel were able to check out some of the newest toys in their field as well. For years several lighting companies that catered to the DJ and smaller markets (such as ADJ and Chauvet DJ) had been showing off affordable wares for quite some time. But a lot of that changed this year. In fact, half of Hall A was dedicated just to the lighting world. Major players from all over the world were on site to show off some of the latest hi tech gear available in their inventory. A lot of companies came in with small booths, feeling the waters as they embarked on their first NAMM show.
I have to think that it was a wise investment. Thousands of people in our industry who may have never had a particular interest in lighting before, walked through that area and got an education. From lighting fixtures to case construction, theatrical hardware to console training, it was all on hand.
One of the more amazing attributes of the NAMM show was the educational classes presented by PLSN and FRONT of HOUSE magazines, entitled the Pro Production series. With popular designers/directors ranging from Robb Jibson to Mark Haney, Bryan Hartley to Anne Militello, riding shotgun over a panel of legendary speakers, classes covered audio, lighting, video as well as tour and production management. Parnelli Visionary award recipient Jonathan Smeeton gave his lectures and sat on many panels offering tips and "common sense" lighting points that are often never taught to youngsters.
The Parnelli Awards were the crowning achievement of the weekend. The 17th year of these awards was different than any I had been to, as the move brought many new faces to the event. Tons of heavy hitters and young faces alike mingled and networked for the industry's largest shindig.

In conclusion, I saw a camaraderie that was different from most trade shows. I can't put a finger on it, but I really enjoyed seeing everything. And kudos to Frank Montero of ROE Creative Display for having the foresight to put some video products on display at the Roland booth. It brought together their DJ show as well as their own awards show later.
Check out a few of our friends below, in attendance at NAMM this year.
Leave a Comment: