Prolight + Sound 2018: PLSN Show Report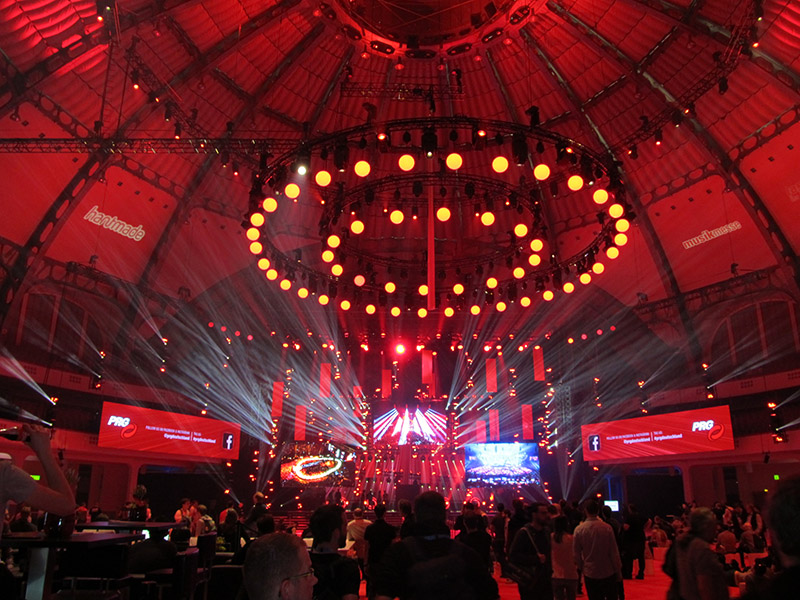 Here's a look at the Show Report on the Prolight + Sound 2018 exhibition, soon to be featured in the May 2018 issue of PLSN magazine. The trade fair took place in Frankfurt, Germany from April 10-13, with 1,803 companies from 56 countries in attendance. A record 90,000 visitors flocked to the annual site to view the latest tools offered to the live entertainment market.
The biggest news on the floor was the showing of the new grandMA3, which is scheduled to start shipping early summer. The booth was packed as people waited for a turn to get some personal introductions to this new line of lighting consoles.
My favorite new fixture was a laser model made by Minuit Une called the IVL Carré. It just did cool things that no other fixture is currently capable of. Hopefully it will get released in the U.S. soon.
Software-wise, I was impressed with Avolites' developments in lighting and video integration where Titan consoles and Ai servers talk to each other and make management of two separate devices easily accomplished with one system.
Bulb-wise, Philips showed off some nifty technological advances that assured me the arc-sourced bulb is not going away anytime soon. The projected usable life of their new range of bulbs has also expanded considerably. Osram, on the LED side, has a tunable COB source with individual control of the RGBW cells of the chip, allowing users to set their own color temperature from the lamp source.
Fixture-wise, I loved the Chauvet COLORado Solo Batten because of the unique lens they have covering the LED cells. I can't describe it, you just have to see it to say wow. Elation had no fewer than seven new fixtures, all of which fill a niche in the market. I was drawn to the Smarty Hybrid — a cool, compact fixture with a lot of attributes. As for hard-edge fixtures, I found the new Synergy from DTS Lighting to be quite sexy as I ran through the functions.
In terms of video advances, I must give kudos to ADJ and Yes Tech for their lines of video tiles that include triangular and curved corners for assembling walls into unique shapes.
Read on for more products that caught our eye in Frankfurt this year.
Absen — The maker of fine LED tiles unveiled the TS series, which stands for transparent. Also on hand were the various models of the popular NXTGEN technologies Polaris and Altair ranges of LED tiles. Also shown was the new Cobalt Chip-on-Board (COB) series of LED tiles.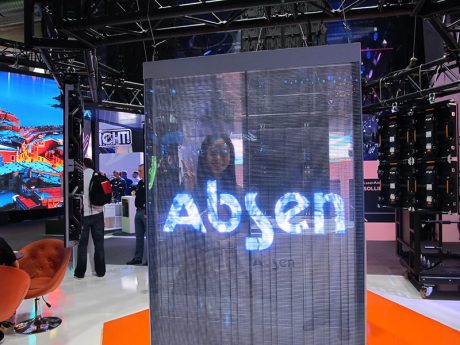 ADB — Their Lexpert line of conventional fixtures were shown for the first time at PL+S. The Klemantis strip has RGBACL colors for ultimate cyc usage. The Oksalis is an architectural flood light that can achieve all colors.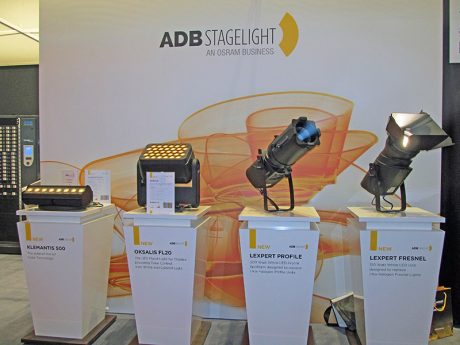 ADJ — Besides their Vizi CMY300 moving head, ADJ also showed off their Mod and Hex series of LED Pars. The big addition we noticed was the Design Series video tiles — the DS4 (square), DS4T (triangle), DS4QC (quarter circle) and DS4HC (rectangle).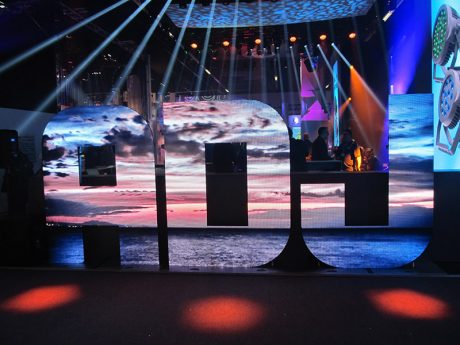 Altman Lighting — On hand were the Pegasus LED Fresnel line and the Phx (Phoenix) LED Profile. The versatile Gallery family of luminaires, for use in museums, art galleries, hotels, retail and restaurants, was impressive.
Analog Way — They've entered the media server market with the Picturall Pro 8K media server. Specs include a modular design, extensive I/O capability, up to 16 4K@60 10-bit pixel accurate outputs; beyond 8K playback performance and flexible integration with third-party control systems.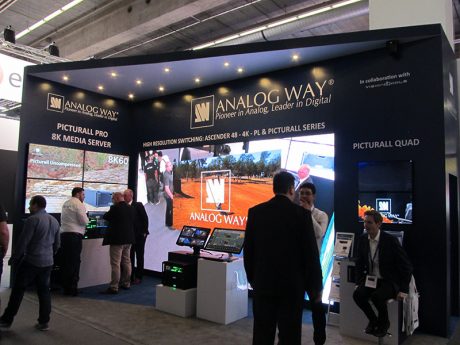 Antari featured a large assortment of various types of smoke, fog and haze including the HZ-500 hazer and FT 100 Fogger, for thick fog and thin haze. The FT 50 is a compact yet powerful fogger often used by fire departments for training purposes.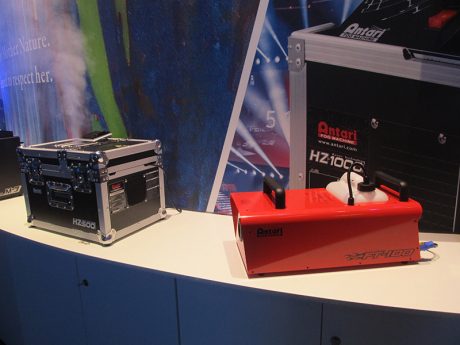 Apollo Design — On display was their line of gobos made to size for any instrument. The company also added the Avere 3 COB fixture to their extensive line of Avere par fixtures.
Area Four Industries — Truss products from its four members, Litec, Milos, JTE and Tomcat were on display. This included Tomcat's Nemesis pre-rig model as well as Litec MyT truss. The line of EXE hoists and controls were shown as well as barricades and other structural items.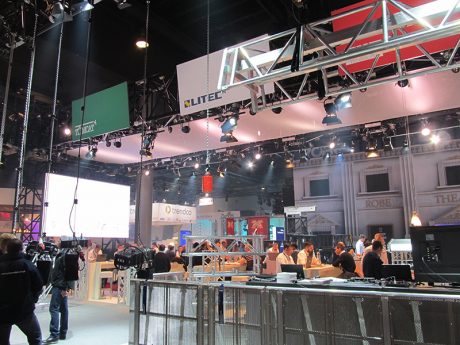 ARRI — The SkyPanel has reached new heights in the line of soft lights. The SkyPanel S360-C has ten new features for advanced control, including an easier and more intuitive color search with Extended Color Control, as well as the control of each single LED.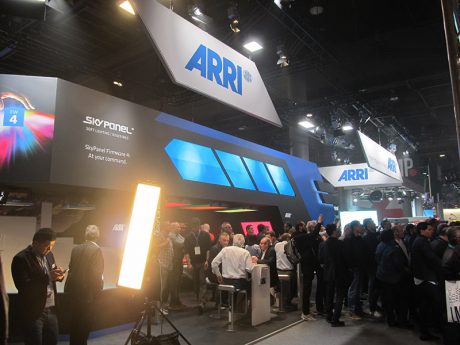 Astera — At their stand, viewers got to play with their four models of LED pars, the AX1, AX5, AX 7 and AX 10. The latest ranges of slick covers and charging stations for these battery-operated devices was also on display, as was their 16W AX1 Wireless PixelTube.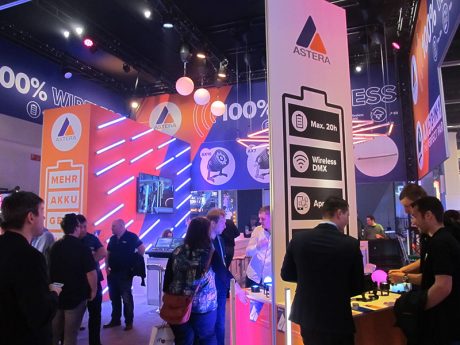 AV Stumpfl once again the showed why they are a world leader in projection screen technology, featuring the new T-32 Shift screen. The Wings Engine Raw media server delivers 4-stream uncompressed 4k60 for uncompromising playback quality.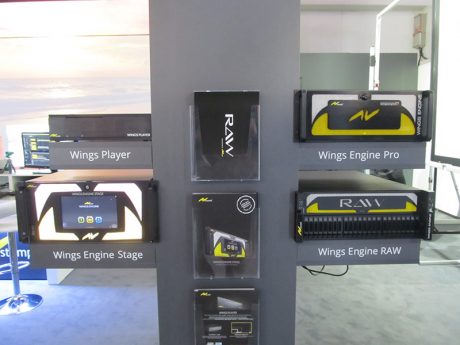 Avolites — Synergy was the theme behind this year's booth as the company explained how utilizing their Titan console line with the Ai media servers benefits everyone with software integration. Newly shown was the Q3, a compact media server that got a positive response.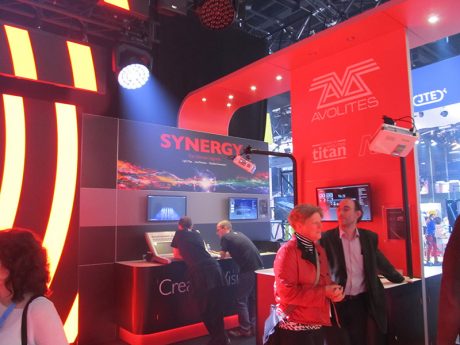 Ayrton displayed the 9-ring WildSun K25 TC (True Color) with its 70K of white lumens. The Bora TC is a sweet moving wash fixture with an LED engine that kicks out 32K lumens and has a CYM color system. A MiniPanel FX version of the MagicPanel FX was also shown, along with a MiniBurst.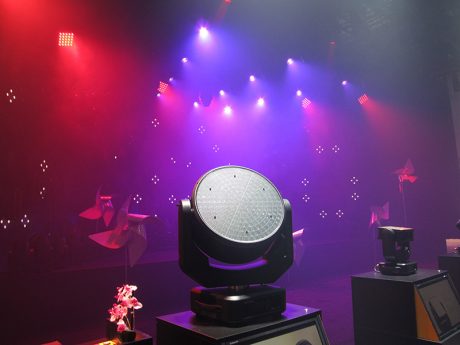 Beckhoff — The leaders in automation technology showed us various control platforms for electronics used in motion control. One controller can connect all the drivers for sets, lights, video and audio playbacks through an interface. Great for theme park applications.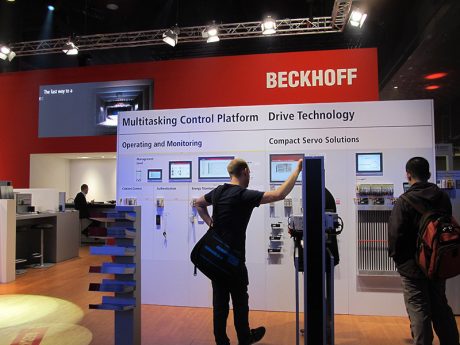 BroadWeigh — The load cell masters were on hand to discuss the options their company delivers including wireless shackles for monitoring loads. New this year is the simple plug-and-play USB for monitoring your system from any laptop within distance.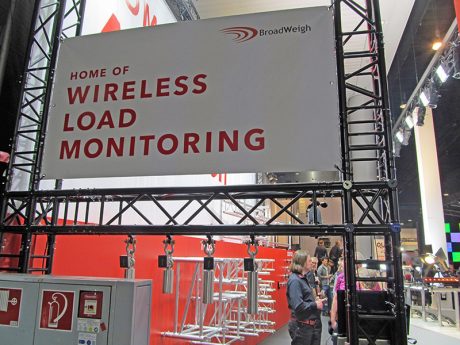 Chain Master — The makers of Vario lifts also offered up the Jumbo lift, which is capable of lifting 12,000 pounds. Also shown were load monitoring, variable speed hoists, controllers and wireless control devices for operating hoists.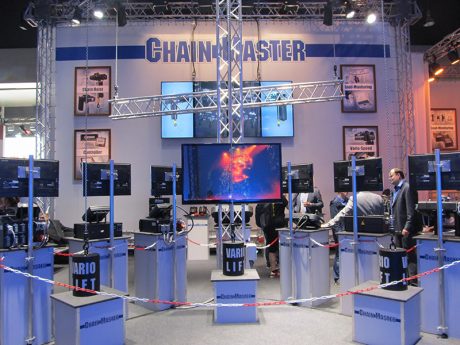 ChamSys — New to the scene this year is the line of QuickQ lighting desks that have a quick and easy user interface. They are more of a basic line of desks aimed at theaters, schools and smaller lighting displays. Built-in Wi-Fi allows for remote control from a tablet or phone.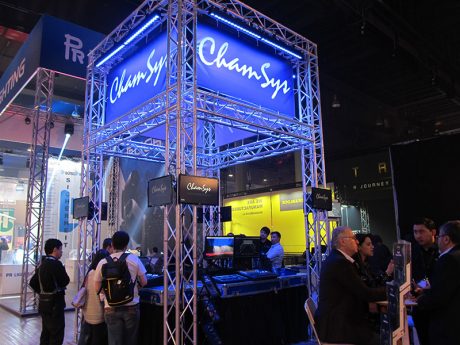 Chauvet Professional — The new COLORado Solo Batten has an amazing glass diffuser cover that has to be seen to be believed. The Maverick Storm 1 Wash is an IP65-rated pancake wash. The Strike P38, a compact, single-cell blinder, is the newest member to Chauvet Strike Force.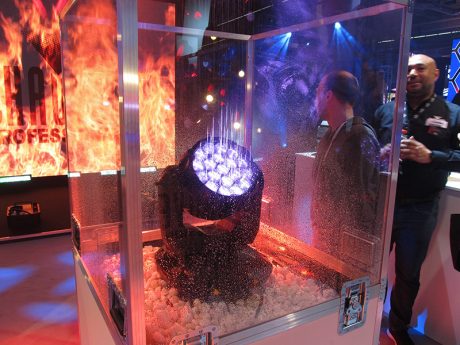 Chroma-Q — The Color One 100X is a sexy little LED par with a homogenous beam. They introduced the Studio Force D 12, a 6100K CCT, daylight white version of the batten that is specifically designed for TV, film and exhibitions.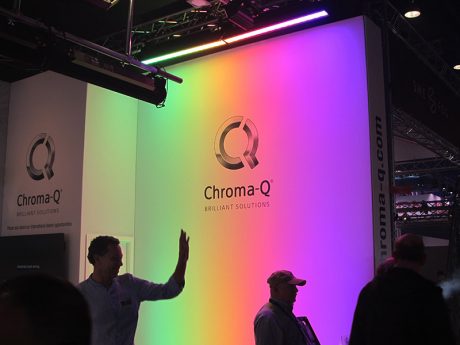 Claypaky — The Axcor line of LED sourced movers was on display as Claypaky expands its offerings of moving lights with LED light engine sources. Also shown was the world premiere of the Zac-Eye, an automatic light tracking system that uses artificial intelligence.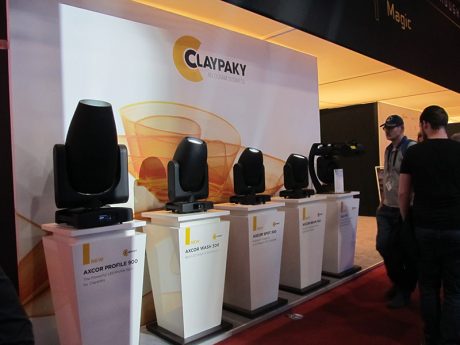 CM — Columbus McKinnon is still a major player in Europe with the traditional Lodestar models. New Prostar models are now being manufactured with variable speeds and will soon be offered with programmable limit switches.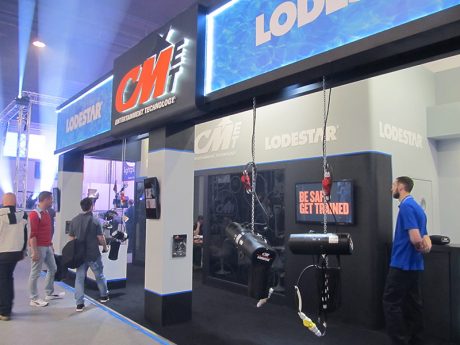 Dicolor went big with a humongous 144 square meter display made up of 4.8mm tiles containing black SMD LEDs. The M-Pro series built for touring can rotate ± 5° for curving. Also shown was the X-261 plus model, with a 2.6mm pitch, and the M-480 Pro Mural Series for mall displays.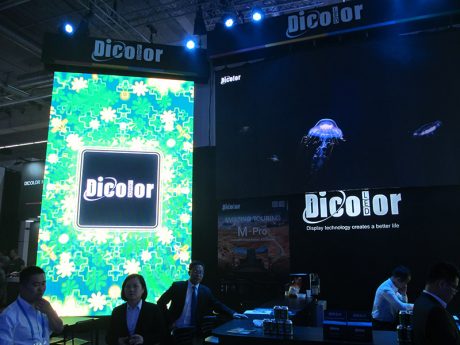 disguise — The media server company demonstrated how Notch software and real-time rendering are possible. Features such as Schematic, Lux, VR and Heat maps are available. New this year was the Solo, a stand alone server designed for simpler applications.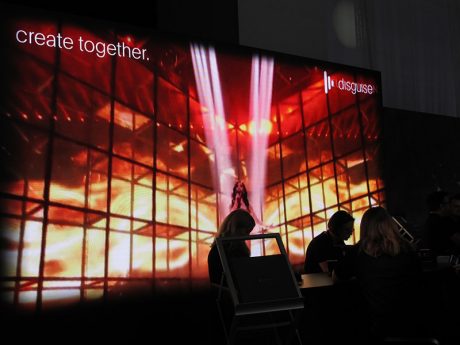 DTS Lighting showed off their variety of moving and stationary lights, but the masses stood on line to play with the Synergy 5 profile, a new LED sourced mover with a 4.6° to 43° motorized linear zoom + autofocus, a high-precision rotating framing system.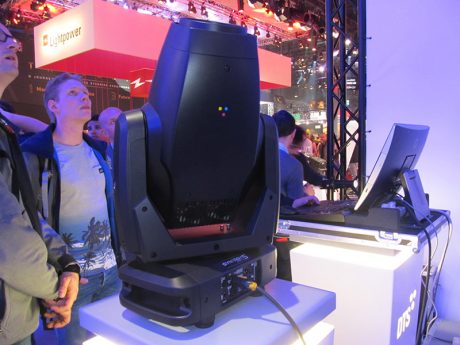 Elation had seven new products on display along with their recently-acquired M-Series of consoles from Martin. Other highlights: the Artiste Picasso, a feature-rich profile LED; and the Smarty Hybrid, a compact CMY color mixing hybrid using the new Philips FLEX 200 bulb and an interior motorized barn door for beam shaping.
Enttec featured a variety of their pixel operating devices while explaining the different uses of each model. New this year was Enttec Pixelator PX1-8D, an 8-port, 16 universe pixel controller for DIN rail systems, based on the same functionality as Pixelator drivers.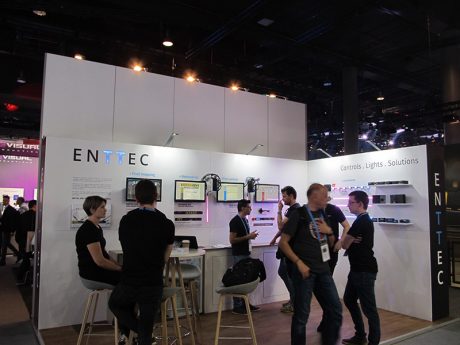 ETC — The famous fixture manufacturer displayed all their recent lines, but what captivated many was the expansion of the Prodigy line of rigging systems. The new P2 features eight 3/16" lift lines, 50 feet of travel, load cell, slack line detection, positioning encoder and more.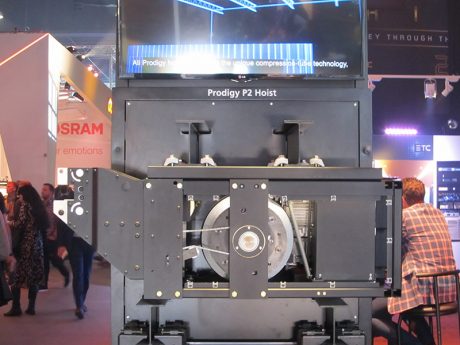 Eurotruss — One of the leading suppliers of aluminum truss systems on the international market, they built a beautiful stand and invited people in to talk to sales reps from all over the planet about the truss, staging, hoists, rigging material and lifters they have to offer.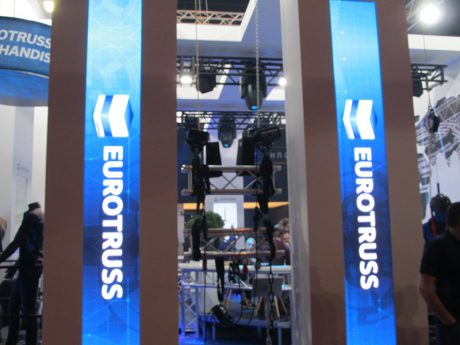 Gerriets showed off the self-adhering and highly transparent Inviscreen projection screen that transforms glass and window panels into projection surfaces. Also on display were their kabuki mechanisms that have a patented fabric clamp for releasing cloth with no grommets.
Global Truss — Besides the truss skull that attracts the masses, the company showed off their new F45 truss system. Designed to balance a center load on a box truss, the truss has a center rail across the bottom for hanging video walls, etc., and keeping the truss centered.
Gloshine — They had their gorgeous X1.9 mm indoor tile (front serviceable) on display showing the ultimate in high resolution. A ground-supported curved wall of MV 2.6mm tiles showed the great capabilities of their products. The LC transparent screen curves ±5° as well.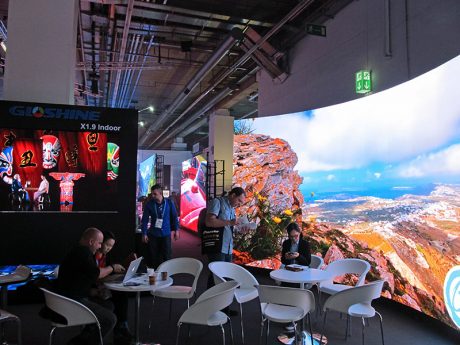 GLP unveiled a revolutionary new LED product. The KNV Cube + ARC Strobe Blinder Pixel Block is just what it says, a light effect that is made of modules one can interconnect to form weird shapes. The new Atom FRI now has a 60W source along with pan/tilt capabilities.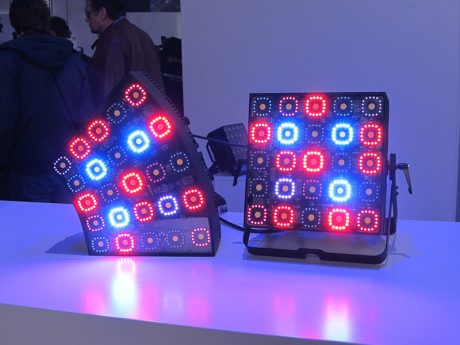 Green Hippo — Their stand was packed with people getting an education on the different media servers they offer and which are best suited to an individual's needs. V4's multipurpose pre-visualization tool is built right into the Zookeeper for ease of use.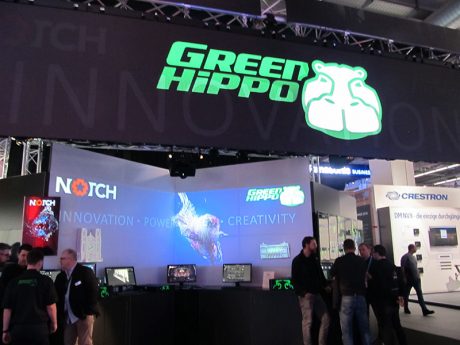 Gtek/Aoto was on hand to show off their variety of LED video tiles, which included the M8E, M5.8E, M2.8E and M 1.8E models.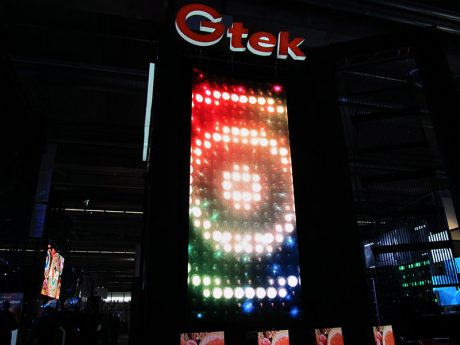 HazeBase — The Low Pro system of LSG proved they have mastered this effect. Their wide range of foggers, hazers, accessories and pharmaceutical-grade, water based fog and haze fluids were all on display.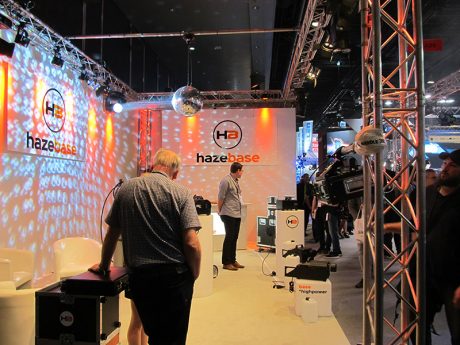 High End Systems — They offered the best of both worlds. They debuted the brightest LED hard edge mover the world has seen yet, the SolaFrame 3000, delivering 38,000 lumens. This year they also featured the compact SolaFrame 750, for folks who don't need as much horsepower.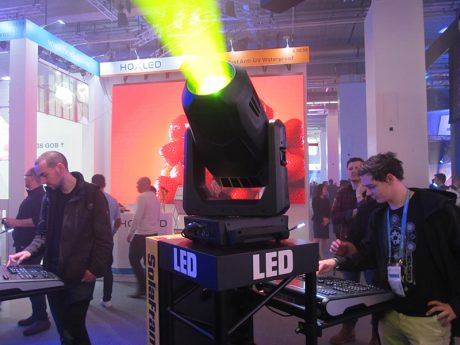 ImageCue — The world's handiest, easiest media server made some real progress this year. They no offer content loading via Wi-Fi devices, as opposed to a USB device. Simple projection mapping has been added and the advent of CITP will be coming to the product soon.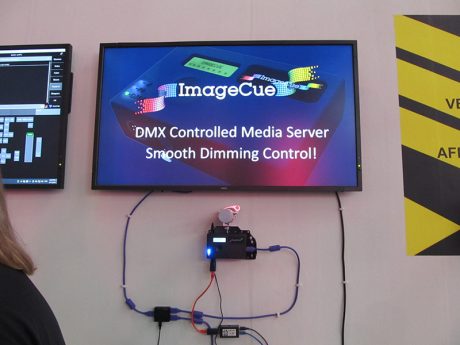 Indu-Electric — Once again they showed off their excellence in power distribution and cable manufacturing. This year featured their waterproof AC distro racks being assaulted with water.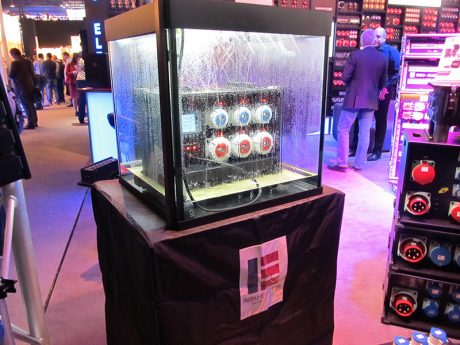 INFiLED — Their booth showed off their various products including their ability to make a cylinder out of their X range of video tiles. They highlighted their ER Series, with models made in 3.9, 4.6, 4.8 and 5.9 mm pitches. Their S Series has a nice ground support system as well.
Kinesys showed off their Apex line of chain hoists and their Elevation system of control. The new Apex system adapts to all European codes with an 8:1 safety factor, redundant switches, encoders as well as the brakes. They now offer silent brakes and 100 fpm speeds.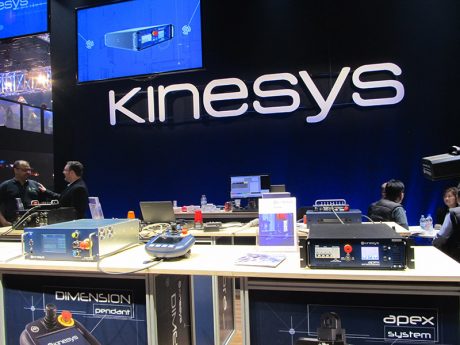 Kinetic Lights — These innovators, known for their DMX-controlled power winch system for lowering and raising LED balls, mirrors, and any other lit device, displayed new circular mirrors lined with LED tape, bouncing light beams off the underside of them for cool effects.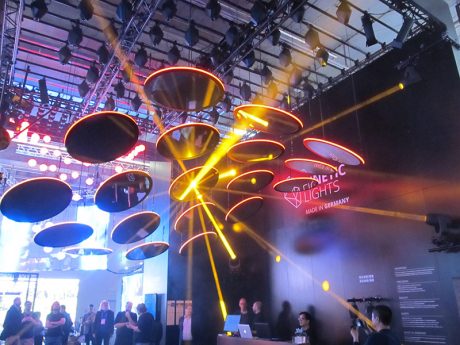 Kvant brought a wide variety of their lasers to the show, including their 33W RGBY33 Spectrum and their new Burstberry units, which can attach to each other and form unique solid shapes of lasers. Overhead, they displayed their new laser bars that come in red and green models.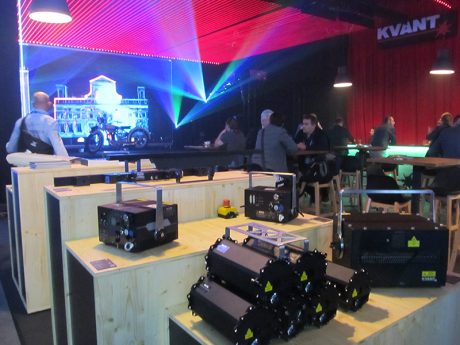 Laserworld — The RTI Neo One is a 3.6W compact laser that creates great shapes in the air. Users can physically connect fixtures into shapes. (144 of them were used in the PRG demo). DMX controlled lasers include Pico RGB 20W lasers with optical gradients in front of the lasers for great glass effects.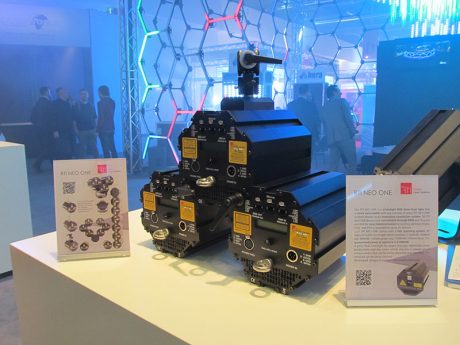 Le Maitre — The special effects masters drew attendees with their latest smoke and pyrotechnical devices. The HazeMaster and EcoHazer both spewed excellent amounts of particles while the Salamander canister flame units can be coupled together in groups.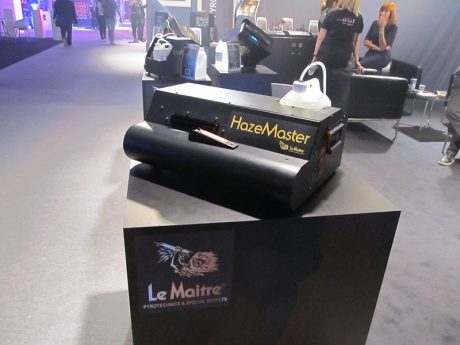 Lee Filters' line of gel products now includes filters for LED panels. These various diffusers and warm amber tones prove to be durable filters and easy to attach. They last 20 times longer than typical gels.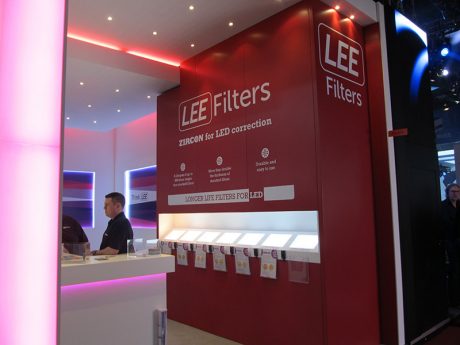 Look Solutions — The Germany-based maker of atmospheric products showed off their Cobra 3.1, Viper 2.6 and CryoGate low smoke generator. Always impressive is the Unique 2.1 hazer, which emits a steady thin beam of haze perfect for most stage applications.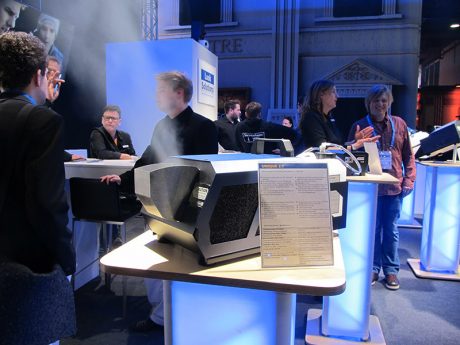 LumenRadio celebrated their tenth year in the wireless DMX business. New was the MoonLite, a new patent-pending wireless lighting control product with ultra-reliable CRMX technology combined with Bluetooth connectivity and a built-in battery.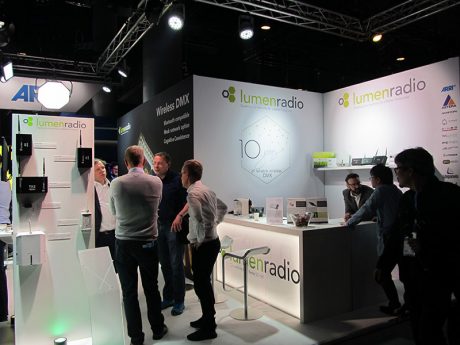 Luminex — Of particular interest this year was the LumiSplit, where one can experience the ultimate Remote Device Management tool. This DMX splitter spits out signal dealing with Art-Net, sACN or DMX.
Lupo showed their assortment of Italian made LED Fresnels for film use. New this year was the Superpanel 1×1 Dual Color LED panel. It can be run in standalone mode or via DMX. One knob controls intensity while the other controls the hue from the magenta though the green range for your camera.
MA Lighting — The grandMA3 made quite the impact on everyone who got a chance to get educated on the new features of the desk. Instructors stood by many consoles to answer questions while additional introductory sessions were held in a tiered theater setting. (For more, see "Product Spotlight," this issue, page 70).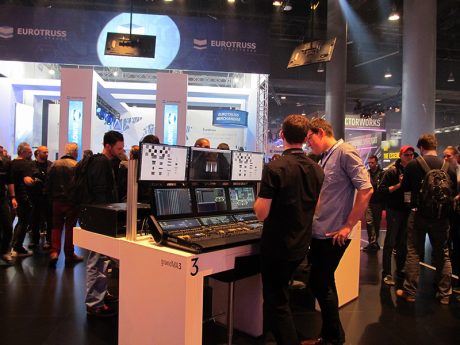 Madrix showed why they are the industry leader at manipulating pixels. Introduced this year was Nebula, the new driver for LED strips with single pixel control. Up to 1,360 RGB pixels can be controlled for each device.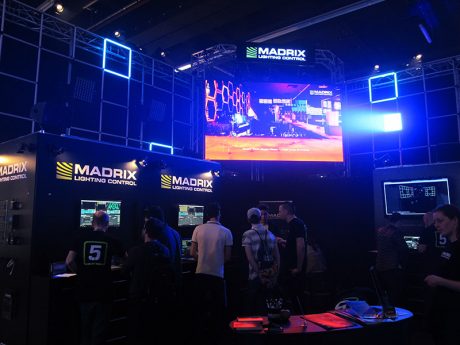 Martin — The Encore series of LED moving profiles was on hand in both a cool and warm version of color temperature outputs. Also featured was the Rush MH 11 Beam fixture.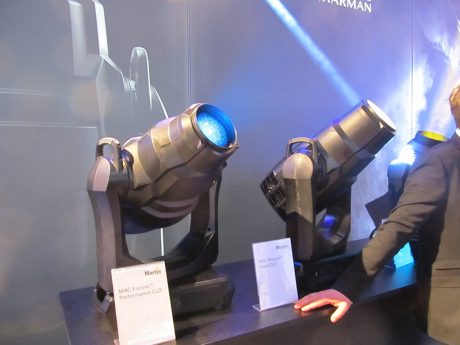 MDG — Celebrating 35 years of making fog, the company showed off why it is your choice for huge stadium events, with items such as the Ice Fog Q and its compact cousin when it comes to low smoke generators.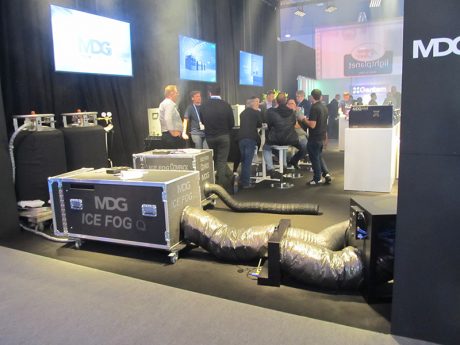 Minuit Une showed us the IVL Carré. A laser fixture, it produces four directive light plans, one on each side of a square. Each plan is adjustable in a 180° angle to create stunning perspectives when combined together. The light plans of each side can be cut into 1, 2, 4, 8, 16, 32 or 64 beams.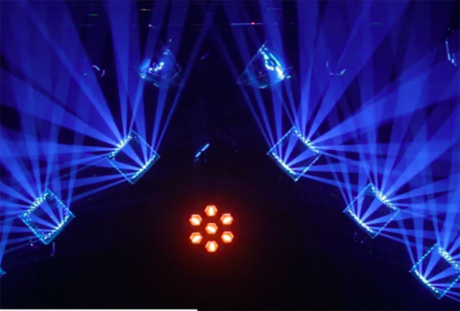 NovaStar — New to PL+S this year was the NovaPro UHD image processor and media server that integrates video processing and 4K sending and system control, giving users ultimate control with only one product. Also shown was the V1 video processor and the TR100 Receiving Card.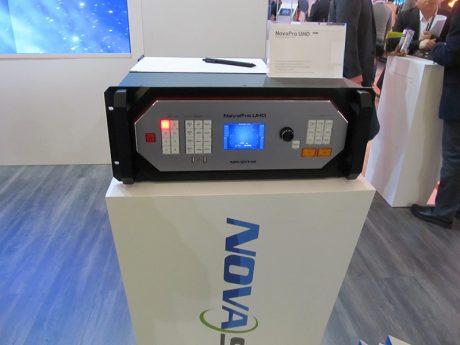 Osram — New products such as a single source, multi-channel LED chip made of RGBW diodes. The user can tune the color temperature from 2700-7000K via the light source itself. LexiGen technology is now combining a lens with an emitter, and Osram may have the next game-changer.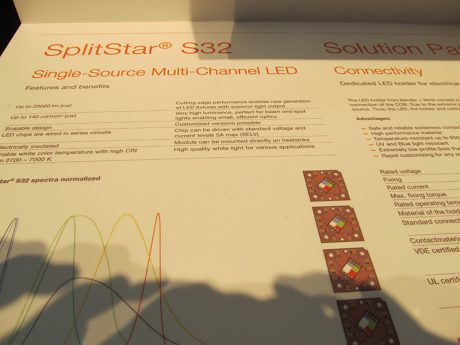 Pangolin Laser Systems — Justin Perry and his team were on hand to show you their new V4 software and how LDs are starting to use it more. The software was featured on many laser booths at the show.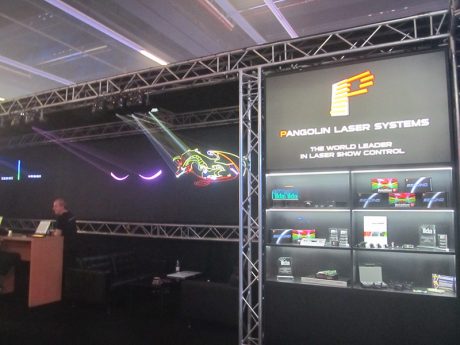 Philips — Their entire focus is on "Connectivity." New technology was shown in their FLEX product, a 200-watt range arc bulb with a peak power of 280W. It has an intelligent driver in the lamp. When a fixture's shutters are closed, it senses it and reduces power. A 6,000-hour lamp life is now a reality.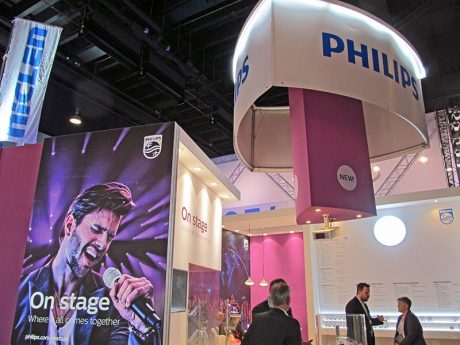 Philips Entertainment Signify — Along with their new name, the lighting fixture department showed off the Vari-Lite VL800 BeamLine, a new fast moving striplight. The VL 2600 line was introduced, replacing the old 2500 series with LED-sourced models.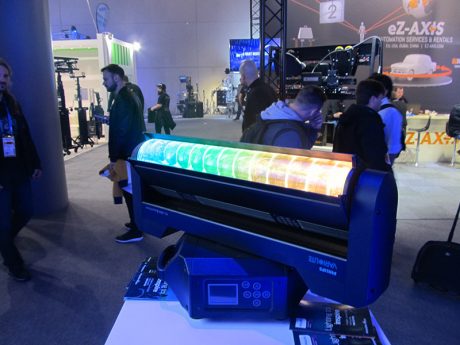 Portman Lights — They introduced the P3 PIX3L model. The hex-shaped head holds three tungsten bulbs. Each head can physically connect to another to form interesting arrays.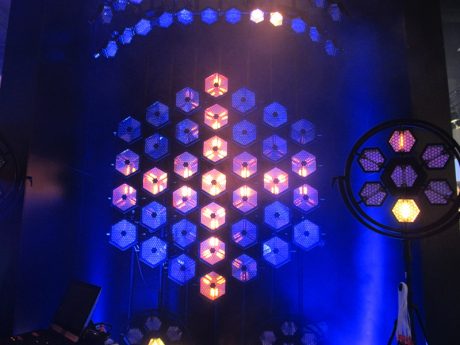 PR Lighting — On display was the Aqua series of waterproof fixtures of all ranges. The Aqua LED 600 Spot, Aqua 480 BWS and Aqua 480 Beam were shown, as were the 230 and 350 BWS hybrid fixtures and the Omega, a six-cell RGBW striplight.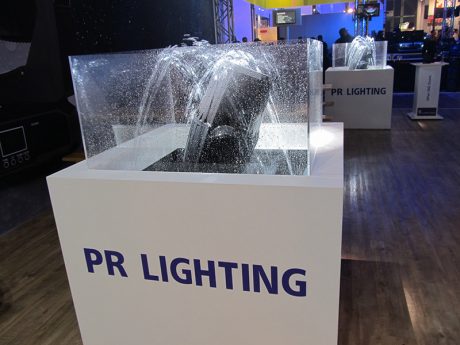 PRG took over the Festhalle to put on a remarkable light and laser show. On display in the foyer were the GCeX Followspot System, a specification-grade model of PRG's GroundControl System. The GC SpotRay Luminaire is a compact precision-engineered automated luminaire optimized for followspot work.
Prolyte Group featured a new range of trusses designed for LED walls, with Prolyte products helping users build up or suspend LED walls with ground support. The StageDex line now includes EasyFrame D support brace for their stage decks.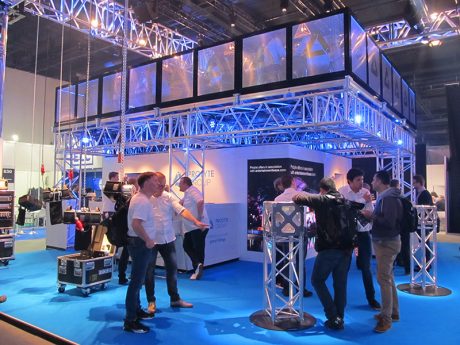 RC4 Wireless — On display were their three ranges of lines they carry for lighting dimming small objects, controlling DMX wirelessly and operating LEDs. They make different products for dealing with LumenRadio and Wireless Solutions specifically.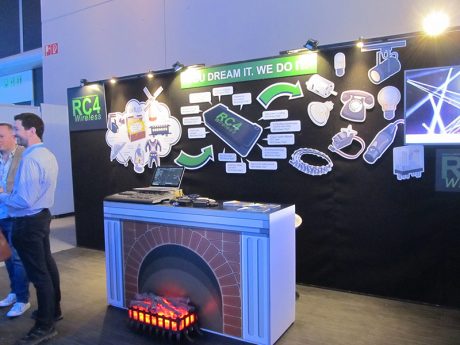 RGBlink — The manufacturer of pro video scaling, switching & routing technologies for integration, broadcast and entertainment showed off the T-One switcher as well as their line of Flex LED panels that come in 4, 8, 16 and 32mm resolutions.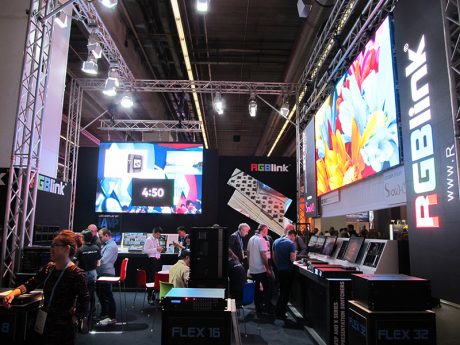 Robe — The Cirque Robe performance brought in masses of attendees and helped the company showcase many new fixtures, chief among them the MegaPointe. Also in use were the new (yet retro) onePATT and the Tarrantula pancake effects light. Robe also featured their new CycBar 15 batten and the ParFect 150 in an IP65-rated assembly at the show.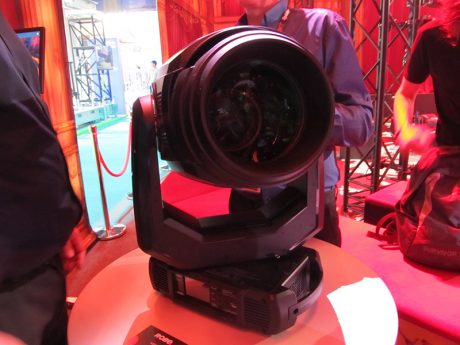 Robert Juliat — New this year was their SpotMe automated system for tracking lights to work like spotlights. Also new were two new versions of LED sourced fixtures — the Charles 960SX, a profile ellipsoidal spot; and the Oz and Alice spotlight models for long and short throws.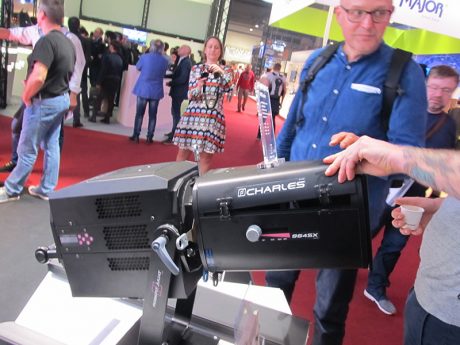 ROE Creative Display — New and extremely impressive is the 2.6mm Diamond LED tile, a new lightweight, small-pitch option for various indoor applications. With its ultra-light weight frame design trimming weight for these half-meter-per-side panels to less than 10 pounds, this LED screen promises to deliver a life-like viewing experience.
Rosco — The company showed off their soft light panels. The Silk 220 garnered great reviews and can run on batteries and be color-tuned. Also of interest in the booth was the DMG Lumière MAXI Switch in their booth, a dual panel, bendable frame fixture that packs a tremendous amount of power.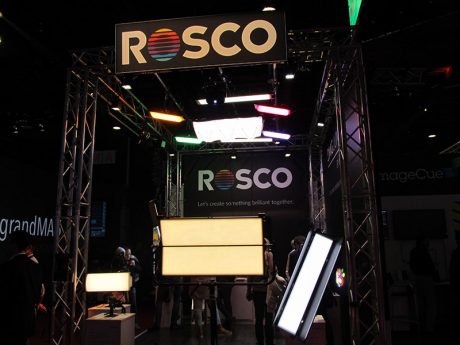 Schnick Schnack Systems — This company excels at pixel routing, and various LED tape and video-to-network computing. New this year was the Profile 18 LED tape with different diffusers to cover it, and also the Series D system of tiles and pixel strips.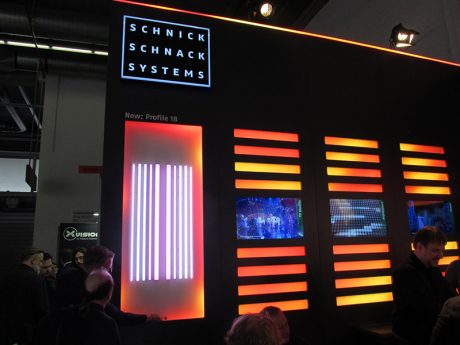 Serapid — The world's leader in rigid chain technology was on hand to show their latest stage lifts and stage push/pull technology.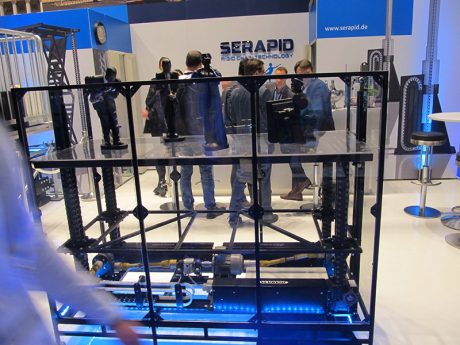 SGM — Blinding everyone that came into the hall was the P-10, an LED flood/blinder fixture that does what it advertises. The IP65-rated model contains 48 24W RGBW cells controllable in eight segments. The S4, a compact LED moving Fresnel fixture, received a lot of attention as well.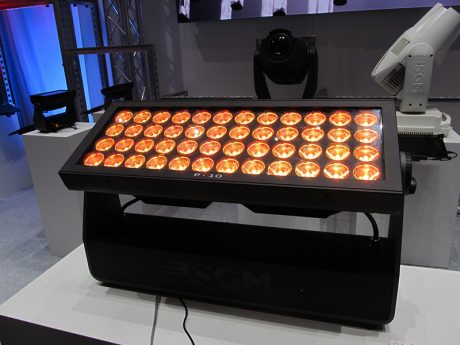 Stagemaker — The hoist company showed off their SR models that handle loads from 250 to 5000 kilograms. The magnetic sliding limit switch on the chain has always been handy.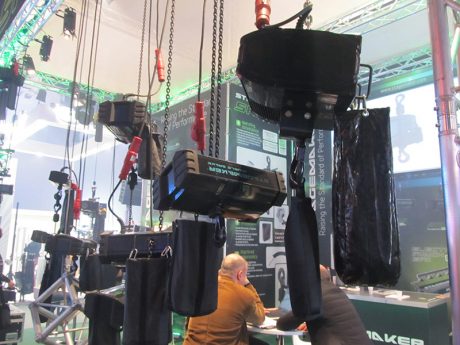 Swisson — Their 8-port DMX node, the XND-8R5, delivers RDM over Art-Net. This is just one of the many DMX and various splitters and signal converting boxes. They also had their range of wireless transceivers on display.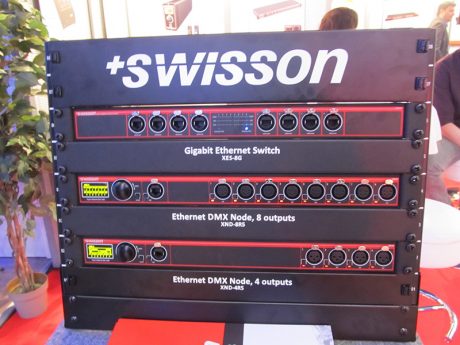 Tait — These staging technology innovators were on hand showing off their Nano Winch system with a lightweight, single-point winch designed to add dramatic, dynamic and kinetic effects to any space.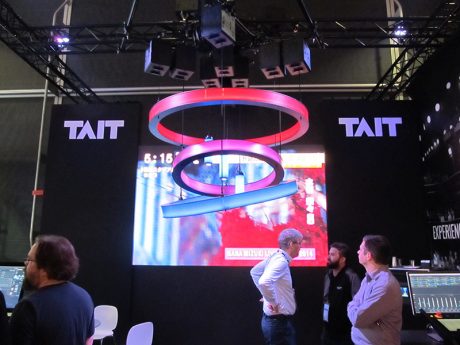 TMB — The latest in the Solaris line is the Flare IP HD, a new large model touted for architectural use. ProPlex cables of all sorts and FloppyFlex LED tape show why TMB is the leader in their field of LED pixels. The ProPlex IQ tester is a new tool for testing Ethernet performance.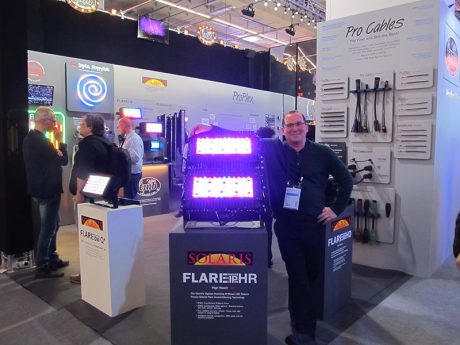 Ultratec Special Effects — displayed their Power Fog Industrial 9D, which provides an amazing burst of smoke. The Silent Storm Snow machine delivers what it says. A cool new swivel bracket is made for redirecting the output of machines — a great accessory for any stage.
Wahlberg Motion Design — The masters of automated theater tracking systems featured several of their DMX operated products for moving battens, winches and other stage devices requiring mobility. Rose Brand distributes Wahlberg products in the U.S.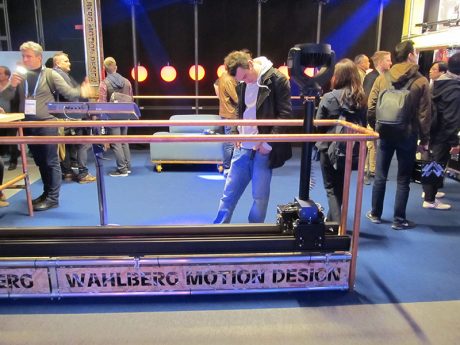 Work Pro — The makers of the LightShark lighting console had a packed booth as people lined up to test out their elementary console, capable of doing most everything a designer needs on stage, at an affordable price.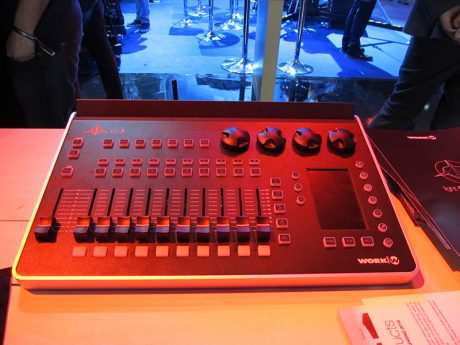 Yes Tech — The makers of the Magic Stage Supreme LED display showed off a stage and steps. The MG7 P4.8 has a newly upgraded interactive functionality. By adjusting the different sensitivity, it can be used as an interactive display and dance floor. The curve-shaped video tiles were a hit, too.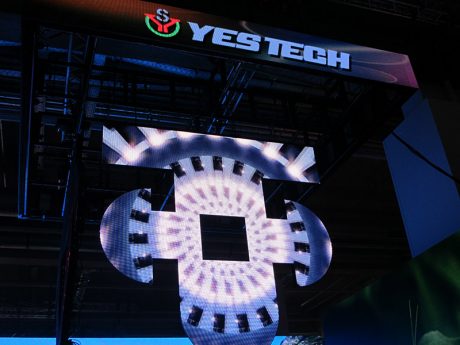 Leave a Comment: