Prolight+Sound 2019 Show Report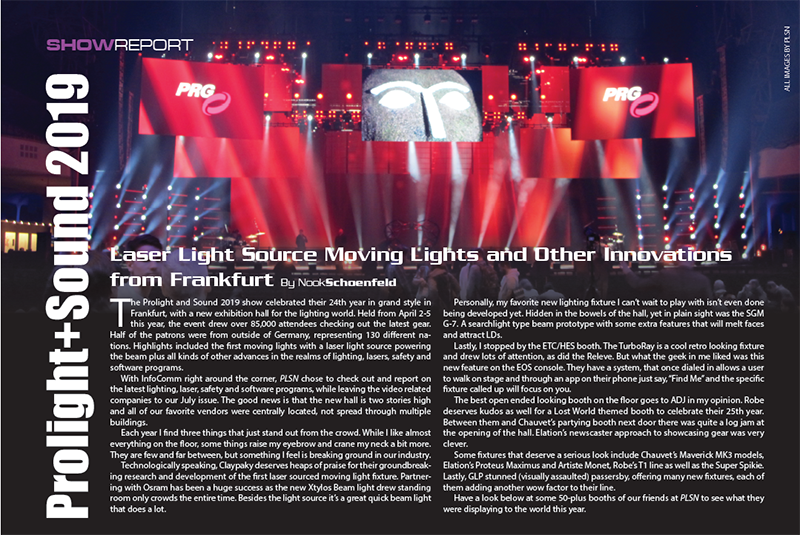 The Prolight and Sound 2019 show celebrated their 24th year in grand style in Frankfurt, with a new exhibition hall for the lighting world. Held from April 2-5 this year, the event drew over 85,000 attendees checking out the latest gear. Half of the patrons were from outside of Germany, representing 130 different nations. Highlights included the first moving lights with a laser light source powering the beam plus all kinds of other advances in the realms of lighting, lasers, safety and software programs.
With InfoComm right around the corner, PLSN chose to check out and report on the latest lighting, laser, safety and software programs, while leaving the video related companies to our July issue. The good news is that the new hall is two stories high and all of our favorite vendors were centrally located, not spread through multiple buildings.
Each year I find three things that just stand out from the crowd. While I like almost everything on the floor, some things raise my eyebrow and crane my neck a bit more. They are few and far between, but something I feel is breaking ground in our industry.
Technologically speaking, Claypaky deserves heaps of praise for their groundbreaking research and development of the first laser sourced moving light fixture. Partnering with Osram has been a huge success as the new Xtylos Beam light drew standing room only crowds the entire time. Besides the light source it's a great quick beam light that does a lot.
Personally, my favorite new lighting fixture I can't wait to play with isn't even done being developed yet. Hidden in the bowels of the hall, yet in plain sight was the SGM G-7. A searchlight type beam prototype with some extra features that will melt faces and attract LDs.
Lastly, I stopped by the ETC/HES booth. The TurboRay is a cool retro looking fixture and drew lots of attention, as did the Releve. But what the geek in me liked was this new feature on the EOS console. They have a system, that once dialed in allows a user to walk on stage and through an app on their phone just say, "Find Me" and the specific fixture called up will focus on you.
The best open ended looking booth on the floor goes to ADJ in my opinion. Robe deserves kudos as well for a Lost World themed booth to celebrate their 25th year. Between them and Chauvet's partying booth next door there was quite a log jam at the opening of the hall. Elation's newscaster approach to showcasing gear was very clever.
Some fixtures that deserve a serious look include Chauvet's Maverick MK3 models, Elation's Proteus Maximus and Artiste Monet, Robe's T1 line as well as the Super Spikie. Lastly, GLP stunned (visually assaulted) passersby, offering many new fixtures, each of them adding another wow factor to their line.
Have a look below at some 50-plus booths of our friends at PLSN to see what they were displaying to the world this year: CLICK HERE
Leave a Comment: