Visual Design: The Chainsmokers 2017 'Memories: Do Not Open' Tour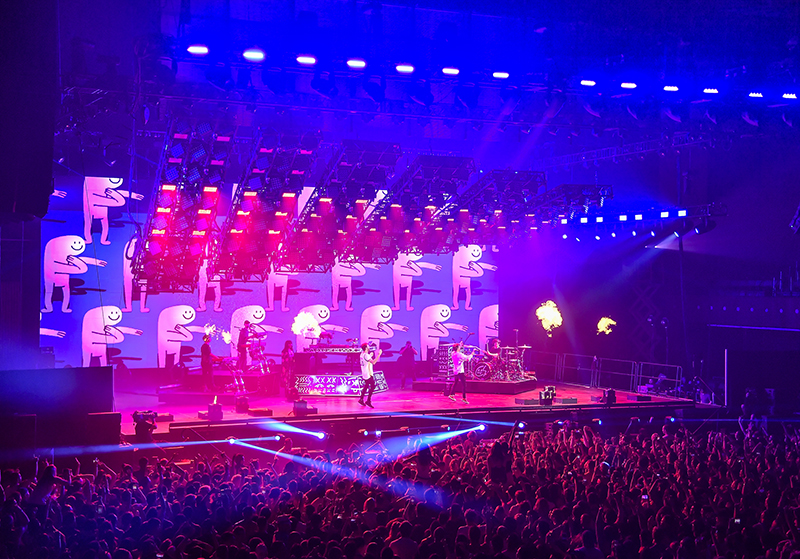 Production Club Uses Video Game Technology to Create DJ/Live Band Looks
Los Angeles-based Production Club is the production equivalent of a multi-instrumentalist — handling artist direction, design innovation and concert production. It was originally formed nine years ago by CEO Corey Johnson (CEO) and Vivek Srinivasan (COO/CFO) to produce and design the ongoing DANCEiSM party and other events in the downtown L.A. Area.
When the duo hooked up with Miguel Risueño (CCO / Creative Officer), who had come from Barcelona (and his company Matheria Studios) to work on the first Skrillex show together in 2011, they realized they were doing complementary work in two countries and decided to join forces, re-configuring the company.
This new team gained more work with Skrillex and Notch, the creator of Minecraft. This led them down a path where they found the intersection of video game and EDM culture, and they have since added corporate clients like Amazon and Spotify to their resume.
‡‡ Designers, Producers…and Gamers
Production Club designs shows for artists and produces events for tech clients. As such, they are able to book the former into the latter.
The company has also applied and incorporated video game technology into their shows, something which Risueño feels had previously been untapped by other parts of the entertainment industry. Such technology has been a vital part of the recent Chainsmokers' national tour, which they designed.
"We created a big part of the show using video game technology," says Risueño. Their software of choice: Unreal Development Kit. "It was a great sandbox to create interactive and parametric content," he adds. "It was surprising for us that nobody was using it for stage design, previz or visuals in our industry. We decided to take those tools and embed them in our show creation pipeline. Additionally, we were making parties for the video game community, so we found a way of working with the electronic music side of things and the video game side of things, which were two passions of ours."
"We've definitely carved out a pretty unique niche for ourselves, and it works for both types of clients because we have a greater accessibility and an understanding [of both sides]," says Johnson. "We design and direct shows for artists, which is a useful trait of Production Club in working with event clients who want to present and host musical talent. They're concerned about creating a great environment for the artist, which is something that we're familiar with, and then on the artist side we can bring greater resources, a more robust team, and a bigger infrastructure to the artist's project through a real team approach instead of more of an independent contractor mentality. We have an assigned team, we do the visuals in-house, and we have a whole structure in place over here."
The Chainsmokers tour was a welcome challenge for the company, with Johnson noting that the Grammy-winning EDM-pop group's directive for the concert was "50 percent DJ, 25 percent live and 25 percent theatrical. It's a conversation that we've had with a lot of DJs who want to have a band," Johnson adds, "but as soon as they start realizing what that really means, they back off very quickly."
The Chainsmokers were clear about having both a DJ set and a live band performance within the same concert, and Production Club relished the idea. But as Johnson notes, this would be less of a hybrid experience, and instead alternate between distinct show segments with the different formats.
"In this show, they go back and forth between full DJ booth, and then the DJ booth disappears with an elevator to turn the focus to the live band for 50 to 55 minutes of the show," says Johnson. "It was a unique challenge, and fun to pull from the dynamics of both, because we didn't want to compromise the DJ show, but we also wanted to emphasize the real pop show antics as well." His team also wanted to make sure they could make both aspects of the show work for those who might prefer the DJ set over the band set, and vice-versa.
‡‡ The Box
As Risueño explains, the concept behind The Chainsmokers' debut album, Memories…Do Not Open, which was released in April, is reflected in the show. The stage itself is a box, the type that a teenager has where they collect letters, photos, concert tickets, and assorted ephemera that comprise cherished memories of their ongoing youth. The lighting and video material help to create a box of memories that is shared with the group's fans.
There are two parts to the video content. For the DJ set, there were 30 to 40 video resources created for their 60-by-30-foot video screen upstage (and for the two 18-by-24-foot I-Mag video screens hung above the floor seats). Those resources include images of hands, skeletons, clouds, and more, and the clips are VJ-ed in real-time by Kevin Longwell. "Which clips get triggered depends on which songs the artist decides to play that night," says Risueño.
The timecoded content for the live band portions of the show was generated in a process similar to creating an animated movie or a video game. The company wrote a script with the artist, developed the story, then designed a concept for backgrounds and characters. The result was 12 mini-movies, one per song. Kadavre Exquis was the lead on the visuals and directed a team of eight animators.
"There were a few main goals we wanted to preserve between the DJ stuff and storytelling stuff in terms of the style and the art direction and something that was always relating to the main concept of their album," explains Risueño, whose background is in music technology, interactive design, and projection mapping.
During one of the meetings with The Chainsmokers, the group selected the main songs they wanted to perform and told the members of Production Club not only what they were about but the process they underwent in creating them. That information inspired the creation of the different resources. "One song talks about thinking and imagining that you're in a place that lets your imagination fly," says Risueño. "That's where we created more of a realistic environment where the guys go all the way up to the sky with the sky background. Every song has a little story behind it."
He also notes that the stage is sometimes framed like a box, with downstage see-through V-Thru wall (usually 59 by 26.5 feet, but shrunk down a bit for certain shows) that helps to enclose the members of Chainsmokers in a box. "That literally represents their box of memories, and then the lighting that you're talking about creates a tracing of the stage," says Risueño. "We created a box of lights that is a little bit more ethereal that we use at the time of [certain] songs to connect with this idea of the box of memories."
‡‡ Automated Lighting Pods
Risueño uses Clay Paky Sharpys to create walls of light surrounding the perimeter of the stage and Ayrton MagicPanel FX fixtures on automated pods to serve as the box top panel. "We ended up keeping both types of fixtures, but mixing the MagicPanel FX with MagicPanel-R, which are a little bit faster," says Risueño. "For the final tour design, Cory FitzGerald included Solaris Flare strobes on the pods, [GLP] impression X4 Bar 20 at the DS edge, and musician risers and [Vari-Lite] VL4000 BeamWash to help with the box concept."
Those automated pods are a vital component in the show. Measuring 24 feet deep by 6 feet wide, each pod hosts 14 Solaris Flares, 21 MagicPanels and two Lightline Lasertechnik lasers, designed for audience scanning. Each pod tilts and rolls and is held up and repositioned by four winches.
"During rehearsals, we realized that the strongest looks were static, so overall we went for more of an architectural, motionless look on the pod and let the lighting fixtures add motion on top," says Risueño. "Lighting these monsters was fun but tedious, so this was one of the main focal points for Davey Martinez and Brian Jenkins, who together with Cory were the lighting programmers of MDNO (Memories…Do Not Open)." Pyro and special effects were provided by Pyrotecnico, video and lighting by PRG, and automation (including the pods, DJ lift, and creepers) by SGPS/ShowRig.
The configurations vary quite a bit, especially as two of the pods have grills on them so the two main band members can actually stand atop them and be transported up and around by them. The pods are solid steel truss with four one-ton winches used to lift each one. Each pod has two audience scanning lasers mounted on it.
"On the song, 'Paris,' they can jump onto the top of the pod, which flies all the way up, and play [their] instruments at the top," says Risueño. "For another song, we created a little metal staircase that goes 24 feet all the way up." Adds Johnson: "The downstage edge leaves so he can walk up, so it's like a reverse incline with the staircase. He can walk up and sing from the top of it."
A different type of pod configuration has the lights arched above the group in a circular, dome-like fashion. They are certainly used in striking ways. But even with all this razzle dazzle going on, Production Club made sure that their visuals complemented the Chainsmokers show without distracting from their performance. They created everything in service of the music.
"It's also worth noting that the guys' show previously — they had been doing festivals, one offs, and small tours — had an all-out production approach," says Johnson. "Lots of colors and lots of production where they would take everything. We tried to be very diligent in the sequencing and the direction of the show and really work hands-on with the guys so you're not overwhelming [the audience] at any one time and keep it compelling throughout the course of the show. Plus, everything is just in support of the music, so every usage is whatever looks beautiful or is the best representation."
"We don't use any red color until about 25 minutes into the show," adds Risueño. "We usually only use two color palettes. One is monochromatic on the video content. We keep it minimal." And the audience scanning lasers are used for only one cue at the very end of the show.
Rocco Vitale, creative director for Pyrotecnico, says his company has had a good relationship with Production Club and the Chainsmokers tour manager Clancy Silver for years. "It's always a pleasure to work with them," says Vitale. "We embrace that challenge of coming up with the best wows for the audience."
To help create some of those wow moments, Pyrotecnico provided 19 lasers; the aforementioned 12 Lightline lasers on the pods plus seven ground supported Kvant 20W Spectrum lasers. They also provided eight Isopar flame units, eight pyro trays, a pyrotechnic waterfall, four stadium shot streamer cannons, five confetti blowers, two low fog machines, and four Silent Storm confetti units that are flown up in the air.
There are two confetti moments in the show. The first takes place during "Something Just Like This," the song the group recorded with Coldplay, during which red and pink heart confetti shower down on the audience. Then there is the encore "Last Day Alive" which features white tissue confetti blasting out over people. "The show is amazing. It really has a lot of dynamics to it," says Vitale.
The current Chainsmokers tour is a well-tuned machine, and Johnson says that Production Club felt fortunate to have a direct connection with Alex and Drew from The Chainsmokers and Silver "because they were the ones with the vision for this tour."
The Chainsmokers tour is the latest in a series of high-tech events that Production Club is known for. When it comes to their concepts, Risueño says that the company listens to the music first for inspiration before diving into a new project. "From there, we start creating stages and shows that relate to the specific audience but also gives us creative freedom," says Risueño. "We get inspired by the music and working with people we can learn from and people that are interesting to us." Johnson adds that no matter how disparate some of their projects might seem, "everything is music based across the board."
The Chainsmokers 2017 Memories: Do Not Open Tour
Crew
Executive Producer: Corey Johnson/Production Club
Production Designer/Creative Director: Mike808 (Miguel Risueño)/Production Club
Creative Producer: Matt Mojo/Production Club
Lighting Design & Programming: Cory FitzGerald
Lighting Programmers: Davey Martinez, Brian Jenkins
Lighting/Video Co: PRG
PRG Crew Chief: Jerry Vierna
PRG Video/I-Mag Director: Robert Darcy
Pyrotecnico Operator: Vinnie Forti
Laser Programming: Derek Abbott
Visuals & Art Direction: Kadavre Exquis
Animation: Rachid Guendouze
Concept Drawings: Angel Vazquez
Video Direction: Max Nicklas
Design Team: Eric Au, Sadgas, Fran Zurita, Turtlestudio
Choreography: Lara Marcin
Staging & Automation: SGPS/ShowRig
Automation: Robert Flood, Christian Mikkelsen
Tour & Production Manager: Clancy Silver
Stage Manager: Elliot Lidard
Lighting Director: Aaron Kovelmann
VJ: Kevin Longwell
Tour Direction: David Conroy/Sam Kruger (Live//Management)
Tour Production Manager: Mark Powell
SFX: Pyrotecnico
Audio: Britannia Row
More Chainsmokers 2017 'Memories: Do Not Open' tour photos by Steve Jennings:
{gallery}17/06/Chainsmokers{/gallery}
Leave a Comment: