The Massive Mass – Pope Benedict XVI at Yankee Stadium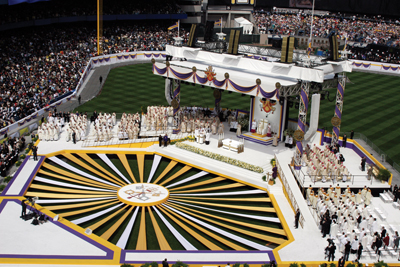 Some baseball fans might say Yankee Stadium is already a place befitting worship. But as one of the highlights for Pope Benedict XVI's six-day visit to the New York area in April, the hallowed baseball grounds needed to be transformed into an open-air cathedral including an altar, a performance stage and no billboards or other advertising in sight. Along with the need to be prepared for inclement weather and to operate under strict security measures, those involved needed to coordinate the efforts of hundreds of crew members, set everything up within a two-day time frame between ball games, and take extraordinary measures to avoid trampling on the grass.
"The most astonishing thing about the keynote project was that Yankee Stadium didn't open the doors for us until 12:01 a.m. Friday morning, and by 1:00 a.m. Sunday, Secret Service locked it all down for a security sweep," said Patrick Stansfield, co-producer of the papal Mass staged by the Archdiocese of New York. "We're talking about a total of 49 hours to pull this off."
Executive producer Stig Edgren, of SEG Events, had handled Pope John Paul II's visits to New York in 1995 and Los Angeles in 1987. To begin preparations for the April 16 Mass, he got the call from the New York Archdiocese last September.
"The beginning conversations are about the Pope's movement, when he's planning on celebrating Mass and security," Edgren explained. "The Archdiocese is hosting the event, so it mostly involves them, although obviously the Vatican is very concerned about the Mass itself." Edgren quickly got on the phone with offices of New York Mayor Michael Bloomberg, police, fire and others to coordinate these important issues.
"We had the right team to do this from the very beginning — no question," Edgren said. "Having Stansfield and production supervisor Doug Pope in place early, managing the labor overseeing everything allowed me to run around working with the Archdiocese."
Many of these people had worked with Edgren during the papal visit of 1995, including Stansfield and Pope. "The Archdiocese had complete trust me as far as bringing people on board," he said. "They didn't question my choices of vendors because they knew I was picking the best people in the business."
Papal visit newbies included Ken Ashby, who produced the pre-Mass show, and Danny Ezralow, who directed it. Called "The Concert of Hope," the pre-Mass concert featured Harry Connick Jr., Jose Feliciano and other performers.
Paul Chavarria handled the exterior décor, which was extensive. "He made it look like a cathedral," Edgren said. Lighting consultant Imero Fiorentino was also called in.
Peter Daniel of Pete's Big T.V. supplied the video. A total of six screens with three aspect ratios were used.
"What was fun about the progression was how quickly it came together," said scenic designer René Lagler. "Stig called me and needed a quick sketch, the caveat being we had to keep off the grass. This led me to something where the Pope's part of the stage was hanging over the grass."
Lagler is an Emmy Award-winning scenic production designer, and a veteran of the crew that staged the previous papal visit to the U.S. He got the call for the April visit on a Thursday early in October. That weekend he created some preliminary sketches. The New York diocese's Monsignor in charge of approving the design was enthused by Lagler's vision early on.
"The only change from the original sketches was that the Monsignor wanted ramps instead of stairs going up to the main stage," Lagler said. "At first I resisted it, because I was concerned it took away from the overall shape. But it ended up working out well because the procession of clergy was so dramatic, and the ramps allowed that to be a smooth affair. And, adding the ramps allowed me to design in the subtle shape of a cross — it was very subtle," Lagler said, laughing. "Sometimes you have to design a little bit just for yourself, even if it's just for your own satisfaction."
Yet like a chef who prepares a painstaking dish only to set it down on the table and see a fly land on it, his set had its own unforeseen blemish. "At the last minute, a camera guy who is up center stage brought a black pallet to stand on — just a wooden black pallet on a pure white floor!" he said. "And the camera people weren't even dressed for a Mass — one was wearing a Safari hat! It was a terrible smudge." Otherwise, he was very pleased with the final result. "The beauty here was that I had a huge support team — including Edward Pierce."
Pierce, the event's scenic designer, was brought in to realize Lagler's vision. "There weren't a lot of changes from concept to reality," Pierce said. "It was more about preserving that initial concept to the best of our ability." Pierce said they worked closely with Hudson Theatrical Associates, which built the décor, and Mountain Productions, Inc., which handled the understructure for the stage. "There was a lot of AutoCAD work, and every aspect had to be considered in every different way."
On the pitchers mound, an 18-foot diameter platform featuring the Vatican's coat of arms was suspended in the air. Radiating from the platform was an array of gold and white fabric provided by Rose Brand. Then there were "a lot of chairs," Pierce said, for the Pope's huge entourage. "There were 800 field seats — 300 chairs for priests, 200 for bishops, 14 for Cardinals and one Pope throne." The chairs for each group were colored according to hierarchy.
Pierce added that with a positive mental attitude and good planning, they were able to get everything done in time…almost. "The last remaining thing was the fluffing of the flowers, and that was the only thing that really didn't get done." Otherwise, "It was a beautiful, technically impressive achievement and one that was very safe in every respect."
Hudson Theatrical Associates had the daunting task of putting together the labor force. Hudson's Sam Ellis was the labor supervisor and he said it was a long process to figure out how many hands were needed. "At any given time during the load-in and set up, there were 200 or 250 Local 1 hands working on this. But the total number of people involved was closer to 490."
Everyone involved emphasized that the planning was critical. "First we had to sit down with all the people in charge of the individual elements — the video people, the lighting, the staging — and figure out how many people they each needed," Ellis said. "Then we assimilated all that into a gigantic schedule." For example, they figured they needed a dozen electricians at a certain point, and they needed a certain amount of time to make it happen. "The first five hours was just laying the flooring, so we had to figure out what we could do while that was happening. In this case, start putting the chairs in and hanging lighting trusses off of the front of house balcony rails."
But more important was choosing the right people. "First of all, you pick the captains, the heads of the departments, and that was very important to us," Ellis said. "It was important to us that they be the best, because they had to go reach out to their best workers." Ellis stressed that the best were found in the unions. "There are critics of union labor, but in our instance, only by using union workers were we able to accomplish what we needed to do. So in addition to union stagehands and technicians, we also used teamsters to load and unload the trucks. We had 70 or 80 trucks to unload, and we were very happy with their professionalism."
"It was an amazing team of union workers," echoed Doug Pope. "IATSE Local 1 especially and also IBEW Local 3 did an amazing job. They knew their crafts and they didn't mess around."
Production crew members weren't expected to walk on water, but they couldn't walk on the grass, either. To protect the sacred turf, the crew used Terraplas, a patented system of breathable sheeting capable of handling light-duty loads. For vehicles, there was Bravomat. "The entire warning track was covered by 1,400 pieces of 4-foot-by-8-foot Bravomat, five inches thick, heavy-duty, capable of supporting loaded forklifts," said Stansfield. "The first 4-1/2 hours of the load in was just laying that track. So we really only had 45 hours to build the performance and altar stage and decorate the stadium."
The lighting designer for the Pope's visit to Yankee Stadium was Alan Adelman, who is best known for his theatrical, television and film lighting design work — not outdoor venues subject to any kind of weather conditions.
Even a cloudy day that gave way to sunny skies could pose problems lighting the Pope, who started the Mass in the shade under a roof. "Alan had to make sure the lights chosen could effectively be constantly shifted to keep up with the shifting clouds, keeping the Pope lit perfectly," said Edgren.
"It was a daylight job, and the challenge there is always balance," Adelman explained. The sun can produce about 12,000 footcandles, and for the Pope to be seen, "you're basically trying to make up that sunlight. Otherwise, on wider shots the Pope could be in the black. We needed something at least in the 5,000 to 6,000 footcandle range."
That challenge, combined with the need for "a system where you're able to constantly fill in shadows, accommodate for the sun which might go behind some clouds for a few moments," was "daunting," Adelman said. The configuration of Yankee Stadium didn't make things easier.
"The throw distances ranged from 200 to 300 feet, plus there was a strict limit on seat kills. It would have been easier to put all the lighting at the front of house," but that was out of the question. "So additional, special rigging was bolted into the upper deck to carry extra lights."
Adelman used a dozen Vari*Lite VL3500 Wash units and another dozen VL3000 Wash units in conjunction with Arri 6000 HMIs and 12 Zap Technology Lil' Big Lite 3.5 units. "They are automated and offer a very high intensive, very narrow beam. We hung 12 of them, six on each side on the trusses on the upper deck, each on a 30-inch truss with special breakers. They were intense — they were blinding in daylight."
Programmer Paul Sonnleitner controlled the lighting with a grandMA from MA Lighting. A wireless DMX512 provided by Scharff Weisberg "worked flawlessly," Adelman said. Along with Yankee Stadium, Scharff Weisberg supplied lighting packages to support broadcast coverage of the Pope's visit to the World Trade Center site and to the Chapel at St. Joseph's Seminary in Yonkers, N.Y. The Scharff Weisberg team included Chris McMeen, Chris Komischock and Ian Healy.
Security, of course, was always a concern. Once the Pope entered the grounds, everyone was locked down into position. This meant that Adelman and everyone else had to anticipate any problems that might occur. Jumping up and running to fix it during the Mass was not an option. Good planning and execution preempted the need. The kid from the Bronx was unfazed. "It was pretty cool to be locked down in the visitor's dugout," said Adelman.
Doug Pope, who has a 30-year history with Edgren, said early on a key factor was bringing in Hudson Theatrical Associates. "Neil Mazzella and Sam Ellis put together a crack labor team, starting with scores of department heads." How important was this gig? "People dropped out of their Broadway shows to do this."
For Pope, spreading the work around as much as possible was going to make this event a success. "We didn't want to wear people out—just the department heads!" After the first site survey in the fall, they put together a timeline. They knew they would be starting at midnight and knew the Bravomats needed to go down quickly in order to accommodate the forklifts and rest of the workers.
"We did have the benefit of a pre-rig day, the Monday before, where we moved in as much equipment as possible. It was still not very much — it is an 87 year-old stadium and there are not a lot of spaces to put things," he said.
The Yankee Stadium grounds crew was looking over the creative team's shoulder the entire time, making sure nothing damaged the turf. As intrusive as that sounds, Pope says they did their job with professionalism and respect for what the team had to do.
"People like us, we're only there a little bit," he explained. "But the Yankee team personnel have to carry on, and they have a love and respect for their grass, and we respect that. Hats off to the Yankees for all they did, including allowing us to use the team's locker rooms and everything else," including the umpire's changing room, which was transformed into a vesting room where the Pope could "suit up."
Composer Benoit Jutras was brought in to compose special music for the event. "He's very brilliant, and quick, and he came up with themes for the opening and closing that sounded like angels," said Edgren. This music inspired Edgren to imagine flying doves, and he passed the idea along to his creative team. The director of the pre-Mass show, Ezralow, brought in Michael Curry, a renowned designer known for his work with the The Lion King. "He came up with an idea which included doves that fly on sticks."
Edgren said that he would have liked to see the young people and the doves run out on the field one moment before the Mass, "but it was just something that didn't happen in time." Even so, the papal visit to Yankee Stadium scored a home run on most accounts, thanks in large part to the prevailing spirit of teamwork. "I had the best team in the world," Edgren said. "They surrounded me, protected me and I was honored to be part of it. It was magical."
Perhaps a higher power was rooting for the production team as well. Everyone involved needed to be prepared for the worst, but the weather improved, as if on cue. "At the youth rally the day before, it was a warm beautiful day. Then at the Pope's visit to ground zero of the World's Trade Center, the clouds were dark and ominously low; it was as if you felt the victim's spirits in the air. It stayed like that through Sunday morning, and then when Jose Feliciano started to play, the clouds broke," Edgren said. "It was good advance work from God Almighty!"
Look Ma, No Ads!
Advertising and baseball stadiums go together like Oscar Meyer Wieners and Coca-Cola. Like most sports venues, Yankee Stadium is normally the architectural equivalent of a NASCAR chassis, plastered with ads. But at wishes of the Vatican, it all had to disappear.
"I'm especially proud of how we were able to cover up all the advertising in the stadium," said lighting designer Alan Adelman. "The day of the Mass, at dawn, when it was still a little cloudy …it was transformed into a Cathedral."
He gives a lot of credit to gaffer Tom Blancato. "He did a great job. Tom does a lot of big shows, but logistically, this was something else. And it's a tribute to Patrick [Stansfield] and Doug [Pope] that it came off so well."
Scenic designer Edward Pierce said that the massive undertaking meant more than just throwing some fabric over the signage. Over 12,000 square feet of soft goods were used to cover it all. It required creative rigging and some customized digital prints of the Vatican coat-of-arms. "All that work involved a team of 20 and was completed in a day and a half."
Bird Watching
Yankee Stadium doesn't have the flying buttresses that adorn and support the world's great Gothic cathedrals. But as an outdoor venue, it could serve as the launching point for flying special effects — far more appropriate for a celebration of Mass than pyrotechnics or confetti cannons.
"The icing on the cake was the release of several hundred live doves of peace," said co-producer Patrick Stansfield. "It was done in coordination with the kids running, circling the stadium with doves made of lightweight foam, each suspended by a fishing pole. At a dramatic point, we released 200 live doves. They circled the stadium twice and then flew back to their home in New Jersey, just like they were supposed to."
About a week before the big event, an advance team of doves, made up of a lead dove and some dutiful lieutenants, were brought to the stadium from their home in New Jersey. They checked out the stadium, and then the lead dove circled the stadium twice and flew back home, lieutenants in tow.
On the day of the big event, two hundred other doves were released with them, and following the team leader, executed their assignment with aplomb.
Some mysteries remain, however. Were these doves in the union? And what was in their rider? How, exactly, does one get to be the lead dove? Is it based on merit and hard work, or just a matter of who you coo? (Maybe they have to fight for the honor, but then again, probably not.)
Producer Stig Edgren chuckles and sighs. "Oh yeah, there were a lot of dove jokes — even the secret service guys got on it saying they needed to frisk them and check their beaks."
Leave a Comment: