Day for Night Festival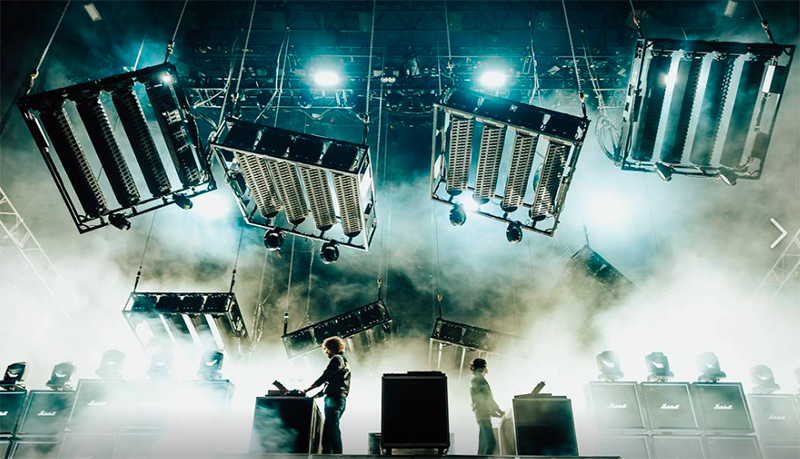 Everything is bigger in Texas — including seasonal storms. Yet the wet weather couldn't scare the crowds away from the third annual Day For Night (D4N) festival in Texas, which ran from Dec. 15-17, 2017, at the site of the former Barbara Jordan Post Office, abandoned due to budget cuts in 2015 after 53 years of service.
Being proactive, organizers moved up the start times of the acts scheduled to perform to avoid inevitable downpours. Ultimately, there was no escaping the chilling showers, as the skies opened and people got drenched. But in true Texas spirit, festivalgoers, multi-genre artists and tech crews demonstrated huge heart and the sufficient will to experience music and experimental art in solidarity.
Fact is, the heat and light generated by D4N could not be extinguished by Nature's torrential tantrum. Besides, organizers wanted their event to be different. They've succeeded, one thinks, and in breathing new life into one of downtown Houston's most beloved landmarks, D4N producers fostered an atmosphere in which art, technology and activism comingled, making, in the language of the festival organizers, "light and sound collide."
‡‡         Color Codes
Planning and staging for the event was right in line with the festival's creative aesthetic. The names of each of the four stages — two outdoor, two indoor — are representative of the RGBW color model spectrum, known to tech geeks and video and lighting designers the world over.
One of two main outdoor stages, the Red stage, hosted acts such as Nine Inch Nails, Justice, Solange, Of Montreal, Pretty Lights, James Blake and Pussy Riot. Cardi B featuring Hoodcelebrityy and Tyler the Creator, En Vogue and St. Vincent performed on the second outdoor stage, coded Green.
The Blue stage, built inside the 1.5 million square foot expanse of the former Post Office, welcomed electronic music composer and visual artist Ryoji Ikeda and Radiohead's Thom Yorke, among others.
LD Systems handled audio and lighting for the Red stage and Screenworks provided video. Tyler GT trussing of various sizes was used for rigging, and Premier Global Production was responsible for stage builds for both Red (a steel 60-by-60-foot PGP Black Monster deck) and Green (Stageline SL320 mobile) outdoor stages.
As this was a sound and light festival, artists on the Red Stage had a small arsenal of diverse fixtures at their disposal, including 12 more BMFL Spots, 24 Vari-Lite VL3000s, 24 Claypaky Sharpy Washes, 18 Robe Pointes, 16 Philips Showline SL Nitro 510's, 20 2-Lites and 12 4-Lites positioned across four main trussing sticks. The dozen BMFLs were split evenly, six on each side, across two side trusses.
Morris supplied audio and lighting for the Green stage, with 20 Elation Fuze Pars, six Martin MAC Auras, eight Claypaky Mythos units, a dozen Solaris Flares and five Philips SL-Bar 640s.
‡‡         Order from Chaos
While these builds were impressive, perhaps of greater interest was D4N producers' willingness to juxtapose and sometimes fuse performance-based art with audiovisual installations. Nearly 20 global artists displayed their work, including Ryoji Ikeda, James Clar and Matthew Schreiber (formerly art installation legend James Turrell's assistant) along with Playmodes, Ekene Ijeoma, Félicie d'Estienne d'Orves and Kyle McDonald.
PLSN contacted Japanese multi-media artist Ryoichi Kurokawa about his audiovisual piece, "Octfalls." Composed of eight monolithic flat screens displaying 1920-by-1080-pixel resolution video of waterfalls, "Octfalls" features 16 Meyer Sound MM-4XP — a pair each for the eight panels. A subwoofer was installed on site for lower frequencies.
"Eight is a well-ordered number," Kurokawa says. "I employ this number quite often as a symbol of a state of order. Literally, 'oct' plus 'falls' stands for eight waterfalls. Eight visual monoliths and eight channel-sounds are redistributed at eight different distances from a regular octagon's center, at eight different heights in an eight-minute looped composition."
The panels were suspended from wires in an octagonal array, surrounding festival-goers in sight and sound. This design, says Kurokawa, was created "to produce organic visual effects and multidirectional approach to the viewer's perception by providing variations of sound source position and auditory perspective.
"It looks like these monoliths are suspended at random height," continues Kurokawa, "but it's designed by using simple number sequences, so actually it's very ordered. The distance from center position is also composed by using simple number sequences, though it gives an impression of randomness."
Displaying cascading waters was one of the best ways to express the concept of entropy, says Kurokawa, who filmed rushing falls in Iceland and Japan, using digital audio processing only sparingly. "Nature is always headed towards higher entropy," says Kurokawa, who created "Octfalls" for the 2011 exhibit, One of a Thousand Ways to Defeat Entropy, held at the Venice Art Biennale. "That is, it proceeds in the direction from order to disorder. I've chosen the waterfall as a symbol of entropy since it has turbulent flow and waterfalls have a similar tonal component to white noise."
‡‡         Robot Movements
Chaos, disorder and reconstruction were themes coursing through the festival's creative agenda, running concurrently with an appreciation of nature — both with an eye toward its preservation and its awesome power of destruction. It's something that Houston residents, survivors of Hurricane Harvey, know all too well.
In homage to the Earth's cyclical patterns relative to our Sun, Michael Fullman and Gabriel Fraboni of VT Pro Design, a Los Angeles-based creative design firm with an emphasis on tech, created "Telesterion."
"Specifically, as it relates to Houston and the flood, we wanted to pay attention to the way nature affects the world around us," says Fullman.
If Kurokawa depicts the motion of water as a commentary on destruction and reconstruction, then "Telesterion" is the embodiment of choreographed and synchronized movement, involving two robots, a pair of Robe MegaPointes, software controls and an accompanying musical score by Keith Ruggiero.
"'Telesterion' was a Greek festival, and this cycle was celebrated in a sacred chamber. Throughout the four acts, the story that's being told involves interaction between two robots," says Fraboni. "What that exact story is we left open to interpretation, as we were getting lots of different reactions from all different viewers."
The robots, once used in factories for pinpoint welding and car manufacturing, operated in accordance with a pre-programmed script. "We actually animate the robots in Maya software, in 3D, and validate their paths, which lets us know what movements are possible in real life," says Fullman. "We then export [that data] and load it on the physical robot controllers. For control, we use a combination of a grandMA2 lighting console, our media servers, TouchDesigner and time code signal that's running the entire show."
‡‡         Inside the Cage
Lighting effects add to the near-fractal nature and futuristic qualities of the presentation. A Robe MegaPointe fixture is secured inside each robot's head — a cage-like geometric figure constructed of multiple triangular shapes. "The geometric shape is an Icosahedron [20 sided geometric figure]," says Fullman.
The MegaPointes' functionality assisted the team in their design. "The MegaPointe was actually a pretty great fixture for its flexibility and control," says Fullman. "We knew that we needed something smaller, with color mixing, brightness and accurate optics. We had some concerns with the lights losing focus while being flailed around a robot in motion, but the MegaPointes held up pretty well."
In addition to the MegaPointe, VT Pro Design used LED Pixel tape inside the cage to project detailed, geometrical shadows within the space. "The interior LED Pixel tape was built into the structural frame and hidden with a gray smoke frosted cover," Fullman says. "We also have white Cree COBs that we added into our DMX control system at every point in the frame, giving us omni-directional light from the entirety of the shape. We have specific colors that fit each of those acts and each of those seasons."
‡‡         Slat Mapping
As indoor installations captured the fascination of attendees, something extraordinary was happening outside the building. VT Pro Design was set to scale the walls — virtually, anyway.
Fullman and Fraboni had already showcased a laser installation in 2016 at D4N, involving 105 Robe Pointes and infrared scanners "tracking users through the space," Fraboni says. "We had a Kinect camera to create laser images. You could dance in front of the camera and see your image on the side of the building."
Still, festival organizers wanted more intricate laser mapping in 2016, but that level of detail was not possible given the time frame and available manpower. One apparent way to remedy this was to invite VT Pro Design back for the 2017 event in hopes of generating something more extravagant. VT was thrilled to get the call and tackled a very challenging project head-on: laser-mapping half of the entire Post Office building.
It sounded ambitious, if somewhat amorphous. Things looked good in the planning stages. As with so many things in life, however, turning the idea into reality was a different story.
"I got this message from [Abbott] and thought what he was doing was awesome," says Rocco Vitale, creative director of Pennsylvania-based Pyrotecnico, which provided the laser equipment for the installation. "But he made it clear it was not. He said, 'Everything I thought was going to work is not working.'"
Both Abbott and Fraboni initially believed the entire facade of the Post Office — the 240-foot-wide architectural grille, composed of 84 six-inch concrete slats — would behave much like a single canvas upon which they'd project their images. Not quite.
"Actually, before we left, I thought we might need to rethink this entire process," says Abbott.
His misgivings were not, it turned out, unfounded. And it wasn't long before VT Pro knew they had to bite the bullet and fly headlong into something more adventurous, if infinitely more tedious. Using Pangolin Beyond software, Abbott and Fraboni laser mapped each slat helping to encase the Franklin Street building. Positioned in the Post Office courtyard and hoisted upon and stabilized by five 20-foot scaff towers, 14 20W Kvant Spectrum lasers threw beams from 150 feet away.
"It was the worst kind of projection surface, but we took it as a challenge for that reason," says Abbott, who admits their laser mapping had to maneuver around another art installation located in the courtyard. "We used one laser per every six slats on the wall, and there's about 20 inches in between each slat."
The team adhered to the general creative guidelines of the festival, while designing 20 different looks each night. One evening it was dots and negative space; the next it was solid lines. At times, the laser mapping imagery appeared bent into arrow-shaped patterns. At others, the lines were like droplets of falling rain, perhaps symbolic of the sheets of liquid sunshine baptizing the art-tech ceremony. "I laughed about it when it was happening," says Abbott. "A few of the people commented on that. Most of the images we had contained movement, but sometimes we kept a static look for a while. There's quite a bit of variation within all the looks as well."
It took nearly eight hours a day to map the slats, allowing for rain delays. "Each of our lasers had a rain cover on them," says Abbott. "At the last minute< we decided to put Visqueen on top of the lasers as well. [Festival producers] ended up closing that entire courtyard … but we kept going through the rain. When the whole courtyard flooded, we got our gear off the ground."
"Everything worked out great," says Vitale, "and it was the first thing you saw when you walked in." After mastering the logistics of this Post Office laser mapping, VT Pro Design is ready to tackle the next challenge, hopefully at the 2018 Day For Night festival. "After we'd done it, I think I would be comfortable doing the whole building," says Abbott. "Next year, we're going to be looking at a lot more gear and manpower."
Leave a Comment: