The Historic Beale Street Music Festival
Performance Lighting Chicago Delivers the Goods for the Annual Event
Since the first Beale Street Music Festival at the corner of Beale and Third in Memphis in 1977, the iconic music festival sets records — artists from across the globe gather to put down mind-blowing performances; world class pit masters gather to throw their barbecue around to take away tens of thousands of dollars in prize money; and people by the hundreds of thousands come to celebrate music, Memphis and the Memphis in May International Festival, of which the Beale Street Music Festival is just a part in a larger celebration.
If you've done shows in America, you're familiar with Performance Lighting Chicago. The folks up there off of Kent Avenue in Elk Grove Village are knowledgeable, they can get you anything you need, and perhaps as important as those previous three excellent production company traits, they are kind, helpful and everybody knows them. In this business, there are two things that can help you maintain or lose a gig: attitude and inventory. When everyone knows you, you have excellent gear people want, and you're likeable, you're going to be a success.
‡‡         Meeting the Riders
Beale Street Music Festival had reached a point where the typical small festival stage rig of Mac 700's and 120K of PARs just wasn't going to cut it. The festival was drawing national acts, each of which had a detailed rider with equipment and service that only a big player in the market could provide. Here's where the story gets interesting.
"It's a beautiful short story," says Russ Armentrout, president of Performance Lighting Chicago. "We got a call from Jack White's camp for the 2018 festival. They were looking for a sizeable rig because the festival was having a hard time finding a local vendor with the equipment and infrastructure that these major acts were trying to get. After Jack White called for his package, the next thing we know, we're also on the hook for David Byrne. Then some other acts joined in and it turned into an unbelievable amount of equipment. We also had a week, week and a half to put all of this together. Once that had concluded, the organizers were very pleased with our work and hustle, signing us up as the 2019 lighting vendor for the festival, so this year we had 10 to 12 months to plan for the event."
‡‡         A Record-Breaker
The 2019 festival was a record-breaking festival, according to the Memphis in May organization. Musical acts ranged across the gamut, including mega acts like Dave Matthews Band, The Killers, Cardi B, G-Eazy, all the way across the edge of the spectrum to the solo and duet acts, like Rodrigo y Gabriela, Billy Abel, Linear Smith and others. The 2019 Beale Street Music Festival is a high demand festival — which is why Performance Lighting Chicago was chosen.
"We've been around, we know how these things work," states Armentrout. "But where we differ in the market is that we're big enough to do the major work, but we're small enough to care about every client, every cable, every stick of truss that comes from Performance Lighting Chicago. Equipment is equipment at the end of the day, and I will get you anything you want, but when it comes to our level of commitment and service, that is in the heart of every Performance Lighting family member."
Russ Armentrout handled all equipment contacts, while his son Tyler ran interference and handled press inquiries for the company. Matt Hubbell acts as the festival's lighting designer; the festival had three stages, a North, Center and South stage, and the rig on each was designed to be exactly the same to avoid any "festival rig envy" between designers of the acts on the three stages. "Matt worked with us as the principal designer for the three rigs," Armentrout states. "We wanted the same rig throughout so that we didn't have anyone upset because another stage got something they didn't, everyone deserved a great rig."
‡‡         Staging and Lighting
This year's festival loaded in on April 30 with a two-day in; the festival ran May 3-5, 2019. BSMF's stages were steel decking from Premier Global Production: a 60-by-40-foot stage with 30-by-40-foot wings on either side. Atop of that were Hubbell's rigs — a downstage, midstage and upstage truss adorned with fixtures. The DS Truss on each stage had twelve GLP X4 Wash fixtures, three Showline SL Nitro 510C LED Strobes and four Elation CuePix WW2 Blinders. The midstage truss was packed with four Robe BMFL Profiles, eight Robe MegaPointes, 28 Robe LEDBeam 150s, four Nitro 510C LED Strobes and four CuePix WW2 Blinders. The upstage truss was a little lighter, with four Robe BMFL Profiles, eight Robe MegaPointes, 12 GLP X4 XL large format wash fixtures, three Nitro 510C LED Strobes and two CuePix WW2 Blinders. That was the base rig on all three stages. Consoles were also a-plenty, with designers using a range from grandMA to Hog to Avolites for the various acts. Additional Robe MegaPointes and a pyro truss were provided for The Killers, as well as the hundred-fixture floor package for G-Eazy.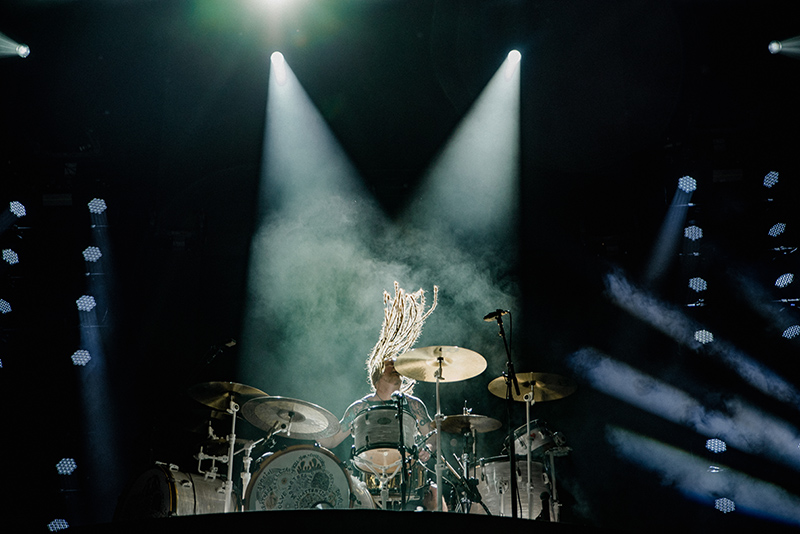 ‡‡         Lots of Fun Challenges
A festival of this complexity requires overcoming issues. "We don't think of these kinds of things as problems, but as challenges," says Armentrout. "When you have a gig the size of this with the equipment list accompanying, of course we're going to have some fun challenges to overcome, but we live for that stuff." One of the challenges at this year's festival was that the distance between stages creating a logistical challenge for technicians and production staff — just another fun challenge to overcome on a major site production like this one. It's nothing that golf carts, lots of Gold Bond and positive attitudes from Performance to get their people and the artists' people where they needed to go during the festival.
Two festival challenges of note would be the G-Eazy floor lighting package by designer Sooner Routhier and the surprise performance by Miley Cyrus and Marc Cohn for Facebook. Sooner Routhier is an LD who isn't afraid to put a fixture anywhere. Russ explains, "Sooner's floor package for G-Eazy was over a hundred fixtures tiered on different levels, and it took some logistical magic to make all of that happen in the very short turnaround between acts, but again, this is what drives us, we live for making magic." If you've seen the photos from G-Eazy's set, you'll see a veritable garden of lighting fixtures adorning the stage — 48 Mac Axioms, 48 Solaris Flare Jr units and a few others.
The other notable challenge was the surprise performance by Miley Cyrus and Marc Cohn, in partnership with Facebook. Everyone loves drama, right? A 17-camera shoot for Facebook Live, full production and an eager crowd cheered Miley and Marc as they performed a "Walking in Memphis" duet. (Miley Cyrus, according to people close to the action, yelled out "Free Britney!" during her performance, as she believed that Britney Spears was being held against her will in a mental institution prior to the festival. Nothing screams rock 'n' roll quite like that.)
‡‡         Pinpointing the Storm Cells
That wasn't the only excitement, either. The Performance Lighting Chicago team experienced a powerful microburst storm that hit all three stages during the load-in. But Performance Lighting had been prepared on the front end to keep a potential disaster like that from destroying the rig. "I was flying in during that storm, and as soon as I hit the city, the plane was rocking from the turbulence, and I knew that the folks onsite were having a blast," says Armentrout. "I had a production manager run me over to the center stage, and we hadn't lost anything because the team had made precautions ahead of time."
The festival took weather precautions very seriously for the event, hiring Memphis local meteorologist and geography expert Erik Proseus, owner of Cirrus Weather Solutions, to provide constant and accurate monitoring of the weather for the festival. The festival site was right along the Mississippi River in a spot that is known for severe weather, and the load-in microburst was right in line with that history. "What saved us when that microburst hit was the meteorologist's warning three minutes before that thing hit," Armentrout says. "We literally had three minutes to clear the stage and bring everything down to deck level. It was a true fire drill, and everyone was on it. It was that weather warning that prevented danger." The only damage to the rig from the storm was some wind wall truss and fabric; the downstage truss on all three stages was wrapped to protect it from water damage.
Successful for all, celebrated by many, and sure to be even bigger next year, Performance Lighting Chicago brought their A-game to Memphis with modern fixtures and an easy to clone lighting system that was appreciated by all visiting LDs. They had a blast at the 2019 Beale Street Music Festival — and they're already looking forward to next year's event.
Beale Street Music Festival
Tom Lee Park, Memphis, TN, May 3-5 2019
 Crew
Lighting Co: Performance Lighting Chicago
Account Manager: Russell Armentrout
Production Designer: Matt Hubbell
Festival Lighting Lead Crew Chief: Autumn Venezia
Performance Lighting Sales and Marketing: Tyler Armentrout
Staging Co: Premier Global Production
Meteorologist: Erik Proseus/Cirrus Weather Solutions
Truck Drivers: Jose Campos, Al Gerber, Lane Lantis
South Stage Crew:
Crew Chief: Evan Porter
Technician: Justin Wagner
Front of House Programmer: Matt Graf
Center Stage Crew:
Co-Crew Chiefs: Kevin Roder, Tony Trovato
Front of House Programmer: Robbie Brown
North Stage Crew:
Crew Chief: Autumn Venezia
Technician & Rigger: Sal Novello
Front of House Technician: Joe Kelzer
Memphis in May/BSMF Personnel
President/CEO: James Holt
VP of Operations: Floyd Benson
Talent Coordinator, PM and "Master Babysitter:" Mark Miller
Leave a Comment: