Victory Lap: The Last Vans Warped Tour
Founder Kevin Lyman Makes His Move from the Tour Bus to the Classroom
It's noon on a sweltering July Tuesday in St. Louis, so I'm grateful to be ushered into the air conditioned production office of the local amphitheater for the last Vans Warped Tour. Kevin Lyman is on the phone. He's enthusiastically expounding about a new band he just heard in Fort Collins, CO, Plasma Canvas. It's fronted by a trans woman originally from the St. Louis area. "Yeah, she got run out of St. Louis, and I said to her, 'You play Warped here. That'll be a nice 'F*** You' [to St. Louis] … oh yeah, the band is great." He jumped from that call to another, scolding a band manager for asking him for four more free tickets. "You had 50 comps at the beginning of the tour. You blew them all. You want four more? Pay $30 each. We set parameters, so just following the f**king parameters. And respect the music. …Tell you what: You buy those [regular] tickets, and I'll upgrade them to passes. But understand that what we do here has to have value." In the course of that conversation, he sees me eyeing a CD on the table from a band called Manhattan Blockade, and he covers the mouthpiece of the phone and pushes it toward. "These guys are fantastic, you should check them out." Once off that call, I apologize for being a bit late. "There's a fender bender right out front where you pull in," I tell him. He immediately turns on his intercom, asking for an update on that.
So no, Lyman is not phoning this last tour in. There's no resting-on-laurels happening here. He's as relentlessly engaged as one can imagine he was on the first Warped tour. Later, Scott Westgard, a consultant for one of the many charities Warped supports, shows me a recent picture on his phone of Lyman pedaling a bike, delivering a huge bag of ice. "His alliance to the tribe is strong, and he asks for very little," Westgard says.
"I've done everything I possibly can to be in the middle of all of this, and it can physically beat the hell out of me," Lyman reflects later, shunning the air-conditioned office for the back parking lot where the buses are parked, much to the chagrin of this writer. "I'm still the first off the bus trying to get the doors open an hour early." He seems to not think too much about the perceived void left behind when he moves onto his next chapter. "There are a lot of people interested in doing something like this, a lot of vultures circulating," he says smiling. "I've laid the groundwork, but I hope whoever comes forward to do whatever variation of this does it for the right reasons. Yes, it's done well for me, I've been able to raise a family and do some things, but it's all more than that."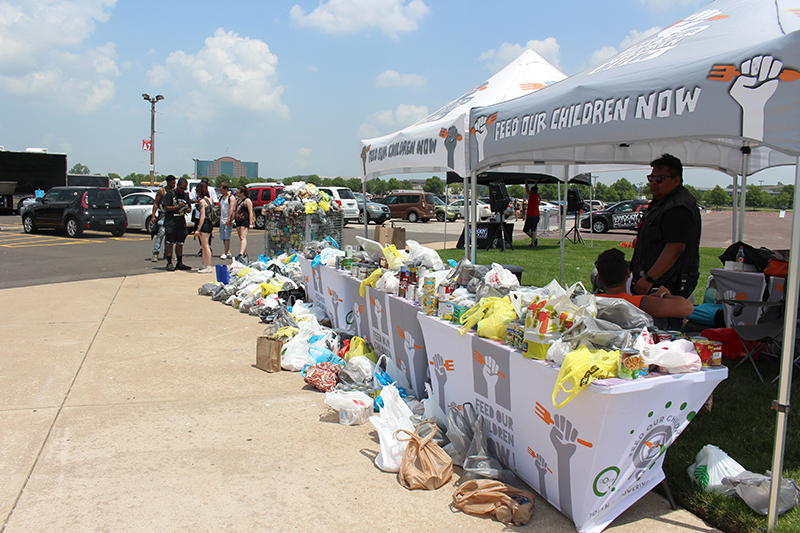 Dave Rat of Rat Sound has been a vendor and friend from the first tour, having previously done college gigs at student unions, where he first started working with Lyman. "Kevin's gigs were definitely the most organized, with the greatest bands," he says. "I think what I admire most about Kevin is his relentless passion for connecting artists with audiences. The creativity and vision of creating the Warped tour, combining skaters, motorcycles, cool products and bands for parking lot shows with sound and no lights! Brilliant."
Since 1995, Lyman has toured every year with an unheard-of number of acts (this tour has over 50), redefining the "festival" idea and making it about the kids (shows are from 11 a.m. to 7 p.m., demographics mostly from 12 to early 20s). Katy Perry, Linkin Park, Avenged Sevenfold, Blink-182, Limp Bizkit, My Chemical Romance, Fall Out Boy, Paramore and a pre-Fergie Black Eyed Peas are just a few of the artists he's launched. "I didn't expect the emotional reaction to this last tour," he says. "This festival was important — it changed some people's lives." He jokes that when he first announced that this would be his last, the comments from the press and online made him feel "like I was going to my own wake. Most said good things about me, and others said I should have retired 20 years ago!"
‡‡         Social Responsibility
What distinguishes Lyman's legacy is that Warped has always been more than just about the music. Starting with the food drive table set up at the gate, which regularly gathers more than three tons of food for a local charity at every stop, there are some 90 charities, nonprofits and social responsibility organizations that benefit from a connection with the Vans Warped Tour. Westgard notes how Lyman's support for the anti-smoking group, Truth Initiative (formerly the American Legacy Foundation) has made an impact over the years. "When he was recently at their offices in Washington, DC, they told him he saved well over 250,000 lives," Westgard adds. "He is the Pied Piper for this tribe." In Denver, they held an event called Brewbies where local craft breweries came out and raised money for Keep-A-Breast foundation, which raised $5,000 right then and there. The challenges of young bands understanding the boundaries of relationship with their audience members has been a recent serious issue Lyman's had to face, and one he's faced criticism of not moving fast enough on. But now, in addition to self-policing and educating young artist about sexual harassment as it comes up (and he's thrown at least one band off a past tour for abusive behavior), he's brought A Voice for the Innocent, a nonprofit group that stands up for and supports the victims of sexual abuse, along for this tour.
Another urgent issue is the country's opioid crisis. "For me, it was about traveling around this country and talking to people under a tent," Lyman says. "I did this from Alabama to California, and I heard these stories of how opioid addiction was impacting their communities just by asking about how their families were doing." The call to action led him to work with iPug, an Australia-based tech company involved in health research and public health initiatives, and the FEND (Full Energy, No Drugs) anti-opioid initiative, resulting in an app that uses gamification [game-design elements] to educate people on opioids. "This began as most of my ventures do, a meeting in my backyard." (In this instance, there were a bunch of "suits" with coats and ties who showed up, prompting Lyman's 92-year-old neighbor to ask, "Are they here to arrest you or sue you?") Playing with the app on this tour leads to collecting points, which can be redeemed and used for special events, like acoustic sets backstage. "We've white-label-branded the app so it's easy to transfer to other audiences," such as baseball or NASCAR fans," Lyman says. The app has already proven to be beneficial to users, Lyman adds, noting the case of a young woman who was given an opioid prescription after sustaining an injury playing basketball. Lyman notes how she entered in the dose she was prescribed and the app told her she'd be addicted to the drug in just four days. As of early July, when the Warped Tour visited St. Louis, more than 13,000 had downloaded the app. At the current pace, some 40,000 were expected to do so by the time the tour ended in early August.
‡‡         What's Next
Lyman will go straight from the tour bus to the classroom as he takes up responsibilities as an adjunct professor at the USC Thornton School of Music in Los Angeles. He's pleased to have been brought in by a distinguished group of live event professionals including Mike Garcia (promoter), Mike Kaminsky (founder/president of KMGMT) and Vivian Wang (AEG). Longtime friend Trudy Green of HK Management is also on the faculty. "I have some ideas about where we can go that I want to explore with the next generation [of live event professionals]. I'll be teaching about live events, but also branding and social responsibility," Lyman says.
Turns out Lyman has been thinking of moving onto this next chapter for three years. Ticket sales had taken a hit, especially with his 14-to-17-year-old key demographic. "We've lost those kids to gaming." With that in mind, he cautions other would-be touring festival promoter wannabes intrigued by the shiny, flashy object that is the current tour's huge ticket sales. He points out that many in attendance of this tour are older, having come back out in honor of the memories of Warped tours of yore. He believes the festival scene in general needs a reset. Increasing saturation and decreasing profitability raises the risk of last-minute cancellations, potentially wreaking havoc on bands and fans alike. The future success of the younger festival business, Lyman adds, depends on the ability to build a real community. "We might have to take a step back to take a step forward," he says. "And we have to get smarter on routing, packaging and everything else. What I hope to do is now take what I've learned to contribute to that." Another area of concern is artist development. Labels for these types of bands don't know what to do with them if they don't get on a Warped tour. The pressure was such that labels were sending bands to Lyman that clearly weren't ready.
Lyman notes that there are financial challenges to the live concert business in general, and he says that charging an extra dollar to park, or more for beer all the time, is simply not sustainable. Neither is the $18 cheeseburger as experienced in a Nashville arena. "People are not going to put up with that — the public is not stupid," he says. "Let's not take our audience for granted. We all just have to get smarter." Most important, he adds, is making sure there's an audience in the future. "There's a dark cloud on the horizon for all of us who work in live music," he cautions. He quotes an Atlantic Monthly article about the dearth of 14-to-17 year-olds who drop out of all it, and the long-term ramifications if we, as an industry, don't engage that demographic. "If live music isn't ingrained in you by the time you're 21, then you're lost forever." Another ominous factor for the future of live touring is the retirement of major artists such as Elton John, and the increasing costs and complexities of things like trucking and security. "We're going to see more of the big acts become stationary in Vegas," Lyman says. "That's a fact we're all facing."
Kevin Lyman is back on his feet, getting ready to take another walk around the amphitheater in the brutal sun, as I plan my escape home. I ask if there's anything he'll miss about all of this. He smiles and says, "Maybe I won't miss having to talk to agents whose job it is to complain to me about the size of a band's logo on our website. Maybe instead I can spend that time getting five more tours to do food drives."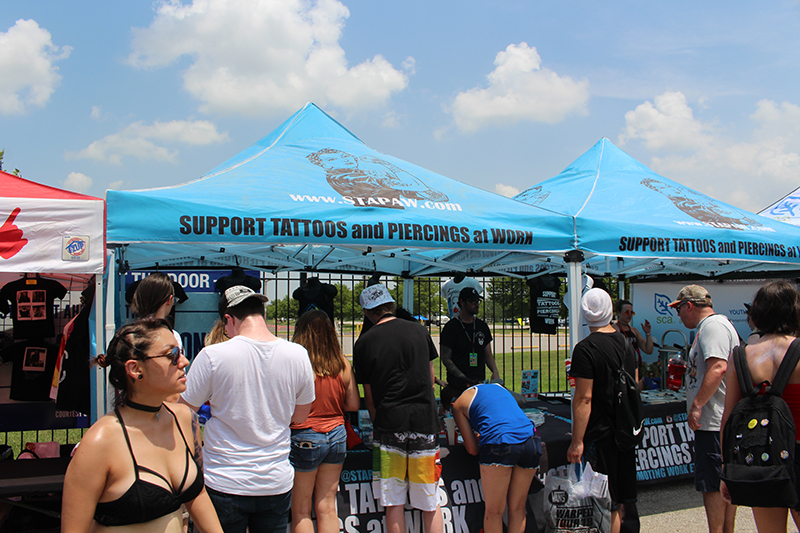 Leave a Comment: