Wet Electric Festival Celebrates 10 Years
An EDM festival that takes place in the water, where fans splash around in a 2.5 million gallon wave pool? Welcome to Wet Electric, a novel (and totally fun) entertainment concept that almost sank before it ever got started, since officials in Phoenix, AZ were understandably concerned about the idea of mixing H2O with the electrical power involved in a music festival.
However, the team behind Wet Electric persisted in demonstrating how their design would keep all things electrical safely away from the water. Their efforts almost didn't pay off. It wasn't until about 30 minutes before the gates on the inaugural Wet Electric were scheduled to open that the power for the event was officially green tagged.
‡‡         Wet and Wild — but Safe
In the ensuing decade, Wet Electric has emerged as a major stop on the EDM circuit, featuring stars like Tiësto, Diplo and Adventure Club. (The festival site, Big Surf waterpark, also has an impressive history. Opened in 1969, it's one of the first wave pools to open in the U.S., and Pink Floyd performed there during the band's 1972 Dark Side of the Moon tour — although that evening's elaborate stage show was cut short by another kind of "wet electric" concern — a mid-September desert thunderstorm —ed.)
Fast forward to April 27, 2019, and Wet Electric's organizers, Activated Events and Relentless Beats, once again staged an impressive event, with a lineup including RL Grime, Benny Benassi and What So Not, among others. The same organizers staged Band Splash with rock acts April 28; headliners included Sum 41, SWMRS and The Wrecks.
John Garberson and the team at Creative BackStage have been, lighting Wet Electric since the early years, and they were back for this year's milestone 10th Anniversary EDM event. During this time, they've become quite adept at dealing with the challenges of creating a light and video show on the edge of a giant pool. This is evident in how they've adapted the stage itself over the years.
"We have gone through three scaffolding builders before finding the perfect match last year," says Garberson. "Our stage is elevated three feet over the water, with a barrier of between 13 and 15 feet separating it from the pool. There is also a four foot splash zone in front of the stage.
"Although the pool is completely filled during the festival, the wave mechanism is kept off," Garberson adds. "FOH is positioned about 450 feet from the dimmer world, with two 300-foot lighting snakes joined together to reach that destination. In the past, copper lines connected them, but now Ethernet with a switch is used in conjunction with a fiber cable. Generators are set high above the deep end of the pool and power is sent down over a 250-foot run."
Because of all the scaffolding required to make the stage work safely, weight loads are watched carefully. This makes it critically important for Garberson to use compact fixtures that are still able to deliver a punch, particularly since most of the festival takes place during daylight hours.
"We have to watch the weight, plus we are on an island, so it gets tight up there," says Garberson. "We can't go over the top with gear the way we can at other EDM festivals, so we need to rely on products that deliver a lot of impact for their size."
‡‡         Video and Lighting
Garberson and his team rely heavily on LED video panels, such as the Elation 20mm SMD1024 and the Absen 6.25mm A6T to create a very visible centerpiece for their design. For lighting, they go with plenty of high output set pieces like Chauvet Professional Strike 4 and Strike 1 LED blinders along with Philips Showline SL Nitro LED strobes in their rig.
"We obviously don't need to illuminate the stage in such a sunny outdoor environment, so we focus instead on creating a lighting and video displays that are engaging to look at," says Garberson. "When we turn on something like the Strike fixtures, it attracts attention any time of day. By turning on different cells of the Strike 4s in chase sequences, we create some nice eye candy that shows up regardless of the ambient light."
Now that Activated Events and Relentless Beats are following up on Wet Electric with Band Splash the following day, Garberson has placed more emphasis on adding flexibility to his rig. "We need to be versatile enough to give each festival its own unique look without taking anything away from either," he says. "We can do this with our video displays, but a lot of the variety comes from our moving fixtures. By adding gobos and changing beam angles, we can give the stage a different personality for each festival."
With a nod to the bright daylight environment, Garberson has favored high output moving fixtures like the Chauvet Professional Maverick MK2 Spot and Elation 5R Beam when putting together his festival rig. "I know some people might shy away from using movers outdoors in the middle of the day, but the newer fixtures have the punch to work," he says. "You may not want to do aerials in the middle of the day, but when you zoom in tightly, you can create dynamic looks on stage."
Garberson also has GLP Force 120 fans on stage, which help in the transition from EDM festival the first day to rock festival the second. "We design the lighting and stage for an easy turn around from an EDM table type setup to a rock stage ," he says. "The main lighting on the three trusses did not change this year. But we did lose the flown side LED screens, and all the ground screens for the rock event. We also cut a row off the back main screen so it flowed more with the flown fans.
"I've been wanting to show off the GLP fans, and this two day fest was the perfect time to do so," continues Garberson. "The first day during the EDM performances I flew them off of a 10-by-10 truss arch. For day two, I put the fans where the flown side LED screen were, placing them about 12 feet off the ground. It was a good look."
Enjoying those dynamic looks as they listen to first-rate music while swimming, floating and splashing in the world's largest wave pool, the thousands of fans at Wet Electric and Band Splash are unaware of all that goes on behind the scenes to make this unique dual event happen. Garberson credits his team, which includes Elie Knight, Maxine Kichler, Jamie Rivera, TJ Watson, Shane Shadler, Wes Webb, with helping the show run smoothly.
"There are always some challenges involved with load in and out at this event," says Garberson. "The steel builders have to walk the gear into the pool to set the feet, and once the dock is started, then the stage pieces get rolled out and built as they go. It's a very long push from the trucks to the stage because of the environment where the festival takes place, so we split up hands per section from the truck to the stage."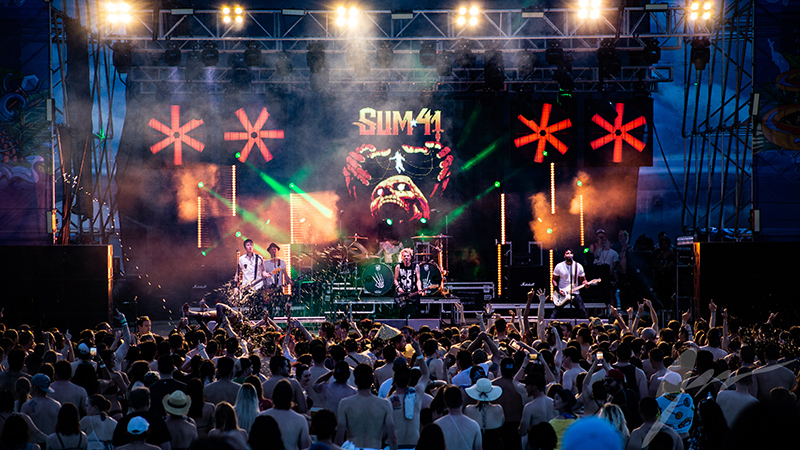 Although the Creative BackStage team is careful to account for every contingency in planning the poolside stage, the actions of artists can sometimes be unpredictable. "My goal, the stage manager's goal, and all the techs' goal is to keep any water off the stage," says Garberson. "We ask the artists' management to tell performers not to jump in and get back on stage, but artists being artists, this can go in one ear and out the other. So yes, occasionally an artist will jump in and get back on stage. This can get some water on the stage. We don't like this, but it can be handled depending on where the water falls. We have many breakers from the distro to main shut off on stage; if we really had to shut the power down, we can in a flash."
It takes 3.5 days to build the stage for this fun-in-the-water-and-sun festival, and two days to load in production. Load out requires about five hours and striking the stage consumes another two days. Garberson believes he and his team are able to accomplish these tasks so quickly and efficiently because after ten years, they have the process of lighting this unique festival "down to a science." True, but seldom has science been so much fun.
Leave a Comment: