It's a Christmas Miracle – 'A Christmas Carol' at the Geva Theatre Center in Rochester, NY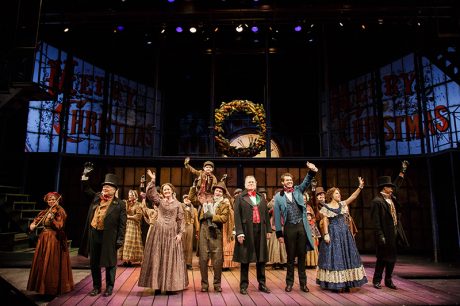 The winter of 1985 brought with it a range of chilly perils: a frigid nor'easter that blanketed the city of Rochester, New York, with two feet of heavy snow; winds and single-digit temperatures that made actors question their choice to spend December upstate; and a stunningly beleaguered production of Charles Dickens' A Christmas Carol at Geva Theatre Center.
Eight months earlier, the theater company, headed by producing artistic director Howard Millman, had just moved into its new building at the corner of Clinton and Woodbury Avenues in downtown Rochester: a reimagining of a historic naval armory/convention center. The sparkling new theater expanded the company's production capabilities, giving Geva the opportunity to attract new audiences with spectacular shows. Designed by William Barclay, the first-ever production of A Christmas Carol was expected to wow theatergoers with its rolling scenery, magical special effects and effortless scene changes.
Differences between artistic staff members delayed the finalization of the set design, however, leaving the skeleton construction staff with less than three weeks to build it. Two two-story wagons would represent Ebenezer Scrooge's office and home, as well as the hovel occupied by Bob Cratchit and family and a number of locations in Scrooge's shadowy past. Powered by a stage crew army, these heavyweight wagons lost their casters regularly and came to stuttering stops mid-stage, missing their marks by several feet. Walls of heavy flats lumbered in from one side or the other, teetering as they moved into place and requiring a platoon to hold onto them from behind to keep them from falling forward.
Stage manager James Stephen Sulanowski donned his headset every evening and began a stream of troubleshooting instructions from the moment the lights came up. As the deck supervisor reported the latest crises from behind or under one set piece or another, Sulanowski spun a series of ingenious solutions and workarounds, keeping the nightly meltdowns a closely guarded secret from audiences. Carpenters repaired, rehung, and refurbished what they could between performances, but by the middle of the run, actors had learned to take a step or two back during crowd scenes and place a shoulder against the set, lest it lean past its tipping point and literally break the fourth wall.
How do I know all this? I was there, as a public relations associate on the marketing staff. This production of A Christmas Carol was meant to be the theater's annual gem, but when the show finally closed a few days after Christmas, crew members gleefully toted the set to a waiting dumpster. It seemed like Geva's venture into yuletide theater could be over—except for one critically important factor: Audiences flocked to the production, bringing their children and grandchildren and talking excitedly in the lobby about how Geva would become part of their annual holiday tradition.
So the following year, scenic designer Bob Barnett created a glittering (almost entirely stationary) red and green portal festooned with giant holly leaves, turning the thrust stage into a gigantic Christmas card. Scene changes within this false proscenium involved cast members carrying furniture and props on and offstage. Special effects, including an elastic, morphing Marley doorknocker and ghosts appearing and disappearing through trap doors, created the desired magic. A Christmas Carol settled in at Geva for the next ten years.
‡‡         More Dickens, Please
The problem with that production, noted current Geva artistic director Mark Cuddy, was that it didn't have a lot to do with the original novel. Cuddy saw the production during his first season in December 1995 and decided it was time for a change. "Eberle Thomas and Barbara Redmond had written the script, and audiences came year after year," said Cuddy, "but there were a lot of characters that were not featured in the Dickens novel. For example, Mrs. Dilber, Scrooge's housekeeper, had a starring role."
Cuddy made the decision to mount a fresh production, one he knew well from his years at Sacramento Theatre Company. "At my first Geva board retreat [in the winter of 1996], I announced we were doing a brand new production of A Christmas Carol, and everyone's faces dropped. They asked, 'Why would you change this? Don't we have bigger priorities?' I said, 'For so many people, this is their first entry into Geva Theatre, and don't we want to put our best foot forward?' Then they began to get excited."
The new production, written by Californians Richard Hellesen and David de Barry, reignited audience interest and gained a new following. Cuddy began to consider other ways to celebrate the Christmas season at the theater, alternating the Dickens tradition with a 20th-century favorite, a live production of Jean Shepherd's classic tale, A Christmas Story. Nothing succeeded like Dickens.
In 2010, Cuddy decided it was time to try adapting Carol himself. "I had started doing the show in 1988, but I had never directed it," he said. "I knew what I liked about the Sacramento version, and I knew what parts of the story I wanted to emphasize."
He called on a longtime collaborator, composer and librettist Gregg Coffin, whose Geva premiere musicals Convenience and Five Course Love have been making the rounds of regional theaters since the early 2000s. The fast-moving result wraps in under two hours and flows seamlessly from one location to the next—with a cast that requires only seven Actor's Equity Association union members among a cast of 25.
"I wrote it as a producer," said Cuddy, "so we have eight children and ten ensemble members, eight of whom are college interns. We get a full stage of people, but only seven principals."
By this time, theater technology had advanced in ways that were barely imagined in the 1980s and 1990s. "I've always been fascinated by the newer technology," said Cuddy. "Kids in the video age just can't listen to people talk for very long, so I wanted to streamline the production. When I started auditioning kids, I would ask them if they knew the story. Some would say they saw a movie. Their favorite part? Eight out of ten would say, 'When Scrooge gets nice.' It's like a rite of passage—they want that transformation to happen. I wanted to touch on all of that, and to get inside of Scrooge's mind with all the abandonment issues he had, but it's his transformation that kids remember. That informed a lot of our design choices. Things can change—things are fluid, life does go on. So the design is a metaphor."
‡‡         Magic On Cue
Video roll-ins, synchronized sound and light cues, flying objects and people, gliding wagons, and elevators rising through a two-story set—all of these brought delightful surprises to Geva audiences when the latest Christmas Carol opened in 2010. Since then, scenic designer Adam Koch and video designer Dan Scully have had the opportunity to augment their original ideas with more visuals: a London streetscape on sliding panels at ground-floor level, and warmth and color behind the elevated bridge. Scully's video projections now include the smiling, singing faces of children in colorful period costume filling the streets as the Ghost of Christmas Present brings Scrooge into the London celebration. The Ghost of Christmas Past flies in and hovers, streams of golden light shimmering continuously from the skirt of her billowing gown. Marley's face floats across Scrooge's bedroom walls as the ghost jangles his chains and shrieks from beyond the grave, a startling effect even for adults who know exactly what's coming.
For stage manager Frank Cavallo, Geva's longest continually serving staff member, memories of the 1986 A Christmas Carol (the one with the red and green portal) make him marvel at how far technology and experience have taken this story over the course of 32 years.
"The fact that all of the scenery, the big scenic moves, are now automated and programmed—that is amazing," he said. Cavallo worked on the Carol stage crew and as assistant stage manager for nearly a decade, back when nothing happened onstage unless a crewmember pushed it. In 2010, he became the stage manager for the annual holiday production, and he and assistant stage manager Jenny Daniels have kept the show moving at a brisk pace for eight seasons. "There are still minions pushing things, but it was always Howard Millman's dream to use a holographic Marley. Sadly, the technology hadn't been invented yet."
Elevators move cast members up to the bridge and down through trap doors silently and effortlessly, Cavallo notes. In particular, the characters of Want and Ignorance, two important lessons Christmas Present teaches Scrooge, suddenly appear with chilling creepiness from under the ghost's velvet coat. "Instead of two people in the basement with hand cranks, running the elevator up and down, someone just hits a button," Cavallo said.
The Ghost of Christmas Yet To Come swoops over the audience from the theater's high catwalk as ghostly images haunt the distraught Scrooge at the foot of his own grave. "We sprain Scrooge every year, because he runs around a lot," said Cavallo. "When you have holes opening up in the floor and people running around in the dark, you wait for a crisis. So far, we've been very fortunate."
Daniels, who has been with Geva's holiday production since Cuddy arrived in 2010, keeps detailed notes of every actor's movements. "The prompt book Jenny has put together should be in the Smithsonian," said Cavallo. "Every move that everyone makes—what hand to use to pick up a prop, where to stand, how to make a costume change—is recorded in there, and it's all typed out; nothing is handwritten. It's what they teach us in school a prompt book should be."
Cuddy directs this production, but it's up to Cavallo and Daniels to reproduce the blocking when new actors take over roles. "We've never replaced more than one principal a year until this year—we replaced Scrooge," with Steve Hendrickson taking over the role, "and the Marley track, which meant we had to recreate the effects with his face." Garfield Hammonds assumed the Marley role, as well as four minor characters throughout the production. "Those are the people you can't say to, 'Do what you did last year.' It's nice for the people who have done this for years to have someone new to play off of."
Cavallo came to stage management through his family's summer theater in Alexandria Bay in New York's Thousand Islands region. When they moved to a new theater outside of Rochester, Cavallo came to Geva "to see how real professionals did it." He became a stage carpenter and electrician, but stage management held the greatest attraction for him. "It's the one opportunity to be in the rehearsal and the performances," he said. "I had been the deck manager, so I saw the plays only after they were made. I wanted to see the process of them getting made, and feel like you're in the middle of it all."
Today, he coordinates a crew that includes stage operations manager Carolyn Pike, three stage crew members, a lighting board operator, a sound board operator, two followspot operators and four wardrobe people. "The video runs through the light or sound board," Cavallo said. He calls every show, while Daniels runs a portion of the backstage activity.
An aggressive performance schedule—ten shows a week instead of the usual eight—adds a level of complication most productions do not have: double-casting children. "We have a green team and a red team," Cavallo said. "There are eight kids in the show and college interns, so they get sick." This means additional rehearsal time to be sure that everyone is up to speed with this year's production, even though most of the cast has performed it before.
"We have one family, the Muellers, who were with the production before me," said Cavallo. "At least five of them have been in the show. Megan started as Tiny Tim, and aged through the family to a Servant Girl and Miss Fezziwig." This year, Erin Mueller alternates with Alden Duserick as the Ghost of Christmas Past, while Allie Mueller is one of two children playing Tiny Tim.
Doing the same show for eight years may sound dull to those who have never been in A Christmas Carol, but boredom is not in Cavallo's vocabulary. "Whatever is satisfying about this is not what I look for in other things we do. There's the in-house part, with all these cast members coming back every year—they're our friends now. And doing it for a different audience every night is very much a part of it. There's a common feeling … as crazy as the hours are, they get crazier for this. So there's a mission element to it, in a good way. We're all in it together."
Randi Minetor is a freelance writer and author based in upstate New York.
Leave a Comment: