'Rocktopia' on Broadway: A Classic(al) Mashup
The latest concert experience to recently hit Broadway, Rocktopia presented song movements that combined classical music with classic rock in a colorful way that strived for a fluid synergy of the two genres.
The 62-piece choir/orchestra/rock band ensemble not only linked the music together — for example, Richard Strauss' "Also Sprach Zarathustra" led into The Who's "Baba O'Riley," and the "Gate of Kiev" section of Modest Mussorgsky's "Pictures At An Exhibition" melded into U2's "Where The Streets Have No Name" it allowed for different arrangements of some rock songs because of the increased instrumentation.
Rocktopia, which was created by singer Rob Evan and the show's conductor, Maestro Randall Craig Fleischer, also featured singers Kimberly Nichole, Chloe Lowery, Tony Vincent, Alyson Cambridge and LaKisha Jones. The band included guitarist/musical director Tony Bruno, bassist Mat Fieldes, pianist Henry Aaronson and drummer Alex Alexander. Presumably this same cast will soldier on for a proposed national tour this fall. The Broadway run started on March 20 and ended on April 29, and singers Pat Monahan (Train), Dee Snider (Twisted Sister) and Robin Zander (Cheap Trick) all had individual guest spots running for several days.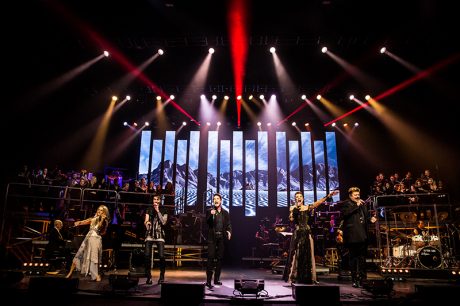 ‡‡         A Different Kind of Show
In the same way that the musical core of the show straddled genre lines, the technical aspects of the show also explored some new areas for those behind the scenes. It is not a standard rock concert, nor was it a normal Broadway production. It required an understanding of both for the cast and crew to make it work, as both production supervisor Russell Felton and production and video designer Michael Stiller attested when they spoke to PLSN.
Felton's responsibilities for Rocktopia were a little different than for other shows he has worked on. "I had to make sure the choir mics were in the right place, and also to make sure the lighting guys had fluids in the foggers and the lights were working," he explains. "There were definitely a lot of pieces to put together."
Each night, Felton and the crew had an hour before doors to check the systems, line check the band, sound check the singers and deal with any residual issues. Once the show began, he did not have a lot of cues to call as most of the show was run on time code. The spot ops called their own cues, while the board op had a few manual ones.
"I was making sure that the guest artists knew where they were supposed to be," says Felton. He kept track of all the entrances and shepherded them along. Then there were little snafus to tackle. "Last night, Pat Monahan accidentally grabbed the wrong microphone. First time he'd done it in all the rehearsals and shows, so we had to figure out how he grabbed the wrong one. And then Rob's microphone didn't work last night, so we had to figure out why. Stuff like that happens in a live show."
Felton has been with Rocktopia since they did the PBS taping at an opera house in Budapest two years ago, which was followed by a national tour. He worked on the TV lighting side in Budapest, then took over the production supervisor role in New York. He notes that many of the stagehands were surprised at the day and a half load-in for the show since many Broadway productions can take up to two months for the same process. But Rocktopia is a finely tuned machine. "I explained to them that when you do a rock show. you get five or six hours," says Felton. "Everybody's moving towards sound check."
With Rocktopia, the automated trusses came already loaded from BML Blackbird, and the decking was done so "it just didn't require massive manpower to build something," says Felton. "It was all the touring stuff. It was already pre-built and meant to go together. It's not an elaborate setup. The show looked great."
The Broadway version of Rocktopia amped up the lighting from the road version, but it had slightly less video presence than the PBS show.
"The video screen in Budapest had the central array that you see on Broadway, but then there were two side arrays that we've never had back," explains production and video designer Michael Stiller, who has been with the show since its inception five years ago. "A lot of it has to do with the size of the orchestra. With Rocktopia, they really want to have as much of a real orchestra on stage as they can. My job often entails helping them fit all these players on stage in an effective manner that allows for the kinds of entrances they want."
‡‡         The Broadway Version
For Broadway, there was a center entrance upstage, whereas in Budapest there were two upstage/downstage entrances as they had a very large orchestra platform in the middle and two smaller orchestra platforms and a choir to the side. "We had these nice stage right/stage left entrances that were upstairs/downstage, and they weren't just coming in from the wings," says Stiller. "That's actually harder to do than the center. We liked the center entrance and definitely liked getting something that was a little bit of a grander entrance rather than just coming in from the wings."
With the Broadway configuration being an orchestra of 20 and a choir numbering 30, they chose "to divide it up in an elegant way that also made sense for musicians," says Stiller. "There are things about an orchestra layout that you can't mess with, although we do take more liberties than a lot of straightforward orchestras just adding in the choir." The larger the orchestra and choir, the more limited the entrances that can be navigated, so Stiller let the producers understand this.
For Broadway, the musicians were separated into two multi-platform sections, one on each side of the stage. The choir and orchestra sections at stage left and right were about 24 feet wide by 17 feet deep. Hidden stairs allowed performers to get up to the higher sections. "We wanted to fill it up vertically as much as possible to make it appear as grand as it could be," says Stiller.
"The heights for the orchestra started out around two feet, eight inches with the percussion at top on stage right was seven feet, four inches," Stiller continues, noting that everything was "a little staggered" for an asymmetrical presentation. "If things were two feet, eight inches on stage right, then the cellos and the strings and the woodwinds or the horns started at one foot, four inches stage left. On stage right, the percussion was the highest thing; on stage left the choir was the highest thing."
Maestro Randall Craig Fleischer was not conducting at center stage, partly to not block the entrance, but also to skew the layout clockwise by a few degrees.
‡‡         Video
The video screen, described by Stiller as "this exploded array of strips," was hung upstage center. "I like to take linear, rectangular video and chop it up into negative space between the strips, kind of explode it a little bit," the designer explains. "The overall array was about 35 feet wide by about 15 feet tall, and it could be broken up any way we wanted." BML provided their proprietary Axiom 5mm video panels.
The array consisted of three groups of five columns, each separated by about six inches, and with each group of five separated by another 12 inches. The five columns were offset in height, thus the configuration was staggered — high, low, high, low high, — but "after that first group of five, there was a bigger gap," says Stiller. "The whole thing could feel like one exploded image space. But it could also very easily become three, because you get that extra negative space between the three groups of five. That's exactly how we used it."
For the "In Memoriam" section, featuring a collage of deceased rockers, three at a time, "we would use the whole wall for each image, as an example. At other times, we split up the imagery."
Each movement (i.e. medley of songs) contained an accompanying video component created by Stiller and Austin Switser, and each one told a story to the music. Stiller's favorite movement, dubbed "The Rebellion," featured a transition from Pink Floyd's "Another Brick In The Wall" to Muse's "Uprising." The Pink Floyd part highlighted a lot of "mind control imagery" like "a number, a floating eyeball and a floating skeleton," explains Stiller. "But then for 'Uprising,' we ended up using a lot of documentary footage like the famous picture of the man standing in front of the tank at Tiananmen Square. There was a lot of Woodstock imagery, the Kent State riots and a lot of other imagery of various times and places around the globe, and from past decades where there have been oppressive governments beating back a population in revolt. This was the one [montage] that really told an important and solid story in a very powerful way. I liked a lot of them, but that one was special."
‡‡         Lighting
The lighting for Rocktopia presented Stiller with a new challenge. His approach to lighting faces had to be different, especially for the TV special, which had close-ups of the singers. "In a rock show, your lighting is largely scenographic — it's doing aerial effects; it's making shapes; it's creating architectural statements within the spaces in the air," explains Stiller. "We were doing that as well. The heart of the design was a scenographic lighting rig, but I had to light the choir and the orchestra in moments when they were really playing and taking over. I had to light them in a way that was a little more traditional. It's not so much that they were staggered or that they're at different heights, but I had to back light them as well. I had key back lights for these important groups of people, and they were not necessarily arrayed in a way that I would put them precisely to complement all the theme effects and scenographic lighting that I was doing."
BML Blackbird provided the stage, video and lighting for the show. The lighting rig for Rocktopia relied heavily on Chauvet Professional fixtures, which surprised both Stiller and his associates. The tour was designed to fit a rig that he got a good deal on, particularly as one donor encouraged him "to at least give a good look at Chauvet," says Stiller. "They have actually come a long way with their Professional line. I decided that some of the fixtures were not only good enough, but I really liked how great they were. We'd already programmed for this rig, and when we talked to Broadway we had to add quite a bit of lighting to bring back some of the key lights for the orchestra and choir that we'd had in Budapest. We did elaborate on the rig adding more Chauvet fixtures."
Beyond the 37 R2 wash lights and five RH1 hybrid fixtures from Chauvet, Stiller did "go back to one fixture in particular because he loves them." He added in nine Martin MAC Vipers and 15 Vari-Lite VL3500s. "The Chauvet washes are great competitors for the MAC Aura," says Stiller. They also utilized four Lycian 1290 2K followspots for key light.
"And there's a funny little light called the Chauvet [Rogue R1] FX-B," reveals Stiller. "It's a little effect light that we used on the deck for some eye candy. It's cute. There are five individual heads in it that tilt independently."
The lighting rig got a workout during the rousing encore of Queen's "Bohemian Rhapsody," which benefited from the big orchestra and choir support. "That got into this real crazy call-and-response lighting thing where we illuminated various people in different parts of the audience and on the stage," says Stiller. Singers Chloe Lowery (stage right) and Alyson Cambridge (stage left) each appeared in the fourth row for the beginning of that call-and-response part of the song before returning to the stage.
‡‡         Control
To make sure complicated parts like this worked, the whole show was run with clicks and timecode. At the inception of the project, Stiller advised the creators that if they wanted the lights and music to be tightly synced together, that would be the best solution. The trick was to convince Maestro Fleischer to agree to it.
"Everyone had clicks and counts in their ears, and it was all in perfect time. All of our light and media was driven by this automated system," says Stiller. "That was a big deal when they agreed to that, because I didn't know that they would. I don't think too many maestros would go along with that. We really used that exactness in 'Bohemian Rhapsody' to be on the money for this whole call and response section — light somebody in the audience, light somebody on stage, light somebody in another part of the audience. We wouldn't have gotten to do that if it were not automated, at least not in the scenario we were in, which was a limited Broadway run."
The hardest aspect for Stiller, lighting-wise, was when all the performers came onstage during the show's final numbers, because he had to ensure that all their faces were lit. "We had four followspots; we wished we had eight," he remarks. "We wanted to light the guitarist and the violinist for their solos to a greater degree than we would for a straight up rock show. Then we had all five singers, the guitarist, the violinist, and maybe even the bassist, downstage doing 'Don't Stop Believin' towards the end of the second act. The challenge was getting all those people onstage and keeping them lit in a way that looked right, but was also not polluting the architectural, scenographic lighting. That was the hardest thing to do, and I feel like we did a good job."
It is very clear that everyone onstage is relishing each performance, delivering their parts with gusto every night, complementing all the technology with the needed human element. The audiences picked up on that too. "The cast was having a blast," confirms Felton. "They were fun back stage. It was full-on fun."
Leave a Comment: