A Catalog of Dreams
Reviving (and Transforming) Merrily We Roll Along, Off Broadway
Despite becoming a box office bomb for its first and only Broadway run in 1981, Stephen Sondheim and George Furth's Merrily We Roll Along has its own special charm and has since fascinated many theatergoers and makers. The most recent off-Broadway production at Roundabout's Laura Pels Theatre streamlined the musical material and reduced the cast to six people as it retold the story of three artists — Frank the Broadway composer (Ben Steinfeld), Charley his right hand word man (Manu Narayan), and Mary the author and eventual critic (Jessie Austrian) — whose lives and friendship have deteriorated dramatically since their salad days. The twist here is that the show begins in 1980, when their union has fallen apart and Frank has sold out to Hollywood, and then it goes backward in time to 1957 when they were young and first became friends. As they revert to their more idealistic selves over the course of the show, the ironic context of each new scene becomes greater.
The original show played only 16 official performances back in November 1981 (this new version ran for three months in total), but since that time it has been revisited and revised numerous times off-Broadway and in regional theatres outside of New York. "There are a lot of different versions of it," acknowledges this production's scenic designer Derek McLane, who speaks to PLSN as he works on the set of Burn This, which opens later this month. "Our production went back and got some of the original alternate parts of the play that Merrily was based on and integrated some of it into it as well. They got rid of the intermission, made a bunch of cuts, and a variety of different things were done."
One of the café scenes gets expanded, and the refrain of the title song that was performed between every major transition in past productions was removed. It occasionally surfaces, as does the singing of the specific years, as the show goes backwards chronologically, but they do not occur every time. There is an additional scene that comes from the 1934 play of the same name by George S. Kaufman and Moss Hart, upon which Sondheim's musical is based. According to McLane, Sondheim was heavily involved in this new version and gave it his blessing. He attended many previews and was there on opening night, "and he was very moved by it."
‡‡  Designing the "Toy Chest"
This is the fourth time that McLane has worked with the Fiasco Theater Company, who partnered here with the Roundabout Theatre Company. He also did Sondheim's Into The Woods with Fiasco as well as two Shakespeare productions, The Two Gentlemen of Verona and Measure for Measure. "They tell stories with actors using objects to help tell their stories," he explains. "That's a big part of their methodology. They've always described it as kind of a 'toy chest.' What is the toy chest that the show comes out of? Once the toy chest is defined, they're quite adept at using the toys and moving them. When I first worked for them, they described their philosophy and I asked, 'How do I, as a set designer, fit into this?' They said, 'What we really need you to do is design the toy chest. Design the container for the show.
Despite having so many items onstage, they are catalogued and stored in such a tall structure that the space still seems big. By contrast, The Robber Bridegroom, which played at this venue three years ago, was packed with props but felt way more crowded. That musical had a lighting grid tilted at a 45° angle above the stage, infusing the bric-a-brac and taxidermy found onstage within the packed lighting scheme. The striking wood set included everything from lanterns to knives to mirrors as part of its décor.
"For Into The Woods, the container ended up being a kind of exploded piano," continues McLane. "It was literally made of real piano parts and oversized piano parts, and that became the 'woods.' For Merrily, the conceit was really that it was a prop and costume storage space that contains things that are memories of their lives but also the objects that they need to tell the story with. It feels very much like a place of the theater with its magical props and costumes and wigs, but it is also a place that really reflects the accumulation of their lives because so much of the story is about that. It's about what happens to people and their lives over time, what happens to their dreams. Some of those dreams are represented by some of the objects that are on the shelves."
The collected articles include a wide variety of objects: glassware, radios, television sets, lamps, theater masks, mannequin heads, and composer busts. There are clothes of various types. A couple of mannequins are used during one dance number. There is a bank of telephones, a bank of typewriters, a make-up mirror adorned with photos, a chimney top, and various furniture pieces, many of which are used in the show. During the final rooftop scene, two skylight pieces emerge, one flown in and the other slid onto the stage. A chandelier above stage right and a ceiling fan above stage left are also dropped down for various scenes as well.
The collected props "came from a whole variety of places," says McLane. "A lot of it was from inexpensive antique stores. Some of it was from the Roundabout prop storage. There were some things there built — the Alvin sign, the Applause sign and, for the last rooftop scene, some of the skylights and the chimney." The props also represent the span of years between 1957 and 1980, creating a cross-generational collection.
The two sliding doors upstage center are around 11'6" wide combined (5'9" wide each) and 16 feet high. The acting space is approximately 29 feet wide by 20 feet deep, and the shelves are 20 feet high. The set is essentially a giant storage unit with a metal frame. There are four sections on either side of the doors with varying numbers of shelves, and there is one shelf running above the doors (which part for select scenes).
"We open those doors, and there's a miniature New York City upstage for the rooftops," says McLane. "That's the most complete scene change we have on the show, that last one. There's a drop back for L.A. with palm trees. That was the only actual drop. There are a couple of other objects that you see back there. There is a sign for the cafe that they're at. Big French doors for the brownstone. There's a Mylar glitter curtain for the scene where Gussie sings 'He's Only A Boy'. There's a brick wall back there which is used for a couple of different things, including the stage door when they're outside of the Alvin Theatre."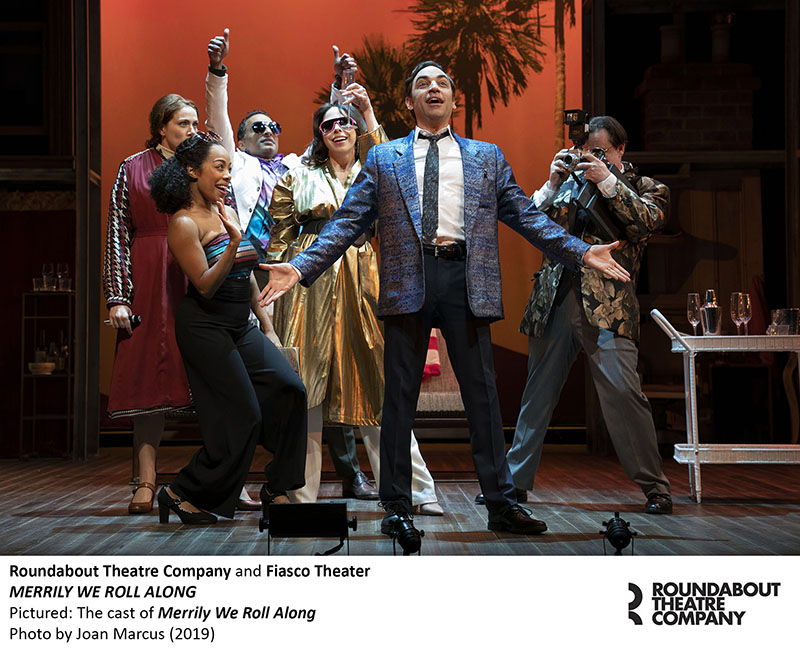 ‡‡  Objects as "Texture"
With all that cultural detritus stacked up high onstage, this giant storage unit reaches very close to the lighting grid. Lighting designer Christopher Akerlind had to use fixtures located on the balcony rail as well as some side light that managed to break through the set. "Some of it literally comes through the shelves," says McLane. "There are some practical lights built into it and a couple of theatrical lights as well. There are not many that were part of the set."
The most challenging aspect in designing the Merrily stage was "finding enough things that made sense for the story to fill up the space so that it was dense enough that it could function as texture." remarks McLane. "If you really only put just the objects that you needed, it would have been so few that each one would have taken on too much importance. It was finding a way to fill it with enough objects that still made sense for the story. It couldn't be random. There's no room for random or irrelevant things, but having enough things there so it can function like a texture and a space rather than just a bunch of individual objects."
The decorative proscenium arch that they built, which is dotted with small lights along its length and punctuated with an architectural ornament at its center, also becomes part of the onstage unit. "I wanted something to finish it, to cap it," says McLane. "So much of the story is about the theater that I thought the proscenium arch looks like it's stored. The top of it is hung with ropes and the side pieces are clamped onto the space with C-clamps. So, it's made to feel the proscenium is not permanently there. It's also stored."
McLane spent approximately two months designing the set of Merrily We Roll Along, and it was built over the course of six weeks. He is known for his impressive scenic work on Broadway shows like Noises Off, Gigi, The Heiress, Anything Goes (for which he won a Drama Desk Award), 33 Variations (for which he won a Tony), and the forthcoming Moulin Rouge! But he also likes to take on interesting off-Broadway projects that he thinks will be good and creative.
Unlike the more complex design occupying larger spaces in some of his bigger projects, the Laura Pels Theatre presented more restrictions. "The space is small there," concedes McLane. "There's virtually no wing space there. There's no fly space either." Not that he complained; he just made it work.
This version of Merrily We Roll Along works because of the impassioned performances from the cast as well as McLane's scenic work combined with Akerlind's lighting. The set looks good whether bathed in blue, radiating red, or being shown in natural light. For McLane, it gave him the chance to try something new, and he is very happy with how the show and his design turned out. "For me, it was a really interesting experiment trying to figure out a different way to design it," he says, "a way to design it that worked for the Fiasco and their way of storytelling."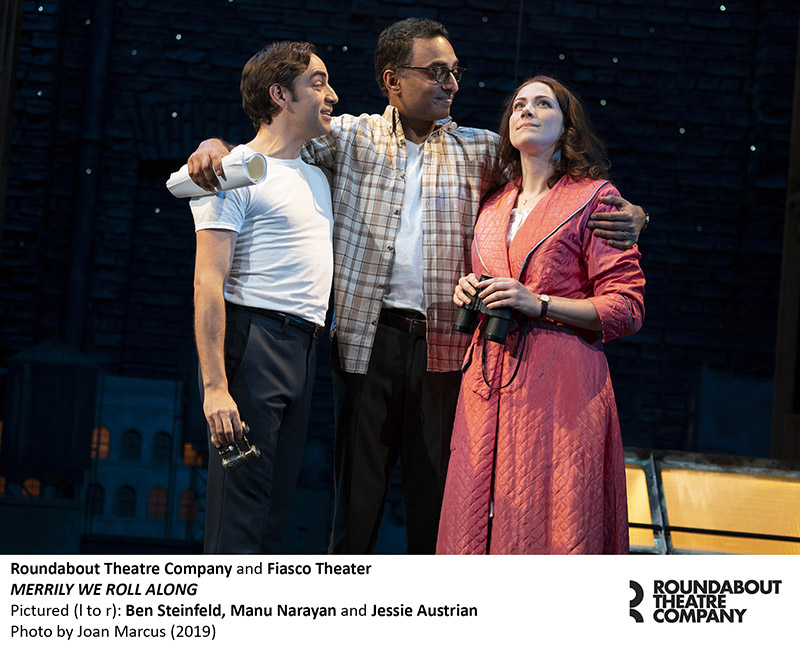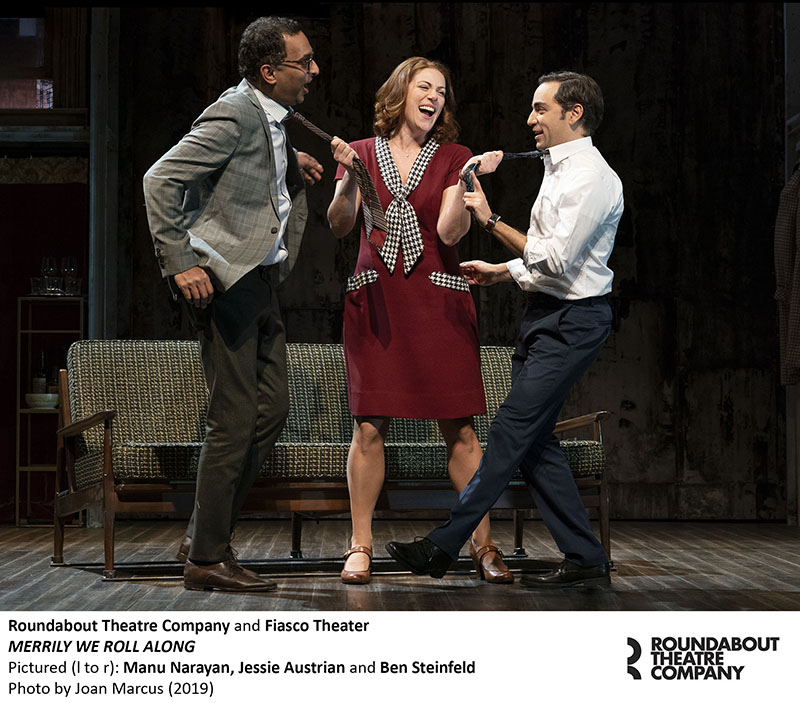 Leave a Comment: