Designing on the Fly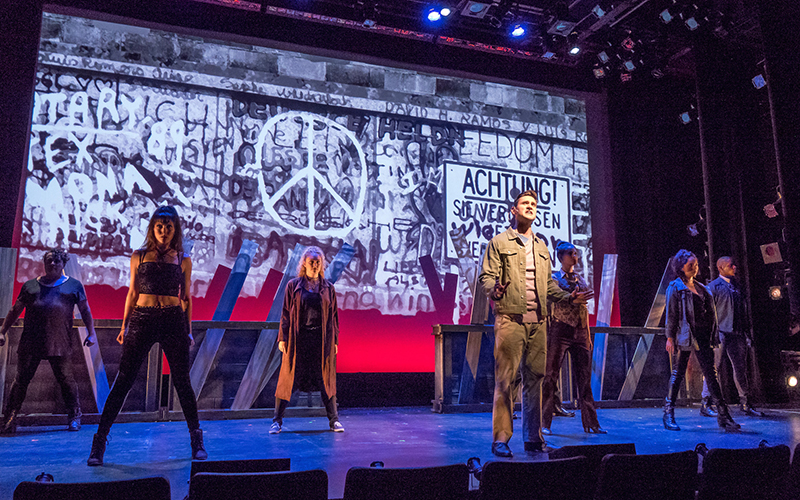 I usually cover Broadway and other large-scale productions for PLSN, but there is often much to be learned from more modest shows, particularly those faced with a very tight budget. Experienced designers often jump back into the off-Broadway and off-off-Broadway world not just to keep working, but also to try something different. Learning to work with limited means is actually helpful when later tackling a bigger production. There is a great parallel in the film world — Peter Jackson made outrageously inventive low budget horror movies that led to him being hired for Lord Of The Rings. That concept can translate into the theater world. Making your mark with minimal means can certainly maximize your value as a designer.
‡‡         The Game Plan
The New York Musical Festival (NYMF) in Manhattan — which delivers a smorgasbord of quirky, eclectic entries that both play into and upend the genre's conventions — is a great training ground for working on the fly and on the cheap. They are also a great model for like-minded organizations across the country. The 15th annual NYMF is now in the works, set to take place July 9-Aug. 5 at venues on West 42nd Street in NYC. Dan Markley serves as NYMF executive director and producer and Rachel Sussman serves as producing artistic director.
Last summer's 14th season also spanned close to a month of performances, workshops, concerts, and readings. Everything begins with good material, and then moves forward from there. The festival nurtures writers of all ages that are newer to the game, and they have developed an efficient system to foster talented writers and their exuberant casts and dedicated crews every year. It certainly is challenging for the various directors and designers who constantly work under pressure.
"You need that wild energy, but it has got to be contained systematically," says NYMF's Dan Markley, who has overseen four seasons with the festival. Shows in 2017 included the "Pope Punk" musical The Cadaver Synod, The Goree All-Girl String Band, Matthew McConaughey Versus The Devil and the rock musical A Wall Apart featuring music from Air Supply guitarist Lord Graham Russell.
The focus of NYMF is to help their writing teams, many of whom have never staged their shows before, to do so as easily and as inexpensively as possible. Particularly with out-of-towners, the NYMF staff connects them with directors, choreographers, managers and other talent, many with Broadway experience, to guide and help them through the production process. Along with Markley and Sussman, the NYMF team includes managing director Liz Ulmer, director of marketing Lianne Kennedy, associate general manager Beatriz Westby and assistant general manager Laura Kay.
Markley describes an interesting provision at NYMF. "There are no previews, because that experience is really what allows the adventurous shows to pull off as much as they can and avoid the pitfalls of too much scenery, or making decisions about how much choreography is physically possible to create, teach, and tech." Bigger or bolder is not better if it eats up valuable pre-production time, and that means directors and designers have to think and work fast.
While four NYMF shows have graduated to the Great White Way since its inception — specifically, Chaplin, Next To Normal, [title of show], and In Transit — many other have gone to off-Broadway houses or regional theaters around the country. NYMF personnel verify the comfort level of applicants to determine if they are ready to bring their shows to life. Sometimes holding off for a year is advisable. Sometimes the concept of doing a Beta musical, where not all of the staging and physical elements are in place, can work.
‡‡         Key Assists
Markley believes that productions trying to work outside of the NYMF umbrella would likely spend four to six times as much money to do so. NYMF buys everything "in bulk" — from real estate to sound and lights to marketing — thus reducing costs. "PRG has been a sponsor of the festival since its inception," says Markley. "Only through their financial subsidy can we offer the highest quality sound and lighting for NYMF productions and patrons. Global Scenic is our official scenic sponsor, handling construction of rep scenic plot and offering flame proofing services to all of our shows. Tinc Productions acts as our festival production manager at highly discounted rates."
Through Tinc, NYMF provides an A1 and A2 for each venue, and the festival often connects writers with directors and general managers who have festival experience. "The directors and/or the GMs usually bring on designers they've worked with previously," notes Markley. "The GMs generally source the stage management, technical, and production support personnel not attached to the venue. NYMF also provides a resources portal where productions can source show personnel resumes for people who have indicated interest in working on a show."
Markley believes that the key to successful production design in the festival repertory context is meticulous planning and communication. "First between the creative team and the designers, then with the show and festival production management," explains Markley. "Each show submits their designs as well as set up, strike, and storage plans to the NYMF production manager supplied by Tinc Productions. The PM then coordinates all production and technical requests in an effort to give every show the aesthetic experience they want the audience to have. AEA agreements eliminate some elements such as smoke and open flame, but complex effects such as rigging, magic, even food fights have been very effective in recent festival productions." PLSN also noticed an increased use of projections in many shows last summer, which Markley attributes to the outside connections of individual production teams.
The parameters for NYMF are certainly tight. Multiple shows can share the same stage in the same day or weekend, therefore each production is required to have their sets and wardrobe fit in a four-by-four-by-eight-foot space backstage or underneath seating platforms. The band for each show this year sat right off stage right in the curtains in both the Acorn Theatre at Theatre Row and the Peter Jay Sharp Theatre at Playwrights Horizons. Productions tend to have three to four weeks of rehearsal and literally one day of tech that varies between six and eight hours; some shows get less. Each production generally gets one hour to set up before each performance and 30 minutes to strike.
Luis Villabon directed and choreographed Night Tide, a hilarious sendup of the low budget 1961 horror movie starring Dennis Hopper. Villabon made this his debut of an original work in New York. He is a theater veteran who for the last decade has re-staged Michael Bennett's original direction and choreography for domestic and international productions of A Chorus Line. Working through NYMF allowed his young Night Tide team to jump start their production thanks to the resources and guidance provided by the organization.
‡‡         Fast and Furious
Even for an experienced hand like Villabon, the show was a baptism by fire. While his musical held the advantage of having the father of writer/lyricist Taylor Tash as production designer — Bill Smith of Magic Ventures, who designs and builds illusions for magicians in Las Vegas — from February onward, other personnel were involved for a shorter period of time. Tash and their ASM Elena Sartor handled the sound design, but their A1 Ian Wehrle did not join the company until their designer run on July 16, a day before the show opened. Lighting designer Chris Steckl could not attend the designer run, so July 17 was the first time he saw the cast live. Villabon sent Steckl video footage of their last two rehearsals for reference.
"It was unfathomably nerve-wracking," Villabon admits, of the fast and furious design process. "I had never worked with any of these designers in the past. It was all about trust and faith. Originally, we had planned on using projections to create the settings. We unfortunately ran out of money and had to give up the vision of projections. That's when our brilliant set designer came up with the idea of the rolling
panels."
Scenic designer David Starr created five painted, double-sided rolling panels used collectively and individually to create the boardwalk backdrop and flesh out other locations. Smith designed a singular piece that functioned as a mermaid tank, curiosity tank, and bed, and he curated all of the props. "Honestly, lighting and sound were both only realized in my own brain until our actual tech rehearsals days before opening," admits Villabon.
As is common with NYMF shows, Night Tide had only five performances. Casting was fully done two weeks prior to the month-long rehearsal process. As Villabon notes, one does not want to lose talent to other shows if they cast too far out.
Freedom Riders: The Civil Rights Musical experienced such a quandary when they lost their first director due to scheduling issues. "I literally called up Rachel Sussman and she had a perfect person for me," recalls book writer/co-composer Richard Allen. Losing their original director was difficult, but at least design positions had been filled and stayed constant. Even then, "It probably put us a few weeks behind. It mostly affected casting, which was a very long process. But we were lucky the festival had a director suggestion and we were able to move along."
The various designers for Freedom Riders — including sound designer Ken Goodwin, scenic designer Niko Rabbitt, and lighting designer Kate McGee — were invited to rehearsals. "We try to coordinate the times so they can be beneficial," says Allen. "So most designers start to sit in toward the end of the rehearsal process."
Even with that preparation, the first performance day was jam-packed. "We had about eight hours tech time, maybe less," recalls Allen. "It was a blur, and not enough time. So you have to be very strategic about your goals. Our show, sound-wise, is massive. We could've used a whole week for that alone."
Their biggest design challenge was on the scenic end. "We had budget constraints due to a large Equity cast," explains Allen. "Plus we couldn't put a bus on the stage, as we believe it's called for. And our show has many scenes in different locations. So we decided to go minimal and let the audience use their imagination to create the scenery and reduce any obstacles to that creative thought."
Although NYMF provides resources, it is up to the individual writing teams and productions to realize their vision. "We never tell anybody strongly, 'This is what you should do,'" says Markley. "We give them multiple valuable options to figure out how everybody works together on an interpersonal level and an artistic level. We're not going to be able to micromanage any of these relationships. All we can do is set them up for success, and I think we've done an increasingly good job."
For more information on the 2018 NYMF, go to www.nymf.org
Leave a Comment: