Rhapsody in Red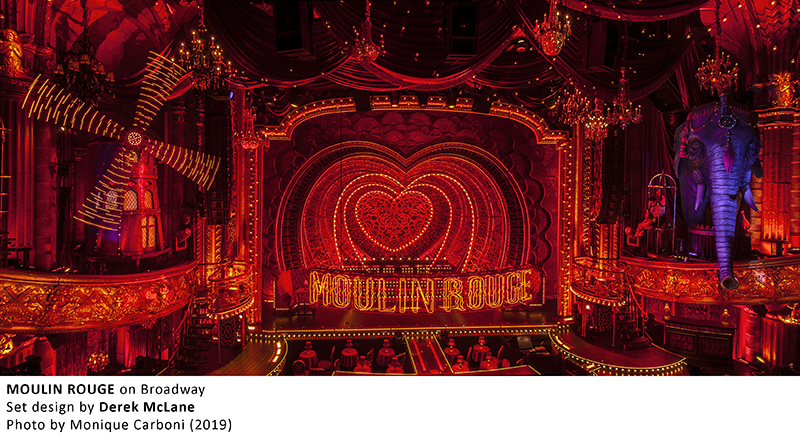 For Moulin Rouge, Scenic Designer Derek McLane Draws Inspiration from Famous Cabaret in Paris
Broadway musicals seek to take audiences into another world. With Moulin Rouge, Tony Award-winning scenic designer Derek McLane has gone one step further and plunged audiences at the Hirschfeld Theatre into his version of that famed French venue. The milieu of the red-drenched stage literally spills into the theatre and immediately grabs people's attention before the show has even begun.
‡‡         Red All Over
"We covered all the walls of the theater with red velvet," declares McLane. "We added materials to a lot of the architecture of the Hirschfeld. We painted the ceiling red in our show. For the existing balcony rails, which wrap around on the sides, we made new carved coverings that have cherubs and windmills in them. They're made mostly out of carved foam which is mounted to plywood and are golf leafed."
The neon "Moulin Rouge" sign that hangs just above the stage when theatergoers first come in is about seven feet tall by 18 to 20 feet wide. Multiple shades of red are omnipresent. "Those heart-shaped portals are painted with a lot of different red, and they have red velour," says McLane. "For the walls of the theater itself, we used eight different types of red velvet. It doesn't all match, but it has a lot of depth and texture to it." Not all of the fabric is red, and there is also a lot of red paint, all of it lit with various shades of red and orange.
On top of all the neon that is present, McLane estimates about 5,000 incandescent light bulbs are used onstage and in the house — hanging lights on the sidewalls and in the orchestra, built into the edges of the passerelles and edge of the stage, on the lifts that rise out of the floor, in the false proscenium that fits inside the Hirschfeld proscenium, and in the three, large heart-shaped portals framing the stage at various points throughout the show. (LED lights are utilized in the musical as well, but not for this specific use.)
The reason for all of this excess is that Baz Luhrmann's 2001 film — which inspired this production and has been updated with newer pop songs to fit in with our current culture — is epic, vividly colorful and emotionally heightened. The musical plot revolves around the romantic triangle between bohemian composer Christian (Aaron Tveit), Moulin Rouge star singer Satine (Karen Olivo) and the nefarious Duke of Monroth (Tam Mutu). Christian and Satine are working on a show that could financially save the venue, but the Duke is funding it and plans to make Satine his property. There is a lot of heartache at stake.
"One of the impulses behind all the light bulbs was that the movie has this incredible kinetic energy, which comes from the music, but also the camera moves," explains McLane. "We have the music, but we don't have the camera moves. The idea with all that built-in lighting is, you actually get to create a sense of movement and energy from pieces of scenery that aren't moving. It's almost like feels like they're moving sometimes, because of the rapid changes of lighting, and alternating which things are lighting up or not lighting up."
‡‡         Oriental Imagery
McLane says he was definitely inspired by Catherine Martin's stunning, Oscar-winning production design for the movie, particularly "her incredible number of patterns, and also the Far Eastern, Indian and Moroccan influences. Then the Chinoiserie. I started doing my own research into Paris in 1899 — it was a big thing then among Bohemians and wealthy artistic Parisiennes, this eastern exoticism, which they called Orientalism. That was definitely a big influence."
McLane found many aspects of the movie that were exciting and challenging to translate to the stage. He loved the "incredible aerial shots over 19th century Paris where you go from one location to another" and how it gives viewers a real sense of the neighborhood of Montmartre. "You get a sense of how Toulouse-Lautrec, the other Bohemians and the Moulin Rouge itself were all close to one another," he says. "It was all walking distance around this neighborhood, so I really wanted to give that sense on stage."
Without having camera shots at his disposal, McLane created miniatures and models of Montmartre that are used a few times in the show. Visually, they represent the opposite of the intense reds, golds and patterns found in the club.
"The streets of Montmartre, which are all in those miniatures, they're totally gray, all shades of gray," he remarks. "There's really no color in that at all. The first time you see that is out on the sidewalk café, where Christian meets [theatrical collaborators] Santiago and Toulouse-Lautrec for the first time. But then you see those same miniature buildings configured slightly differently outside of Satine's window, and then outside of Toulouse-Lautrec's huge garret window," where "you also see a miniature windmill and elephant in the distance. But not really that far away. It suggests that the club is just a couple of blocks away from his place. I was trying to capture that sense of the neighborhood and Paris."
The Moulin Rouge set on Broadway is not much different from the Boston production that preceded it, but McLane says he enhanced a few things and did more with the front of house at the Hirschfeld. (Scenic was built by PRG, Scenic Arts Studios, Global Scenic, Shoman Fabricators and Proof.) He became involved with the show two and a half years ago after getting a call from director Alex Timbers. Things progressed from a couple of table readings to a lab, and then a stage workshop that took place about six months prior to the show's month-long run at the Emerson Colonial Theatre in Boston during the summer of 2018. Load-in for NYC took about seven weeks, with three and a half weeks of tech. "That was a lengthy process," says McLane. "It's the biggest show I've ever done."
‡‡         A Tight Squeeze
They took out the first four rows of seats at the Hirschfeld to put in passerelles (think of gangway planks) and club seating between those and the stage. "It's very, very tight [there]," notes McLane. "It was a question of inches here and there in order to fit all of that, and not eliminate too many seats." They also built their own club boxes a few steps up from the stage for the actors, because much of the audience would not be able to see them in the normal box seats, which are located adjacent to the new ones.
In addition, there is a large, turning windmill (moulin, in French) above the stage right boxes, mostly made out of wood and steel, while above the stage left boxes sits a large blue elephant made mostly out of carved foam with a hard coating over it. "If you touch it, it feels quite solid," remarks McLane.
The heart-shaped portals that dramatically frame much of the action onstage fly in and out. "They don't actually come forward," says McLane. "They can only go up and down. But then there's filigree work that looks like gold lace on the inside edge of the portals which can slide on and then retract, so it feels like they're moving up and down stage when they're not."
There are a lot of mechanics in the show, including a few steps at center stage that rise and lower from the floor. "We have a lot of automation in the deck to move scenery on and off stage," says McLane, "some of it going side by side and some of it going up and down stage. Then a lot in the front of house."
There are at least 10 different set pieces/locations in the show, including street scenes in Montmartre, various places within the club, the sky over the rooftops of Paris, Toulouse-Lautrec's apartment with garret windows, Satine's apartment and the Duke's apartment ("wealthy looking, with an S&M feeling with a black and purple Baroque wall," McLane says).
The wing space at the Hirschfeld is "very, very tight," McLane adds. "When scenery goes offstage, the pieces on the floor get flown to get them out of the way. Otherwise, there's no room for the actors. They fly a lot of those pieces out in the wings. Satine's apartment gets folded it up. That's a huge set — the walls flatten out and the floor folds and flips up so that the whole room stores in about four or five feet of depth."
‡‡         Into the Night Sky
McLane says that the biggest challenge was trying to capture the mood of the different places and of the overall story. "If I had to name a sequence that was particularly challenging," he muses, "it was going from Christian and Satine falling in love and singing the 'Elephant Love Medley,' and then turning into that moment where they're in that Paris sky. I really wanted that to feel more transformative than just simply flying in a drop. As that whole room tracks away from the audience, it turns around 180 degrees and reveals on the backside a night sky and stars. Then beyond that is more night sky. The idea is that it feels like that room just disappears into the sky as it turns around."
The veteran designer admits he has never used so much neon before. That aspect was fun and exciting, he says, as was creating strong contrasts between locations in the story. McLane has also never gotten quite as environmental in terms of the passerelles and dressing the auditorium as he did on Moulin Rouge. "That was really rewarding for me, and I was surprised at how well that worked."
McLane enjoyed working with lighting designer Justin Townsend (Saint Joan, American Psycho), "but we were definitely jostling for space, like squeezing onto a subway at rush hour." He also praises director Alex Timbers, whom he had wanted to work with. "Alex is so smart and so generous. The other thing that's remarkable about him is, he really puts in the time on the design. He really will spend whatever's needed in terms of design meetings. He'll come into my studio and look at the model, and it really makes a big difference."
The veteran scenic designer put a lot of energy and passion into this musical. The cast, especially Moulin Rouge owner Harold Zidler, exuberantly portrayed by Danny Burstein, clearly enjoy performing on every inch of his set. And the audiences have certainly been impressed as well.
"It was a once-in-a-lifetime experience, to be honest," beams McLane. "It was really pretty incredible."
Leave a Comment: