Rhythm & Mime with Mummenschanz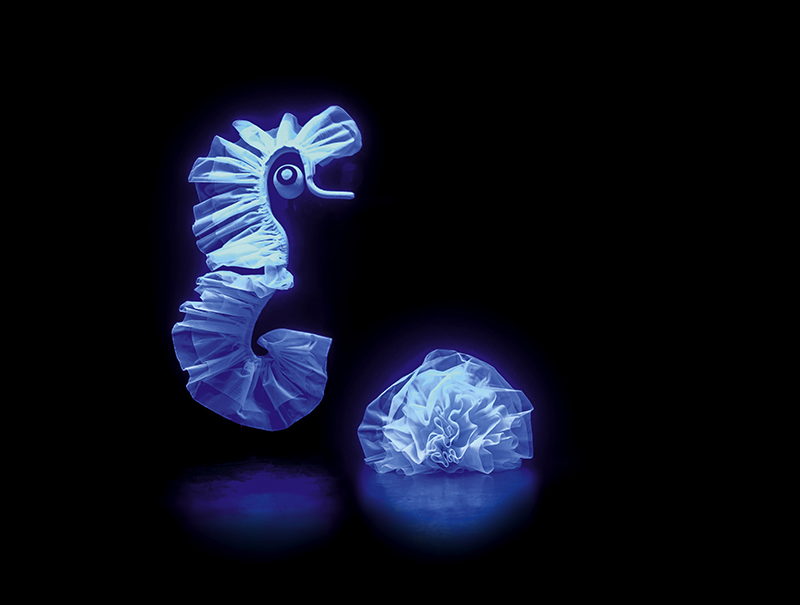 The anthropomorphic and metamorphic performance troupe that is Mummenschanz defies easy categorization, and that is one of the reasons this enchanting Swiss group has maintained a steadfast following since its first shows in Paris in 1972. Their colorful and surreal spectacle involves limber performers acting out various vignettes in unusual costumes, often in the guise of fish or animals, as well as manipulating various props. Sometimes the "characters" are less easily identifiable or describable, but they are beguiling. There is no dialogue and usually no sound in a Mummenschanz show, although their current production you & me includes a couple of "musical" numbers, one with violins mounted on actors' heads and another one which invokes the percussive vibe of Stomp.
‡‡         Lighting Plays Key Role
A key ingredient that must be stirred in just right is the lighting. Without the subtle nuances and layers that it brings to the action on stage, Mummenschanz might come off as a more traditional mime group. But by integrating the lights with specially tailored costumes, the illusion of flying and floating creatures, along with the unusual characters and objects that command the stage, all take on a special life of their own. No one knows this better than the company's technical director Eric Sauge, who also co-designed the lighting for the current production with troupe co-founder and performer Floriana Frassetto.
"For this show, the lighting is really crucial," Sauge tells PLSN during a recent run of NYC dates at the Gerald W. Lynch Theater at the John Jay College of Criminal Justice near Lincoln Center in midtown Manhattan. "Small differences can make a big, big difference." For many theatrical shows, directing a followspot to a relatively specific location is good enough, but for Mummenschanz, the lighting positions have to be very accurate. He notes that every fixture position is important; even being a little too far on stage right or stage left "can really impact the way the performers have to play and can show something that must be hidden or hide something that must be visible. When organizing a long tour in which we have lots of shows, it is a challenge to check these positions in every venue."
The troupe's current 80-minute production is packed with numerous sketches and scenarios that involves a cornucopia of creatures, such as floating, glowing jellyfish, characters with violins or a cymbal for heads, and rolling inflated balls that can be twisted into different facial expressions by people inside them. In order to help with the expressiveness and to often hide or mask the performers, as much "hidden light" as possible is used. Specific material has been picked for the different costumes and props; a really light Chinese plastic that "floats in the air practically by itself"; a rolling egg made from special foam that allows for hidden shapes within the material to be pushed forward to make faces; bendable giant tubes made out of "ventilation slinkies" and actors who are clothed in velvet.
In contrast to many other productions, explains Sauge, Mummenschanz requires a conjunction "between the kind of light, the color chosen, and the position of the lights." For example, to obscure the pre-cut shapes in a large rolling egg that allows for a couple of protruding faces to emerge, the light must be really flat and use the reflective side of the foam. Further, the metal of the cymbal and wood of the violins "require really specific light."
The final sequence of you & me spotlights what looks a large, helium-filled satin balloon that rolls downstage and into the first couple of rows of the audience. "It's really high, and to keep it totally in the light, I've got to be relatively high with the lighting positions," says Sauge. "I really have to compromise to light this one. And the two slinkies are touchy to light because the angle has to be really, really steep to not direct any light inside the slinky. If the actors perform it right and put their hands on the correct place, they should be completely hidden. It's a really hard moment for them because, depending where they are on stage, they have to change position inside the slinky."
When he comes to tour the U.S., Sauge notes that "most of the lighting here is Fresnels and Lekos, and I really miss my Plano-Convex lenses [from Europe]. That lens is just convex, and the light output has a really flat beam, but the edges are really soft. It has less brilliance inside, so the light is a bit softer. The Source Fours are really, really bright and make a really energetic light, but sometimes I wish I could have something softer."
All of the sketches have particularities, observes Sauge, and they require him and the cast to be on their game. If he does his job well but they slip up, or vice versa, then the show does not go well. "Every moment is really important because bad lighting will not give them what they need to do what they have to do," the TD states of his role. "Somehow, they will be hidden when they have to be shown, and sometimes it can be the reverse situation." Therefore, even if there is a local union crew member present, he still operates the lighting himself. Sauge fully supports unions and often needs some assistance from their members while troubleshooting at different venues.
"I cannot easily let somebody else run the desk without jeopardizing the show," admits Sauge. "There are timing things [with the cast]. They could be in the wrong position, and I have ways to help them." Thus, he needs to have fast reaction time.
"I really have to be concentrated with them and to not miss a moment," stresses Sauge. "Sometimes, when you don't have any sounds or any music, the rhythm of the show is built on little sequences where they just stop or move during a second, or when the light changes just at a good moment. We really perform together during the show, and this rhythm is really important."
‡‡         Floor Lights, Overhead and Control
Sauge travels with his own light console, a small ETC Ion which, he says, is perfect for their needs. He also brings along UV lights of his own creation which have accessories he has built in, including barn doors and other "anti-spread" accessories. They also bring along four Robert Juliat 613SX units (a theater zoom profile) with donuts and barn doors. Further, there is a small LED strip inside one or two of the "jellyfish" that is controlled by an Arduino micro-controller, which he says is not as powerful as a Raspberry PI, but nice enough to operate simple tasks. He built and programmed it himself.
The TD prefers using these selected lights because, "Every time you cross the Atlantic you need to have a new ballast or new equipment to adjust from 220 to 120 volts in the U.S. This is really expensive, and then the fixtures do not meet our needs perfectly. Our UV lights are a unique creation from the metallic looks to the balance. All the wires inside have been made by myself for Mummenschanz." Sauge adds that he can adapt any new accessories to or modify the lights easily, and he plans to do major maintenance on them after their summer break to install new features. He does not use LEDs, preferring the warmth of tungsten lights.
Most of the lighting for you & me comes from overheads. Sauge would like to use more side light, but given the fragility of the costumes, he usually cannot put any booms into the wings. Both the heat and the risk of ripping an outfit across a metallic strip during blackout transitions are concerns. "I had to find a natural solution, to make people think that sometimes we have side lights when we don't have them," he says. "In terms of side lights, I actually have only two floor lights. Four lighters, two on each side, hang on the catwalks."
The angle of the lights ranges from practically straight down to completely flat, and many of them are at 45 to 90-degree angles. "There is one moment where I have one light coming from the balcony because I have to create a shadow," says Sauge. "It's the only number for which I have to create a shadow on the backdrop to let the artists come in by a centerpiece we have on the backdrop."
When preparing for a Mummenschanz tour, Sauge works with WYSIWYG previz software. "I have a couple of templates with different kinds of light and different positions," he says. When he gets to a new theater, he has all the information he needs, and tweaking specs for that venue takes no longer than one day. "It's really fast because it was a lot of work before that to try to predict all the situations we could have. My job with this company is to also review every venue, so I receive suggestions from my office, from my management, and I have to say whether we can do something technically. We have to find a way to work really fast and to have good coordination, and to do that I prepare a little plot that helps me now."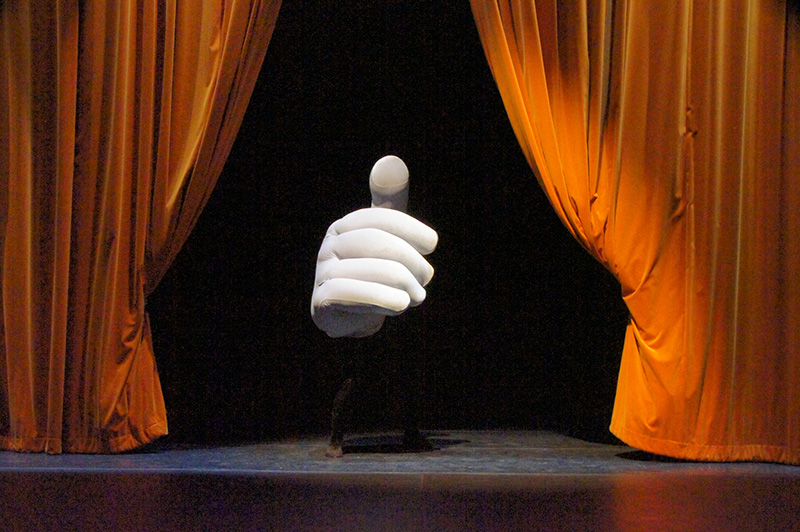 ‡‡         Adapting to the Venues
Unexpected issues at venues can arise on tour. Sauge notes that, given the fact that the artists must be invisible behind the objects they are manipulating, light from emergency exit signs by the stage in certain venues is highly problematic. At the NYC venue, the floor under the proscenium arch is highly reflective and the curtains are older. "The two things put together give me a lot of trouble, because the lights bounce from the floor and go to light the curtain," he says. "I lose a big part of the atmosphere. The light should be invisible, but unfortunately, here it is more visible than it should be."
Sauge reveals that the original lighting plot for the you & me tour was bigger, but it created problems for some smaller venues when they realized the number of lights that would be needed. "So, I slowly tried to remove lights, find other solutions to reach the same result, and try other approaches," he says. "Today, the plot is still relatively important in terms of lights, but we have what we need, no more no less." In New York, they have a total of 78 instruments — 26 FOH and 52 overheads. (Four of those overheads are work lights.) At the Gerald W. Lynch Theater, the venue's light package includes ETC Source Fours with 10, 19, 26, 36, and 50-degree barrels and some Source Four pars with barn doors.
Prior to starting his tenure at Mummenschanz, Sauge was the head carpenter for the major Swiss dance company Béjart Ballet Lausanne for two years on tour throughout Europe and Asia. (Before he got into lighting, he went to college, then was a normal carpenter before delving into theater and the event industry a decade ago, learning from older technicians and while touring.) After the Béjart Ballet Lausanne gig ended, he returned to Switzerland for a year to improve his lighting skills while working on various jobs for Winkler Multi Media AG. Then he met Mummenschanz in Lausanne in 2014 and joined their ranks. During his rare free moments, Sauge works for Swiss national television as well as on theater, concert, and corporate events. He does some lighting design for smaller companies.
It's clear that Sauge receives great satisfaction in working with Mummenschanz. He plays a vital, interactive role in the company, so much so that he is listed as a cast member in the show programs. He relies on his intuition to get through each performance.
"I know the show perfectly, and there are little moments where I just raise the intensity a little bit and bring it down a couple of seconds after it," explains Sauge. "It's little things that I think make a difference while making the work interesting. I never like to be behind the desk and just press the 'go' button. I think there is more to do, and especially for this kind of show, it's really interesting to act with them."
Leave a Comment: