The Rhythm (of Transitions) is Gonna Get You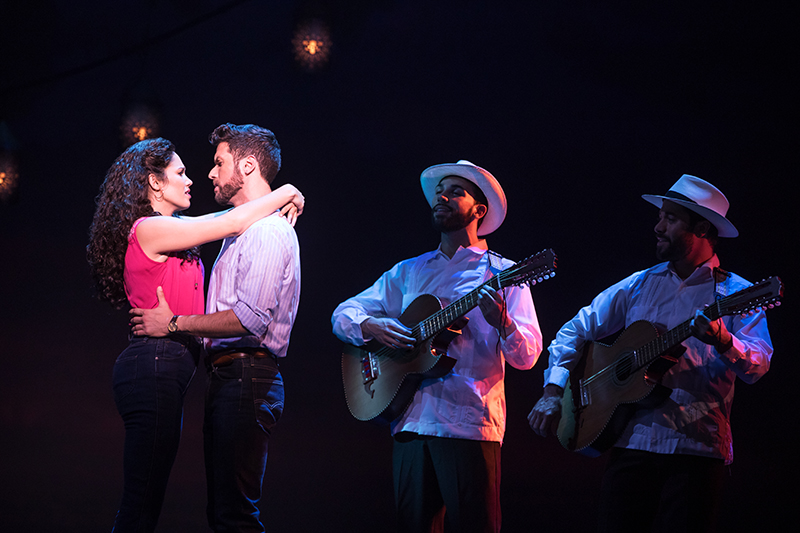 As it crisscrosses the country, the Tony Award-nominated musical On Your Feet continues to bring the story of Emilio and Gloria Estefan vividly to life onstage, chronicling their ascension from modest beginnings to musical royalty through their group Miami Sound Machine. Six months in, the national tour has picked up after the show finished a nearly two-year run on Broadway. The original production, which features scenic design by David Rockwell and projections by Darrel Maloney, sweeps through dozens of scenes as it compresses decades of real life into key narrative moments.
As associate set designer for the tour, Kevin Depinet's job was to help the Broadway production fit into venues across the country without losing the spirit and flavor of this high energy jukebox musical. He had to adapt Rockwell's work into a practical touring configuration. "There are a lot of tweaks and changes to get it to that point, which many times people don't want to deal with," Depinet notes of his job in general. "I don't mind doing it."
‡‡         From Point Zero-Zero
A major challenge in re-imagining a Broadway show for a touring version is that stages across America, while sharing similarities, can vary greatly in terms of width and depth. As Depinet notes, the one thing they have in common is a center line and a plaster line, the latter being the upstage side of the proscenium. The two lines create a zero-zero point where they cross.
"Once we establish our zero-zero in every theater, our show builds out from that X amount of feet right, X amount of feet left and X amount of feet upstage," explains Depinet. "Things flex, and everything moves to a certain degree, but within that box we set up it pretty much has to be exact because the lighting, projection, and all of that" is based on mapping done at each new theater with disguise media servers run by projectionist Ian Wright. (More on that below.)
"It's almost like an electric fence for a dog," remarks Depinet. "There are ultimately certain parameters that need to be set exactly right. You have to set up the parameters the same in every theater." Naturally, differing dimensions between venues means the conversion into various spaces is not always as smooth as anticipated. "It's unfortunate sometimes because with certain theaters that are really big you're going to have a whole bunch of black around the right and left. It's going to look like a small show in the middle of the stage."
Given that the musical is traveling to over 80 locations in two years, utilizing this box is the only way the crew can have any consistency between theaters and be "as universal as possible. We always design the box to fit into the smallest theater, and from there up it's going to be fine."
The touring design for On Your Feet mirrors that of the original Broadway show. Many of the same ideas were implemented, as realistic scenic components were supplemented with projected backgrounds. "The big thing with the tour is, given the time frame and the set-up, we had to leave out certain parts of the design," says Depinet. A couple of elements became digital.
One was a tree that flew in as a hard piece of scenery on Broadway. On the tour, the tree was going to require hours of set-up time at each new theater, so they decided to project it. Depinet points out that while many people hesitate at the idea because it would not come off as looking real, original projection designer Darrel Maloney "did a really nice job of blending those pieces into the world. It still felt like it was the real thing. The projected world of that show was a big conceit, mainly because of the number of places we went in terms of location changes."
The other set pieces that were rendered into the background were overhead lanterns that were originally hard pieces in the Broadway show. "The rest of the design was about fitting it into the confines of the tour and making sure that we could do that efficiently and move the show, which is always complicated," states Depinet. He adds that the On Your Feet national tour has a lot of automation, including a system of sliders that have to be loaded in and set up for each new venue. "It is a really complicated thing, because not only are those tracking and rotating, but we are also projecting onto the front side of them. We are projection-mapping onto the panels, and that's a pretty complicated scenario, where the image follows the scenery."
The tour's projectionist, Ian Wright, obtained his gear from Sound Associates in New York. He says that the sliders are about 20 feet tall by five feet wide, and they are primarily used for projection surfaces. "One side has a screen for me to project onto, and the other side has window shutters all over them, and I project onto that surface as well," says Wright. "As they move on and off stage, my images track them so we have to be extremely accurate with our values to ensure that we are matching with myself and automation."
Wright runs Widget Designer Pro on his Mac Mini, which is how he controls power and network settings to his projectors. He uses four disguise medias servers along with a Gefen Pro 16×16 DVI Matrix, an Infinity Adderlink Aim Management Server with five Adderlink transmitters and one receiver, HP 2910al-24g Switch, Avitech Multiviewer, five Netgear Prosafe 24 Port Gigabit Switches, an Apple Airport Extreme, Microsoft Surface Pro, two 2 ETC Net Gateways and a Midi Solution Quadra Merge and a Quadra Thru.
The show's eight Panasonic DZ21K2 projectors use different lenses. He has four of each of the following lenses: ET-D75LE6, ET-D75LE10, ET-D75LE20 and ET-D75LE30. "Depending on the week, I use the LE6, LE10, LE20 or LE30 for the FOH projectors," he says. "The LE90 is used for the rear always. It's an amazing bounce lens that allows for the extremely short throw that we have between the rear projectors and my RP screen."
The projectionist uses the disguise media server to map out his space. "I have a 3D model of what the stage is supposed to look like, and then within the system, I put up alignment dots that I have built into media server," explains Wright. "Once I align my projectors with those points, the system knows exactly where everything on stage is. I also have automation tracking in the system as well, so as anything moves on deck, it is represented within the 3D model that I have. The system is amazing, and without it, our show would look nothing like it does."
‡‡         On Their Toes
The scene changes come fast and furious in On Your Feet and, as Depinet says, they flow with the music. There was a rhythm and tempo that they did not want to impede with too much physical scenery, "so we really were a slave to the transitions and making sure they worked in the best possible way. That prevented a lot of physical scenery and we opted towards the digital world." With between an estimated 30 to 40 scenes in the show — which includes homes, backstage areas, a hospital and a large town square — there is a lot to keep track of and move around. "Sometimes we did a location change simply with the panels that slid, and we moved them, brought a piece of furniture on, and were in that location."
Naturally, it would be time-consuming to fully replicate every location in the story, and it would certainly cramp the pacing. "We wanted to make sure that the choreography and the movement of [director] Jerry Mitchell's vision for the show was one where it never stopped moving," says Depinet. "We had to really stay out of the way and just help supplement it with key items that told the story. Basically, if it was something that didn't help tell the story, it wasn't included. It was just the specific pieces that were needed, and that was it."
Another challenging set piece is the approximately 30-by-15-foot (WxD) bandstand with wheels, loaded with electrics and sound gear as well as at least a half dozen musicians, that roves the stage. "That thing has to track up and downstage and then go behind the projection surface," explains Depinet. "The depth between the projection surface and the projectors upstage has to be a certain distance so they can make a big enough image. That was challenging. But I think if you saw the Broadway version, then came and saw the tour version, you would say it's pretty much the same thing."
Depinet is pleased with how the touring production turned out, and the career lessons he has applied to it are valuable for those newer to the business. "The biggest piece of advice I'd give anybody about touring is, everything that goes on the truck has to carry its own weight, so you have to design a system and a design that has economy in mind," says Depinet. "Every single thing has to carry weight, so if it's not telling the story or not helping propel the tour in a positive way, it doesn't belong on the truck. Just keep that in mind. That's a real big part of understanding a tour."
Leave a Comment: