ACL Live at the Moody Theater
At ACL Live at The Moody Theater in Austin, TX, the in-house lighting rig has to accommodate two distinct purposes. It has to be diverse enough to host a steady stream of artists coming through town on national tours. And, as the home of the award-winning Austin City Limits PBS TV show, now in its 44th year, it also has to look great on camera.
‡‡         Two Teams, One Rig
The 2,700-capacity touring venue and the TV show each have their own production teams and requirements for the rig. Yet, just one single installation of fixtures from High End Systems is serving double duty.
The two locally-based companies — High End Systems and the Austin City Limits series — enjoy a 20-plus year relationship of friendship and support. This newest HES installation in January 2018 features 10 SolaHyBeam 1000s, 12 SolaFrame 750s, 9 SolaSpot 1000s and 12 SolaSpot 2000s, along with a handful of HES QUAD and HEX fixtures for special effects. The house console has been replaced with a Hog 4 Full Boar with DP 8000 processors, while another Hog 4 was purchased for the TV control room.
‡‡         LEED-Friendly LEDs
The venue's production manager, John Wheatley, cited several factors that sparked the new purchase decision through property owner Stratus Properties. As the venue is also LEED-certified for sustainable development, LED fixtures were in line with their philosophy of cutting power costs and going greener. The savings on power and lamps was a big bonus. Their past fixtures required "three expensive bulb changes" each year — and color degradation was an issue.
In-house LD Bryan Schrumpf is in charge of maintenance and daily operation of the lighting systems. "I knew we had to steer away from lamp changes, and also, I was happy to get a more diverse range of fixtures," he says. "There's a whole new layer of light, and it makes for great looks and creativity."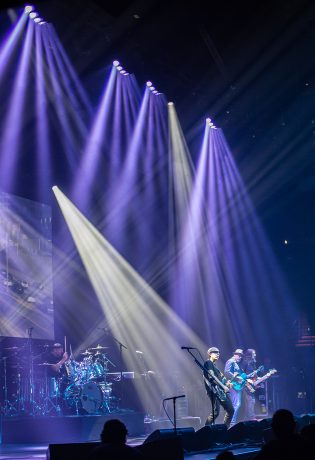 ‡‡         House Rig Tour
Schrumpf explains what touring lighting professionals can expect with the in-house rig — which Wheatley encourages bands to use, as it saves on labor costs.
"The SolaHyBeam 1000s are great for aerial beams and also to get breakup patterns in different places when it's a more formal event with lots of décor," he explains.
The SolaFrame 750s have saved them on manual labor, he notes. "Previously, when we were using conventional fixtures to light the stage and anything else in the room, we would have to move rows of chairs and focus with a lift. The SolaFrame 750s have saved us from having to go through that whole process on every show. We now have more control of zoom, shutters and color for key light and additional effects lighting all from the console."
The SolaSpot 1000s are used on ACL tapings as backlight for the artists. For other shows, they are used with the SolaSpot2000s as effects, or just color, wash, or anything else the touring LD decides on.
The "meat of every show" are the 12
SolaSpot 2000s, Schrumpf notes. "On tapings, they are mostly for effects; when you are looking at the stage, the 2000s are somewhat the focal point of the rig and the base of the look."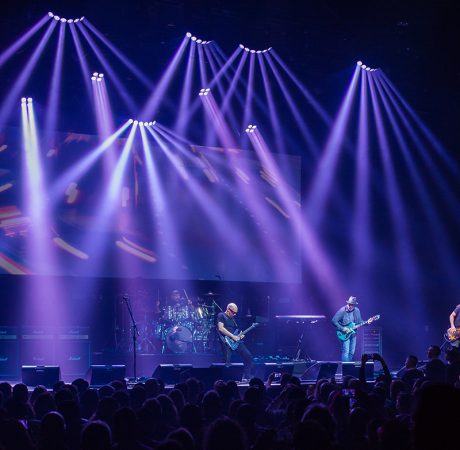 ‡‡         The TV Side
On the TV team, LD Walter Olden of Olden Lighting says those same LED benefits apply to him as LD of the Austin City Limits tapings. "The ability to dim LED lamps versus having to douse a discharge lamp is extremely valuable to a television show like ours. You get more consistent illumination with an electronically dimmed source. That's a huge thing. With a lamp, when you dim a source, you actually change the color temperature, which can cause big problems in our setting."
Fans of the TV show will recognize its iconic backdrop of an Austin city skyline at night, which tricks viewers into thinking the stage is a natural setting on a hillside outdoors. Along with the equipment upgrade, the set shines brighter as well. "We upgraded the LEDs in the cityscape," Olden explains. "We are controlling that with ACN, so I needed to be able to output up to 30 universes." A Full Boar 4 with an additional DP8000 and 4-10 fader wings answered his TV control needs.
‡‡         HES + ETC
High End Systems brought its new parent company, ETC, into the mix as well. "I was happy to hear about ETC and HES joining forces," Schrumpf says. "Our dimmer racks are ETC Sensor, we have a Paradigm processor for architectural control, and our DMX nodes are ETC. And in our 3Ten event space, our ellipsoidals are S4Series2, and we have Desire D40 LEDs mounted around the room. There is a heavy ETC presence in our venues. It's great to have such a support system!"
Reflecting on the long relationship, Austin City Limits executive producer Terry Lickona says, "It's all about the music. We want to present on the best show possible. When High End's Lowell Fowler approached us 20 years ago, excited to enhance the bands with the company's lighting, it was a natural fit. It's still about producing the best production we can — and we're happy with High End Systems' involvement over the years in that."
Leave a Comment: