Miami's E11even Nightclub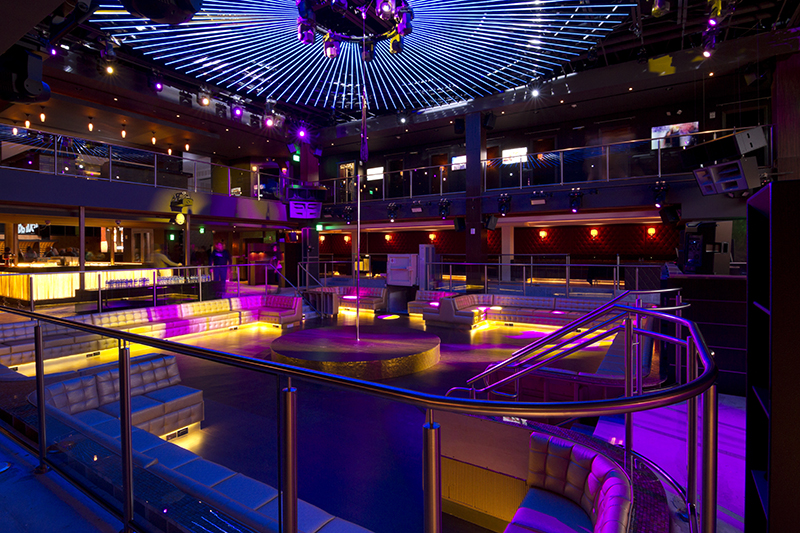 Here's a little math quiz. What do you get when you add 600 square feet of video wall units, one major "party pit" boasting nearly 60 moving heads and 360 LED video bars, and $40 million in construction and soft costs? The surprising answer is E11even — a 24-hour cabaret/nightclub in Miami, Florida, that made its debut earlier this year.
A Hybrid Concept
Located on the former site of the old Goldrush strip joint, E11even has been at the center of debate and controversy for months, causing entertainment writers, club crawlers and live event reporters alike to speculate on whether the venue would be a traditional gentleman's club or a straight-up nightspot destination for the party-hearty crowd. Some were surprised to discover that, in actuality, E11even combines elements of both concepts while playing host to multiple entertainment zones.
The 22,000-square-foot space "'sizes-down' into a 'dayclub' during off-peaks hours, and morphs seamlessly into a full-size entertainment venue as the night progresses," says owner Dennis DeGori. "The 'dayclub' side of the facility houses all the same amenities of the full club, just in scaled down version."
Aside from its 24-7 policy and genre-blurring business model, E11even differentiates itself from the competition through its use of some of the city's best audio equipment, says Dan Agne, co-founder of Chicago-based Sound Investment, the U.S. distributor and representative of the Funktion-One Resolution 6 sound system. "We installed our brand-new version of our dance-club speaker," says Agne. "It's second to none. Sean Combs, after recording his brand-new song ['I Want the Love'], wanted to listen to it in the venue in town he thought had the best sound system. He and his entourage came to E11even and spent a couple of hours listening to his new music."
E11even is classy, but not elitist. For the record, E11even does have Vegas-style dancers, but it strives to move beyond the typical one-dimensional adult-club lighting displays and cheesy performer announcements by employing former Cirque du Soleil aerialists for "Theatr11ic" shows, such as "Moulin Rouge," as it's been dubbed, which simulates, 25 feet above the ground, the physical flirtations inside a Paris cabaret.
E11even eludes certain club-entertainment traps by presenting its choreographed shows, which feature music composed by Simon Carpentier (Cirque's sexually charged production, Zumanity). There's mystery and sophistication in these acrobatic routines, which are accompanied by intricate time-coded light shows, says LD Michael Meacham of Miami-based iDesign Productions.
Depending on the song, cues could number anywhere from a dozen to 100 and are synchronized with the music's dynamics and physical movements of dancers and aerialists. "I didn't want a bunch of lights moving around for these aerialists," says Meacham, who points out that lighting looks for the choreographed shows were often the production of a collaborative effort. "I wanted something more theatrical, things that were based on the performer rather than the moving lights."
Smooth Transitions
Patrons packing E11even are never at a loss for visual stimulation. A 50-square-foot "party pit," referenced earlier, boasts a dance floor and custom-built recessed seating, which features an 11-foot-in-diameter hydraulic stage that can be elevated to a height of three-and-a-half feet.
"Once lowered, the elevated stage converts the party pit into a full nightclub dance floor," says DeGori. "The center stage may either dominate the party pit in its raised state or, when lowered, accentuate the party atmosphere and blend in with the celebrations in the dance pit."
Creating smooth transitions from party atmospheres to choreographed shows presented design issues Meacham needed to address. "If the transition is not done correctly, it's difficult to reclaim the energy in the room," says Meacham. "I'm generating the music, the video and timecode from show control software QLab that brings in [command data] and sets up macros in the grandMA2 console. When there's a break in the music the DJ is playing, that's when we sneak in time-coded 'pre-music.' Before you know it, you have an aerialist flying above your head and the music comes in and it all works well together."
Outside the choreographed shows, two in-house lighting operators are free to experiment. However, for safety reasons, cues must remain fixed for the aerialists. "If a light or strobe hits the performers in the eye, at a time when the lighting operator thought it would look good, it could be very dangerous," Meacham says. "These cues are thought out. Mostly these looks are about the mood and making sure the performers are well key lit."
iStrip Vortex
Saturation appears to be the name of the game at E11even. In fact, it's practically unavoidable. Upon entering the establishment, patrons will undoubtedly notice the club's massive LED video walls, which cover over 600 square feet of wall space. A 6mm LED video wall unit, measuring 4'11" by 19' 8", illuminates the club's entrance, while the main nightclub area boasts a 10mm LED wall (measuring 28'4" by 9'4"). A DJ booth is equipped with a 10mm LED video wall (15'9" by 3'11") and another 10mm LED wall (measuring approximately 22' by 9'4") was installed in the dayclub room.
However, the venue's visual centerpiece is the 40-foot-in-diameter structure — a virtual visual vortex — composed of 360 of iDesign Productions' 1.5 meter, 13mm pixel LED iStrip video bars, arranged in concentric circles and situated above the hydraulic stage and main dance floor. From the instant DeGori indicated that he wanted a round, 40-foot stage in the main nightclub area, Meacham began formulating the concept that would utilize iStrip LED video bars.
Although Meacham has found an application for the versatile iStrips in locales as far flung as New York City and Dubai, it's difficult to overstate the value and impact of the LED video bars on the overall club design drafted for Miami's E11even. Aside from the club's lovely masquerading lady dancers and socialite clientele, the LED vortex is simply the venue's defining visual attraction, resembling a gaping wormhole in the space-time continuum or glowing spokes floating in mid-air. How and why did Meacham envision iStrips arranged in concentric circles?
"If you want to have a stage in the round, every other concept needed to be in the round, as well," Meacham says succinctly. "I needed to conceptualize a design that would define that area. You couldn't use triangle or traditional shapes. The outer dimension of the stage needed to match the outer dimension of my first level of truss."
As the iStrip structure was being fabricated (the build time took about five weeks), Meacham asked his business partner, Scott Chmielewski of DMDS7udios (Digital Media Design Studios) to create content for the eye-grabbing video fixture.
"A lot of content was done in [Adobe] After Effects," says Meacham. "One effect, a star explosion, will start from the center [of the iStrip vortex], and once the [shockwaves] hit the outer rings, they will bounce back and fade, or maybe change shapes. It can be subtle, utilitarian or just badass. We don't overuse it, though. We're ensuring that it remains special."
The LD maintains that an Avolites Ai T8 media server was crucial to the success of the content design. "Given the inherent nature of LED patching," says Meacham, "you will get a lot of distortion. The Ai server corrects this and creates a normal raster, like a 900-pixel-square raster. There's a lot of intricate mapping to make that happen."
Beam Me Up!
Lighting inside and around the iStrip configuration helped to complete Meacham's otherworldly design. Forty-four LED lighting units, including 16 Martin Rush Profiles aligned in a linear array on either side of the vortex, complement both eight Martin Rush Beams (arranged in a circular pattern inside the vortex's circular center) and also eight Rush Beams dotting the feature's outer border. Given the geometry of the stage and the arrangement of fixtures surrounding the glowing spokes, Meacham needed his lighting looks to be as precisely timed and tight as possible.
"When you have a stage in the round, you don't use your typical dance floor lighting," Meacham says. "You have to think a bit harder to come up with interesting looks and different ideas of programming. I try to make these very deep, intricate core programs so that when you're in the big movement, when you have a song breaking, you don't want to worry about, 'This executor is up … and that executor is up.' [Programming] actually sets everything. It brings faders into position; it sets the lights up and holds the dimming value. Those programs take a hell of a lot of time to write, but it's the difference between flash and trash and coming up with some really pretty looks."
When the strips are active and shafts of light beam down onto the dance floor and around the main club room, it's difficult not to compare the iStrip feature to a spacecraft during liftoff or a U.F.O. tractor beam claiming another abductee. "When the Martin Rush Beams come through, they're making a statement," says Meacham. "The Profiles are bright enough — with a great gobo package — that they can lend themselves to wonderful aerial effects without having to worry about changing lamps all the time. Since we have time-coded shows, it's nice to have a gobo package that can keep things interesting."
What Happens in Miami…
… may not stay in Miami. Why? DeGori is eyeing other cities in which to establish sister E11even clubs. "I'm actively looking for prime locations in New York, Las Vegas and San Francisco, among other cities," says DeGori, "and also in a couple of international cities.'"
For now, however, E11even Miami, in large part due to its lighting and video elements, stands as one of a kind. "At the end of the day, you, as a designer, have to hold yourself accountable for what you're doing," says Meacham. "You should be able to walk into the club and say, 'Yeah. This feels right. Something of this nature could only look this way.'"
"We all worked many, many hours together and into many late-nights conceptualizing and 're-conceptualizing' my vision," DeGori concludes. "My focus was from the onset very clear. Michael's ability to bring my vision to light was nothing short of brilliant, both literally and figuratively. We agreed every step of the way."
E11even Miami
Gear
1 MA Lighting grandMA2 Lite
1 MA Lighting Fader Wing
38 Martin Rush MH 1 Profiles
16 Martin Rush MH 3 Beams
14 iDesign LED Washes
360 LED iStrips
8 SGM X-5 strobes
3 Martin hazers
1 Avolites Ai media server v. T8
2 HD-SDI converters
1 MiFi4 unit
   QLab show control software
1 10mm LED wall (15'9" x 3'11" on front of DJ booth)
1 10mm LED wall (28'4" x 9'4" in main room above bar)
1 10mm LED wall (22' x 9'4" in day room)
1 6mm LED wall (4'11" x 19' 8" on front entrance wall)
Leave a Comment: