ADJ and Elation Look Back on 30 Years of Innovation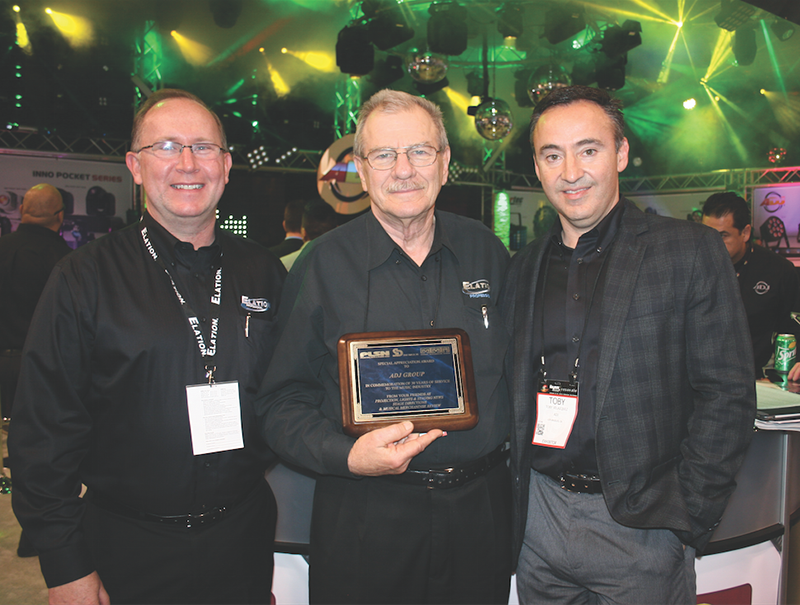 As a young man, Chuck Davies turned his back on those rude, Chicago winters for the exultant warmth of Southern California. Back then, he couldn't have known that he would build an international live event manufacturing company that would be one of the dominant brands in the industry 30 years later. But that's what he did, and now, as he enjoys semi-retirement, his team, including Toby Velazquez, president; Eric Loader, director of sales; and others including Alfred Gonzales, national sales manager for ADJ USA; and Brian Dowdle, marketing director; continue to build on what he started with the founding of American D.J. back in 1985.
Today, ADJ Companies includes multiple brands: American Audio, Acclaim Lighting (architectural), Global Truss America/DuraTruss, Elation Professional and the brand that started it all, American DJ (now usually shortened to just "ADJ"). They started by merely supplying weekend warriors in East Los Angeles with some strobes, which has led to doing major tour work with the likes of Usher, Slipknot and George Thorogood, among many others. Along the way, they've become a player in the install arena for the House of Worship market and nightclubs.
They are pausing to reflect on their success in many ways big and small. To celebrate their 30th, they hosted a VIP day the day before NAMM started in January, providing dealers specials. Also in a tip of the hat to their roots, they rejuvenated their Startec Series — the Stinger, Mini Dekker and Starburst.
Marketing director Brian Dowdle has been with ADJ two thirds of its time, having started as a college student part-time under the tutelage of then-marketing vice president Scott Davies, Chuck's younger brother. (The younger Davies had gone off to serve in Vietnam, and then ended up in Southern California with his brother. In 2013, he left ADJ to run another offshoot of the company, Arriba Cases.)
History
Chuck Davies skipped college and landed in East L.A. in the 1970s. There the self-taught electronics engineer opened up a Hi-Fi shop (if you're old enough to remember what those were). He served up the audio needs for those demanding good sound in their cars and homes. But by the early 1980s, that business was drying up fast.
He noticed the rise of the local DJ market, and transitioned over from stereos to stocking PAR cans, strobes and helicopters lights. But he was not impressed with the products available at the time. "He couldn't just put them on the floor and sell them," Dowdle explains. "All these products needed work. Some would come with no plugs on the power cords!" Davies quickly saw that he could start bringing in products to his specifications, and so, in 1985, American DJ was begat.
The first American DJ products included the Hyper Gem, and the Vertigo, a mushroom light. "We still sell Vertigos, though now they are LED versions and have been for a while," Dowdle says.
The business grew, and another warehouse was added. Early on his ever-colorful brother Scott elbowed his way into NAMM at a time when those who ran the trade conventions were suspicious of a lighting company being at their musical instrument show. Dowdle laughs and tells how while he had a humble 10-foot booth, he made sure he was right by the bathroom, ensuring heavy traffic.
Buoyed by the modest success of that first show, the Davies brothers started introducing products with similar features of the $400-$500 lights available but theirs were priced at $99. "Then Chuck got the idea to make the lights move to the beat of the music," Dowdle says. He was inspired by one of those Christmas Coke Cans with Santa dancing that was popular at the time. So he bought one of those novelty gifts and tore it apart, then figured out how to do the same thing in one of his lights, becoming one of the first to be able to automatically sync his lights to whatever music the DJ was playing.
By the time Dowdle joined, ADJ was really starting to take off, growing 10 to 15 percent a year. "It was an exciting time," he says, because it was a period of great innovation. "The graphics were important, and we were the first to do color boxes for lights in 1997. But our guys are always looking to the future of what's next, and how do we grow."
Birth of Elation
By the time the new century rolled around, they weren't satisfied with their success, having become the largest DJ products manufacturer in the world. They looked to the pro market and saw a need for feature-packed product at a lower price point. Similar to how the company began, they started importing products, partnering with Robe. They quickly evolved to bringing in their own products under the "Elation" name, meant to be for ADJ what Lexus is to Toyota.
In 2005, they took the big step of bringing back Loader, who had left and went to work for Martin Professional Lighting. "He's been a major part of the growth of Elation," Dowdle says. "He established all these important contacts in the pro lighting world, and worked closely with our suppliers in China to develop products."
Loader took charge of the Elation and Acclaim divisions. "The main reason to bring me on was to increase the presence of Elation in the professional lighting world," he says. "They were already doing a pretty good job with LED products, offering one of the first LED moving head/intelligent lighting products that was a good solution and value for the money. They were already on their way to making a dent into the professional market when I joined."
Loader and the team looked at the operation and analyzed where they needed to beef things up, he says. They made some internal changes that would increase the amount and quality of customer service to the pro customer. "They are a more demanding customer, and when a spare part is needed or something breaks down, you need to be able to respond quickly and take care of them right away."
Next was the long road of expanding the product line. On the way to that goal, though, the economy tanked circa 2007, but looking back, Loader can't help think that helped Elation. "Nobody in my old world could afford those $10,000 moving lights, so everyone was looking for economic solutions. It was a perfect opening for Elation, and we stepped into the pro market with good quality products at a value."
As their clients continued to ask for more efficient lights, Elation went to Philips to start from scratch with a new lamp. "If ever there was a quantum leap in lighting, it was that," Loader says. It was 2007, and with the fact that the 250 watt discharge fixture were popular but the need for a brighter, cheaper, longer lasting lamp being sought after by clients, let to what would become the Platinum series which was released in 2009, and turned heads.
Also that year, Elation was one of the first to offer fixtures with multichip tri-color LEDs. "We were one of the first to adopt that technology, and our multichip LED lights were very successful for us, and we expanded that technology into a lot of different products."
Loader says the ADJ/Elation model has changed little from the early days, with R&D taking place in the company's Los Angeles headquarters and most products coming from customer ideas. "We really listen to the lighting designers, and develop products that fit their needs," he explains. They will take ideas wherever they can get them, including the consumer market, and even outside the industry. With the surge of technology that happened with LED TVs, they were able to go to those component manufacturers and get better-priced components for their lights.
Looking forward, "the merging of lighting and video is the future," he says. "We got into the video business in 2009 with LED screens that were at first low-res, but we increasingly created video products that were high res. The LED [aspect] was a natural for us, and recently we launched a DMX-controlled video camera.
"Also, nowadays people want a product to do more than one thing — not just a wash or a spot, but something that has multiple applications. Hybrid technology is here, and something we've been on the forefront since 2007 with the Design Spot 250. We've long tried to come out with products that do multiple things, and that's exciting. That's what will happen next, and we'll be there for that next generation of lights, doing multiple things well, no compromises."
Today, along with its offices in Los Angeles, Miami and the Netherlands, ADJ Group companies has opened an office in Guangzhou, China. "Increasingly, people there are asking for our products," Dowdle says.
Company Snapshot
ADJ Group/Elation Professional
Major Brands: ADJ, Elation Professional, Acclaim Lighting, Global Truss America/DuraTruss, American Audio
Founded By: Chuck Davies (now chairman), in 1985
Current President: Toby Velazquez
Headquarters: Los Angeles
Other ADJ Group Offices: Opa-locka, FL (Miami area); Kerkrade, The Netherlands (bordering Germany and Belgium); Guangzhou, China.
Leave a Comment: