LD Myles Mangino with Pixies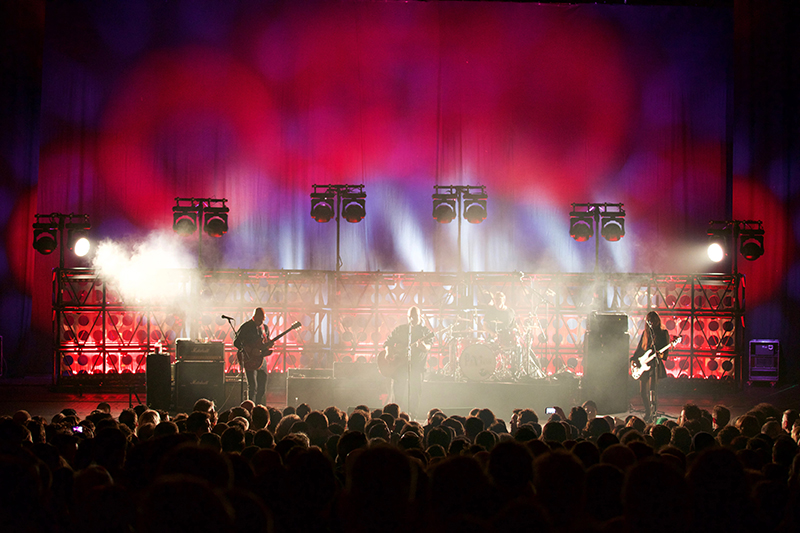 TOUR: Worldwide through 2017, ends in U.S. Dec. 10, 2017
THE DESIGN: "This will be my 32nd year as the show designer for the Pixies. Every two years, I come up with a new set and lighting design.
"For this current tour, I challenged myself to do a design that could work in arenas, without any rigging. The main element of the show consists of five rolling pods made of stacked PRT truss and lined with Par 64 gel frames, to create a natural gobo for the floor lights behind. Pods are also filled with tungsten and LED fixtures. All key lighting is done with tungsten foot and side lights. The whole show rolls in preassembled and is up in an hour."
TUNGSTEN vs. LED: "Tungsten or LED? I don't really think about that, or think about lighting fixtures at all. I use whatever is necessary in any given moment in each application. My designs always start with the set or an optical effect, then whatever lights are necessary to fill in the rest of the design are added. The first thing I think about is placing the artist into an environment that helps the viewer experience whatever they are trying to convey with the show."
BACK STORY
HOME BASE: New York City
YEARS IN THE INDUSTRY: 33
WITH THE BAND: "I've worked with the Pixies since their inception in 1986, designing all of their sets, lighting and content."
CAREER SPARK: "They already had a sound guy. But seriously, I was just drawn to the artistic, creative side of live production."
FIRST JOB IN THE INDUSTRY: "Playing guitar and mixing sound — not at the same time."
FIRST GIG AS AN LD: My first bus tour as an LD, I believe, was Björk's original band, The Sugarcubes. Before that, I did a few years of van tours with homemade fixtures and pyro.
OTHER ARTISTS YOU HAVE LIT: "Dead Can Dance. Lisa Gerrard. They Might Be Giants. Spiritualized. Yeasayer. The Breeders. Frank Black. The Sugarcubes."
SHOW DESIGNS YOU PAY ATTENTION TO: "I try to regularly go see most of the large-scale productions that are out, in all markets. Not only concerts, but also theater, circus, symphony and dance, as well."
WHAT DO YOU LIKE ABOUT WHAT YOU DO? "Mostly, in more recent years, the sense of community and partnership we have with our small group of designers, directors and techs spread out across the world."
BEST ADVICE: "Don't waste any time or energy focusing on what you don't want. Stay focused on what you do want, and you'll receive more of that."
LIGHTING MANTRA: "My mantra is to present a show like no one has ever seen before, to push the experience of each song into a place you can only get to at a live concert. I was just reading about a ballet production where generations of LDs keep exactly duplicating the same plot. I cannot imagine that level of boring."
Leave a Comment: