LD Mike Baldassari Lights "Rock of Ages" Concert Scenes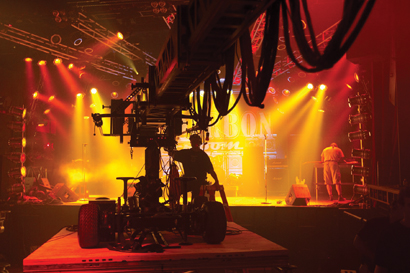 Set in the summer of 1987, the New Line Cinema film, Rock of Ages brings us back to the future with a long playlist of that era's music from acts that include Journey, Def Leppard, Night Ranger, Bon Jovi, Joan Jett, Foreigner, REO Speedwagon, Pat Benatar, Twisted Sister, Poison, Whitesnake, and others. The movie adaptation of the popular Broadway musical, directed by Adam Shankman and starring Tom Cruise as the fictional rock star Stacee Jaxx, faithfully tries to replicate the late 80's in every detail and that includes getting that old school rock lighting just right with hard backlight, high contrast, and saturated colors.
Lighting designer, Mike Baldassari was tasked with recreating that time in the evolution of rock-n-roll lighting as he provided the theatrical lighting design for the musical numbers. He worked closely with director of photography Bojan Bazelli and Gaffer Tony 'Nako' Nakonechnyj as they made sure the film had the right period look and feel. "I'm totally a student of this era; I graduated college in May of 1987," comments Baldassari. "I became a lighting designer because I wanted to light this music, in fact one of my final projects at UConn was lighting a Night Ranger song.. I think the most important thing in terms of the design wasn't that it had to be period-specific to every nut and bolt, but it had to be the way that you remembered it. Because the way that you remember it is much cooler than the way it really was. That gave me a certain amount of freedom but still, since I work in this industry, it was important to me that I didn't create lighting that someone would look at and say 'oh, it's totally 90's!' I don't want to show up at LDI and have people calling me out on it."
Bourbon Room
A third of the movie takes place in the Bourbon Room, a nightclub on the Sunset Strip in Hollywood, which was actually filmed in Fort Lauderdale, FL's Revolution Live club. "The Bourbon Room is supposed to be the biggest, baddest club on the Strip," Baldassari explains. "So they would definitely have the biggest, baddest lighting system, and the biggest, baddest lighting director. That was my back-story to the lighting. As an example, on the lighting rig for the Bourbon, I very purposely used silver six-lamp PAR bars with octagonal gel frames, which was really the ubiquitous lighting instrument of that period for concerts. I very conspicuously put six-lamp bars on the stage where I knew that they would be in every shot. Then for the overheads, because there was a lot of musical numbers to do and we had to make all of our changes quickly, I purposely put scrollers on [ETC] Source Four PARs. Now, obviously that's not period, but what I did was put an octagonal silver gel frame on the front of every scroller – sort of like a costume for each scroller. So from the floor it felt like it was just more silver PAR cans in the air." Christie Lites in Orlando provided the theatrical lighting package and also built the fake octagonal gel frames that could be used to disguise any newer equipment.
Bazelli and Nakonechnyj worked with Baldassari on blending the lighting where the onstage world met the offstage world. "In the truest sense of the word, all movie lighting is theatrical. You are trying to create a sense of heightened reality," comments Nakonechnyj. "For this film, it wasn't a real world; it was a heightened reality world that was really driven by the period of time; the rock 'n' roll lighting of that period. The limitations were the technical aspects of what theatrical lighting was then. It was PAR cans, a little bit of moving lights, and the very beginnings of color scrollers. It was all about having a million watts of light; having all those PAR cans in a different color and in a different focus. Mike created a lighting system about how we remembered the lighting to be, that sense of heightened memory was what we applied into the movie lighting as well. Often it was both styles at the same time, the film lighting in the club and the stage lighting. To give us flexibility I used some non-period lights that I could make look period. I invented a lot of LED fixtures to be used in the back of the bar, elements, and practicals so I can enhance and compliment what Mike was doing onstage. If a color came onstage, I could emulate it or contrast that lighting color scheme by changing my LEDs. There was a lot of back and forth that way; it all worked hand-in-hand. There was no real separation; it all just flowed together."
"Mike was so easy to deal with," adds Nakonechnyj. "It was easy to flow in and out of pieces. At the Bourbon Room, he could throw in some light and help create an effect behind an actor or through the office windows in the club. If he needed me to match something that he had done, I could do that; create the effect of reflected light from the stage. He understood film and the process. Mike and Paul [Turner, programmer], that team, was so in tune with each other so it was easy for them to react quickly to changes that needed to happen for Bojan or Adam. That was a huge advantage."
"I really liked working with Bojan a lot and Nako is a really terrific gaffer," comments Baldassari. "They've both worked together on a lot of films [over 20 actually]. Once I understood Bojan's style and the way those guys worked together; I was able to fit in. The way that I look at all of these film projects is—I'm another weapon in the DP's arsenal. We're guests in their world; when we do theatrical lighting on a film."
In filmmaking, fast changes between numbers was essential, so it was important for Baldassari to have some moving lights for refocusing between shots. Baldassari explains their goals of testing to find the modern tool with an old school look. "We camera tested different moving lights to find what felt like a PAR can and we came up with a [Martin Professional] MAC 600, which really felt like a PAR on film," he says. "I had a bunch of MAC 600s, to which I added a City Theatrical Concentric Spill Ring on it with a silver octagonal gel frame. For the Bourbon Room and the Venus Club, I brought with me Mike Roberts, a theatrical production electrician and my programmer for the entire film was Paul Turner."
Automated lighting was starting to get wider usage in 1987 so it made sense to have a few moving lights actually work in camera. "I did have some MAC 700s, but I only let five of them move," Baldassari says. "I was very careful to only let very few things move on camera in the Bourbon and the Venus. I also did these little tail downs in the Bourbon that had MAC 250+s on them. That's one of my favorite lighting instruments actually because its super-tiny and it has a lot of features. The way that unit is physically, because it's very tiny, matte black, and there's nothing on it; it was really not recognizable so you just feel the sources of light. Everything comes out of black. Bojan and I discussed at a lot of ideas and we knew that black was a very important color. As long as things were black and beams came out of blackness, it was okay."
The Arena and Stadium Shows
Parts of the film take place in an arena as well as Dodger Stadium. Both the arena and stadium scenes were actually shot at the Hard Rock Casino in Seminole, FL near Fort Lauderdale. The Hard Rock Arena doubles as the arena sequence for Stacee Jaxx's performance of "Wanted Dead or Alive" and for the end of the movie it becomes Dodger Stadium for "Don't Stop Believin'." Again, Baldassari returned to his past memories of big stadium shows for his inspiration. "One of my starting points was an interview with David Lee Roth, from back in the day. Their claim to fame was that Van Halen was touring with a million watts of lighting, which meant that they had a 1,000 PAR cans. They asked Roth why tour with a million watts of lights and he said 'this is just like high school; it's all about who has the biggest back tires and the loudest speakers.' That was my inspirational jumping-off point."
Baldassari sat with Jon Hutman, the Production Designer and looked at a lot of videos, everything from Van Halen circa 1982 all the way up through Motley Crüe videos from 1990. Also, the director had done a style guide of his inspirations that Bazelli and Baldassari went through together. When they started looking at the arena sequences, they knew that obviously it had to be a giant lighting rig. Baldassari continues to explain his inspirations. "Some of the reference videos that I showed Bojan and Jon were a couple of Motley Crüe videos from back in the day—"Wild Side" and "Same Old Situation." Both of those videos have huge back walls of PARs. I did a very similar thing where I used four pods containing 144 PARs, but again I used scrollers on them with the camouflage silver octagonal gel frames. I had to be able to change it up because we shot two different sequences on the same day. At the end of Motley's "Wild Side" there's this great moment that I had remembered from the 80s where the word "CRÜE" is spelled out in lights. In sort of a nod to that, I made my giant back wall spell out "JAXX" during Tom Cruise's guitar solo in "Don't Stop Believin'". For the shoot at the Hard Rock Arena, Baldassari brought in theatrical production electricians Roy Webb and Chris Maeder to work with him.
Vintage Gear
Finding enough silver PAR64s wasn't that big of a challenge for Baldassari. Finding an appropriate moving light that fit the period was a much bigger challenge. He really wanted vintage Vari-Lite VL2C's for their look and feel for the arena and stadium shows. "The VL2C IS the light from that period," Baldassari explains. "It has that distinctive look and funky color system in it. If you look at every single music video of that period, that was the light. It took three-months to find them, but it was so worth it! I found a dozen of the last working VL2Cs in North America. I started with Larry 'LT' Thomas, my account executive at Christie Lites; he helped a lot. I also called George Masek at Vari-Lite, who finally got me in touch with Brad Paisley's LD, Dean Spurlock who had a couple of dozen in a truck in Nashville; a tech who could make them work; and the very important black box to be able to talk with a modern console. That control interface was really important. If you look at all those Bon Jovi, Warrant, and Motley Crüe videos, there are definitely a couple of dozen on all of those videos. I put the 12 that I had all over the floor, the drum riser and on the amps so that I knew that they would be in all of the shots. It totally paid off; I've seen a cut of the movie and nothing else says "1987 Concert Lighting" like they do.
Rock 'n' Roll Color
DP Bazelli used the Arri Alexa digital camera system. "We did some camera testing with it in the club before the first day of shooting," Baldassari comments. "The club had a black ceiling but on film, the ceiling was blue. It really just pointed out how sensitive that camera system is. That was something that was in the back of my mind the entire time; that we really had to be careful and make really bold choices and stick to our guns with those strong ideas." The digital Alexa camera is indeed much more sensitive and needs less light, but it does have some issues with certain colors. Nakonechnyj had worked with the system before and was prepared for this challenge. "Color is an aspect that has to be dealt with on the Alexa system," he explains. The camera picks up on certain bands like red; it's very sensitive to reds and warm tones; they tend to oversaturate rather quickly. We had to be careful about that. With the Alexa camera, you can really take advantage of the colors that generally go away with traditional film." For his color choices, Baldassari went with strong, saturated colors. He explains, "What worked the best was big, solid colors. I never had more than two colors per song plus white. We gave every song its own color palette; and stayed really tight to it."
Making it all Work for Film
In working with Bazelli and Nakonechnyj on the lighting levels, Baldassari found that one of the keys to working well with the sensitive digital camera system was really good control of the lights. Nakonechnyj explains, "The Alexa needs less light, which is nice but by having less light, I need much more control; you have to be more judicious with how you add light or take light away." Baldassari agrees, "We really needed to be able to grab lights, almost on the fly and be able to pull it down or add to it. Once you've lit the song, now you need to be able to control it; adapt it as you're going. I've done many projects with Paul [Turner] and he's really a master of staying on top of that." For control, Turner programmed the lighting on a High End Systems Road Hog Full Boar console.
Another area of control for Baldassari was using SMPTE timecode to tie the lighting to the music playback. While it takes more time initially to make it work; it saves a lot of time during shooting and makes life a lot easier when editing the film. "Something important that I've learned over the course of doing a number of films, is to work closely with the music department," Baldassari comments. "I ask that the music department, for playback, always add a track of timecode for us. This is super critical. We would go through and all of the songs that we lit were tagged to the timecode. An advantage to this is that take after take; the lighting is exactly the same. This allows them to pick up shooting from any point; they don't have to start at the top of the song." The cueing to the timecode was indeed an advantage notes Nakonechnyj. "All of the light cues could happen in exactly the same place. We shot with four or five cameras at a time. We would shoot then move the cameras and shoot; then move them and shoot again. Every one of those cameras stayed exactly in synch as far as the lights and the sound."
"Don't Stop Believin'" Finale
At the end of the film, there is a sequence built around the song, "Don't Stop Believin,'" that transitions through various locations in the film. It starts out in the Bourbon Room club, transitions to the Arena and then moves to the Stadium, ending with a helicopter shot that pulls out of Dodger Stadium, flys over the Hollywood Sign and ends at the Sunset Strip. Baldassari explains his design idea for this finale. "I wanted to do something that connected all of those scenes from top to bottom. Starting in the club, I used a very simple three-hole gobo, which was in the MAC 250+ units, to create that triple beam look. That's in the background when "Don't Stop Believin'" starts in the Bourbon Room. When we make the transition, I had the same gobo made for the MAC 2000's in the Arena so I could do that same kind of beam look. On the floor in the Stadium, totally out of camera view, I had four High End Show Beams to get that split-beam look that only they can do. For all of the exterior shots of The Bourbon Room I had also asked Tony if he could put a Sky Tracker on the street. That way as the helicopter pulls out of the stadium and swings around to the Sunset Strip, you see the Sky Tracker and it tells you that is the Sunset Strip. That was the way I could carry continuity all the way across all of those locations. Nobody may ever see it; but they certainly feel it."
Honoring his Mentors
"Def Leppard stopped by the set one day and said that we really nailed the lighting; that it looked like what they had tried to do back then. I told them I was a fan of the lighting designers that they had for their tours like Phay MacMahon and Jonathan Smeeton," notes Baldassari. "I learned how to call followspots listening to Dave Davidian. When he would come through with Van Halen or Bon Jovi back in the day, he would generously set up an extra headset for me and I would sit with him front of house and listen to him call followspots. Working on Rock of Ages for me was a way to pay tribute to some of the guys that I really looked up to when I was first starting out and who have become friends of mine. People like Jeff Ravitz, Dave Davidian, and John Broderick."
In the end, what Baldassari captures is a real appreciation for not just the music—but of the rock 'n' roll lighting of the late 80's. He reminds us of those big rock looks we all loved back in the days when PARs were pulled by the hundreds in order to fill a shop order.
Rock of Ages Equipment and Crew
Bojan Bazelli – Director of Photography
Tony 'Nako' Nakonechnyj – Gaffer
Mike Baldassari – Theatrical / Concert Lighting
Paul Turner – Lighting Programmer
Kristina Kloss – Draftsman
Mike Roberts – Theatrical Production Electrician for The Bourbon Room and Venus Club shoots
Roy Webb and Chris Maeder – Theatrical Production Electricians for Arena and Stadium shoots
Theatrical Lighting provided by Christie Lites; Larry "LT" Thomas Christie account representative.
Vari-Lite VL2C provided by Dean Spurlock
Selected Equipment Lists:
The Bourbon Room:
1       High End Systems Road Hog Full Boar
2       ETC 96×2.4kW Sensor Dimmer Rolling Rack
15     Martin Professional MAC 700 Spot
36     Martin Professional MAC 600 Wash
12     Martin Professional MAC 250+ Spot
16     Coemar PAR56 LED Truss Toner, Silver
44     ETC Source Four PAR @ 750 VNSP on 4-Lamp Bar
2       Chrome 6-Lamp PAR64 Bars @ 1kW MFL
12     Chrome PAR64 Short-Nose Floor Light @ 1kW WFL
120   Chrome PAR16 @ 250W, Custom Mounted into Strips
44     Chroma-Q Scroller – PAR64 Size for ETC Source Four PAR with Silver Octagonal Gel Frame mounted on Front. Custom Gel Strings
2       4-Lamp PAR46 ACL
3       4-Lite Audience Blinder
44     Egg Strobes
4       Martin Professional Atomic 3000 Strobe with Atomic Colors Scroller
3       Lycian M2 Short Throw Followspot
1       Reel EFX DF-50 Hazer
175′  12"x12" Truss, Silver Onstage Sections Turned on Their Sides
The Venus Club:
1       High End Systems Road Hog Full Boar
2       ETC 96×2.4kW Sensor Dimmer Rolling Rack
5       Martin MAC III Profile Luminaire
18     Martin MAC 2000 Performance Luminaire
12     Martin Professional MAC 700 Spot
28     Martin Professional MAC 600 Wash
12     Martin Professional MAC 250+ Spot
36     Chroma-Q Color Force 12 LED Batten
8       Chroma-Q Color Force 72 LED Batten with Border Lens Plate
76     Philips Color Kinetics ColorBlast 12
24     Coemar PAR 56 LED, Silver
48     ETC Source Four PAR @ 750W VNSP
7       ETC Source Four PAR @ 750W NSP
11     ETC Source Four PAR @ 750W MFL
32     4-Lamp PAR46 ACL, Series Wired
24     Chroma-Q Scrollers – PAR64 Size for ETC Source Four PAR with Silver Octagonal Gel Frame mounted on Front. Custom Gel Strings
4       Martin Atomic3000 Strobe with Atomic Colors Scroller
3       Lycian M2 Short Throw Followspot
1       Reel EFX DF-50 Hazer
22     10' Sections of 12" Box Truss, Black
4       5' Sections of 12" Box Truss, Black
4       4-Way Corner Blocks for 12" Box Truss, Black
4       Hinge Plates for 12" Box Truss, Black
1       17'-6" OD Circle Truss made up of:
24 – 2' Truss Sections
48 – 15? Link Bars
The Arena / Stadium Sequence:
1       High End Systems Road Hog Full Boar with Expansion Wing
4       ETC 96×2.4kW Sensor Dimmer Rolling Rack
12     Vari-Lite VL2C Vintage Spot Luminaire
20     Martin MAC 2000 Profile
30     Martin MAC 2000 XB Wash Luminaire
4       High End Systems Show Beam
24     ETC Source Four PAR 6-Lamp Bars @ 750W VNSP
28     Chrome 6-Lamp PAR64 Bars @ 1kW NSP
16     Chrome 4-Lamp PAR64 ACL Bars @ 28V 250W
12     Chrome PAR64 Short-Nose Floor @ 1kW WFL
5       8-Lite Audience Blinder
12     4-Lite Audience Blinder
23     Elation Professional ELAR LED PAR, Truss Toners
144   Chroma-Q Scrollers – PAR64 Size for ETC Source Four PAR with Silver Octagonal Gel Frame mounted on Front.
5       Scrollers for 8-Lite Audience Blinder
4       Lycian M2 Long-Throw Followspot
3       Lycian Stark Lite II Truss Followspot
3       Reel EFX DF-50 Hazer
26     10' Sections of 12" Box Truss, Black
9       10' Sections of 20" Box Truss, Silver
5       4-Way Corner Blocks for 20" Box Truss, Silver
4       10' Sections of 20" Box Truss, Black (for Spot Chairs)
14     8' Sections of 30" Pre-Rig Box Truss, Silver
2       4-Way Corner Blocks for 30" Pre-Rig Box Truss, Silver
4       Christie's 6×6 Pods, 90"x90"x24", Silver
3       Followspot Chair, Underhung
Lighting Plots
Arena Plot:
http://plsn.com/wp/images/stories/12/06/current/plots/arena-plot.pdf

Arena Views:
http://plsn.com/wp/images/stories/12/06/current/plots/arena-views.pdf

Bourbon Club Plot:
http://plsn.com/wp/images/stories/12/06/current/plots/bourbonclub-plot.pdf
Bourbon Club/Magic:
http://plsn.com/wp/images/stories/12/06/current/plots/ROA Bourbon Club Magic 0522.pdf

Leave a Comment: