Lighting Usher and Blake in the Home of the Cowboys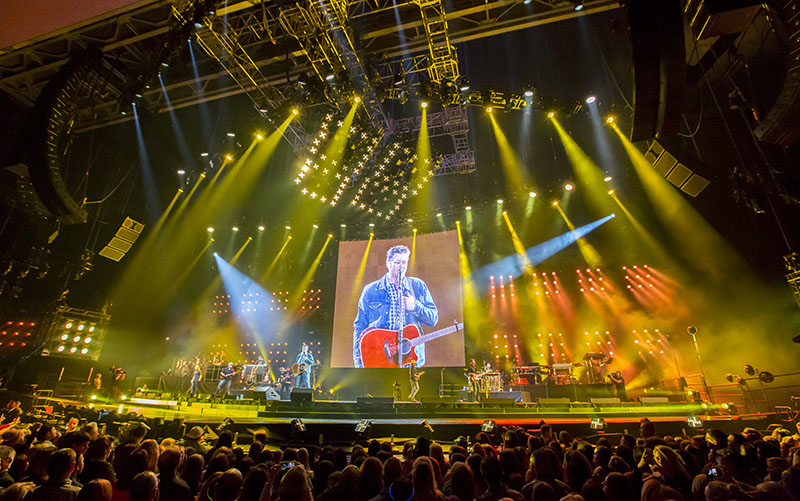 LD Eric Wade lit up AT&T Stadium for the United Way of Metropolitan Dallas' 90th Anniversary Gala.
The United Way is a national system of volunteers, charities and contributors who help people in their communities. In the metropolitan area of Dallas/Fort Worth they have now done this for 90 years. To celebrate that milestone and gather funds for a worthy cause, they threw a gala party at the biggest room in town, the AT&T Stadium, home of the NFL's Cowboys.
When the producers decided to stage this event, they realized they needed talent to perform and be appealing to a wide variety of people. What better way than to get a couple of the performers from the hit TV show, The Voice, to come perform for the worthy cause? So they wrangled up Blake Shelton and Usher to be the stars at the Feb. 6 event, dubbed the "Unite Forever Gala concert presented by PepsiCo."
The next thing they needed was a production designer who could pull of a mega one-off performance for the 35,000 people in attendance. So they viewed some clips of Usher's recent concert footage and found that Eric Wade, chief designer of FOH Show, had lit the star. And he was a local Texan to boot.
One Event, Two Distinct Artists
David Groom and Brian Greenway approached Wade, who came up with a system that would meet the requirements of both megastars and their respective touring packages. Although it was mega-sized in accordance with the stadium event, it also contained so many different types of fixtures that two distinctively different stage looks could be drawn between the two acts. While Wade designed it all, he had never actually run lights for Blake Shelton before. So he contacted LD Jody Marsh from Shelton's camp to come in and call spot light cues and assist him on the typical show flow of one of his performances. Wade then began programming in earnest to get the show programmed, cue-to-cue, for both artists.
These performers are buddies, and their camaraderie was evident in the performance. The show started with Shelton playing 30 minutes, followed by Usher for another half hour. Then both artists teamed up for a few songs, and the crowd just ate it up. They repeated the segments again, culminating with a grand finale by singing a rendition of "With a Little Help from My Friends," a tribute to both the Beatles, who wrote the tune in 1967, and Joe Cocker, who is still remembered for the radically different version he sung at the first Woodstock two years later.
Of course, Shelton is a country act, and he and his band performed many of their hits. Usher followed with his show, which included a tight choreographed performance with many dancers about the stage. Shelton came back at the finale to announce to his friend, "You had all your dancers on stage showing off all night, it's about time I brought mine up here." And on that cue, the Dallas Cowboy Cheerleaders danced out on the stage to perform.
Upon accepting the production design gig, Wade had to chat about stage placement and seating for the event. There were to be 8,000 people sitting at tables with another 25,000 fans in the stadium. It was a high-energy show, and Wade didn't feel the entertainers wanted the floor in front of the stage filled with tables. There would be nowhere for people to rush the stage or dance along. He incorporated a level of risers so the tables were all in ascending tiers of height, resembling more of theater than a flat football field.
Video Elements
Everyone is aware of the giant video screen in the stadium. Wade made sure to use it, but of course, it was so far above the stage and not viewable to the people on the field that he needed video elements to surround the actual stage as well. GoVision and Alford Media took care of the 32-foot-square 10mm main screen upstage of the performers as well as two side screens that were 32 by 18 feet (WxH) and the same pixel pitch. FOH Show supplied all of the video content served up via four Mbox media servers from PRG. Wade, of course, had his Usher content, since they are currently on tour, and mixed it up with lots of I-Mag on the screens. For Shelton's content, Wade had to do his homework. He combed through many of Shelton's existing music videos and was able to cut pieces out to play back during parts of the song where Shelton was pictured singing. VER provided 148 of their Video Blades, a single thin strip of LED that were built into a matrix box shape. These enveloped the rear of the stage, tying all the video elements together. The designer chose to use a Control Freak operating system for the Blades. This way he could control the output via media files or through DMX values of RGB sent directly to the video LEDs
The Lighting Rig
Lighting-wise, there was a full toy box of tools at Wade's disposal. Starting out, he intertwined the Video Blades with pods made from 162 Robe Robin 100 LED movers. They gave him the powerful color wash he needed for that big push. These were predominantly featured in Shelton's set, to provide large blocks of color. Of course he also had 66 Vari*Lite VL3500 Wash FX fixtures to ensure single wash beams could hit any band member and be utilized for large fans of color. A smattering of Clay Paky Sharpy Wash 330s were added for extra light in places.
For hard-edge fixtures, Wade went with 66 of Martin's MAC Viper AirFX fixtures. These provided him with more key lights and beautiful aerial gobo patterns he wanted. The extra brightness of the AirFX units helped ensure that the video elements wouldn't negate the light beams on stage. Of course, the 48 Clay Paky Sharpys also did their part, adding to the vectors of light raining down on the performers.
Wade also incorporated a bunch of Ayrton fixtures to complement the rig. He has become a huge fan of the MagicPanel; 84 of them are packed into the diamond-configured pods that traveled on a moving motor system. This has been a staple on Usher's show and Wade knew he had to have them here as well. He added in an additional 16 of Ayrton's MagicRings, an oversized, bright LED fixture with the ability to illuminate the LEDs in concentric rings.
Wade also used Elation Snipers for laser-like effects. He says they remind him of the old emulator light fixture from the 1990s, but on steroids. The use of Philips' MSD Platinum 2R bulb makes these fixtures bright and allows them to cut through all the other elements on stage. For strobes and that bright "smack you in the face" block of color, the design also called for 40 Solaris LED Flares.
For front and rear followspots, Wade chose Vari*Lite VL3515 fixtures with disengaged pan and tilt motors. He controlled the color, shutter and iris on the fixtures while the operators just pointed at the targets. Eight under-hung spots were hung from truss, and eight more were used from FOH. To run the entire show, the production team utilized four grandMA2 full sized consoles and three grandMA2 Lights.
Unite Forever Gala
For this event, staged Feb. 6, 2015 at AT&T Stadium, VER provided LD Eric Wade with lighting fixtures and Video Blades; GoVision and Alford Media provided additional video support.
Gear
Lighting:
4 grandMA2 full size consoles
3 grandMA2 Light?consoles
12 grandMA2 NPUs
162 Robe Robin 100?LEDBeams
24 Robe Robin 1200?LEDWash fixtures
66 Martin Viper AirFX fixtures
66 Vari*Lite VL3500 Wash FX fixtures
8 Vari*Lite VL3515LT Spots (underhung truss)
8 Vari*Lite VL3515LT Spots (used as followspots)
48 Clay Paky Sharpys
14 Clay Paky Sharpy Wash?330 fixtures
84 Ayrton MagicPanels
16 Ayrton MagicRings
40 Elation Sniper 2Rs
108 Solaris LED Mozart?fixtures from TMB
40 Solaris LED Flares from TMB
8 MDG theONE fog/haze units
2 High End Systems F100 smoke machines
Video:
4 MBox media servers (full size, from PRG)
1 Main screen (32' x 32') made from 148 VER HD Blades (10mm pixel pitch)
2 LED Side Screens (10mm; 32' x 18', WxH)
1 Overhead 10mm video screen (160' x 72' WxH)
Leave a Comment: