Mark Hogue
It was around December of 1979 when I first ran into Mark Hogue. He was at The Patio in Indianapolis, a small, 2,500 sq. foot club in the heart of Broad Ripple. He was the production manager for local rock icons Faith Band. He truly looked the part: young, a full head of flowing long hair past his shoulders, a David Crosby moustache and a calm demeanor. Mark was very organized and knew how to handle the curve balls that only club gigs can throw a band. Those assets would serve him well through the years to come, as Mark would not be in the clubs for long. Mark went on to take some of the top acts around the world and back. Advancing gigs out of his home in Greenfield, IN, Mark never lost his Hoosier roots. Those Midwest sensibilities are a good thing to hold onto in the crazy world of rock 'n' roll touring. We're truly pleased to give Mark a career retrospective within our pages. —Terry Lowe, PLSN publisher
Production Manager Grabs the Highlights of Life
Mark Hogue pinpoints 1973 as the beginning of his career in live concert production. Forty-six years later, he is one of maybe 100 people still doing what he does for as long as he has. His long and winding path has landed him contracts both as a production manager and promoter rep for various management companies, and as a consultant for opening venues in Mexico and around the world. Through all of this, he has focused on keeping his family a priority and finding a way to spend more time with his wife and son than he has on the road. His passion for racing has grown alongside his music career, to the point where he and his son Chris own WCM Racing ¼ scale cars as well as garnering a few trophies for his own racing. PLSN sat down with Mark in Charlotte, NC near the end of the summer leg of Bob Seger's farewell tour.
"I really wanted to do this tour, because I look at this as a bookend to my career, since I first started working with Bob in the '70's. I consider it a true honor to be a part of Bob's last tour and to be reunited with old friends again."
Hogue identifies himself as second generation rock 'n' roll, indicating that touring rock 'n' roll started the day after Woodstock ended. "That's when a whole bunch of people said, 'Hey, there are 600,000 people here. There's money here."
‡‡         Early Years
Careers most often follow a linear path; say from apprentice to journeyman, or via a serpentine route, while others may take an abrupt left turn where a person suddenly discovers "what they really want to do with their lives." By no means has Mark's career strictly followed any of these routes. No, it formed in a geodesic pattern; a network of great circles, expanding exponentially with each new person he met that "took me under their wing.
"Technical theater and lighting design were my early inspirations," starts off Hogue. "I was always a gear head and into racing, and our high school had a fairly decent sound and lighting setup. I just really dug working with the stuff. Most of the other kids in my theater class just didn't get it." The choral director, his earliest mentor, took notice. "He fueled those aspirations."
Hogue and his wife actually met on that stage in a high school production of Brigadoon. She was acting and he was the lighting designer on the show. When she went to Ball State, he followed. "I went to college to be a theatrical lawyer. My majors were a pre-law curriculum and theater. Along the way, I saw how unethical the law could actually be and decided it just wasn't really for me. Besides, opportunities presented themselves in theater. Going into my junior year, two of my theater professors came to me and said, 'You know, kid. We see someone like you once every few years. We can't teach you any more, and this degree is not gonna do you any good. You need to go out and do this."
At that point, Hogue was low on cash and putting what little he made into keeping his cars in shape. And then, "almost immediately, I got a call from a guy I'd known in school who was working at the Beef & Boards Dinner Theatre, which owned a three theater chain. We toured shows between them and the Chateau Deville chain, doing musicals six nights a week and a concert on the seventh. I was a lighting designer and stage hand." He worked nine months without a day off until the season ended.
"The next logical step for me, since I was in theater, was to go to New York and do that Broadway hustle or try something else. I had some contacts in the city, so there were possibilities. But the first real offer that came along was in music." Maureen McGovern was just getting started and doing a concert at one of the dinner theaters. "We were backstage talking. She told me she was kind of looking for someone to handle her live shows and a lighting guy as well. 'Did I know anybody?' The position paid $500 a week plus $140 a week per diem. My response… 'What is per diem? Now, scale at an equity house at that time was only $250 a week! I told her I just might know somebody."
Hogue took that gig. He picked McGovern up in a van at her folk's place in Youngstown, OH and proceeded to tour supper clubs and Holiday Inns. Suddenly, her song, "[There's Got to Be a] Morning After," featured in the 1972 movie, The Poseidon Adventure, was climbing the charts. "I found myself essentially tour managing a singer with a number one record. I was 20 years old. I didn't have a clue!" Upon returning to L.A. at the end of the tour, which took Hogue pretty much around the world, McGovern hired new management. "L.A. managers, doing what they do," says Hogue, with a shrug. He was unceremoniously dumped along with everyone else. That is where Hogue met Harold Blumberg; a lifelong friend and mentor who, in teaching him the science of audio and how cool the gear is, "launched my career."
It's 1974, and Hogue is back in Indianapolis, working with a small sound company owned by Dan Kasting. That little sound company also started working with Seger. "Dan was another important mentor who took me under his wing. He got me on as FOH engineer for the Faith Band, an artist managed by Sunshine Promotions. Sunshine in turn sent Hogue to work as tour manager and production manager for some of their other bands. Hogue also went out on his first "Big Rock Tour" as a monitor engineer with English rock band Uriah Heep. At that time, production for touring bands was mostly regional. Practically nobody carried sound and lighting on a national tour basis. There were no shed venues to speak of, either. Stadium festivals and multiple act jam shows were the standard. "Bob was a mainstay through all of those; the Texas Jam, the Kansas Jam and the Florida Jam," says Hogue.
‡‡         Back with Bob Seger
It was during these years, at the start of their long working relationship, that the seeds of friendship between Bob Peterson and Mark Hogue were planted.
"I met Mark in the summer and fall of 1976, when out on my first tours with Kiss and Bob Seger. He brought in supplemental PA for our stadium shows," Peterson says. "Despite the fact that he was an audio guy, we hit it off right from go. Here we are, 40-plus years later, and working together again with Bob Seger and the Silver Bullet Band. Professionally, I admire Mark's deep technical expertise, coupled with his intense understanding of the financial impact of everything we do. What I really respect is how far he will go to defend creative ideas, understanding inherently that is why the people come to the shows. All this with zero drama. Zero."
The years 1977 through 1981 found Mark working on both sides of the pond, with Center Stage Management in the U.S. and Mismanagement in England. "My son was born in 1980, and the goal for me at that time was to work on the road as little as possible," Hogue says. Thanks to John Cutcliff and Red White, Hogue and Kasting landed the Melissa Manchester and Manhattan Transfer accounts, which kept them close to home.
In 1985, Hogue got an offer to take over a FOH position on the "Chicago 18" tour. In the midst of "a bit of fallout," he wound up as production manager, "thanks in no small part to the band guys believing in me. I stayed with them for 10 years, up until '95."
In between, he did the Coverdale/Page tour, Anita Baker's first big tour, The Rapture, and a number of others. "I got more and more into production and less into audio. I knew early on that what I wanted to do is produce shows. I figured that out at Ball State," Hogue says.
‡‡         Learning the Ropes
"Working for Chicago was the best production manager training I could ever have. We did every conceivable kind of venue in the world imaginable. They would do a stadium one day, followed by an arena, a theater, and then pack the gear into an airplane and fly to Japan booked into arenas and theaters, then fly back to do a theater in the round. They were totally polished, seasoned professionals who respected the crew enough to give us the freedom to do things right for them."
Perhaps the most important person he met in 1985 was Howard Kaufman, whom he worked with the next 30 years. "Chicago was Howard's first band, so I spent a fair amount of time in his world," Hogue says. "He was an amazing man. One of few words, but if you paid attention, the education was priceless. Howard used me to fix things. I always say I can do any show of any size anywhere around the world. It may not be the show you want, and I may piss people off along the way. It may cost me the gig. But the show will happen and everyone will get paid. If I get sacrificed in the process along the way, so be it. There will be another gig, and that was fine with Howard. He would always tell me, 'Okay, go make sure they make money.' That's how I ended up with Poison for 10 years."
Hogue also attributes his success and longevity to "the real guiding lights in my career," including Jimmy Eyers, tour manager for Aerosmith and Chicago, and others such as Paul Newman, now with Clair. He also has a long working relationship with Harold Blumberg, partnering with him as a consultant since his earliest days. "Those guys guided my career from late Chicago through Aerosmith. They taught me so very much and looked after me so very well."
In 1995, Jimmy Eyers asked Hogue to "take the boys [Aerosmith] to Japan for a short run of 12 TV shows." A few shows into the run, Joe Perry told Hogue the band wanted him to stay for their upcoming Nine Lives tour. "I told him I'd love to, but I kinda have this other thing that I do working with Howard Kaufman and Chicago." To which Perry replied, "Well, I can fix that," Hogue says.
"I go to the first production meeting in New York City and see what the designers have come up with for Nine Lives," Hogue continues. "They have this massive amount of staging 93 feet wide, with a lighting fixture of every sort made and eight Pani projectors. It was monstrously beautiful, so I said to them, 'We're doing stadiums right?'" The management team told him no, it's all sheds and arenas and needs to fit in six trucks. "I looked up from the plot and said, 'Not with this thing you ain't!' Crumpled it up, threw it over my shoulder and said, 'Okay. Where do we start?'"
The management team did not have an answer. Hogue found himself in the position of being 12 weeks out from starting a tour in Europe with nothing. "Jimmy, recovering quickly from the dead silence, asks me, 'Well, what you got?' I told him the best trash and flash guy I know in the business is Jim Chapman." A day later, the three, along with scenic designer Brian Sullivan of B&R Scenery, are in a seafood restaurant designing the show on cocktail napkins and legal pads. Two entire lighting systems were built — one, assembled by Neg Earth in London to do the tour, while the other was assembled in Hartford, CT as the beta test rig. It would never be used, except in rehearsals. "We continuously went through daily changes to make sure it all fit, and then relayed that information to the guys in England." Four weeks later, everyone met in Newcastle, U.K. to start what would be a very successful tour that ran for the next three years.
"My niche was always the medium-size tours," Hogue says. "Aerosmith was probably an exception." He pauses and chuckles, "Well, there have been a few exceptions."
‡‡         Other Gigs
Other work included tours with Prince as his production manager, with an excursion into Mexico as a consultant. "Prince was challenging. We did the Hit and Run tour, which was self promoted. I turned it down five times before I finally took it, 24 hours before the first show. I told Takumi Suetsugu, 'Send me your bus company, your sound company and lighting company, your travel agent, and let me hit the ground running.' He said to me simply, "We don't have any of that." Between Jon Pollack, Takumi, Carrie Charbonneau and me, we built a Prince tour in 24 hours. We were getting shows booked two days out at the most, right before we played, and I had no promoter rep I could call."
"Ron Stern opened up touring in Mexico and most of the good parts of the music industry in that country trace directly back to him and Mo Morrison. I capitalized on their groundwork as the promoter rep and consultant at Azteca stadium for Elton John's first appearance in Mexico and in 1993 for five of Michael Jackson's Dangerous world tour shows. You want to find yourself in a bad situation? Try looking around in a stadium in Mexico for somebody to yell at about something that didn't happen, and you realize it's your own fault. Wrong side of the contract," he says, exploding with laughter.
"Some of the folks I trained down there that worked with Ron Stern and I are pretty much running the music industry in Mexico. I was very fortunate in having Kenny Graham as the site coordinator for my big shows there. He's one of the best production managers and site coordinators that has ever been, and another great teacher of mine. I would not have a career if it were not for a lot of people like Kenny. Guys that I look up to and respect immensely, who over the years have taken me under their wings are Patrick Stansfield, Michael Ahern, Joe Batista, Jimmy Johnson, Steve Finkle, Craig Blaizer, Chris Adamson, Bob Goldstein, all of the Sunshine guys and so many more.
"Those early guys were my go to people. To this day, when I get into a situation where I need a good judgment call, I'll ring Chris Adamson. How do you pay that back? Well, you pay it back by helping other people. There is no school for any of this; there are no books, so I pass on what I have learned. I like to think I've had a hand in giving a lot of folks a career." He says this in all modesty. Hogue likes to stay behind the scenes, "in the shadows." His presence on social media is practically nil, except for his websites and recent feature stories regarding his work with the Moody Blues.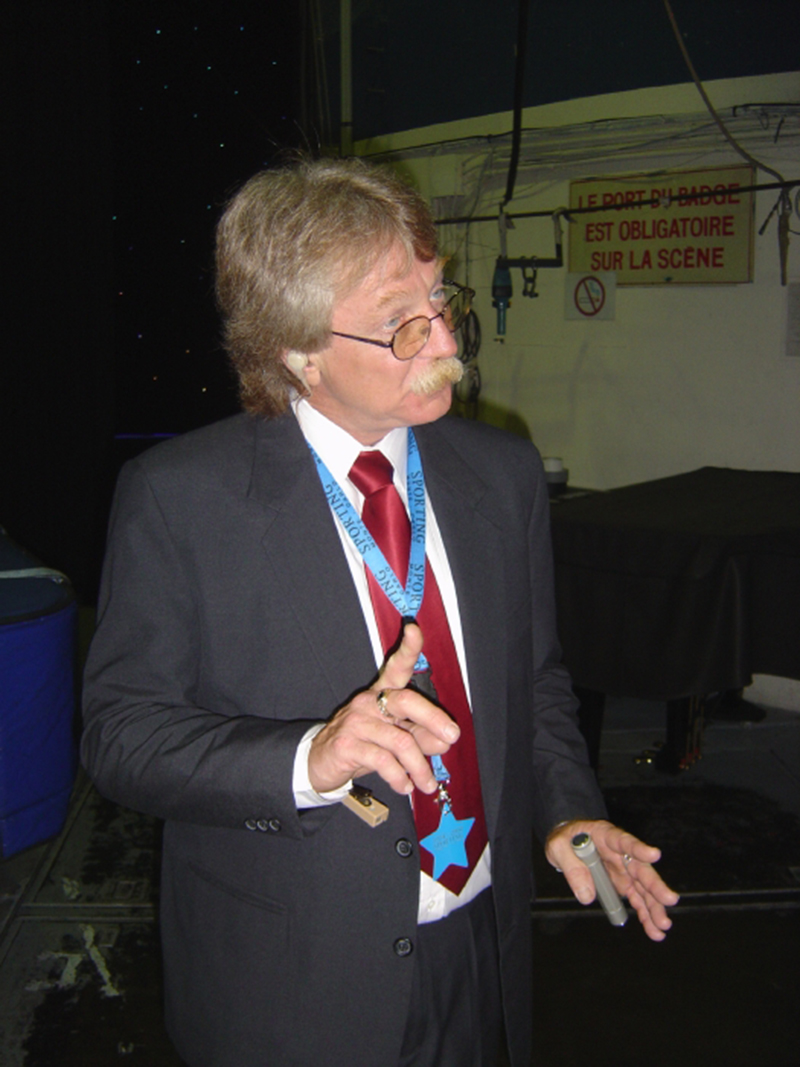 ‡‡         Multiple Hats
He spent almost 15 years with the Moody Blues, during which time the band did not have a manager. "Their booking agent is Robert Norman at CAA, and they had me. Essentially, I became the adult in charge; production manager, tour director, and accountant."
"Between us we kind of revitalized the Moody's touring career, and we did it technically. Their career is their career and their iconic music is their music. The live performances just needed a bit of pizazz — mainly in lighting. Their lighting designer, Mick Thornton, is absolutely gifted. He can do more with less than most designers I know. We brought in video, upgraded the P.A. and hired high quality engineers."
The production was designed to fit in Broadway houses, a setting their audiences were quite at ease with. "When I started with them, the band was doing 60 percent business and at the end of the tour, they were doing 90 percent," smiles Hogue.
"There's maybe a hundred guys in the world who have done this as long as I have, and we all know and respect each other, but we don't work together. We pass in the night. There is a certain honor among thieves with us."
Hogue says his greatest challenge was to try and create a world within this industry that allowed him to have a real life and a family; to craft a career where he is able to work enough to pay the bills, but still have time to be Dad, to be a husband. The fact that in his 46 years in the business, he has been home over half that time on purpose is how he measures his success. "Shows, yeah, on any given day I've had disasters befall me. We all have. I've had roofs collapse, P.A.'s blow over and trucks burn to the ground. Hell, I even had a container ship sink once," he notes.
"Back in the '80's, I was known more for the tours I didn't do. It was all about time off for me. This business eats its young. It is very easy to be 50 years old and find yourself looking around and whatta ya got? Other than a stack of tour laminates and a bin full of T-shirts."
‡‡         Current Days
Hogue and his wife Tess have been married 43 years, and it's been a true partnership. She is a retired college professor in the Indiana University system. He paid for her to finish her master's degree during his time with Maureen McGovern. She became a high school teacher upon graduation and supported him while he was off the road and learning more about his craft. "I wasn't making a lot of money on the bluegrass festival circuit at that time," Hogue laughs. "When I started making money again, she was able to get another masters degree. By the time Chris was born, we could afford her taking five years off to raise him. It was a struggle, but it was … an investment well made."
Hogue and his son Chris are very close. Mark and Chris Hogue, together with Terrence Garret, co-own Winners Circle Manufacturing (WCM), which builds ¼-scale radio, controlled racing car replicas. "Chris is a good hearted kid, and we are just a couple of crazies passionate about car racing," Mark says.
When asked if the Bob Seger's Farewell Tour is also Hogue's farewell tour. Not so fast. "Retire?" Hogue asks. "I'll never retire. Clients age, managers age. And I admit it — even I have aged. But really, you know you don't retire out of this business. It retires out of you."
For more info on Mark Hogue, visit www.mark-hogue.com.
Leave a Comment: