Myles Mangino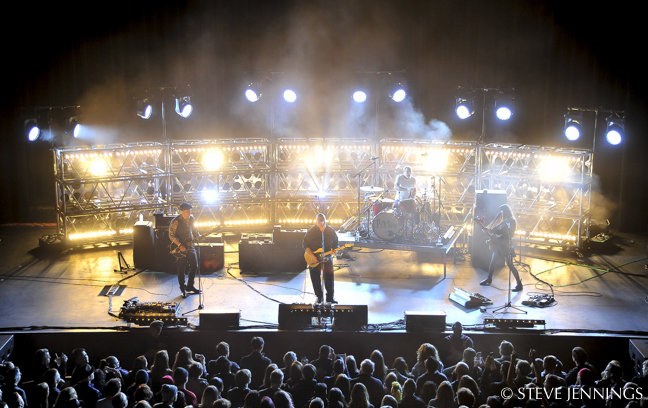 I'm at a loss in trying to figure out the best way to describe Myles. Words such as "artistic," "unique," "different" …and "huh?" all come to mind. "Thinking outside of the box" may be another. I mean, what other lighting designer would ask a lighting vendor for 120 feet of pre-rig truss and a hundred or so par 64 gel frames, but hold the pars?
We caught up with Myles last month as his longtime friends, The Pixies, finish up the last couple months of a touring cycle that's lasted over a year. In 2016, they celebrated their 30th year (though there was a lull for a while) and have been gigging consistently. Myles has been with them every step of the way. And a twisted beginning it was.
"I had originally been an audio guy. Worked in recording studios, experimented in electronics, even built my own synthesizers when I was in school. When I got out of high school, I hooked up with another friend who owned some sound gear, and we started using it for my band as well as others." Soon enough Myles had one of those "Aha" moments when he realized, "Sh*t, I need some lights.' So I went out and got a loan, picked up some truss and par cans, and a little Jands console."
He started going back and forth between audio and lights for a while. "We started doing shows with Black Flag, Corrosion of Conformity — the whole punk rock scene. Then between Connecticut, Rhode Island and Boston, we started putting on our own punk shows by finding an old abandoned roller rink or something where we could stage them. And then I met the Throwing Muses."
‡‡         Serendipity
In 1986, Myles hooked up with this band, purely by accident. "I was doing a gig with the opening act at this place called the Living Room, in Providence, RI. I was watching the three girls in the headlining band trying to lift amps onstage that were heavier than they were, so I went over and gave them a hand. After talking a while, I said, 'Hey, I notice you don't have a soundman. I will mix your sound for free.' They agreed. After the show, the band's manager came over to me and mentioned that they were starting a tour tomorrow, and well, 'Would I like a gig?' So basically, I started my touring career by working for free for a band that I really loved."
It gets better. "So we get to the first gig and the group says, 'Hey there's this other band, and they are the opening act. They want to see if they can ride in the back of your truck." I said 'Yeah, but it's the middle of winter, there's no heat and it's dark back there.' They replied that it was okay. They had a bench seat from a car that they would put behind the gear and ride on that. So I went up to Boston to pick them up. That's how I met the Pixies. They rode in the back of my old Jartran truck, chain-smoking in the dark while cases slid around."
The Pixies had gotten quite an underground following through cassette trading and the usual punk rock avenues bands pursued in the 80's. They sold out the infamous Ritz in NYC before they ever had a record deal. "So while I'm out doing these shows, the Pixies started gaining more recognition. They had booked a European tour, and my business partner at the time had more experience mixing FOH sound, so I guess I had to be the lighting guy. Next thing you know I'm a 22 year old kid in England having to figure it all out. I was self-taught and learned along the way."
He stayed with them, going out on a lot of big tours as a support act, before they hung it up in 1992. Myles stayed on the road for another two years, mostly with the bands They Might Be Giants and Frank Black and The Breeders. Then packed it in, moving back to Connecticut to open up a recording studio, where he worked as an engineer, producing over 100 albums.
In 2004, the Pixies reunited, and Myles went back on tour with them, leaving his studio in the hands of a couple of interns to run. "I think one of the advantages of working as a recording engineer was applying that knowledge to lighting. I found the same processes used in creating songs in the studio could be applied to lighting cues. For instance, the intro of a song is often a stripped-down version of the chorus. Then with each consecutive chorus, often, the instruments begin to open up, and layers are added. So when programming lighting cues, I would copy the intro cue into the first chorus and add lighting layers to match the layering that happened on the recording, or live. Muted guitars equal tighter irises, zooms and saturated colors. As guitars open up and get louder, beams open up and get brighter or whiter. Then I would have different cues for verses that move through the same layering process. In the studio, a bridge or solo would introduce a key change or new theme to the song. On lighting bridges, I would introduce a new color or gobo or fixture, depending on how dramatic the changes are in the song. I approach my lighting the same way we would build songs in the studio."
During the 10-year break in Myles' lighting career, technology had advanced. "I missed a chunk of the evolution of moving lights. When I left off, I was on a Celco Gold console. When I returned, everyone was using Hog 2s. I went to a lighting company, and I had [Martin] MAC 2K profiles and conventionals with color scrollers on them. That's how I met Nook — he taught me the basics to get started as a programmer," Myles adds, of Nook Schoenfeld, PLSN editor and LD for Kid Rock, among others.
Mangino had to keep himself busy in between Pixies tours, and one of the things that he found himself doing quite often was lighting fashion shows. He expands, "When I first moved to NYC (Myles resides in Manhattan's East Village), I was a freelance event producer and I got a gig with Armani. I wasn't actually the LD, I was designing their whole event/fashion shows. This kept me busy with about eight shows a year." In 2008, the economy crashed, and with that, there was a big restructuring of the company. Many people changed jobs and left Armani, but they kept Myles' number.
‡‡         High Fashion, Low Tech
"With a lot of these shows, the runway just needs to be well-lit, with some big lightboxes or Arri fixtures. I started getting calls from these people in the business whenever there was some programming involved." A case in point was a video shoot he did with Madonna. "I was brought in because she was shooting a music video with a company that shot fashion commercials but didn't have any experience with concert lighting. So we did the shoot, and through that, I met a group of people in the fashion industry that were amazed at what could be done with moving lights and programming."
As for the shoot itself, "one of the funniest things I saw on Madonna's set was the gaffers on ladders taping frost to the lens of the VL3500 fixtures. I asked them what they were doing. 'Well,' the director said, 'we would need to use frost on the moving lights.' The crew were amazed that I could adjust the frost, color temperature and color from the console. These were people who had been in lighting their whole career. Now whenever they have a shoot that needs some motion or effects added, I get a call. And there's so much of this stuff going on in New York City."
Speaking of unique gigs, Myles expands on a commercial he shot for Louis Vuitton. "It was a full 360° shoot in a warehouse, so there couldn't be anything else in the shot that you could see from any direction. It was shot in this big empty space in Brooklyn, and we had a bunch of eight foot tall Kino Flo bulbs and lined the walls with them. (Think bare fluorescent bulbs —ed.). "Then, up in the ceiling, I had a grid of Arri SkyPanels. The first half of the video uses nothing but the side light of the Kino's, then we turned them off and used just the SkyPanels for the second part. The commercial came out looking great on film. It showed that, to light the models and come out with something spectacular, it can be done in the simplest of ways."
More recently, Myles was lighting a show where a new fashion brand wanted a "steam focused" runway. "Basically, the producer wanted a water effect. My initial thought was to get a few MAC Vipers and give them that water treatment, but they wanted to know if there was a way I could do it more naturally."
Myles went out and obtained clear Plexi boxes and filled them water. He went to a pet store and got fish tank bubblers, to move the water around. Next he added some crumpled up light blue gels and Source Four pars. "The trick in the end was to bounce the light off the surface of the water, as opposed to shooting through it, so, as the models walked on stage, they were bathed in this water effect." The producer got the look she was after.
‡‡         Return of the Pixies
As for the Pixies, "in 2004, they announced their return with a slot at Coachella and nine nights at the Hammerstein in NYC," Myles says. "They play theaters in America and arenas and festivals in Europe." This year they logged in 91 shows in over 20 countries. They used the same lighting rig everywhere they went, even at festivals, because Myles designed it that way.
"The band had made that a mandate to me. 'Whatever idea you have, it must be able to be recreated wherever we go. The set needs to be broken down into trunks and that's the limit.' Every two years or so, I come up with a design that is themed towards something. So for this tour, I designed a set that was a tribute to the Pixies' early days, when all they played in front of was pars." The album, Head Carrier, debuted in September of 2016, and the tour rolled on for 16 months.
The set consisted of five sets of pre-rigged truss stacked in groups of three, as you would normally roll them into a truck. But they never unstacked on stage. They made a metal wall behind the band. "There were no pars in the truss, but we mounted LED battens and tungsten strips in there to vertically light the structure. I also fixed par 64 gel frames to the back of the truss to create natural dynamic gobo breakups using moles and movers on the floor behind the trusses."
The Pixies get their gear from See Factor in America, and Lite Alternative when touring in Europe. "See Factor is filled with so much history — decades worth of bits left over from some of the most iconic and well known rock tours — and the people that were there pioneering this industry." Myles admits that he has a close relationship with the people at See Factor over his years in NYC, as he utilizes their gear on many of his local projects as well as the touring rigs.
Above the wall of truss were a smattering of Martin MAC Quantum washes on vertical T pipes about 12 feet off the ground. That was it, no flown rig. "I wanted to challenge myself to have a show that could work in arenas without any rigging."
Stylistically, Myles does not care for a lot of front light on the Pixies and he's quick to point out to me that he prefers not to use any color on the front key light and to be sparse with that as well. "The band is quite happy playing in silhouette for the show, but I use some tungsten footlights to bring out their faces at times. But really, that all that's necessary for key fills"
In conclusion, Myles adds a bit of advice. "A lot of younger LD's seem to be only looking at beams for the entire show. But the audience is mostly looking at the band. Don't forget to think about, 'what do they want to be able to see.'"
More Pixies photos by Steve Jennings:
PIXIES © Steve Jennings
PIXIES © Steve Jennings
PIXIES © Steve Jennings
PIXIES © Steve Jennings
PIXIES © Steve Jennings
PIXIES © Steve Jennings
PIXIES © Steve Jennings
PIXIES © Steve Jennings
PIXIES © Steve Jennings
PIXIES © Steve Jennings
PIXIES © Steve Jennings
PIXIES © Steve Jennings
PIXIES © Steve Jennings
PIXIES © Steve Jennings
PIXIES © Steve Jennings
PIXIES © Steve Jennings
PIXIES © Steve Jennings
PIXIES © Steve Jennings
PIXIES © Steve Jennings
PIXIES © Steve Jennings
PIXIES © Steve Jennings
PIXIES © Steve Jennings
PIXIES © Steve Jennings
PIXIES © Steve Jennings
Leave a Comment: