elektraLite and the Stingray Family
Last week, my old friend Norm Wright stopped by our office with some of the products from elektraLite that Group One Limited was offering this year. PLSN had spent some time at their LDI booth last fall looking at the various models and we thought now would be a good time to introduce some of these to our readers. I checked out half a dozen fixtures they manufacture, but what really interested me was their new Stingray line, which included an LED-sourced Profile (ellipsoidal), a mini ellipsoidal and an LED Fresnel.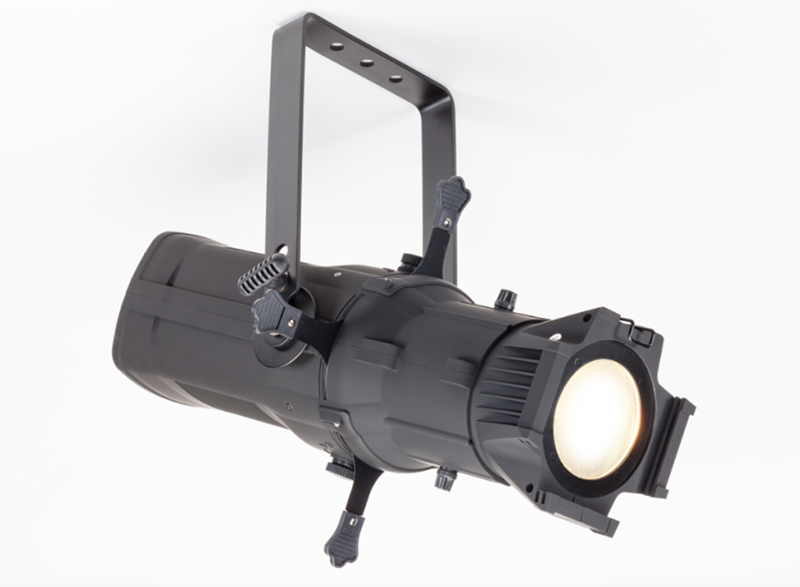 The Stingray Profile
This ellipsoidal boasts a hard outer shell with an aluminum monocoque design and a sleek casing for a profile that is 24 inches long. It boasts all the features of a normal ellipsoidal, but with some commendable features. All the hardware is corrosion resistant. I plug the Edison to female PowerCon connector into a wall outlet and take a look at what this profile has to offer.
I am looking at the warm white model that measures 3200° on my meter for color temperature. I shine the beam on a white scrim 30 feet away while using the 19° lens. As suspected, the field was perfectly flat with zero noticeable hot spot being emitted from the 300-watt LED COB source. I take my meter out for a reading and see it measuring 130 foot-candles in the center (with very slight dips of 5 FC off center). What is also appealing to my eye is that there zero evidence of the dreaded blue line around the circumference of the sharply focused beam. I grabbed a Source Four ellipsoidal with a 750-watt bulb off the shelf and compared the two. The incandescent bulb fixture only shined 61 foot-candles at the same distance when sharp.
elektraLite offers the usual 26°, 36° and 50° lens barrels that are easily swappable. The ETC series of barrels fit this fixture easily, but the actual size of the beam differentiates because of the fixtures specific optimizing. If you put a 26° ETC barrel in this fixture the output will actually be 23°.
The fixture draws a mere 400 watts; one could easily put five fixtures on one 20-amp circuit. The PSU can handle 100-250 volts. I could have a house pipe with 30 fixtures running off of one multi-cable. There are two DMX channels, one for the dimmer and another that effects the dimmer curve. It appeared perfectly linear to my eye as I dimmed it up and down.
The fixture is distilled water-cooled, although there is no pump. The water could freeze inside the fixture, but I'm guaranteed that this wouldn't be an issue if it did. There are two fans running that I can't even hear, to be honest. Even after being on at full for 30 minutes straight, it's barely warm to the touch.
The barrel runs in and out like butter. It can rotated 360° with the framing shutters behaving as one would expect. There's a slot for a gobo as well as space available to drop an accessory such as an ETC Iris unit right into it.The fixture is also available as a cool white model as well with the same wattage and a 5600° temp. They also offer an ellipsoidal with a RGBL Color engine and a 250-watt bulb.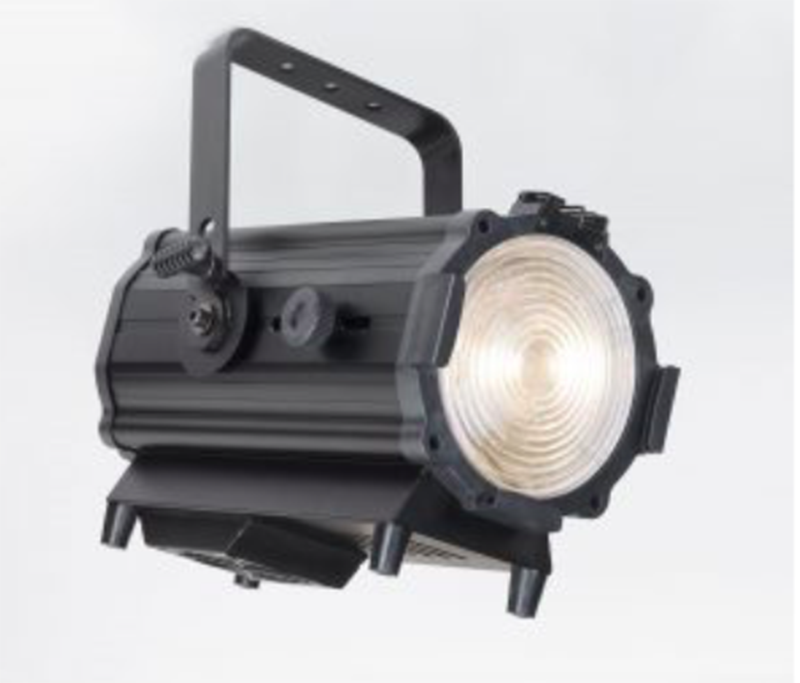 The Stingray Fresnel
The matching Fresnel version of this line consists of the same 300-watt COB light source as the profile. This 8-inch model comes with a manual zoom that adjusts between 15-50° and locks in place with a knurled knob.
With the COB output there is no typical reflector, the LEDs themselves move behind the optical lens. The fixture does come with barn doors and a gel frame. It is available in warm white and cool color temperatures as well. The fixture has one channel for 0-100 dimming and one channel for selecting your dimmer curve. The CRI is an impressive 94.
There is no noticeable hot spot. I measured the output on the cool 5600° version from 30 feet away. With the fixture in a tight zoom I metered 200 foot-candles. At full zoom, I still reached an impressive 55 fc. The housing never gets warm to touch. The menu display offers easy addressing.
The Stingray Mini
This is a miniature ellipsoidal good for use in clubs, museums, galleries and anywhere you wish to illuminate art or use for signage. It is powered by a 20-watt COB LED and is available in warm white 3200° or cool 5600° models. It accepts a small gobo and has framing shutters as well. It has a DC power supply that can easily attach to the yoke or live up to 10 feet away from the fixture.
Optional DMX supply is offered with a liner dimmer curve. Or it can be used in standalone mode. 19° lens tube included with others offered. Gel frames and gobo holders offered as accessories.
At a Glance:
LED Ellipsoidal, Mini Ellipsoidal and Fresnel
The elektraLite Stingray family includes an LED-sourced Profile (ellipsoidal), a mini ellipsoidal and an LED Fresnel. Nook checked out all three and found all to be commendable, with impressive build quality (including corrosion resistant components), light output and operating characteristics, including ample cooling with quiet fans. Here are some "geek specs" on each item.
GEEK SPECS
Stingray Profile
Light Source: 300W COB LED. (Warm or cool white models available)
Wattage: 400 watts
Barrel Rotation: 360°
Extra DMX channel for dimmer curve selection
Accepts all accessories
Weight: 18 lbs.
Size: 24 x 8.5 x 6.3"
MSRP (w 19° lens): $1,299.
Stingray Mini
Light source: 20-Watt COB LED (External PSU)
Wattage: 25W
Weight: 4 lbs.
Size: 11.3 x 4.3 x 4"
MSRP: $399 ($439 with DMX module)
Stingray Fresnel
Light source: 300W COB LED
Power Draw: 400W
Color Temp: 3200 or 5600°
Zoom: Manual 15-50°
Weight: 19 lbs.
Size: 17 x 10 x 11.5"
MSRP: $1,299.
Manufacturer: elektraLite
Distributor: Group One Ltd.
More Info: www.myelektralite.com, www.g1limited.com
Leave a Comment: