Luminex LumiNode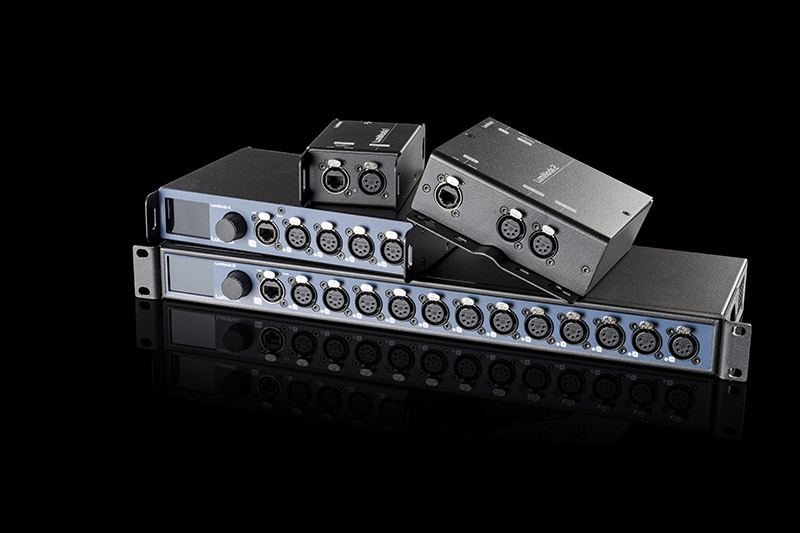 Built for Today, Designed for Tomorrow
Data distribution company Luminex Network Intelligence (or Luminex, for those intimately familiar) has accepted the fact that the signal game is getting beyond crazy. Very recently, relatively, our collective industrial method for getting DMX from sender to receiver has had to change in a major way just to fit the scaling we've put on our lighting rigs. We're still sending DMX, but instead of sending each universe on its own cable, we send hundreds at a time down a single line of Cat5. The benefits far outweigh the disadvantages — but the size of shows got bigger when, as an industry, we figured this out.
Not surprisingly, so did the complexity of almost every single piece of equipment we use, mostly becoming more feature rich due to rapid access to more control channels. This particular need has driven a high volume of development from communication companies in our industry. Let's face it, more LDs are now using extended modes on their LED fixtures to take advantage of every little attribute they can program, because now they have the ability.
I'll admit I am completely taken with the new product Luminex revealed in June, the LumiNode series — the product line includes one port, two, four and 12 port network nodes that have a particular feature about them you can only expect from a forward-thinking company. Instead of building products that work great for today's industrial market products and practices, Luminex has created the LumiNode series of products for today's data practices and tomorrow's practices — for that special day when copper DMX cables are no longer employed in the entertainment lighting industry.
Ostensibly, you're buying two products in one — a node product that handles taking 5-pin DMX and Ethernet connections, like we use today, but you're buying the next product as well. The next product is the one you'd have to buy when we no longer use copper DMX; once network connections are the main thoroughfare for lighting control data, equipment is going to need to be processor heavy for handling the network traffic. This is going to put the squeeze on a lot of equipment that hadn't thought this far forward. How I see this is that Luminex is giving you that next-gen gear in the LumiNode because they know we're going to need it.
‡‡         LumiNode 1 and 2 Get You Hooked
The LumiNode series starts you out with that "first hit" strategy with its LumiNode 1 — a USB-to-Ethernet dongle that is small for fitting in a Pelican case, has a fully isolated DMX/RDM port and a gigabit etherCON network port. What makes this unit a must-have is dual processing — two processing engines for the one DMX port. You don't need drivers for this, it's plug and play and works with virtually any lighting control software. LumiNode 1 is PoE on IEEE 802.3af, has a Kensington port so your gear doesn't walk away and has built-in LED status indicators for DMX/RDM and Link status. Also notable, not just on this product but on this whole line: LumiNodes are tough customers — they're built rugged, designed considerably and feel ready to hit the tour circuit.
LumiNode 2 is the two port solution in the line, but with the two ports come four processing engines for expansion and future-proofing. This product is made with the fixed installation in mind: wall-mountable or affixed to a pipe in a static infrastructure, rugged, and frustration-free. Each of the two gigabit etherCON ports have the same link and mode indicator LEDs as the rest of the line, and it's also PoE — power over Ethernet (not the poet). The LumiNode 2 brings an additional feature set — contact closures as a trigger.
Worthy of note as well, every product in the LumiNode line features protective ears in the front and back of the units, giving you extra protection from the inevitable knock-around.
‡‡         Product Synchronicity
Once you step up in feature set and price in the LumiNode line, the products continue to be robust and hardcore, but access also becomes breezy — LumiNode 4 features four fully isolated DMX/RDM ports and two gigabit etherCON ports, all with link and mode status indicators. The unit is about half a rack space wide, so two LumiNode 4s can fit side by side in a 1U rack space. The M10 insert and tough steel enclosure make it so that this can be a truss-mounted unit as well. Navigating through features on the LumiNode 4 is a cakewalk, as Luminex included a color display with a fast jog toggle to get around any menus you might need to interface. This product also has contact closure as a trigger, is PoE and has an internal universal power supply fitted with Neutrik PowerCON True1. LumiNode 4 has four ports with six processing engines.
The big game product in the line is the LumiNode 12 — a full 19" rackmount unit at 1U, and with more DMX/RDM port density than any other data product on our market currently. Twelve DMX/RDM ports, dual gigabit etherCON ports, 16 processing engines and the feature set from the previous model: PoE, link and mode indicators, contact closure and internal universal power supply fitted with Neutrik PowerCON True1. LumiNode 12 is a data munching monster.
‡‡         Reliability is Security
Luminex is a trusted leader in the industry, and the LumiNode product line is no exception. We all got very used to the safety and reliability of the products in the GigaCore switch line, and LumiNode is yet another valuable piece of kit that gives us the confidence to build them bigger and still get to sleep.
At a Glance
For Now, and Later
Luminex Network Intelligence's LumiNode Series offers up the futuristic DMX splitter. Once the need for copper 5-pin cables has been exhausted this is the way we will al go. And that day is not far off.
LumiNode Tech Specs
LumiNode 1
1 x DMX/RDM 5-pin connector, fully isolated
1 x RGB LED per DMX/RDM port for activity indication
1 x EtherCon network port @ 1Gbps
Link/Speed LED indication on the Ethernet port
RGB Mode LED indication on the Ethernet port
PoE powered (IEEE 802.3af)
Robust steel enclosure
LumiNode 2
All the features of LumiNode 1, plus…
Wall mountable
Easy mounting for any fly-bar applications
2 x DMX/RDM 5-pin connectors, fully isolated
2 x EtherCon network ports @ 1Gbps with integrated switch
LumiNode 4
All the features of LumiNode 2, plus…
Rack or truss mountable half 19" unit
4 x DMX/RDM 5-pin connector, fully isolated
Color display and control jog for fast configuration
Internal universal power supply with Neutrik PowerCON True1
M10 insert and protection ears
LumiNode 12
All the features of LumiNode 4, plus…
Full 19" high density rack unit
12 x DMX/RDM 5-pin connector, fully isolated
AC Lighting is the North American distributor for Luminex products. For pricing, please contact them at www.aclighting.com.
Leave a Comment: