Hootie and the Blowfish
2019 Group Therapy Tour
Hootie and the Blowfish are back — and it's like they never left. Their high-energy show is hitting sheds and arenas of all sizes, but if you're lucky, you see it somewhere where they can load in their "A" rig. "We have an A, B, C, and a D set up," production manager Jason "DB" Parkin mentions. "When you play the Hollywood Bowl, you need a D version of your rig!") The July 13 show in St. Louis was their prime game, and in addition to being heavy on the hits from the '90s, rock versions of hits from frontman Darius Rucker's solo career were a highlight. The production designers behind the current tour are Will Lowdermilk and Kevin Northup of Silver Bullets Design, working closely with Special Event Services out of Winston-Salem, NC who supplied the gear.
"The development of the tour has been organic," says SES's Michael Brammer, who adds that both designers started out in his shop many years ago. "The set is straightforward — just a two-foot riser across the stage with a strip of ROE Visual video tiles across it," he says. "Different 'sets' are created just on the one ROE video screen, and it's very effective." (For more on SES, see "Company 411," this issue, page 50).
‡‡         The Creative Team
Will Lowdermilk grew up in a place called Turkeyfoot, NC, 30 miles west of Winston-Salem. "I grew up playing in bands but became drawn to the technical side," he says. "I had a buddy that was an intern at SES, so I walked in off the street and asked for a job doing whatever they needed me to do." He learned as much as he could about backstage production, including audio, video, and lighting. He went out with Hootie & The Blowfish for years when, one day, he got wind that the lighting director was going to need time off because he and his wife just had a baby. "It was about 2006, and I asked management to give me a shot." Over the winter, he learned the Hog 1000 console, and his work behind that console led him through HBF and then into Darius' solo run. Now he's circled back with the band.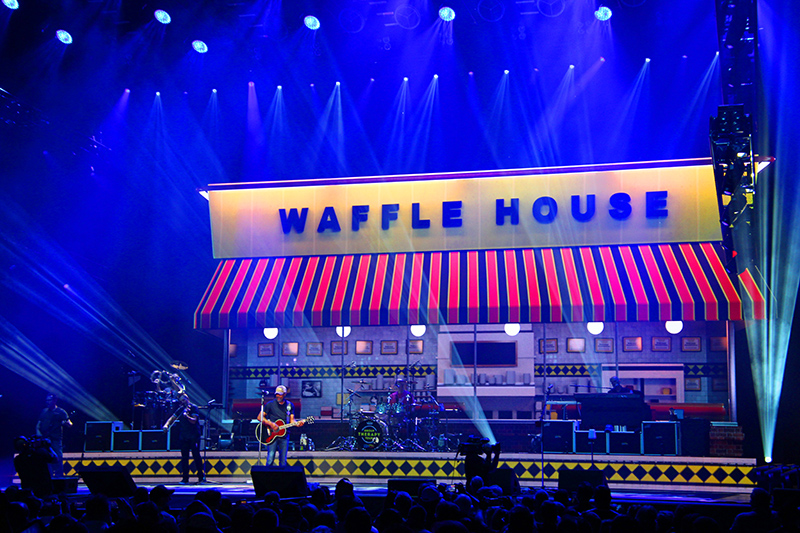 Northrup comes from western North Carolina and graduated with a degree in theatrical production at the University of North Carolina School of the Arts in 2012. He started at SES as an intern, working hundreds of shows and events from Joyce Meyers to the Avett Brothers. He toured with Rucker as a crew chief and dimmer tech, and in 2015, he became SES lighting department manager. He's currently out as lighting designer and director for Luke Combs.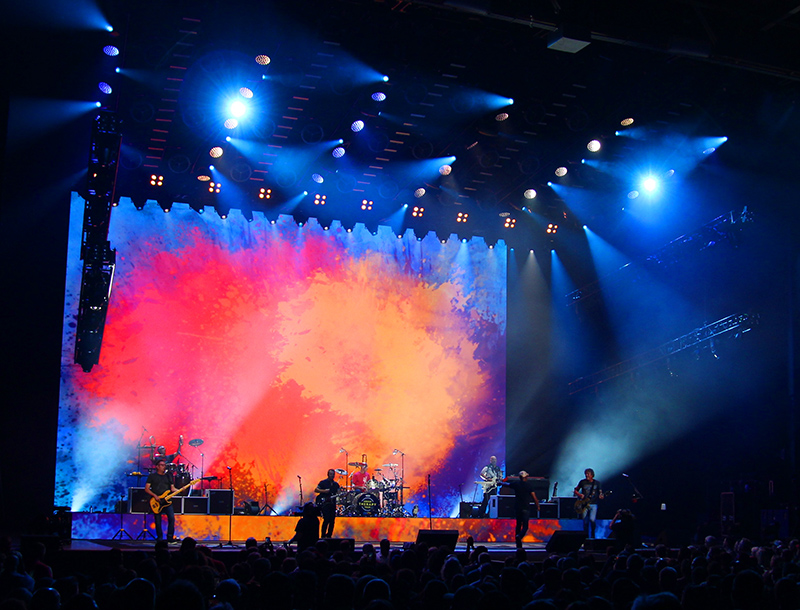 "Will conceptualizes the rig design and does a majority of the programming, and I do all of the CAD, rendering and figuring out how to make it all work seamlessly," Northrup says, describing the partnership. "I started helping Will about five years ago, so we have a good sense of what the band likes." He says for this tour, they had a meeting with Parkin and the band's manager, Chris Parr, on the overall concept. "Will and I are a big fan of yellow legal pads, so we typically sit down and sketch some ideas on them of what we would like to do, and then adapt for the type of venues we are playing. We let our creativity run free and get to a rough plot on yellow legal pad with X's, O's, triangles and stars to represent fixture types. We've found this is a very quick way to get things out of our heads and move from revision to revision without taking an hour or two for each revision in CAD."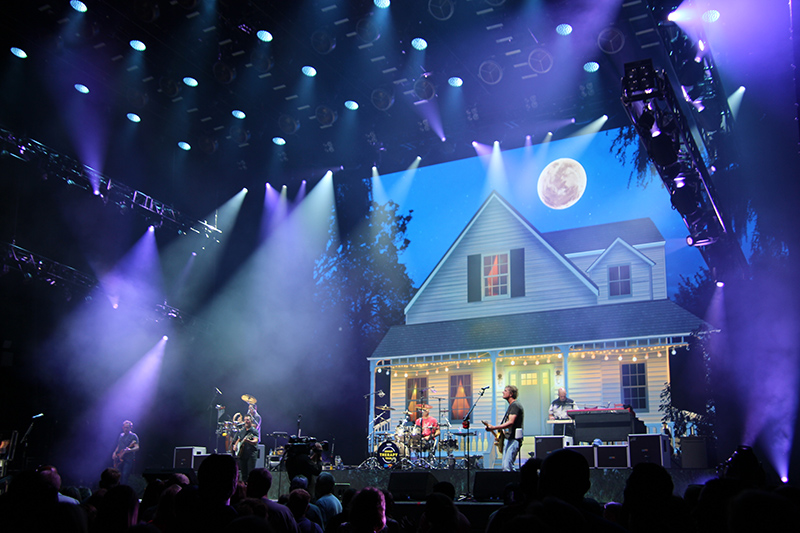 Every song tells its own story. "We try very hard to not use every fixture for every song," Northrup admits. "There are quite a few songs where we use 24 or fewer fixtures out of the 300-plus in the rig, while some songs get all of them. We start by using a primary fixture to create the base look and add other types to accent, create texture or provide movement. We rotate these types to fit the song and give the audience the opportunity to forget about certain elements, and then surprise them again when they come back."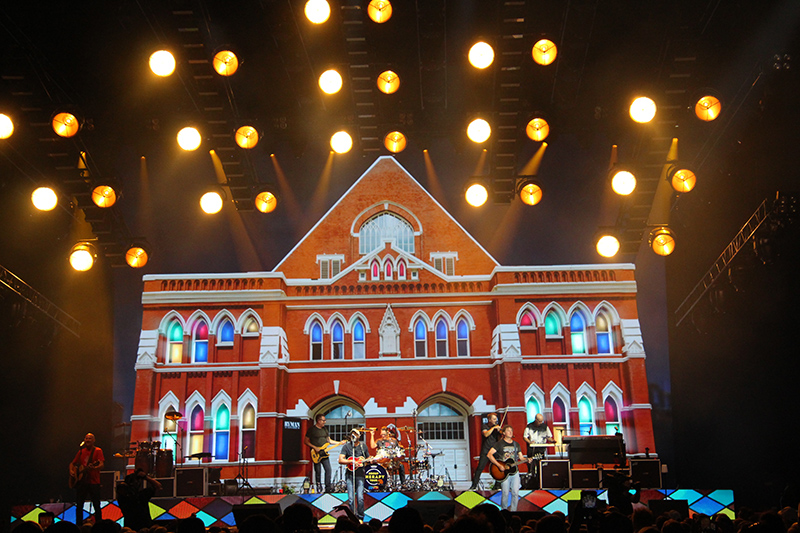 A great example of this is what they achieved with the Robe Patt 2013 fixtures. The tungsten allowed them to get really close to uniform spacing between the moving light trusses. "We opted for a fixture with the same lamp as the Robe Patt, in Source Four Par Cans. But we recognized early on that if they are overused, they'll lose their impact and blend into the background. Our plan was to not use them for the first three or four songs, then we feature them in a song, and repeat that a few times. This is a great way to make a dynamic show."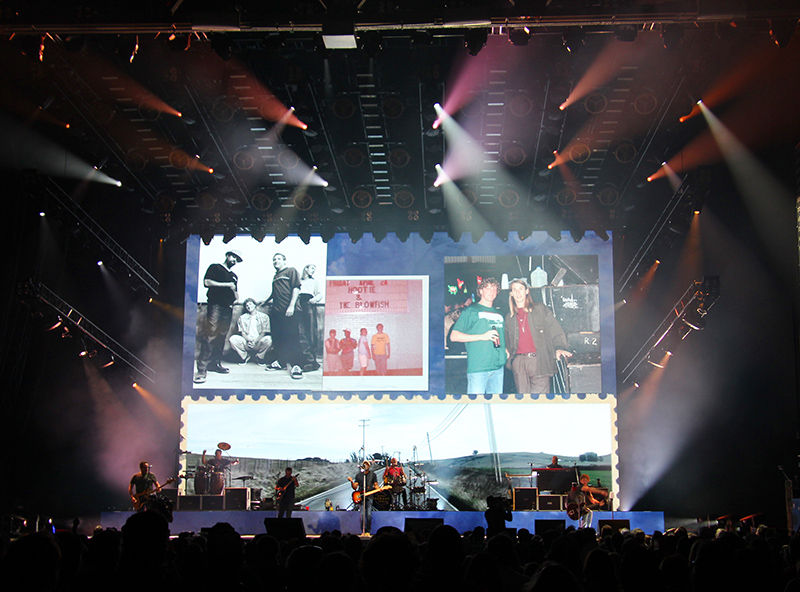 Lowdermilk adds: "They are big incandescent fixtures and great because it has just one dimmer channel per unit. You get that nice, warm tungsten glow." Another old school approach is the team prefers a real dimmer curve to the LED version. "You have to run four times the cable, but the look is totally worth it."
Every fixture that was chosen had to have flexibility. "We have had great success in the past with Martin Mac Viper Profiles for years and we decided to go with the Viper Air FX as a hybrid fixture that would color match to the Profiles to create some really big looks," Northrup says. For the wash fixtures, they were looking for a large aperture wash fixture and we picked the Claypaky B-Eye K20. "They have great optics that can go narrow and wide, and with the lens rotation feature we can get some texture out of it too." For the strobes, he says they had great success with the Showline SL Nitro 510C LED units, because they are more than just a strobe; they can be bitmapped and used as a static wash.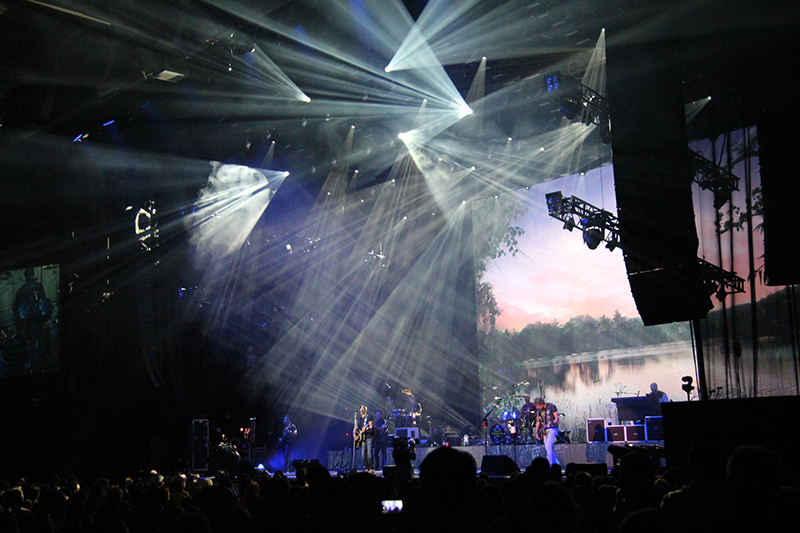 ‡‡         Automation for the People
Perhaps most notable are the six automated trusses from ARS Entertainment Rigging. "We use them in a classy way — maybe only five times in different positions for the whole show," Lowdermilk says.
"We wanted to play with the concept of manipulating the physical space," Northrup adds. "We envisioned many configurations of the six automated trusses that would allow us variety. I personally like how the trusses and the video content are configured in a seamless configuration."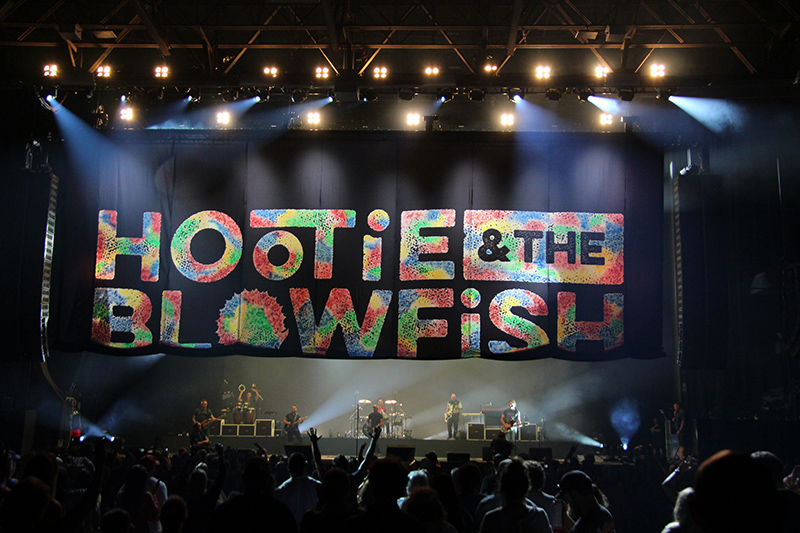 Louis Peter from Rose Brand lets us know that "One of our Rose Brand business units, ADC, introduced a major new product for this tour. It's the ADC T-Lift 2.0, a modular, automated curtain lift system. The newly redesigned product cuts the time it takes to rig a curtain from days to just hours. It's great for permanent installations but obviously even better for tours. The system pays for itself in time & labor savings. In fact, it's being used in the image above, to support the Rose Brand drop that displays the band's name."
"This was the first time we've gotten to work with Hootie," says ARS's Jon Wismer. "[Production manager] DB and I have been chatting about working together for many years and this time we were able to make all the stars align and boom, here we are. The design team came and said what they wanted to do and then we figured out how to make it become 'rigging realty,' which involves a lot of math. Then it's all about creating an efficient touring machine, not only for hanging all their automation, lighting, video, and sound, but for load in and out. If either of those are slow, it makes for a very bad day."
ARS's Dave Gittens weighs in. "We used the ARS (UFO) system that is comprised of our 5hp drives which were designed in house, while the front-end control is Raynok. It moves the five-finger trusses and an upstage lighting truss to produce the looks for the show. The 20/30 truss gives us space to house the drives, motors, and cable for an easy roll in set up and tear down. Everything rides in the truss including cable looms and fall protection. We need the motors to have a bit more lifting capacity and zip, which is why we choose to go with a 5-hp system."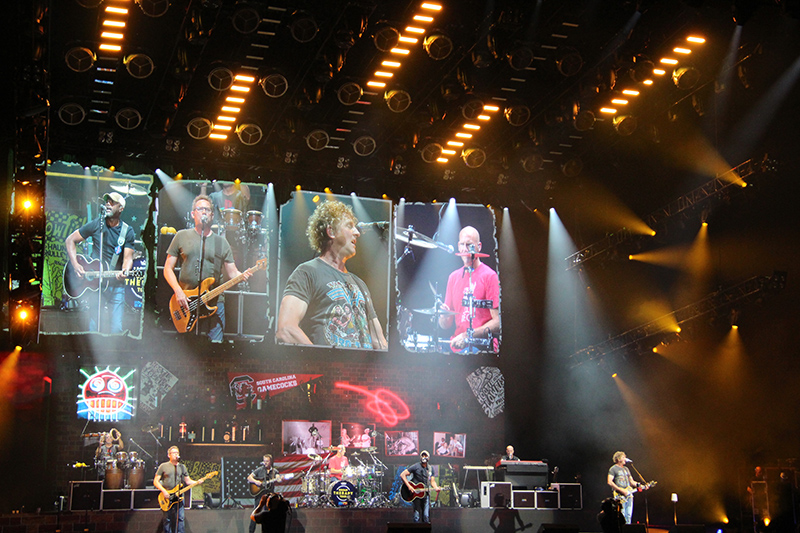 ‡‡         Video
For the video elements, the designers turned to content creator Olivia Sebesky with the idea of making "dynamic scenery," or digital backdrops, with the video wall. They wanted the ability to use another element to shift the audience focus around the stage. "We started with video content; to offer suggestions on what we would like to see and what we know works, and let Olivia go crazy," Northrup says. "She and her team did an incredible job bringing their flair into the project, and we could not have asked for better imagery."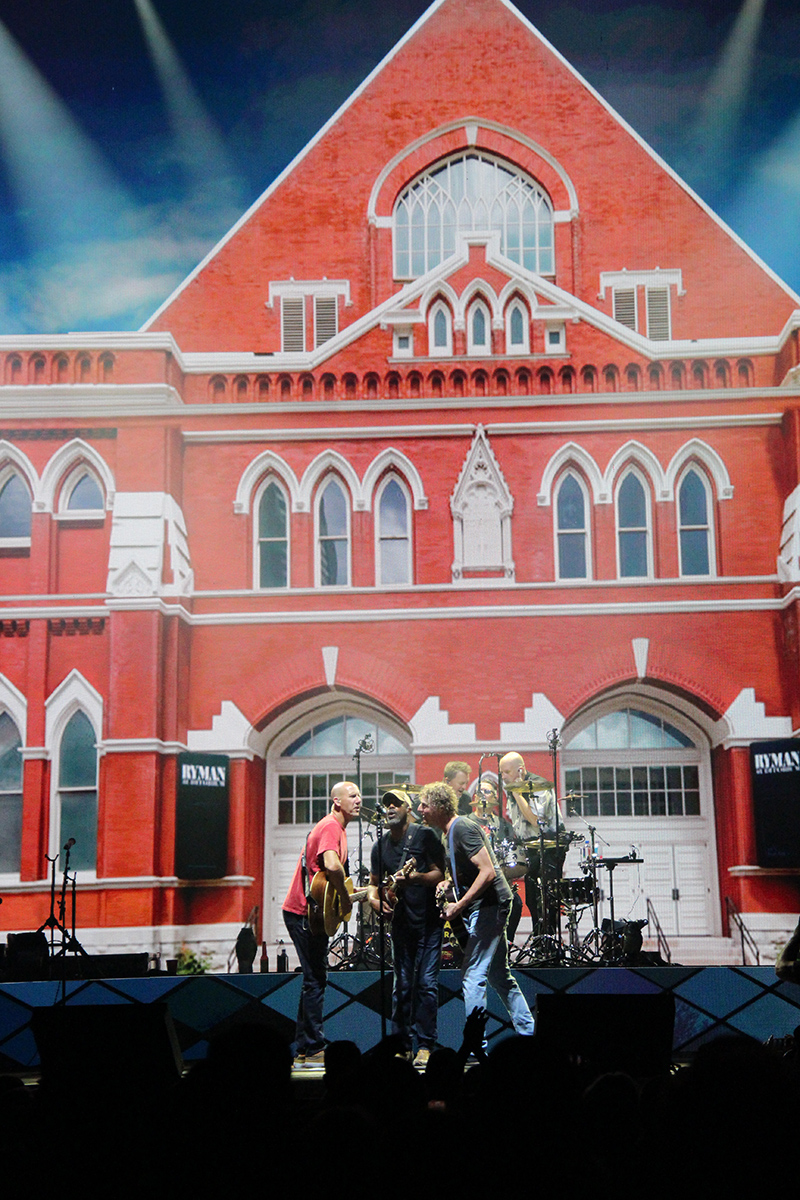 On "Old Man & Me," they pushed the boundaries of what the lighting rig could do. The video screen was dark, and just lighting was used — a lot of it. "It's high energy and was a lot of fun to program," Northrup says. For the acoustic set ("Will the Circle be Unbroken" and "Desert Mountain Showdown") the video content was again a 3D set, replicating Nashville's Ryman Auditorium. "It has a beautiful video content backdrop that we accentuated with only the conventional aspects of the rig with a static backlight from the Viper Air FX and static front light from [Martin] MAC Viper Profiles."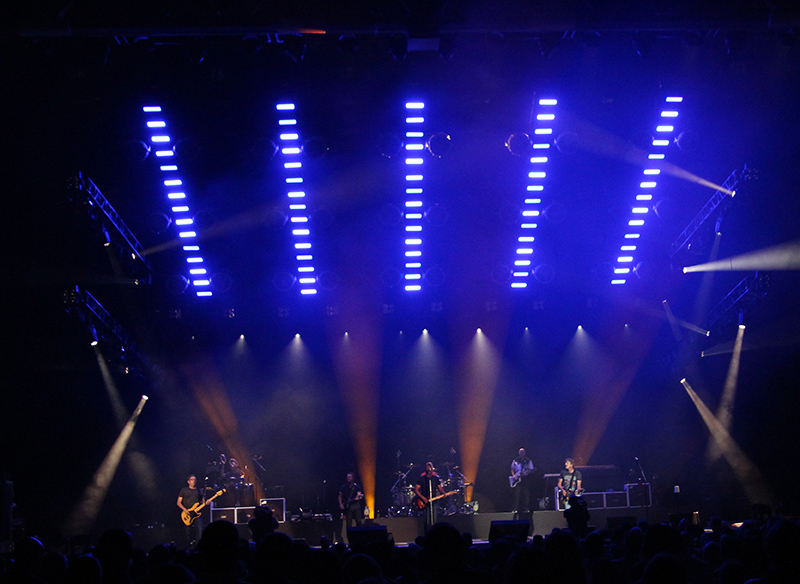 Another visual and sonic highlight, "I Will Wait," offered up content from a driver's perspective, going down country roads while nostalgic pictures of the band performing at frat parties to arenas pop up all over the upper portion of the video screen. If one had to pick a single highlight, the 3D Waffle House set for "Let Her Cry" is likely it. It's stunningly realistic, and the "rain" that danced down the screen was so credible you half expected Rucker to towel off afterwards.
Joe Priester is the video director cutting it all together. Nashville based, he's been working video duties for bands for 12 years and directing for the last five. He's worked for Imagine Dragons and Rucker's solo tours. "When I heard Hootie was reuniting for this tour, I called up and said I'd love be part of it. And it's been great — I've been blessed to be involved with a lot of artist like this, where the crew is family." It's a very different tour than his last one — Shakira. "I'm OCD, and that had everything, whereas with this tour, it's the extreme opposite. There's no time coding, no click track — it's all hand-keyed from the start. It's super organic. It's fun cutting a different show every night!"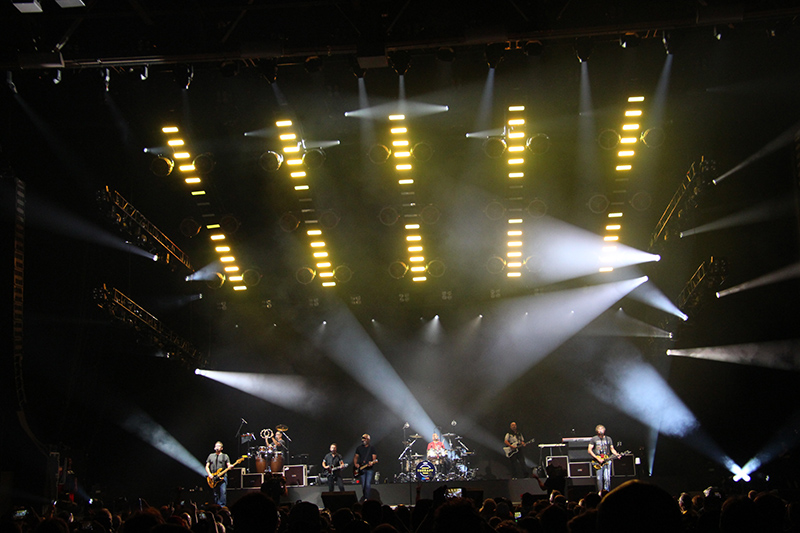 Work involves keeping the video fast-paced without being distracting. "There's a lot of instruments to keep up with, and several of the musicians are switching constantly. There are a lot of nuances and details to keep up with." They have four main cameras and two robocams covering it all. "Every night I tell the guys 'Let's have a great show, but let's have some fun.'" Fun is had in the form or two large owl statues whose official job is to scare birds away, keeping them off the stage. But they end up on the big screen from time to time.
Priester offers high praise for the ROE video screen. "I love it. There's been some normal wear and tear on it, but it's performed great." PM Northrup adds, "We like the ROE Carbon 5mm. It's a great product, consistent, and quick. We have a Barco S3 handling screen management, allowing us to inject live camera feeds into the content on screen."
The 47-show North American leg of Hootie & The Blowfish's 2019 Group Therapy tour, with Barenakedladies as the opening act, launched May 30 in Virginia Beach, VA and wraps up Sept. 13 in Columbia, SC. The tour then heads to the U.K. and Ireland for seven more shows in October.
Hootie & the Blowfish Group Therapy Tour
Crew
Production Designers: Will Lowdermilk, Kevin Northup
Lighting Director: Will Lowdermilk
Lighting Co: Special Event Services
Lighting Techs: Andrew Oaks, Kevin Moore, Jeffrey Metter, Kurt Wilson
Video Director: Joe Priester
Video Content: Olivia Sebesky
Video Engineer: Brian Ress
Video Crew: Brandon Blackmon (Lead LED tech), Jordan Jones, Stephen Peters, Thomas Macnab
Automation: Wayne Parmley
ARS Reps: Jon Wismer, Dave Gittens
Set Carp: Steve Castro
Production Manager: Jason "DB" Parkin
Production Coordinator: Anderson Knott
Tour Manager: Mike Kelly
Assistant TM/Accounting: Chris Carney
Stage Manager: Pete McDonough
Production Assistant: Gavin Kelly
Gear
3       grandMA2 consoles
40     Claypaky A.leda B-EYE K20's
32     Robe PATT 2013's
32     Martin MAC Viper AirFX fixtures
66     Martin MAC Viper Profiles
84     Showline SL Nitro 510C strobes
20     ETC Source Four Par bodies
3       Avolites Art 2000 Dimmer
1       Barco S3 image processor
1       Video Wall made from 5mm ROE Carbon tiles
Leave a Comment: