Jimmy Buffett Son of a Son of a Sailor Tour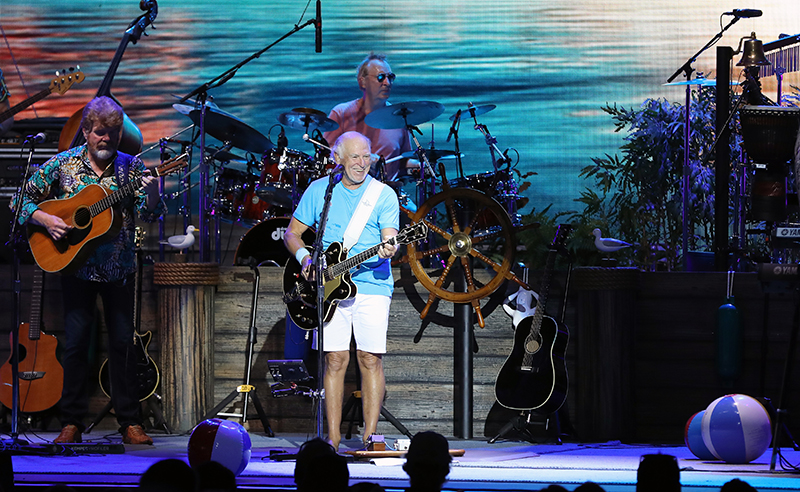 The Tour Nobody Ever Seems to Want to Leave
Jimmy Buffett and his longtime crew are out on the road again this summer playing a few sheds and stadiums while undertaking a leisurely schedule that everyone appears to be quite happy with. As usual, a Buffett show is a spectacle, not because of any over the top touring production, but because of the audience interaction. A good portion of the spectacle revolves around his fans, who are appropriately called parrotheads. The typical parrothead wears a Hawaiian shirt, flip-flops, and other tropical attire while engaging with the artist over the course of a show. They know exactly when to respond to something the artist says as well as sing along with the band.
Charlie Fernandez has been tour managing this bunch for the last 29 years, but he's known the artist longer. Charlie grew up in Los Angeles and, "like so many of my friends, we fell into the concert business. Driving, working as runners, setting gear up. So by 1975, I was tour managing Dan Fogelberg." It was through some mutual connections with management companies back then that Charlie met his future employer. "Come years later, Dan had a lighter schedule, and the Buffett camp was going through some changes. I got a call to see if I could do a run with them, and it fit in perfectly with Fogelberg's schedule." The rest is history.
"Jimmy and I have a great working relationship as well as friendship. But I always take care of business first, if you know what I mean. I'm employed all year and have been blessed my whole career with never having to look for a different job," Charlie adds. "I also have a great partner out here in Tim Lamb. He quickly understood the structure of this management and is so easy to get along with. We work together closely, mainly supporting each other. We really enjoy what we do."
Tim Lamb is the production manager and, by his accounts, this may just be the best job he's ever had, coming on board four years ago. 'It's an amazing run with a lot of great people who really enjoy and care about what they do for a living. Jimmy Buffett is one of those rare tours that only come around once in our touring career, if you're lucky."
Tim got his gig when Fernandez heard his name through FOH sound mixer Rich Davis. Tim lets us know, "Working along with Charlie on tour has been a great experience, he knows the artist and bands' every move."
From the artist on down, everyone I met echoes that statement. As I ask the various backstage techs how long their tenure has been, I'm not surprised when LD Steve Hoover introduces me to the new lighting guy on the tour. That would be Bandit's Mike Stehr, currently in his 18th year on the crew.
Perhaps the oldest tenured players is Big Mike Mason, Roadshow Trucking's lead driver. According to Lamb, "This guy may just be the most valuable player to me. He's been with the tour for around 37 years I'm told. He knows where all the bodies are buried. Seriously, he deals with the logistics of all the trucking and figures out the scheduling of all drop offs and pickups of gear. I can't say enough about this guy." Roadshow looks after the tour's eight trucks, while Senators provides the buses.
"The great thing about working for Jimmy is that most of us have work all season. But the artist knows the importance of family and down time off the bus. For the first time in my career, I'm not chasing after the next gig or tour, JB keeps me steady year-round," expands Lamb. "One very longtime and important player in this lineup is J.L. Jamison, the assistant stage manager and backline guy. He's been with Jimmy forever out here and keeps us all in check and in tears. He has seen every situation come his way through the years. If you have any questions, JL will have the answer. He's the spirit of the crew."
Another standout, according to the production manager, is carpenter Josh Vanderslice, who has been around this camp for a major part of his life it seems, as his dad worked for Buffett when he was first hired. "Josh is an integral player on this team. He is our lone set guy, but he takes the time to really look after all the attention to detail." Lamb has also internally found a great addition to his team with Jared Sanscriante, now employed as his production assistant. Jared also works for the Margaritaville brand when not touring. Along with Heikki and Lars Larsen, they handle Margaritaville TV, guest lists and tickets… they are all in the JB Production office, looking after the tour daily.
‡‡         The Lighting
"As you can tell, lighting is not a priority in this production. In fact, if I was to point out who the most important part of the production might be, it would probably be those guys" says Steve Hoover, as he points towards the crowd. Steve's been designing this show since 2011. He's also been with Bandit Lites closing in on 36 years. "I was a crew guy out here with Bandit back in '91 or so. When the last LD retired, I was asked to come back to run the show, I was more than happy to take on that role, as I knew how this tour worked and always enjoyed it. Bandit has been the lighting vendor longer than I can remember. In fact, Michael Strickland (the owner of Bandit Lites) is still the account rep out here."
Hoover expands on his light rig, "We play a limited amount of shows out here. I realized a while ago that if I wanted to keep the system intact between legs of the tour, I'd do best to stick with older light fixtures that work for me and aren't spec'd by everyone who wants the latest and greatest gear." Saying that, one can look up and notice that the LD has Mac 2000 wash lights spec'd for rear stage wash, while Mac Auras are used as front key lights on the band. He's still using Vari-Lite VL2500 hard edge lights for the stage keys and graphic focuses. Since they are playing Wrigley Field (the famous home of the Chicago Cubs) today, there's a bunch of VL3000 spots on hand to help light the crowd and stir up excitement at key times for audience participation. Along with those old-but-reliable fixtures, Hoover is still running the show on a grandMA1 console. "There are plenty of good grandMA1's still available for a much better price point, and that suits us just fine. But I feel it may be time to upgrade next year.
"We don't use any haze, so beams and gobos are irrelevant," Hoover continues. "What's more important is that I keep an even wash and that everyone in the band can be seen at times when the camera pans the stage. I rarely go to black, as every show is televised live over our own network." The LD adds, "This year, I went with a bunch of Philips Showline Nitros to light the fans. Instead of harsh moles, I can color them in any way I'd like and I get a brighter and more even wash with these fixtures. They really illuminate the whole stadium." Hoover is a working member of the crew, something crew chief E-Rock (Eric Shafferman) makes sure of (he says with a wink). "I'm just kidding, Steve pulls his weight around here. Everyone does. I've been working with Steve since '82." Eric is now in his 40th year of employment with Bandit. He may just be the longest tenure non-retired employee at the company now. Reliable lighting veteran Rick Munroe rounds out the four-man light crew.
While the lights are all symmetrically placed, one piece of truss does stand out center stage. They have replicated a fin-shaped structure that has a white sail rigged in the center. This goes well with the rest of the set. "I came up with this fin idea once the rest of the set was configured," Hoover says. "It goes along with the sailing vibe we are doing on this tour, the 40th anniversary of Jimmy's 'Son of a Son of a Sailor' song being released. There are about ten songs that Jimmy has to play each night — the fans expect them. The song, 'Fins,' is always a crowd favorite."
Hoover did have to spec a few punchier lights to illuminate the sails. "I chose some VL3500s to shine textures on the sails and fin while some Elation Paladin fixtures color them up."
‡‡         The Lighting Company
Michael Strickland, owner of Bandit Lites, toured from '68 to '82, then came in the office full time. He still keeps his finger on the pulse of a few of the accounts, but Buffett and Garth are the two that always trail to him. While this is Bandit's 50th year in operation, they also celebrate their 30th year of looking after Buffett this year. He handles the band from concept to contract.
"I keep these relationships because I love the acts, love the people and love the music," Strickland says. "My formal education is in business and law, so that is what I do on a daily basis. Keeping in touch with a handful of acts gives me the pleasure we all set out to achieve by being in rock 'n' roll. Jimmy Buffett and team are a well-oiled machine, but more than that, a family. Most of these people have been with Jimmy 20-plus years. Some more than 30.
"Charlie [Fernandez] and I go back to 1982," Strickland adds, "and he is a very close friend and one of the nicest guys in the business. I have always admired Charlie for his business acumen, his calm demeanor and his honesty. Jimmy is, well… what can you say? He's Jimmy. A man, a machine, a business, a music… heck, a pure lifestyle. There is nothing like Jimmy Buffett. The vibe is always 100 percent great, and he never loses a fan, he simply keeps the old ones and grows new ones. I have never met anyone that left a Buffett show in a bad mood. Never."
Strickland expands on the show. "A Buffett concert is a ritual and a rite of passage, lived year round by his enormous following. If you don't believe that, look at all the Margaritaville Cafes." There are 23 of them, along with seven 5 o'clock Somewhere bars and one JWB Prime Steak and Seafood outlet. "And the now two, working on three, sold-out retirement villages," Strickland adds, a concept that launched with Daytona Beach, FL's Latitude Margaritaville, a 7,000-unit residential complex targeted at Parrotheads "55 and better." There's also the successful musical, Escape to Margaritaville, which premiered on Broadway earlier this year, with plans for a national touring production next year.
"I used to visit shows and was always with Charlie, Joel Katz (Jimmy's lawyer and a friend of Strickland's) and the late great Howard Kaufman. You could never have asked for a better conversation than with that group. Howard will forever be missed. We plan on working with Jimmy as long as he works, and know that the most fun show will always be the next one," Strickland concludes.
‡‡         The "Dock" Set
In the grand scope of the stage set, one might think of the fin located center stage as the spinnaker of the set. With the tour named after a 40-year-old song, it's only logical that Hoover came up with a set that contains a yachting motif.
The set was built by Gallagher Staging, based out of Los Angeles, Cocoa Beach FL and Nashville. The band appears to be playing on a dock, with five of the 11 band members perched on risers made of faux wood behind the other band members. The dock contains accessories such as boat fenders and life preservers. The rear video wall acts as a digital backdrop, changing looks from nautical scenes to drive-ins, depending on the song.
Flanking this backdrop are two sails per side, a main sheet and a jib. Steve Hoover chimes in on sourcing these sails. "The idea was to rig a couple of masts with sails, but not let them actually act like sails." That was the challenge. While Gallagher Staging had some ideas on how to best accomplish this, Hoover was already moving in another direction. "North Sails, a worldwide manufacturer of sails noted for being among the best in their business, was contacted. We told them what we were looking for, and they came up with real masts to rig the sails, as well as a blow-through material to replace the usual synthetic materials such as nylon, normally used in sails." The sails live erect on manufactured stands.
Along with the sails, there is, of course, a crew of riggers. "I rig a rope to the upstage video truss to lift the sail masts erect," says tour rigger Brian "Tuffy" Knight. "They are pinned into bases. They can stand by themselves, but we all feel a little safer when I leave the rope attached to the mast as a safety. With all of our gigs outdoors, gotta play it safe." On a normal shed day, he's able to rig all the points in about an hour. On the stadium shows (the artist has a fondness for playing monumental baseball parks like Wrigley Field and Fenway Park), it takes a little longer, as he hangs 65 points total. This includes the extra video screens offstage for I-Mag purposes.
Mike Garabedian of Gallagher Staging has a history with this band that dates to 91, when he was hired as a touring carpenter. By '95, he had assumed stage manager duties before leaving the road. His replacement was a fellow named Tom Battista, and yes, after 23 years, Tom still holds that position. Garabedian explained how he and Gallagher Staging's Nashville operations got involved in this year's set build. "Over the last couple of years, I've gotten a couple calls to help the tour out, whether it be modifying something on the set or adding a bit to it. Last year I built a couple things for them.
"When the tour design was coming together this year, Hoover sent me down the renderings of what he was looking for. I recommended that we make use of the machines Gallagher owns for printing on vinyl. I spent two months conversing back and forth with Hoover, Tom and Josh the carp on the best way to assemble the set. The fascia behind Jimmy and the guys on the lower deck ended up being made of wood, treated by our scenic artists. We went with the printed riser skirts that look just like a wooden dock now." Eventually Mike was just asked to build the whole set.
When they went about finding the sails and masts, it was important that they resemble the ones the artist has on his new boat. "We went on about how the best way to build these was, when we just decided to consult the folks that make masts. We ended up scaling down and went with a 25-foot tall aluminum mast that is just one piece." The masts travel on some custom straps that attach it to the truck walls for a secure ride. They weigh all of 25 pounds. The actual sails are hoisted in place just as you would on a real sailboat, with the sail riding up a side channel and a halyard pulling it up. Mike adds, "I just took the renderings to our in-house scenic artist. Our art department painted the dock posts and other items that needed a finishing touch to look realistic."
‡‡         The Video
Screenworks has been looking after the video needs for Buffett's tours ever since Danny O'Bryen came over from BCC video in the 90's. The mammoth upstage video wall, which measures 55 by 22 feet (WxH), is made from Screenworks' proprietary LED tiles, the X7-HD models. There are additional side screens used strictly for I-Mag purposes that are 28 by 15 feet (WxH) in size, made up of X10-HD tiles. Screenworks will ship out an extra truck of LED tiles whenever they book a stadium show. When the tour moves to sheds, they slightly shrink the upstage wall and switch to projection for the side screens. They carry two Barco 20K projectors to handle that duty.
Stan Kellam is the video producer/editor for the show, a job that entails much more than just putting up some video elements and watching over the system. He spent 20 years working as a commercial editor/video effects guy. He first worked with Buffett in 1998 and produced content for the '99 tour. "Then, in 2000, they asked if I would come out on tour as their video director. I had never imagined this particular job, and I was curious. The opportunity to tour with Jimmy Buffett doesn't come along every day, so I took the gig, and 18 years later, the job has morphed into so much more."
While Kellam still creates content for the live show, the Margaritaville empire that the singer has assembled has a lot of additional video needs. "First off, every show we do is live-streamed to the Margaritaville TV channel." Drink recipes, travel videos, live Jimmy Buffett performances, music videos and more are broadcast on this channel. There are now over 30 restaurants as well as several resorts in high profile vacation places that need updated footage to play on the grounds. A lot of that work falls into Stan's lap. "We basically adapt to a baseball schedule, spending time between April and November doing live shows. During the shows, Carol [Dodds] will have six cameras focused on the stage. We have three manned cameras, two out at FOH with long lens on them and a guy working the pit in front of the stage. We mount Panasonic HE130 robotic cameras on the side of each stage to capture side shots, or swing out into the audience to pick out certain characters during the show. We use one other Panasonic for the spycam from FOH — that gives us a wide shot we can also use in the web cut.
"Each of these cameras is ISO recorded along with two program feeds onto eight AJA KiPro file based recorders," Kellam continues. "We record every show and can recall them from the archives later when needed. Carol Dodds cuts the cameras on a Blackmagic Design ATEM switcher." As mentioned before, the upstage video wall acts as a digital backdrop.
When it came time to source a media server, the production team developed a solution that took into account the tour's extensive visual database as well as the lifestyle video created by the artist. Stan Kellam notes that "our screen content involves elements that are designed in rehearsals to play all year long, as well as items that change from day to day. Jimmy is always on the move, and he shoots a ton of video — everything from drones to surfboard and aircraft-mounted Garmin Virb cameras. We have to manage all of this and implement it into our shows, often with short turnaround. After a lot of trial and error, we have been able to find a solution to meet our server needs without a large budget.
"We have a Mac Pro with an 8TB NAS running Adobe Premiere and After-Effects for editorial which also doubles as our primary playback server. Our server software is PVP (Pro Video Player) from Renewed Vision out of Atlanta," Stan continues. "We also slave two Screenworks Mac Minis as backups and have redundancy on our post-production side." Jeremy Clevenger of Screenworks manages all of the servers and networking for the video rig and also collaborates with Stan on content for the show.
Stan and his crew gather local footage on day of show from the extensive tailgating scene that has long been a part of Buffett lore. It is integrated into the playback visuals for at least three songs during the evening. When the cameras come back from the parking lot, he and Jeremy will edit the footage down and load the media servers before showtime.
Carol Dodds is the live video director. "I'm fairly new to the team, only been here since 2010," she says. She has had a long history in her craft, working for many other legends before joining this camp. And although she has so many years of experience, Tim Lamb swears she's very much a hands-on member of the team. She got the gig when tour manager Charlie Fernandez reached out to her. Carol and Stan had worked together previously on an Eagles DVD she directed, and they gelled. Carol comments, "I really love being a part of this tour. This is not a grueling schedule, and I still have time for tour and television gigs as they fit in. I really enjoy having some 'life' time also."
She adds, "There are 12 musicians on the stage for most of the show. My camera team only get reminders from me on special pickups, so I can include them with the images that go through my console to the I-Mag screens, as well as the web feed. Stan has a second Panasonic switcher that he uses to route content to the upstage LED wall. That second switcher is also a redundant backup for the I-Mag and web feed." The cameramen are utilizing Sony HSC 100 cameras.
Kibru "Kib" Senbetta is the system engineer. He operates the robocams, shades the cameras and knows what all the wires plugged into the video racks do. He's the right-hand man to Carol and Stan and has only been working for Buffett for 17 years now. Kibru is a veteran of numerous world tours and originally got his start at Purdue University.
The video team believes in giving college students involved in cinematography a foot in the door if they want it. Universities such as Purdue have proven to be a great source of new talent in recruiting camera operators for the tour. "Now, the most live experience these students had may have been running a camera on a collegiate sporting event, so they come in here pretty green," Kib explains. "Besides proper camera skills, we teach them how to prep their gear, build LED walls, work with the rigging and signal flow of the systems. Sometimes these camera ops will want to move up and know more, so we teach them the next step when we can. This has been good for both the students and the company. We give back to the community, and there's an influx of smart young people joining our ranks at Screenworks."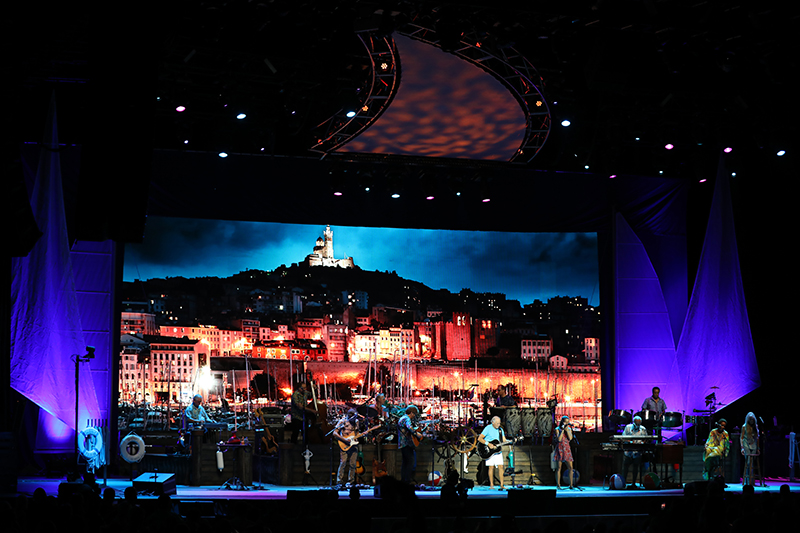 Jimmy Buffett Son of a Son of a Sailor Tour — 40 Years Later 
Crew
Tour Manager: Charlie Fernandez
Road Manager: Mike Mooney
Production Manager: Tim Lamb
Lighting Designer/Director: Steve Hoover
Lighting Co: Bandit Lites
Bandit Lighting Techs: Eric Shafferman, Rick Munroe, Mike Stehr
Video Co: Screenworks
Video Producer/Editor: Stan Kellam
Live Video Director: Carol Dodds
Video Engineer: Kibru Senbetta
Projectionist: Cory Hack
LED Video Tech: Steve McClain
Camera Ops: Jeremy Clevenger, Denny Relf, Eric Gerber
Staging Co: Gallagher Staging/Mike Garabedian
Stage Manager: Tom Battista
Assistant Stage Manager/Drum Technician: J.L. Jamison
Rigger: Brian "Tuffy" Knight
Set Carpenter: Joshua Vanderslice
Lead Truck Driver: Mike Mason
Truck Driver: Donnie Laine
Sound Co: Sound Image
FOH Engineer: Rich Davis
Monitor Engineer: Bill Szocska
Sound Image Techs: Jason Drenkow, Matt Kornick
J.B. Guitar Technician: Dan Cook
Guitar Technician: Ryan Bullington
Keyboard Technician: Robby Eagle
Assistant to Jimmy Buffett: Mike Ramos
Liaison to MHI: Charlie Hood
Tour Accounting: Henry Rosquete
Tour Ticketing: Heikki Larsen
Production Office Assistant: Jared Sanscrainte
Security: Charlton Miles, Hallie Hair
Wardrobe: Helen Hiatt, Lourdes Lopez
Teleprompter: Japji Khalsa
Radio Margaritaville: Rodney Gnoinsky
Merchandising: Jon Hynes
Margaritaville TV: Lars Larsen
Margaritaville Social Media: Rob Meder
Tour Doctor and Physical Trainer: Alex Keith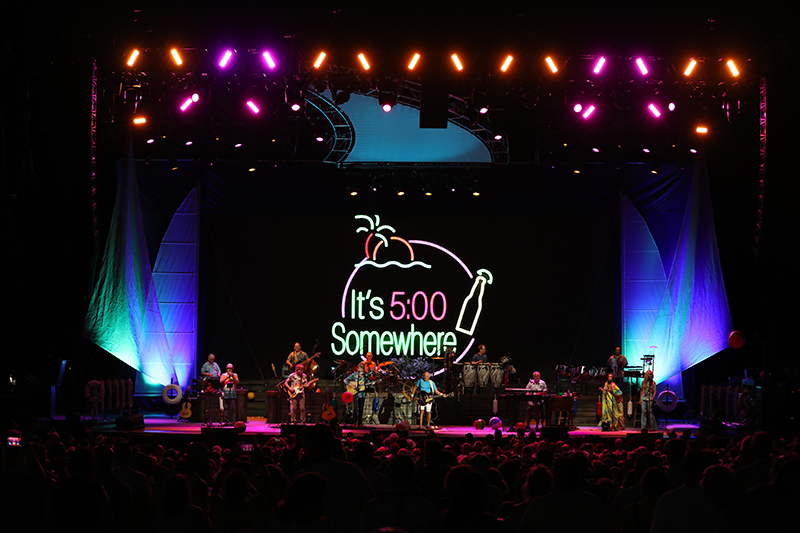 Leave a Comment: