Luke Bryan "What Makes You Country" Tour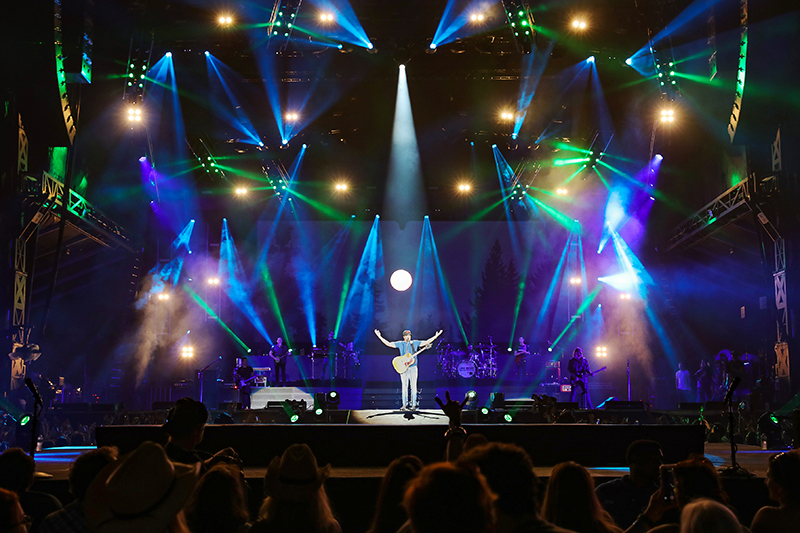 Luke Bryan is in the middle of his sixth headlining tour, "What Makes You Country." With the success of his previous sold out stadium performances the last three years, he will be playing more than a dozen stadiums in 2018 including a performance at Dodger Stadium in Los Angeles on July 28 — the first country artist to do so.
Bryan has a long touring season, starting in February and running through to September. His "weekend warrior" schedule is populated with a mixture of arena, amphitheaters, stadium, festival and occasional special events, often on the same weekend. It is a challenging schedule that Justin Kitchenman, as lighting designer, has been involved with since the start. He heads the design team that also includes production manager Gary Chrosniak and Tom Wilson, VP of Elite Multimedia Productions.
"Tom Wilson is almost as much an integral part of the design team as me, when it comes to putting this together and finding new gear and figuring out how it's is going together," says Kitchenman.
"At this point, it is such a reliable team that it's just second nature," continues Kitchenman. "When we bring the elements together, the design just morphs and fits together smoothly. There is rarely an eleventh-hour meeting to pull a design together and finalize." The point is, the group mindset seems much attuned to Luke's direction.
The core show design is based on the staging arena package, which starts with a six-foot-high rolling modular stage measuring 60 by 48 feet (WxD). A 36-by-12-foot (LxW) thrust extends to center house, terminating at a 32-by-32-foot "B" stage. On top of the B stage sits a 16-by-16-foot elevated "birthday cake"-style riser, which provides additional coverage of the 14-by-eight-foot variable speed single mast lift for Bryan's reveal in the middle of the house.
Production manager Gary Chrosniak finds the SGPS rolling stage an excellent place for dead case storage. "With the absence of headers, it's tall enough to walk through easily. To get the artist from the main stage to the B-stage, 90 feet away, a luge-like rope-pulled sled runs underneath the decks.
For stadiums, 80-foot wings are added SL and SR. All staging and rigging is provided by Show Group Production Services (SGPS). "Luke's show is so audience-involved that he needs to be constantly reacting with the audience," says Kitchenman. "There is always a thrust."
‡‡         Lighting: Random Symmetry
The look of the truss configuration is as if Kitchenman threw a bunch of yardsticks in the air and snapped a photo of them just as gravity starts to reclaim them in mid air.
"I think things are just a little more interesting when you put them at a 10 or 15-degree angle," Kitchenman says. "It gives depth and gives people seated on the sides a little more of a perspective of things." Though he does admit, "it can get out of control with different offset angles on all the trusses.
"Stadium shows normally have two front of house positions," Kitchenman continues. "I would take my board to the center between them and do my focus at night. The next night, when I ran the show from a platform house left, I was just appalled. It looked like I hadn't focused anything."
Lesson learned, and into his tool kit it went. "My style is all about progression. I'll keep things that work [and] build on that. For things that didn't work, I'll either figure out how to rework them or discard them."
For this tour, eight single trusses, called "pods" by the lighting crew, are automated by an SGPS mini winch system, and they play a key role in every size venue. Each one has 12 Elation ACL 360i fixtures, with Chauvet Epix Tour Strips outlining the bottom chords. A 5W audience laser scanner sits at the upstage end of each pod.
The structure layout for this tour presents a very 3D visual effect that draws the audience into the stage. "It's intentional," Kitchenman says. "I start by trying to fill space, so I'll draw something, look at it, and think, 'I need something here.' He has a running joke with Tom Wilson at Elite: "It's all free in Vectorworks."
Kitchenman adds that he doesn't, however, "design by count — it's all about filling space, knowing which angles look good, and being aware of the relation between video, the band and the environment. We have 90 of these little LED lights, but they're part of an element. With the wide variety of places we play, I'm always thinking of what elements can be brought into the different size venue. For that reason, the design is very modular to accommodate the different environments we are in."
As for the floor package, "I don't tend to go super crazy," Kitchenman says, "mainly leaving it to the video elements. That comes from tech days, when it would take me an hour to lay out the floor package. It's designed to be moved fast, to be an element on our production that we can easily travel on or in a set piece. This puts our brand on festival dates."
The planning cycle for many tours begins the previous fall, but for Luke Bryan's treks, Kitchenman notes, the design cycle for the next year's tour starts in June. The design team works through July and August, seeing what will fit and work, and by the end of August, they have a concept to start dialing in. By September, they have approval from Bryan and management, then move into the "let's make it happen" mode.
"By the time we hit LDI," says Kitchenman, "we have a checklist. It's not so much we see something and get inspired by it. Most of the time, we go knowing what we are looking for, but no specific manufacturer in mind, and find the best one of that type of fixture. Our relationship with Elite includes them on the decision, so they can negotiate their best price point. Art and business go hand in hand. What's good for them is what's good for us."
Kitchenman feels very fortunate "to have this continuation with Luke every year. We're like the vine growing on the tree, constantly moving forward as he goes forward. The whole production is getting tighter and bigger, more dialed in; cleaner. Every year we come out, it feels like, 'Wow, how are we gonna top this,' and when we come out the next year it's like, 'Oh my God, we did it. Now the pressure is on — we have to top that next year!' But it is a healthy kind of pressure to put on ourselves, and keeps us on our toes."
‡‡         Lasers
Along with the lighting, the 2018 tour puts a heavy emphasis on other visual effects. "We really upped our FX package this year, with lasers and pyro from Strictly FX," Kitchenman says. As noted, 5W X-Laser audience scanners are hung on the upstage edge of each of the eight pods. The main stage floor lasers (non-audience scanning) are stronger — they're RGB 15W Coral Series units. Sitting on each PA wing, there are six Coral Series 30 watt Stellas. Control of all lasers is separately run on a PC, using Beyond software coupled with the Pangolin E-Stop system, by Jeffrey Kasdorf. He is also the pyro shooter.
For some moments of the show, huge laser effects dominate the stadium. One song in particular, "Drink a Beer," which is about losing a friend, the song's poignant message includes a beautiful backdrop of laser beams, even though lasers aren't often used in this way.
"The story behind this is that our laser operator, Marcus [Wade], was killed in a motorcycle accident during rehearsals in Nashville," says Kitchenman. "Doug Cenko, our laser programmer from Strictly FX, and I talked about adding some kind of silent tribute into the show. No big announcement. It will be subtle, something that we are recognizing Marcus every night. I thought that was very cool, so he showed me an image that Marcus had drawn of him and his wife's initials, using the laser scanner programmer. It's kind of abstract, but on the laser, it is this cool flowing beam. It's one of the most beautiful looks in the show. Having that capability of the moving pods with the laser scanners really set this year's design apart for me, because we can turn all the lights off and still have moving beams from the lasers fill the stage and stadium. It's great to pay tribute to Marcus each night."
‡‡         Video
Elite's sister company, PixelFLEX, builds the video products that help define the set. An 8.9mm video wall measuring 40 by 20 feet (WxH) plays upstage center. Eight horizontal rectangular 8.9mm tiles hang staggered mid-stage, measuring 16 feet in width and varying from three to six feet in height. Ladders which hang upstage left and right mimic the light and video fixtures on the pods. Chris Lighthall operates the Spyder and Barco Catalyst media server, as well as the Follow-Me remote followspot.
During Bryan's ascension to the top of the country charts, CMA Awards and sold out tours, Elite Multimedia Productions has grown with him as a top quality provider of lighting and video and crew for his tours. EMP, originally out of Memphis, started as a small AV company. "When Luke started headlining," recalls Kitchenman, "they wanted to bid, even though it was probably a bit out of their league at the time."
Despite their small size at the time, EMP made it happen, purchasing everything needed to build a lighting system — cable, distros, truss and lighting inventory. And then they moved their operations to Nashville to better support Bryan. "The people they hire are top-notch; their gear is first class and well maintained," Kitchenman says. "They'll work really close with us in what we are looking for next year's tour due to the fact that we are one of their marquee clients. It is a really good collaboration."
‡‡         Summing Up
In summing up his good fortune, Kitchenman says, "I just feel like I was in the right place at the right time in this business. You get lucky. Just be ready for the opportunity when it comes around. They could have called anybody, and I am totally aware of that all the time. This success is not because of me, it is not that I am such a great designer that Luke's career has taken off. We found common ground so my career is growing as his career is growing."
Kitchenman pauses for a moment. "Okay, so maybe not as fast as his — I mean, nobody's buying my T-shirts!"
Luke Bryan "What Makes You Country" Tour
Crew
Production Manager: Gary Chrosniak
Lighting Designer: Justin Kitchenman
Lighting Co: Elite Multimedia Productions
Elite Multimedia Rep: Tom Wilson
Lighting Crew: Chris Hummel (Crew Chief), Billy Willingham, Derek "Magnum" LeFrance, Kurt Rentchler, Robert "Rowboat" Harrison, Sean "Spot 8" Wykoski, Dave Meyer
Special Effects: Strictly FX
Laser Programmer: Doug Cenko
Laser/Pyro Operator: Jeffrey Kasdorf
Video Director: Ryan Tyson Rushing
Video Co: Elite Multimedia
Video Crew Chief: Chris Lighthall
Video Engineer: Benjamin Cranford
LED Tech/Camera Operators: Zac Rossi, Scott DeLancey, Nicholas Bush
LED Tech: Josh Norris
Projectionist/Camera Operator: Stephan Peters
Jib Operator: Dan Grimes
Automation: SGPS
Gear
Lighting:
1       grandMA2 Full console
48     Claypaky Scenius Unicos
20     Chauvet Maverick MK Pyxis
18     Claypaky Mythos
14     Claypaky Sharpys
18     Vari-Lite VL3500 FX
6       Vari-Lite VL3015 LT
168  Elation ACL 360i fixtures
16     Elation DTW4 Moles
24     Elation DTW2 Moles
28     Philips SL Nitro 510's
17     Robe CycFX8
Video:
238  PixelFLEX FLEXlite Plus 8.9mm tiles
168  PixelFLEX FlexMOD 6 6mm tiles
80     Chauvet EPIX Strip IP's
7       Sony HXC-100 cameras
4       Fujinon ZA12X 4.5 berm lens
2       Canon DigiSuper 95x lens
1       Cannon DigiSuper 100x Lens
1       Ross Carbonite Black 3 M switcher
4       Sony BRC-H700 cameras
1       ToshibaIK-HR1S POV camera system
1       40' Jib
1       Christie Spyder X20 video processor
2       Catalyst V5 media servers
1       grandMA2 OnPC 2 w/command wing
Lasers:
8       Coral series RGB 15W lasers
6       Coral series 30W Stellas
8       X-Laser facets audience scanners
1       Beyond/Pangolin control setup
Automation:
16     SGPS Mini Winches in 20.5" truss.
1       Kabuki
1       8×12 Elevator
1       Roll Drop reveal
1       Raynok control system
Leave a Comment: