Miranda Lambert "Livin' Like Hippies Tour"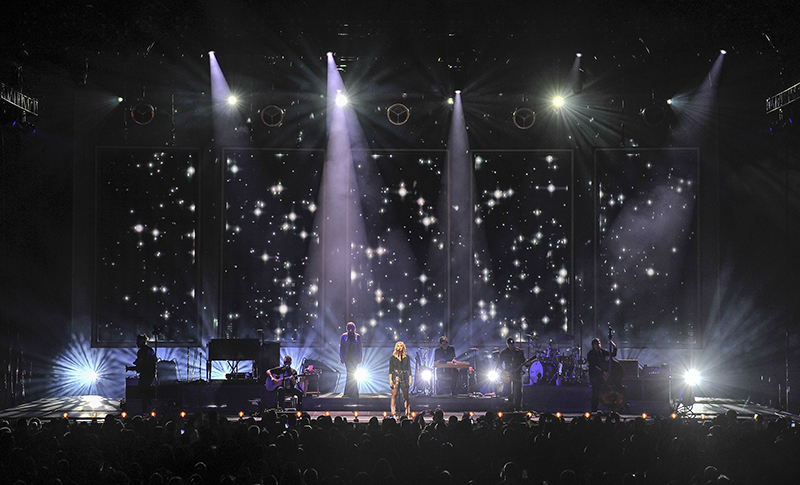 Miranda Lambert is out on her "Livin' Like Hippies" tour, which started Jan. 18 and takes a break after March 24 before adding on three shows in June. In mid-July, Lambert hits the road again with Little Big Town on "The Bandwagon Tour, which then runs through Aug. 24. We spoke with lighting and production designer Paul "Arlo" Guthrie, lighting programmer and director Taylor Price and video director Josh "Death Ray" Clark about the "Hippies" tour looks.
Paul "Arlo" Guthrie
Production Designer
This is the third year Guthrie has worked with Miranda Lambert, who has been touring in support of her Nov. 2016 album release, The Weight of These Wings, with several tour designs. Guthrie, who began working with Lambert before the album came out, has updated the show looks. "The basis of the design stayed the same, but I moved lights around and changed some fixtures to reflect the 'Bohemian/hippy' feel that Miranda wanted for this leg," he says.
Guthrie had originally created a lot of video content that Miranda wanted to stay in the show so "we kept the five video screens, but I added an upstage drape that Sew What? made for us that we project onto to provide an extra layer and some depth. I also hung the X4S fixtures off cables to add some curved elements that reference festoons. I added Robe Patt fixtures, since they look cool.
"There's a very 'linear' trend in a lot of current designs, I think, driven in part by pre-rig truss and the efficiency those devices afford a tour. I love the way it looks, but that aesthetic didn't suit Miranda's show or her vibe. She shies away from anything too modern, so I've tried to soften and break up any of those straight lines where possible. I tried to resist flattening things out and added the upstage drape and riser drapes to offset the square edges of the video walls."
Guthrie says he really likes the consistency and performance of the Robe fixtures on the tour, along with their brightness and precision. He added the Patts for this leg, as he was trying to incorporate a fixture with a vintage feel to break up the modern lights and tie in — to some extent — with the vintage footlights. "I like the way they physically look, and the soft light they emit. We are using Robe BMFL Spots as our FOH and truss spots being driven by the Follow-Me system, it has been a treat to have that quality and consistency for Miranda and for the show."
The tour has stayed a well-oiled machine, but it has changed out a few fan belts and rotated the tires. Some of the changes have been big, but Guthrie thinks the overall feel of the show has stayed the same. "I have strived to make her, and the band, look good in a balanced environment. I have enjoyed amazing support from Upstaging and Screenworks, and the entire crew does a great job maintaining the integrity of the show. Taylor [Price] and Josh ["Death Ray" Clark] are artistic and consistent and a huge part of the visual success of this tour."
Taylor Price
Lighting Programmer and Director
This is the third year that lighting director Taylor Price has worked with both Guthrie and Lambert. "It's a blast working with Arlo. I always look forward to programming and rehearsals with him. It's great working with a designer who can also program, so we can bounce ideas off each other."
Price has about 35-40 songs programmed this go-round. Lambert performs about 23 songs a night, and this tour they have another 10-15 covers rehearsed that she can call audibles on, adding into the set as she sees fit. "It's a fun show to run. There's no tracks, no timecode, all played live, which seems to be rare these days. It keeps you on your toes."
Price notes that he's used all of the fixtures they have in the past, except for the Robe Pixel Patts and Patt 2017s. "They are a nice bit of eye candy Arlo added for this leg of the tour. I've been a big fan of the BMFL line since it came out a few years ago. The WashBeams became the work horse on this leg, and it has been great having such a powerful fixture that can hold their own against five bright video walls."
This is the first tour Price has directed with no traditional followspots. "We're using five BMFL spots controlled from the MA2 and Follow-Me," he says. "I got a demo while we were doing rehearsals in Amsterdam last summer and couldn't wait to add it to our touring show. It has been a game changer for me. Having the same fixtures in the same location every night provides countless benefits for the production, and a new level of comfort and consistency for the artist."
Video elements are a big part of the lighting tool kit, notes Price. "You have to embrace it. We use both LED and projection on this one. Sometimes it's for practical purposes of showing the artist and band, and other times as a lighting and scenic element. Often when programming a new song, we will start by selecting the video content and how it's used, and build the lighting around it. Just like any lighting element, it's important for it to serve a purpose and enhance the look of the song, and not be a distraction and take away from the performance.
"I can't say enough great things about our tour crew and the whole team back at Upstaging. Scott Norden, our lighting crew chief, and the guys on the road do an outstanding job putting this show together day in and day out. John Huddleston [Upstaging rep] and the crew back in Chicago always take such great care of us. They are the best of the best."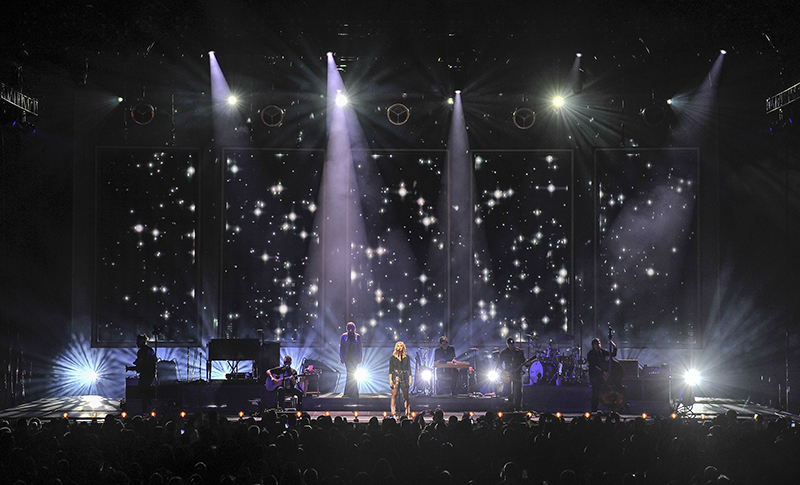 Josh "Death Ray" Clark
Video Director
Like most people in this industry, Clark was told of the open video director position by a friend. He had seen Miranda perform off and on since she opened for Kenny Chesney in 2009 and has really enjoyed her performances each time. When the opportunity came to direct her show, he jumped at the chance and actively worked to secure the spot.
"Working with Paul (Arlo) and Taylor on the design of the show has been really great. Paul calls the shots on any pre-produced video content on the screens, then allows me the freedom to insert live video whenever the feeling is right. From there, we develop a general video template based on the flow of Miranda's set. I program and cut the show on a Ross Vision switcher, keying the live shots over content running from the MBox media server."
Randy Mayer with Screenworks "is our go-to guy," says Clark. "He works hard to ensure we have the tools we need to keep the show going. Since the LED wall is divided into five individual screens, we have to work with the empty space in between each section. Luckily, our brains tend to fill in the space on an image that's stretched across all five.
"When splitting images across the screens, I can use the space in between the walls to function as natural borders, such as one 16×9 image resting between two portrait screens or allow the five screens to function individually for dynamic effect. The Ross switcher's custom controls make the build process fun."
Clark can easily recall multiple screen configurations within a song "cleanly and without delay." All the screens are composed of the same 12mm LED product manufactured by ROE Creative Displays.
"I can't do the job that I do without our video crew," he adds. "We focus on delivering a consistently tight show while incorporating the more free-flowing moments of musicianship and humanity that make a Miranda Lambert show great. Never have I felt so in tune with an artist and their love of music. It's a pleasure to be a part of the show."
Miranda Lambert "Livin' Like Hippies" Tour
Crew
Production & Lighting Designer: Paul "Arlo" Guthrie
Lighting Director & Programmer: Taylor Price
Lighting Co: Upstaging
Lighting Crew Chief: Scott Norden
Lighting Techs: Paul Mundrick, Mike Zielinski, Nick Schlosser, Adam Cooper
Video Director: Josh "Death Ray" Clark
Video Techs: Grit Frederick (Crew Chief), Anthony Morgan, Aaron Hebda, Matt Lindstrom, Kevin Jordan
Tour Manager: Curt Jenkins
Video Co: Screenworks
Production Manager: Erik Leighty
Production Assistant: Cameron Vaughan-Pumphrey
Stage Manager: Fred Yanda
Rigger: Art McConnel
Carpenters: Andy Hughes, David San Miguel, Kevin Murray
Staging Co: Gallagher Staging
Drapes: Sew What? Inc.
Gear
2       grandMA2 lighting consoles
60     GLP impression X4S
40     Chauvet Strike 4 blinders/strobes
42     Robe BMFL WashBeams
8       Robe BMFL Blades
5       Robe BMFL Spots (Follow-Me followspots)
5       Robe Patt 2013 fixtures
2       Robe Pixel Patt fixtures
2       MDG Atmosphere HO Hazers
5       8' x 16' Roe 12mm LED walls
4       Barco 30K Projectors
2       Barco 20K Projectors
1       Ross Vision switcher
More Miranda Lambert "Livin' Like Hippies Tour" photos by Steve Jennings:
MIRANDA LAMBERT © Steve Jennings
MIRANDA LAMBERT © Steve Jennings
MIRANDA LAMBERT © Steve Jennings
MIRANDA LAMBERT © Steve Jennings
MIRANDA LAMBERT © Steve Jennings
MIRANDA LAMBERT © Steve Jennings
MIRANDA LAMBERT © Steve Jennings
MIRANDA LAMBERT © Steve Jennings
MIRANDA LAMBERT © Steve Jennings
MIRANDA LAMBERT © Steve Jennings
MIRANDA LAMBERT © Steve Jennings
MIRANDA LAMBERT © Steve Jennings
MIRANDA LAMBERT © Steve Jennings
MIRANDA LAMBERT © Steve Jennings
MIRANDA LAMBERT © Steve Jennings
MIRANDA LAMBERT © Steve Jennings
MIRANDA LAMBERT © Steve Jennings
MIRANDA LAMBERT © Steve Jennings
MIRANDA LAMBERT © Steve Jennings
MIRANDA LAMBERT © Steve Jennings
MIRANDA LAMBERT © Steve Jennings
MIRANDA LAMBERT © Steve Jennings
MIRANDA LAMBERT © Steve Jennings
MIRANDA LAMBERT © Steve Jennings
MIRANDA LAMBERT © Steve Jennings
MIRANDA LAMBERT © Steve Jennings
MIRANDA LAMBERT © Steve Jennings
MIRANDA LAMBERT © Steve Jennings
MIRANDA LAMBERT © Steve Jennings
MIRANDA LAMBERT © Steve Jennings
MIRANDA LAMBERT © Steve Jennings
MIRANDA LAMBERT © Steve Jennings
MIRANDA LAMBERT © Steve Jennings
MIRANDA LAMBERT © Steve Jennings
MIRANDA LAMBERT © Steve Jennings
MIRANDA LAMBERT © Steve Jennings
MIRANDA LAMBERT © Steve Jennings
MIRANDA LAMBERT © Steve Jennings
MIRANDA LAMBERT © Steve Jennings
MIRANDA LAMBERT © Steve Jennings
Leave a Comment: