Rihanna's LOUD Tour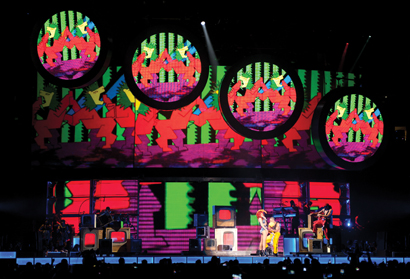 Rihanna's LOUD Tour 2011 is not originally named for its decibel level — although the ears would say otherwise. Production designer LeRoy Bennett uses loud as another word for "intensity." Loud in looks. Loud for the eyes. Loud as in, "Pay attention and look."
"It's called loud, but not in a literal sense," Bennett explains. "It evokes that loud feeling in the design and graphics. It's modern, clean and different. The idea was to give it diversity, create different vibes and looks. Her last tour was so dark, so this is the opposite of that."
Bennett took delight collaborating on the production design with Creative Director/Choreographer Jamie King. "He's always a joy to work with," Bennett says, citing past projects Ricky Martin, Madonna, Spice Girls and Korean actor Rain, to name a few.
It's a huge show — 15 Roadshow trucks full, under production manager Joe Sanchez. There are a few stage tricks: the circular turntable, four onstage trap doors leading to the floor, and a moving sidewalk. Rihanna has another part of her show — an island — set up behind the FOH area on the floor, where she makes a surprise entrance at a designated point during the show.
Outlining the stage and embellishing each band riser are the infinity boxes. The effect is created with a strip of 1,000 channels of 3-channel RGB LED tape backed with a mirror in the box to give it an infinity effect look.
But LED leads the show. LED video screens make up the scenic elements. All different sizes and shapes, they all have one thing in common: all are 9mm LED screens — transparent and light in weight — manufactured by Winvision and supplied by VER.
And it's everywhere.
Curvaceous Video
The obvious centerpiece of the show are the four 9-by-9 pods. "The pods have multi-personalities," Bennett says. "They are video and lighting fixtures at the same time."
The circular LED video orbs move independently — horizontally and vertically — taking on the appearance of periscope lenses, or something out of a Sci-Fi movie. Hidden inside the pods are 112 Martin MAC 101 LED moving head wash lights, which emit light easily through the transparent LED screens.
"Video is usually a square format," Bennett says, "so the idea was to get away from the harshness of the box. Rihanna is a curvaceous woman, and the pods give the show a curviness to reflect the artist onstage. It not only looks sexy, it feels sexy."
Video "Book Shelves"
The largest video element is the rear-projection screen measuring 20 by 60 feet. The screen is supplied by AV Stumpfl, and it's constructed using several custom-made truss frame pieces. Six Barco R22 projectors are used for the video, a three-image blend.
In addition, there's an LED split center wall, and a display area surrounding the center screen dubbed "the book shelves" — because that's what it resembles. The book shelves were originally designed to lift off the floor, Bennett says, but budget and time prevented that.
Four additional Barco R22 projectors feed two 13-by-24 I-Mag screens on either side of the stage.
All screens and pods are fed content from the Green Hippo Hippotizer V3 media server and camera signals from the Sony switcher through a Vista Spyder.
Everything comes into view all at once to one person. The video director.
"TV Station in a Box"
Guiding the video-intensive show is video director Bert Paré, Jr. Paré got his start in the industry as an MTV cameraman and then video streaming with My Space. Tours with John Mayer and Maroon 5 were normal video gigs, but touring with Maxwell turned his world around. It wasn't just visuals, it was visually creative. Describing Maxwell's big LED wall in front of the band — which would separate and become two I-Mag screens on the side, and then would transform into a curtain — inspired Paré, who found it fun to work outside of what people regularly think of I-Mag.
This tour — and the concept behind this production — allows him the freedom to take video beyond the box — to basically combine it with TV for a "sleek, modern, music video look." Because he's got gear to create live effects and content in real time, he refers to himself as more of a Video DJ on this gig. To Paré, "loud" on this tour means "pumped up."
Over in the dark-curtained corner near the stage is Video World, where Paré sits at command center with the Sony Multi-Format Video Switcher MSV 6000, guiding the show. He has lots of options. With live action coming in on his video switcher screens fed from the Vista Spyder by three live camera operators and two robo-cams — and media server content from the Green Hippo Hippotizer V3 media server — he decides the feeds he will use for the different LED display devices for the audience.
This Sony switcher, which he's using for the first time, is the little brother to the MVS 8000, which would normally be what one would find in a TV studio for post production of modern commercials and music videos. In fact, he needed a TV specialist to show him how to use the effects.
"A big reason why I wanted this switcher is that you can do a lot of things that normally you would do post-production," Paré explains. "Plus, you would normally run the media server at the FOH, but I function more like a visual DJ, doing it live on the fly. I can go to a multi-screen effect, a black and white effect, a strange mirror effect. I can do a lot of crazy transitions. For example, during the song 'Disturbia' — a busy song about paranoia — I use an effect that looks like the camera lens is distorted on the edges. So effects like this allow the I-Mag to blend more with the content. Almost every song has an effect. It integrates everything together as an overall look, song for song."
The switcher and server have helped him create extra content in the show as well. Citing the song "Skin," for example, the center screen was originally supposed to be dark with no content. However, Paré found some content featuring black and white ink drops which lent a "slow and mysterious" mood when Rihanna's on the bed set piece. For another moment, the cameras shoot into the infinity boxes, glowing red at the time, and that image is splashed on the large center screen behind the band. "It gives the whole stage a uniform look. So we capture what's happening visually on stage and modify it to create our content. It's subtle stuff but it really makes a big difference when you see it on the big screen. It looks like something else is going on visually," he says.
"The show is the same every night because it's heavily choreographed with time code. But on some nights, the camera men are more 'in the zone' and you can get more ambitious with some of the cutting, in adding some of the effects on top of it," Paré notes.
The Hippotizer works in conjunction with the Vista Spyder video processing system. The Spyder helps route live content where they want it to go, Paré says, but they do have some looks that need a human to move things around and react to the music. There are moments where two people are switching the show, Paré says, citing his assistant Stephen Hambsch, who makes sure the right channels are up at the right time while he is cutting the show.
The video team also includes Michael Helton, video crew chief; and Nelson Funk, video engineer. "Funk makes it all work," Paré says. "He keeps the cameras looking good, and he makes sure the cameras are matching for skin tones and color."
Two camera operators, Lloyd Domingo and Ted Thornton, capture the live action. Thornton, a bona fide TV cameraman, has been learning the ropes in concert production on this tour. The twice-daily rehearsals at Sony Pictures soundstage in a 10-day period helped get a rhythm developed, he says. Learning how to assemble the stage, load-in/load-out and packing the truck was new to him.
As both surveyed the massive set by the side of the stage, Domingo summed it up simply: "We're carrying a TV station in a box."
Lighting World
While the LED elements emit lots of ambient lighting, there is still a need for actual lighting fixtures. Most of the rig is flown, as there is no room to put anything on the floor.
"It is a heavy show, layered and structured with a theatrical look," says lighting director Dominic "Dom" Smith. The main lighting rig from tour vendor Upstaging includes 60 VL3000 Spot luminaires ( "A favorite range of fixtures that are reliable," Smith says), 24 Coemar Infinity Wash XLs ("rock solid") and nine Elation Platinum Beam 5Rs ("They're new. It's a strong beam. I like them.").
Other lighting includes 12 Martin MAC 301 Wash fixtures, 24 Atomic 3000 strobes with Martin Color Scrollers, 16 Police Beacons and 200 MR16s in the bed set piece. Smith also controls the previously mentioned wash lights in the pods and infinity boxes.
For control, Smith is comfortable using the grandMA console for various reasons. "Control and programming on the grandMA is straight-forward and easy," Smith says. "It also holds lots of data, which is important on this tour, as we have 350 3-channel fixtures. And we use timecode. You couldn't do a show like this without timecode. It's helpful."
On top of all the lighting, video and set elements, add in Rihanna's hit-charting repertoire and frequent, flamboyant wardrobe changes, and this show is surely a new definition of LOUD.
Rihanna's tour started in June and finishes Dec. 22 at the O2 Arena in London.
Lighting Crew
Lighting Company: Upstaging Inc.
Creative Director/Choreographer: Jamie King
Production Designer/Lighting Designer: LeRoy Bennett
Lighting Director: Dominic "Dom" Smith
Programmer: Jason Baeri
Upstaging Crew Chief: Kenneth Burns Jr.
Lighting Crew Chief: Carl Burnett
Production Manager: Joe Sanchez
Lighting Gear
1 grandMA console
112 Martin MAC 101 LED moving head wash lights
60 Vari*Lite VL3000 Spots
24 Coemar Infinity Wash XLs
24 Atomic 3000 Strobes w/ Martin Color Scrollers
12 Martin MAC 301 Wash fixtures
9 Elation Platinum Beam 5Rs
1000 Channels of 3-Channel RGB LED Tape (in the infinity boxes)
16 Police Beacons
200 MR16s (in the Bed Set Piece)
Video Crew
Video Supplier: VER Equipment Rentals
Video Director: Bertrand Paré Jr.
Crew Chief, Hippotizer Operator: Michael Helton
Camera/Projection Assistant: Ted Thornton
Vista Spyder Operator/Assistant Director: Stephen Hambsch
Projectionist: Lloyd Domingo
Engineer: Nelson Funk
LED Wall Tech: Sean Binns
Video Gear
1 Sony Multi-Format Video Switcher MVS 6000
1 Vista Spyder video processor
1 Green Hippo Hippotizer v3 media server
10 Barco R22 projectors
2 I-Mag screens (13'x24')
1 custom curved AV Stumpfl screen (20'x60')
1 set of "Book Shelves" LED screens (Winvision 9mm)
3 HD cameras, 2 robo-cams
Leave a Comment: