Trans-Siberian Orchestra
It is no small feat to become a holiday tradition for millions of people of all ages; for your music and your production elements to be so in the cultural zeitgeist that from holiday car commercials to neighborhood lighting displays you are emulated. That is however exactly what the Trans-Siberian Orchestra (TSO) has accomplished. Celebrating their 20th year touring, the production has grown from an initial run of five shows to two full-scale productions — running in the east and west of the United States simultaneously — for only two-and-a-half months.
Production and lighting designer, Bryan Hartley has been working with the band for the past 19 years — they used a small sound and lighting package for those first five shows. Elliot Saltzman, director of touring and production, has been with the band for 19 years as well and has put together every tour except the first five shows. PLSN caught up with both at the end of the Thanksgiving weekend, when they had just ended a run of 12 shows over six days, to talk about the evolution of this unique holiday touring tradition.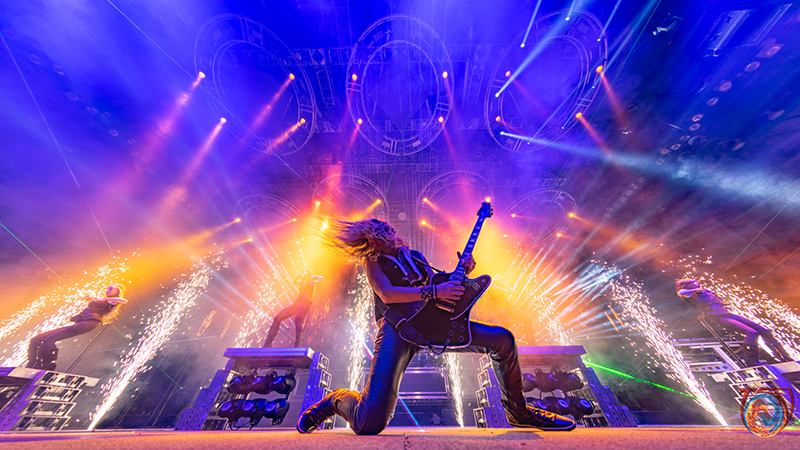 TSO was the creation of producer, composer, and lyricist Paul O'Neill, and though he unfortunately died in April 2017, TSO is well positioned to continue for many more years, just as he envisioned.
Saltzman explains, "When this started, Paul knew we had an opportunity to take something that nobody understood and to make it a hit. At first it was something small, and now here we are, 20 years later, and we are among Live Nation's highest ticket sellers. More people have seen Trans-Siberian Orchestra than the Rolling Stones in America. Think about that. We are playing to a million people a year.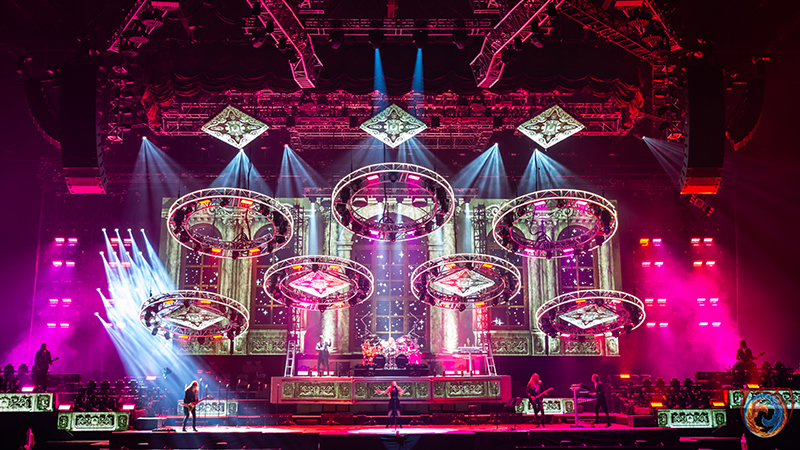 "You know, in the beginning, people didn't know what to expect — they came to the show because they had heard the music. Then they saw the show and they loved it and they wanted to share it. I always say the difference between a TSO fan and a regular fan is, a regular fan says, 'Hey, I just saw a great group last night. You should go see them.' With TSO they say, 'I saw the most amazing thing last night and I'm going to buy you tickets. You're coming with me.'"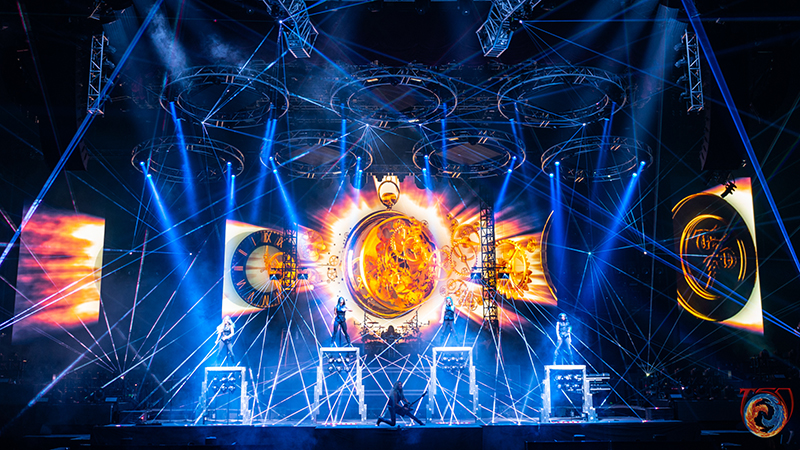 Saltzman continues, "For Paul, it was never, ever about the money. It was about people coming to a TSO show, younger and older people together, being entertained and never gouging them. It is about the music, and the story, and seeing lasers and lights and pyrotechnics and now video, all in a way that you've never seen before. I love watching the audience. They're turning around and marveling at everything going on. Some of them are seeing things they have never experienced in a live show, which was what Paul wanted to create. It is a great feeling to be part of making that happen."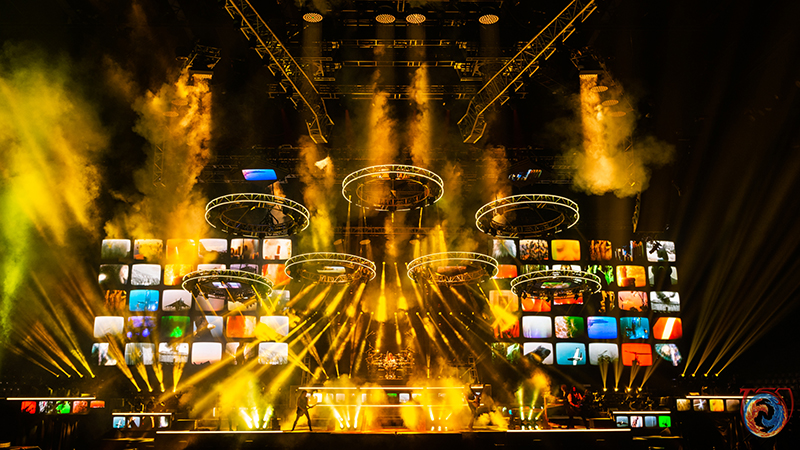 Hartley recalls when O'Neill first asked him to light TSO, "He sent me the songs to listen to, and after I did, I said, 'Holy sh*t, Paul, the music is just perfect for lighting!' He told me that he actually thought about the lights when he wrote the music. I thought that was so cool. You know working with Paul was wild — he was always like, 'I want all this pyro, I want more lights, I want more of it all!' Year after year it got bigger because of Paul. It really is a rock show," continues Hartley, "but it's able to transcend into something else because people really don't think of it that way. Nobody else does a show like we do; story, narration, and rock concert, all of it on an incredible scale."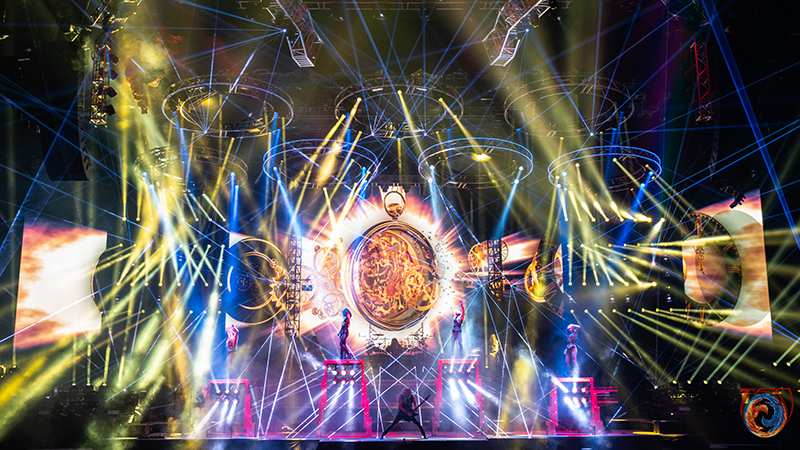 ‡‡         By Design
Over the past 19 years, TSO has boasted some incredible production and lighting designs, never shying away from new technology. Hartley breaks down some of the design progressions.
"When we started out, Paul was really huge on PAR cans, but I needed to introduce moving lights, so I did, on a smaller scale," comments Hartley. "We hung on to PARs though for the better part of 10 years. When the [Claypaky] Sharpy came along, those were the replacement for the ACLs."
The next technologies that Hartley added to his toolbox were lasers and pyrotechnics. "Around 2003, we added a 40-watt YAG, an outdoor laser; it looked amazing" says Hartley. "Around this time, the decision was also made to add in pyrotechnics. That was when Pyrotek came onto the tour. Paul really loved pyro, so the following year, I said, 'I've got a great idea for the pyro; we're going to double it.' He thought that was brilliant. It was like that for everything, every year, we would increase the gear; increase the design; add a little bit more."
One of the big switch-ups to the design was six years ago, when Hartley replaced the back wall of lights with a video wall. "When we first introduced video, it was in a small way," explains Hartley. "Video strips across the front of the truss; across the front of the drum riser. It was all very abstract; we really hadn't gotten into creating video content yet. I think later when we added the bigger video wall in the middle, that was a huge step, which put us on another level." Hartley comes up with the creative direction for his content and then has it produced by It Factor and Earthquake Productions.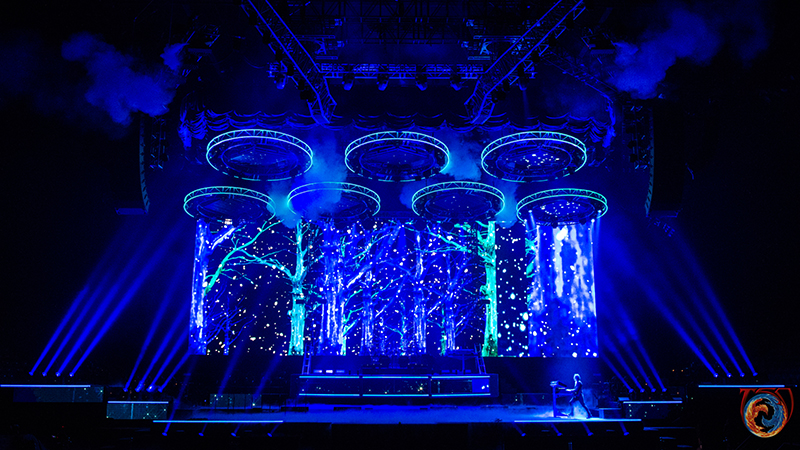 ‡‡         Teamwork
Over the past decade, automation has been adding new dimensions to the production with the use of lifts and elevators to bring performers to new heights — or closer to the audiences. "We started using automation for the performers around 2008 when we brought down musicians from the lighting rig," explains Hartley. "In fact, I've brought back a variation with the three musicians flying out of the front three truss rings this year. Automation use has grown over the years with different styles of lifts; I've gone from hydraulics to electronic winches. Even though things may look the same, the technology inside those products has changed so much."
Both Saltzman and Hartley work closely with all their vendors to incorporate newer and better technology. You don't evolve a design this integrated without teamwork, as Saltzman well knows, stating, "I'm very fortunate. I know that not everybody could be in a position like this and, really, I'm just a small cog. This is a whole incredible team of really excellent people working together — the production team, the vendor team, the management team, and everybody involved. This thing is big — on each coast, it's 20 trucks and a 120 people. It is a real family, and I mean that. And I include the vendors in that, because they work so closely with us. We have at least three to four meetings during pre-production where every single vendor is represented — effects, sound, lights, video. We look at everything in pre-production. We wouldn't be able to make the matinees; we wouldn't be able to do four days of doubles in a row if we didn't have great vendors that work closely with us solving everything in pre-production."
Hartley agrees. "I can't tell you how important the vendors are; they're amazing," he states. "I need them to be able to look over the design ideas and give me honest feedback. Every one of my vendors have improved on my ideas by refining their products or sourcing new technology. I come up with the ideas, and they make them work." Lighting is supplied by VER (now part of PRG). PRG Nocturne handles video equipment, and the content is made by It Factor and Earthquake Productions. The lasers and pyro come from Pyrotek Special Effects. The automation and scenic fabrication are from SGPS/ShowRig. The sound provider is Clair Global.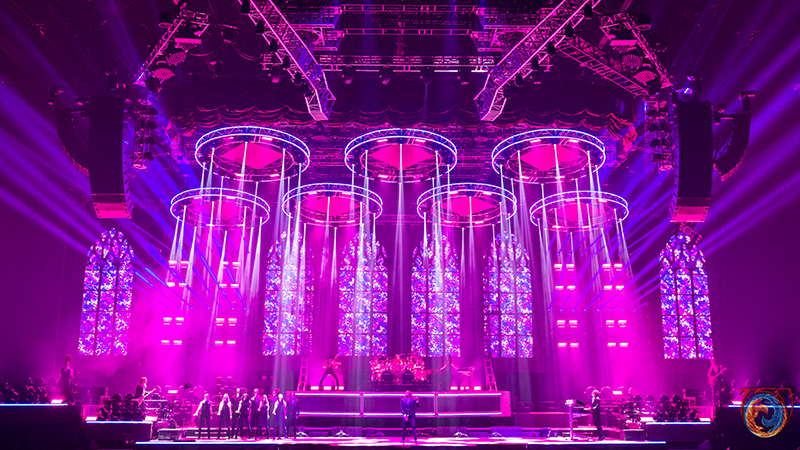 ‡‡         In Control
There are a lot of moving parts to Hartley's production and lighting design, so control is important. The identical two legs of the tour are pre-programmed, and Hartley operates his own show on the east leg, with lighting director, Dan Cassar, operating the west leg. For lighting control, Hartley uses a High End Systems Full Boar 4 lighting control console paired with Catalyst media servers for video playback. Hartley explains the various control methods for TSO. "I operate about 75 percent of my lighting cues all manually; the rest are timecoded," he says. "The lasers are controlled by timecode. All of the videos are on my Catalyst server, and I pick the file from my lighting console, and then timecode actually runs the clip. We do keep automation and pyro separate; each controlled manually for safety reasons. Automation uses Raynok control from SGPS, and I don't trigger anything with it."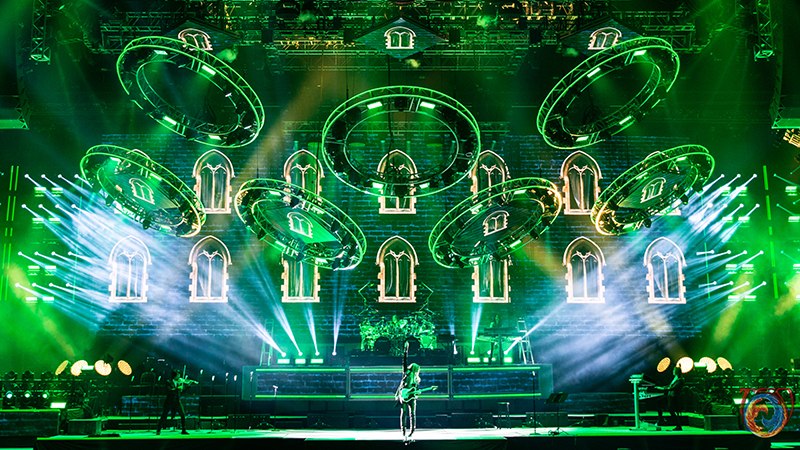 ‡‡     A Proud Legacy
"I'm very proud to have been with TSO for this long," says Hartley. "I still think of Paul when I'm designing. I think that he would be pleased with what I'm doing; like when I created the theater last year (see top photo, left). Even though Paul didn't get a chance to see it, not even the drawings of it, I thought, 'Well, that's got Paul written all over it!' Over the years, we all did some great work together."
Saltzman shares similar sentiments, noting, "You look back over 20 years and think, 'Wow, I've been very lucky.' and it is all because of Paul. It is his legacy, and now his daughter and wife are the same way — loving, great people. We all continue on because we understand it was Paul's dream for TSO to always keep going. And it will. I always say, 'Even I can't screw this up.'"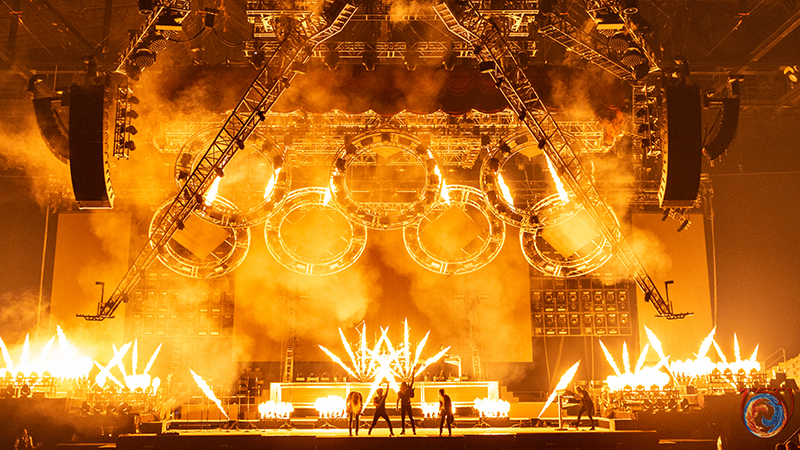 Pyrotek: Part of the TSO Family
As the longtime laser and pyro vendor for TSO, Pyrotek Special Effects has been a big part of the broader TSO family.
"It was one of the visions of Paul O'Neill, the founder and main creative force behind TSO, for the show to be 'as over the top as we can make it…I want people to walk out of our shows speechless and still not believing what they have seen was possible,'" says Scott Dunlop, president and CEO of Pyrotek Special Effects.
"From the beginning of our long relationship with TSO, that vision has really laid down the gauntlet and inspired us, as a company, to push the envelope and develop new and innovative looks and products to help make TSO bigger and even more awe-inspiring, year after year.
"A large portion of our proprietary equipment that you see out on tour regularly with various artists was developed for, and introduced on, one of TSO's annual tours. They were the first ones to "go big" into our Fire screen product, the first large tour to feature downward shooting 5Masters, and the first tour to introduce motion into pyrotechnics (first with our Kinetic Wave product and then, this year, with our Kinetic Wave 2.0 platform, which enables independent control of individual pieces of pyro to create new and exciting looks).
"We also have a long history of producing larger-than-life custom elements for them, including a flaming pyramid and, new this year, a flaming version of the famous TSO logo. To us, TSO represents the very apex of the big arena show, from the enormity of Bryan Hartley's designs, to the best-in-class production discipline that Elliot Saltzman, Jeff Boguski and Jim Pettinato bring to the effort every year, and it's been a pleasure for Pyrotek to be along with them on this journey and to have the opportunity to grow and evolve as a company alongside TSO."
For more info on TSO, go to www.trans-siberian.com
Leave a Comment: