Behind the Scenes at the Junior Theater Festival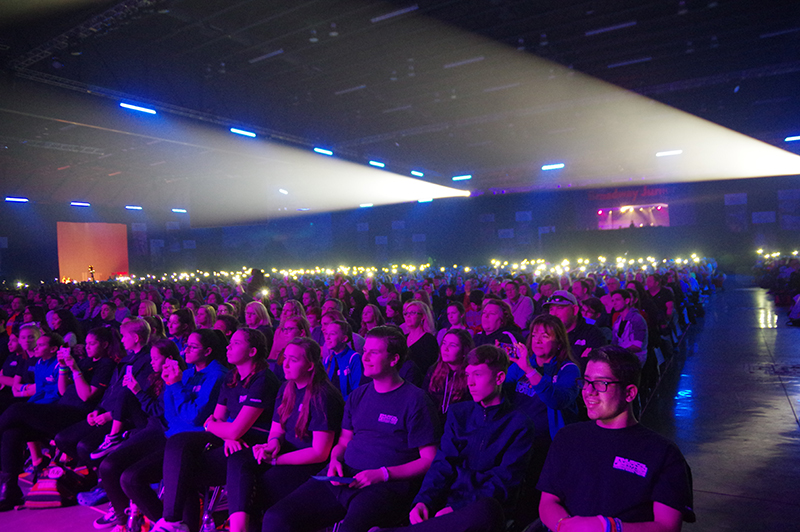 Atlanta Rigging Systems and iTheatrics Support the Next Generation of Techs
The Junior Theater Festival (JTF) is the world's biggest and best celebration of young people performing musical theater. The event is now produced by Timothy Allen McDonald and iTheatrics. Under the educational and artistic supervision of iTheatrics, JTF brings students, teachers and Broadway professionals from all over the world together for a weekend to celebrate outstanding student musical theater productions.
The idea is to bring groups of children together to celebrate the work they have done on their productions in their different schools. The hope is to inspire kids to pursue theatrical careers or to become the theater audience members of tomorrow. By no means is it a contest to create superstars. Rather, the kids get an opportunity to express and engage in the creative process on stage or behind the scenes.
The first JTF event was first held in 2003 and has run in Atlanta annually since 2009, with the most recent event staged Jan. 12-14 at Atlanta's Cobb Galleria Centre. (A West Coast event was also held Feb. 9-11 at the Sacramento Convention Center.)
In 2009, the same year JTF moved to Atlanta, Susan Fuller came on board as Director of Technical Theatrical Education for iTheatrics. She developed the Student Tech Track curriculum for the Festival. "Our goal is to make sure students have a great learning experience," says Fuller, " and are inspired to continue on in the theatrical field after graduation."
Her background includes a degree in Theatrical design and as an Equity Stage Manager. JTF is just one of many events Fuller handles as an administrative project manager for iTheatrics. The company is fully engaged in developing and supporting musical theater programs in different elementary, middle, and high schools.
A day at JTF begins with the groups of students presenting their 15-minute presentations from a Music Theatre International Broadway Junior Musical. Then they split up in the afternoon into the Galleria's smaller breakout rooms for acting, music, or dance class. The student tech kids, usually about 60, work with Ms. Fuller. She built the program so that children with no experience will find it interesting and students with tons of experience can ask questions.
Her curriculum runs the full gamut of stagecraft. For costuming, they brought in Theresa Squire to learn about the process of character study, sketching, and selecting fabrics. Court Watson, a scenic designer talked about the inspiration and research into set building and painted backdrops.
The lighting design for the overall festival is created by Ruth Hutson, a local professor from the local Savannah College of Art and Design (SCAD). She brings a hand full of college interns to help implement the workshops.
‡‡         The Rigging Side
Of course, in order to have such an event, it has to be built, which is where John Edkins comes in. A fourth generation IATSE member and 30-year veteran of the industry, he owns his own production company, JE Scenic Technologies.
"I fall into more of the coordinator and management overseer on the technical end for JTF, as I do with a lot of my other projects," says Edkins. This is his 10th year with JTF.
"I think my first year we had around 2,500 or so participants," he continues, "and this year we had to set out 5,500 chairs in the main auditorium, which totals 144,000 square feet. It's pretty massive. We use 180 chain motors to pickup three miles of entertainment truss. It's a big undertaking. We go in there and we have everything up in three days, but it all comes out in five and a half hours."
Edkins' local labor for the setup and dismantle are performed by professional stagehands; both union and non-union. He adds, "Atlanta Rigging Systems (ARS) have been with us since the beginning. I trust them completely since it's such a large project. Over the years I got to be good friends with Jon [Wismer]. He understands that JTF is a great cause for the kids and doesn't make a fortune on the project. If I can say anything about the man, he is fair and honest. If I told him I had no money next year, he would say, 'That's okay, we'll make it work.' That's the kind of guy he is. I have nothing but praise for that man; he has just helped Tim out so much."
Wismer deflects the compliment. "Growing up in this industry makes me and our (ARS) team that much more appreciative of what iTheatrics and Tim McDonald are doing for our budding entertainment world."
Veteran rigger Scott Ward has served as head rigger on this event for the last 10 years. He has 14 riggers on his team; all working out of bucket trucks. "It's not a heavy show; it's just massive in the area we cover," Ward says. "When we first started doing this, we were in just one hall. Now it uses all five halls, and more than 5,000 kids participate.
"I really enjoy doing this show," Ward adds. "It's not just another corporate event. I get to see the entertainers and the technicians of tomorrow that like to get involved and learn things. We always have kids coming up and asking us to explain what we do. The only difficult part is the area over the stage has a two tiered ceiling with a lot of building mechanical in the way, but overall it's a fun job and it's great to give back on our parts."
Edkins also credits Magnum, "our lighting vendor for the last five years. I have used larger companies like PRG and Christie Lites in the past. Sure, it's cost-effective to use an Atlanta vendor, but the real reason I keep bringing Todd Fisher, who owns the company, and his crew back, is because they service us so well. His crew always does an excellent job."
Between the main auditorium, the education rooms, rooms for tech classes and the areas for the "Tech Olympics," the festival takes up the entire convention center and spills into breakout rooms of the Renaissance Waverly hotel. An empty movie theater on the first floor of the Galleria serves as a rehearsal room as well.
Edkins hires over 200 local hands, both union and non-union, to set up, run and dismantle the show. A select group of students, called Tech All Stars, work side-by-side with festival staff in all the departments for main stage festival events.
As iTheatrics' motto states, "There is a place for everyone onstage as well as backstage too."
For more information, visit www.juniortheaterfestival.com, www.itheatrics.com, www.atlantarigging.com and www.magnumco.com.
Leave a Comment: