Ayrton Bora-S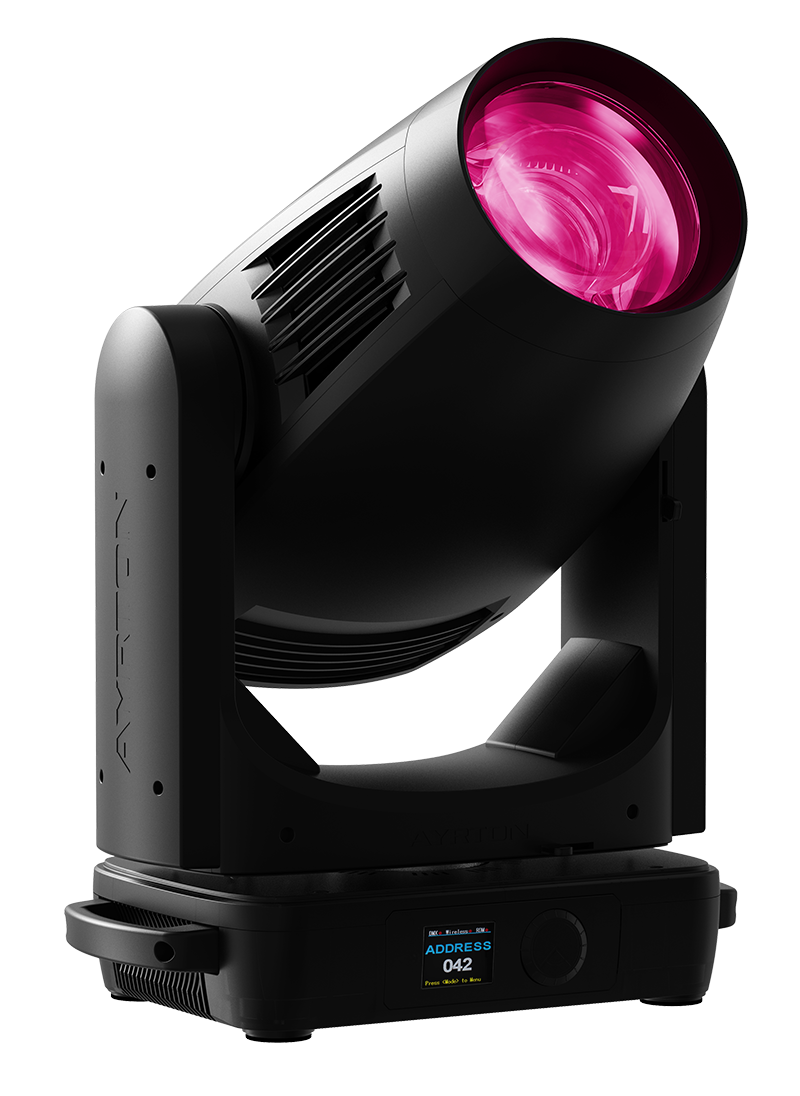 It seems safe to say that Ayrton's first "hit," at least in North America, was the much-celebrated MagicPanel 602. Released in 2013, it has been credited for starting the "matrix-of-LED" trend in lighting fixtures. Though not Ayrton's first light, that fixture also put the company on the map as a producer of high-quality lights that were also different from anything else on the market. The company shied away from doing conventional automated fixtures; they were innovators of effects lighting.
This seems to have changed in recent years, with new and more "traditional" moving head lights using LEDs as sources. These new fixtures bear the hallmarks of fixtures from other fixtures in their class, but there are innovations to be seen here. Today, we're looking at the Bora-S, ostensibly a wash fixture with a few spot-esque features sitting under the hood.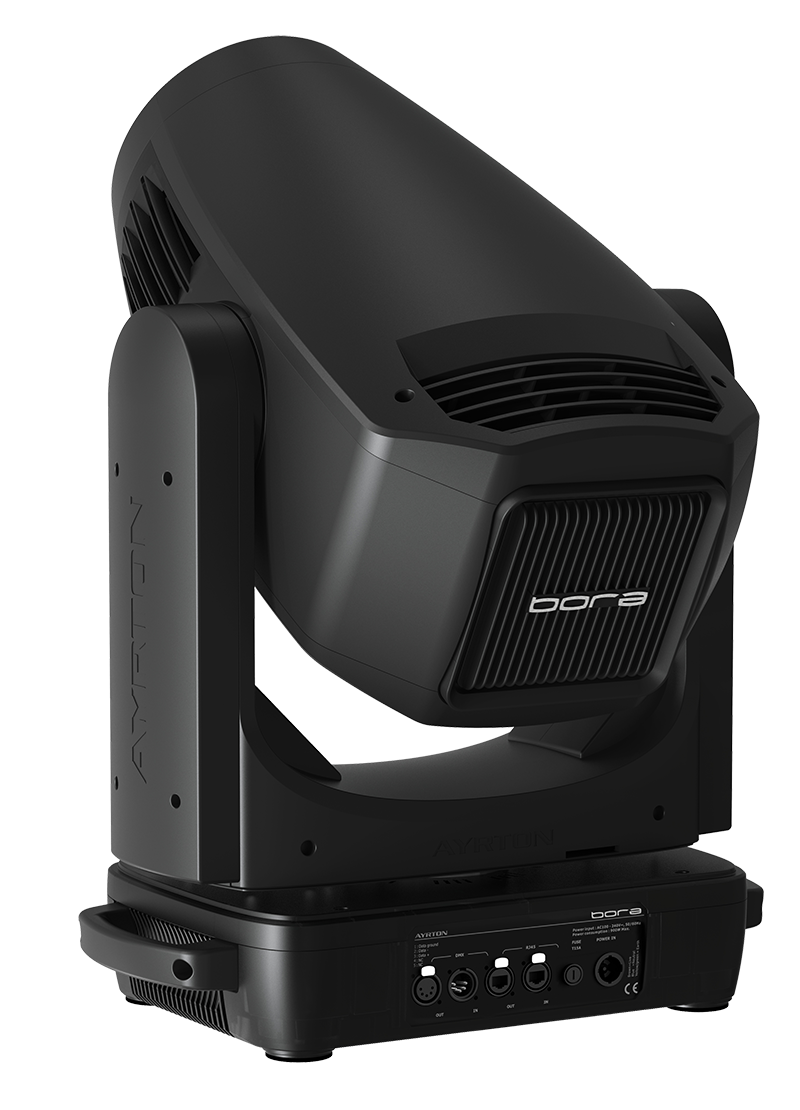 The source for this fixture is a sealed 750W white light engine, with a color temperature of 8,000K, according to Ayrton. My meter read 6,360K by the time the light passes through the optics of the fixture. (The Bora also comes in a version called TC, which has a 7,000K LED engine, for applications needing warmer light.) The LED engine and its associated cooling takes up a good portion of the rear of the light — LEDs like to be kept cool. The individual LEDs in the light array are very tiny, and packed quite close together. I measured 10,700 lux from five meters at 50 percent zoom at startup, which dropped to 9,060 lux after letting the fixture run at full for thirty minutes to reach thermal equilibrium. This represents an output drop of about 15 percent, which is within the expected range for a fixture of this class.
At the other end of the light, there sits a large 178 mm spherical lens, and not — as I would have expected — a Fresnel lens. These sorts of lenses give a slightly more defined edge than a Fresnel, which would soften the beam too much for the other effects in the light. Lens selection will, of course, vary by application.
Dimming was smooth, down to the very last clicks before blackout. One touch that I noticed while testing the dimming was that, like other LED fixtures of this sort, the LEDs in the engine are divided up into sections for effects. At the extreme lower ends of its range, the Bora-S turns those sections off (or on, as the case may be) one at a time, to help smooth out this critical part of the range. The dimming curve very closely approximated an ideal square law curve, with no odd jumps or dips anywhere along the range. In short, this is an excellent electronic dimmer. This light also does a trick I've seen other LED fixtures do — there is an extremely slight but noticeable fade when setting a zero-time blackout using the dimmer channel. This fade is absent when using the "shutter" channel, emulating the look of a physical dimmer / shutter combination. Expected shutter functions are here, including random and synchronized strobes up to 25Hz.
Effects are divided up onto two removable modules, one for color mixing, fixed colors, and gobos, and the other for the framing shutter system and the iris. The color / gobo module is first in place past the LED engine, and as is the trend these days, uses sets of flags that open and close across the beam of light like curtains. Along with the CMY color system, there is also a CTO flag that when fully inserted brings the color temperature down to 2,990K. Color mixing was smooth, both in the air and within the projected beam of light itself. I found that the mixed yellow was balanced, as were the other colors. One downside of using white LEDs is that mixed reds are often the weakest colors of the range and tend toward orange, which was the case here. This is an issue common on all luminaires that use phosphor-converted white LEDs. To help with this, the Bora-S has two fixed color wheels with six filters plus open. One has deeper, more saturated colors like deeps reds and blues, while the other has various correction filters including a 4,300K and minus green filters. Filters have minimal space between them and this system produces very usable split colors.
Also on this module are the gobos, of which there are six patterns plus open. These are all big "chunky" gobos that are not possible to perfectly focus on, but which nicely break up the light and add a dynamic effect to a wash light. Gobos are all steel, and ride on a typical carriage system for easy replacing of the patterns. All patterns can be indexed and rotated, and a gobo shake function is here as well.
The next module in line holds the automated framing shutter and iris. Each framing shutter is able to completely cover the beam of light, and provides excellent patterns and spill control. The framing shutter system can also rotate ±45º, with a full movement taking approximately 1.5 seconds. The 15-blade iris is also on this module and has a variety of macros for fast programming. Both modules are removable via non-captive screws for maintenance and cleaning. However, the color/gobo module has metal "offsets" that sit between it and the chassis of the fixture, which are small, not attached, and incredibly easy to lose down inside the light while trying to get the module back in. They're something to be aware of when performing maintenance, and I wouldn't attempt it while the light was hanging in the rig.
Closer to the front of the light is the variable frost, which gradually softens the beam — making it more Fresnel-like, while leaving the edges of any inserted gobos somewhat intact. Zoom adjusts smoothly from 8º to 64º, and covers its range in less than 1 second, fast enough to use as an effect. Pan and tilt ranges are 540º and 270º respectively, with pan covering its full range in 4.5 seconds, with tilt taking 2.3 seconds. Even extremely slow moves were very smooth, and I noticed no jitter.
Power input is via a Neutrik PowerCON TRUE1 connector, and auto-ranges from 100-240V, and is rated to pull 1,150W at full tilt. Data is accepted via DMX five-pin XLR ins and pass-throughs, with Art-Net and sACN accepted via Neutrik EtherCON ins and pass-throughs. A cold fixture start takes 51 seconds, and is well-behaved in that the luminaire blacks out before its reset and fades back in only after it has reached its final position. Ayrton has gone for simplicity of input as regards the menu system, with only a single jog wheel with a click for setting fixture options and addresses. The fixture weighs 83 pounds and stands 29 inches tall, with a base of 19.5-by-11 inches.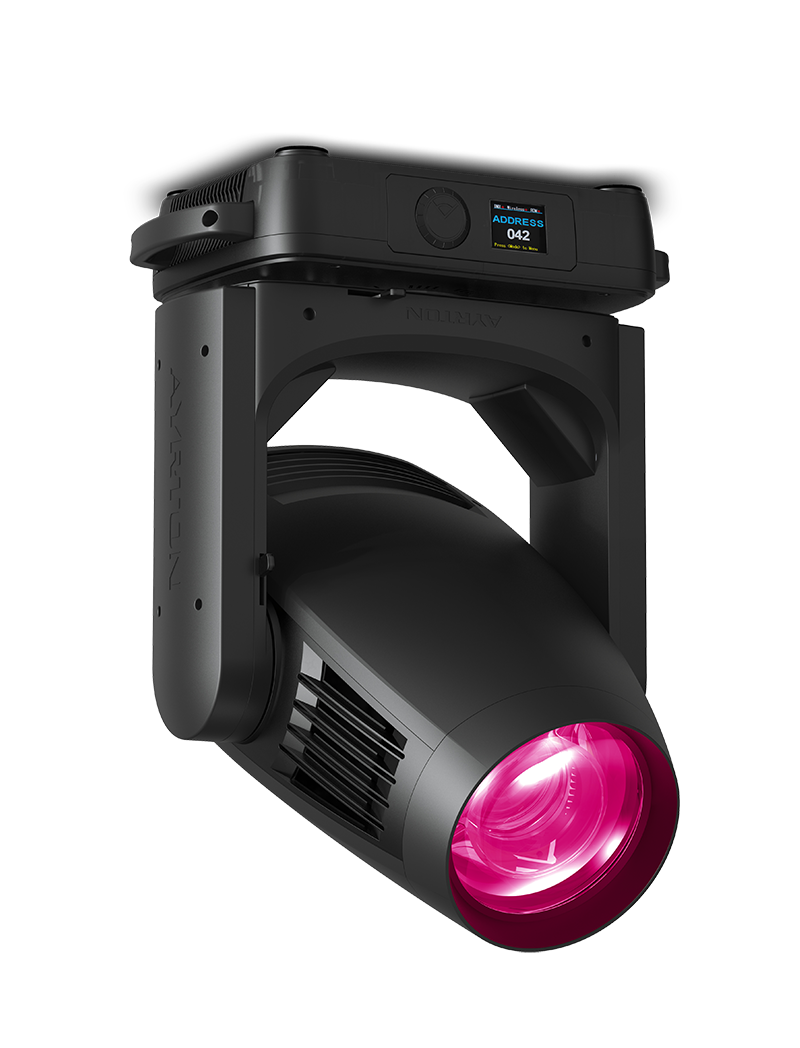 At a Glance
A Wash Fixture with Spot-Like Features
Unlike its trend-setting panel fixtures of a few years back, Ayrton's Bora-S looks more like other fixtures now on the market. But while it's designed to serve as a solid wash light fixture, the Bora-S has an interesting mix of features from hard-edged lights. The quality of the effects is apparent, as is the impressive output and color-mixing.
Ayrton Bora-S
PROS
Excellent brightness, gobos on a wash fixture
CONS
Non-attached standoffs on the color/gobo module can be troublesome
SPECS
Lamp Source: 750-watt White LED Engine
Wattage: 1150 at full
Iris function included
Zoom range: 8-64°
Gobos: six rotating/indexable
Color: CYM mix + 2 color wheels
Size: 29" x 19.5" x 11"
Weight: 83 lbs.
MSRP: $14,992
Manufacturer: Ayrton
More Info: www.ayrton.eu
Leave a Comment: