Chauvet Professional COLORado Solo Batten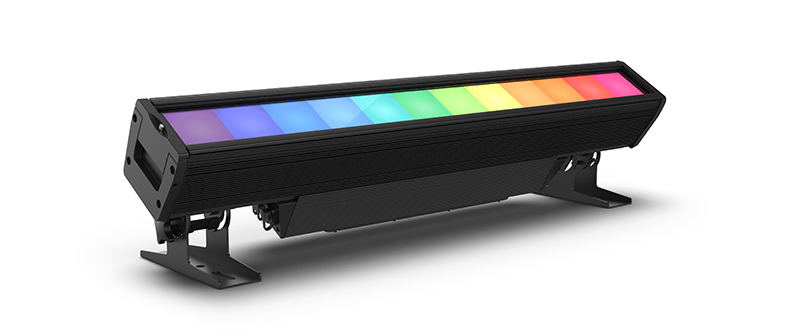 Chauvet Professional continues to be a top brand in entertainment lighting. Names like Rogue, Maverick and Ovation have become synonymous with touring and installation projects worldwide. Long before these became essentially household names, COLORado ruled the roost. Over the past few years, COLORado has once again gained prominence with the Solo series of pars. Now, Chauvet Professional has brought its A game again with the COLORado Solo Batten.
‡‡         Features
The COLORado Batten Solo takes its name from the fact that each cell is an entity unto itself. All of the color blending happens behind the lens so that the color that is emitted from the cell itself is blended perfectly to the exact color you are looking for. Designed with an array of 12 total cells at width of just over 1m, this fixture is comprised of a total of 144 individual LEDs. 12 red, 24 green, 24 blue, 24 amber and 24 white LEDs with a total power consumption of 331W (2.75A) @ 120V, the COLORado Solo Batten is all about punch. With a 20° by 16° beam angle and a measured LUX of 3,870 @5m and a manufacturer rated 6,968 output lumens, this fixture has more than enough juice to throw light up more than a 20-foot surface with no problem.
The fact that the fixture includes a glare shield is an added bonus. This means that the audience is not going to have to see any reflection from the top of the fixture, which is a really sweet addition.
The fixture housing itself seems to be designed for the zombie apocalypse as it is the most ruggedly built batten fixture I have ever seen. Combined with the fact that it is IP65 for temporary outdoor usage and its overall dimensions of approximately 40 by 9 by 10 inches, this fixture is a beast. Power is brought and sent from the fixture using Seetronic PowerCON IP65 input and output connections. Data is delivered by both 5-pin IP65 XLR and Seetronic etherCON IP65 Connections. The COLORado Batten Solo can be controlled by DMX, Art-Net and sACN, and it is completely RDM-enabled. Of further note, the fixture is designed so that all of the inputs are on one side of the base, while all of the outputs are on the other side, keeping all of your cable runs extremely neat and tidy.
Depending on how you set up the fixture, there are built-in color macros and color temperature presets. The colors range from Red, Green and Blue at full, with several presets in between. With regards to the white presets, they range from 1800K all the way up to 8000K, with staple presets like 2700, 4000 and 5600 all within the preset range.
Rigging is easy with the included floor trunnions that have a center bored M12 hole with two M12 slotted holes on either side, making floor installation or clamping to pipe/truss straightforward. I will say that with its weight at just over 38 pounds, it might be a two person hang.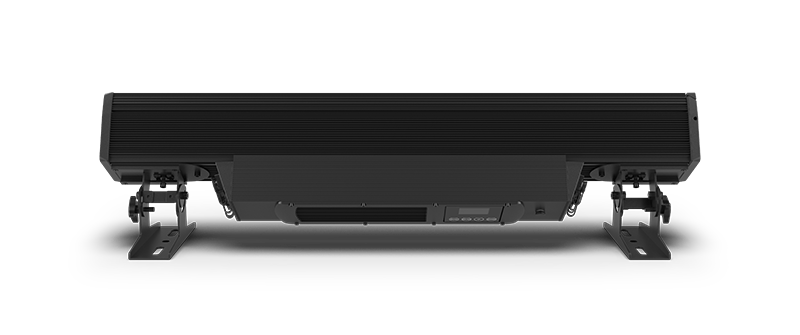 ‡‡         Control Options
Control wise, the options seem almost limitless. With personality configurations for 1, 2, 3 and 12 cell combinations with everything from a basic RGB to a full RGBAW 16 bit pixel mapping option, with a total of 36 different personalities, the COLORado Batten Solo is prepped to deliver. The maximum number of DMX channels the fixture can utilize is 160. Oh, but wait, there is more! With most fixtures like this, working out combinations of multi-cell personalities can be really difficult. However, Chauvet has figured out a way to make this really easy in a two-step process. First, decide how many cells you want to control, then decide how you want those cells to behave. During my tests, I tried out a few of the several different options. I went through the menu map and was impressed at how easy it was to navigate. Even though I had the online Quick Start Guide at the ready, I can honestly say that the menu guided me through the setup process. Thank you team Chauvet for not bogging the menu map down with extra menu options and layers that I really don't need.
There are built-in dimming modes ranging from linear to inverse square law as well as a selection of pre-built pulse width modulation settings to make sure that the fixture looks great on camera. There are also stand-alone functions including static colors, dynamic colors and a variety of different pre-built programs, and the user has the ability to customize those programs and recall them at will. The dimmer and strobe rates are all done electronically and can sync strobe perfectly at 25 fps. What I find remarkable is, this is the first batten I have played with where the user can randomly strobe the individual cells in one fixture so the fixture's cells are not strobing uniformly (in maximum extended mode).
‡‡         Application
So, it's a batten. And like all battens, it should wash walls and cycs, which it appears to do flawlessly. One of the major advantages of the "Solo" lensing design is that the color coming out of the fixture is already mixed behind the lens. This means that if I am in a setting where there is no ground row blocking the fixtures and I am shooting up , I don't have to see colors mixing on the bottom ¼ of the cyc or wall. If I want to see magenta, I can actually see magenta on the entire surface. Same goes in reverse. The color that is hitting the surface is the color that I want from the start. I don't have to make any sacrifices.
So, it's a batten, and therefore never to be used as a direct view fixture, right? Wrong! The lensing on the COLORado Batten Solo lends itself perfectly to direct view applications. Since the lenses themselves do not have any cross blending, each lens can be a pixel, and even when dimmed down, the lens still holds the color of the light extremely evenly, making it a perfect direct view effect.
At a Glance
A Batten to Watch
If you are looking for an extremely bright, well rounded, well- thought-out batten that can also be used as a direct view fixture, then you owe it to yourself to check out the COLORado Batten Solo. Each measures a bit over 1m and just less than 40 inches in length, with 12 cells and a total 144 punchy LEDs. Lux (3,870 @5m) and output (6,968 lumens) are ample enough for this fixture to easily light up a 20-foot surface.
COLORado Solo Batten
PROS: RGBWA LEDs in 12 separate cells. Random strobe between cells in the same fixture. 20 by 16 beam spread. Seamless end to end coverage when needed, instead of many separate circles. Homogenized beam with great lensing and glare free shield. IP 65 rating for protection from water damage. Dynamic macro effects included.
CONS: None
FEATURES
Light Source: 144 LEDs (24 red, 24 green, 24 blue, 24 amber, 48 white)
Color Temperature Range: 1800 to 8000 K
Lumens: 6,968
Illuminance (total): 3,870 lux @ 5 m
Selectable PWM: 600 Hz, 1200 Hz, 2000 Hz, 4000 Hz, 6000 Hz, 25000 Hz
Input Voltage: 100 to 240 VAC, 50/60 Hz (auto-ranging)
Power Linking: 4 units @ 120V; 8 units @ 208V; 9 units @ 230V
SPECS
Size: 39.86" x 9.06" x 9.84"
Weight: 38.6 lbs.
Power: 331 Watts
Beam Angles (H/V): 20°/16°
IP Rating: IP 65
MSRP: $2,481.20
For more information, go to www.chauvetprofessional.com.
For more information, go to chauvetprofessional.com.
Leave a Comment: