Claypaky Axcor Profile 400
To take a forward-looking view of the state of the lighting industry circa early 2019, one must almost certainly come to the obvious conclusion: that arc-based sources are in their sunset years. Unlike incandescent sources before them — whose demise was more gradual in part because certain segments of our industry entertained an almost magical belief about the quality of that light source — arc lamps are, for the most part, being supplanted by a technology that provides a nearly equivalent experience to discharge sources, without any of the hassles. LEDs last longer, run cooler, have less onerous disposal requirements, are less susceptible to shock, and have greater color stability across fixtures than arc sources. There are exceptions, but I think it's fair to say the vast majority of shows these days are going out with LED lighting of some sort, and more and more are using hard-edged fixtures with LED engines providing the light.
One of these, of course, is the fixture we review today, the Claypaky Axcor 400 Profile. Claypaky is one of the oldest intelligent lighting companies around, and they're well-known for making high-quality products. The Axcor 400 Profile is the middle fixture in a line that includes both larger and smaller LED-based offerings, and part of an award-winning line of fixtures: the Axcor line won the Gold Star from PLSN for Best Line of LED fixtures in 2018.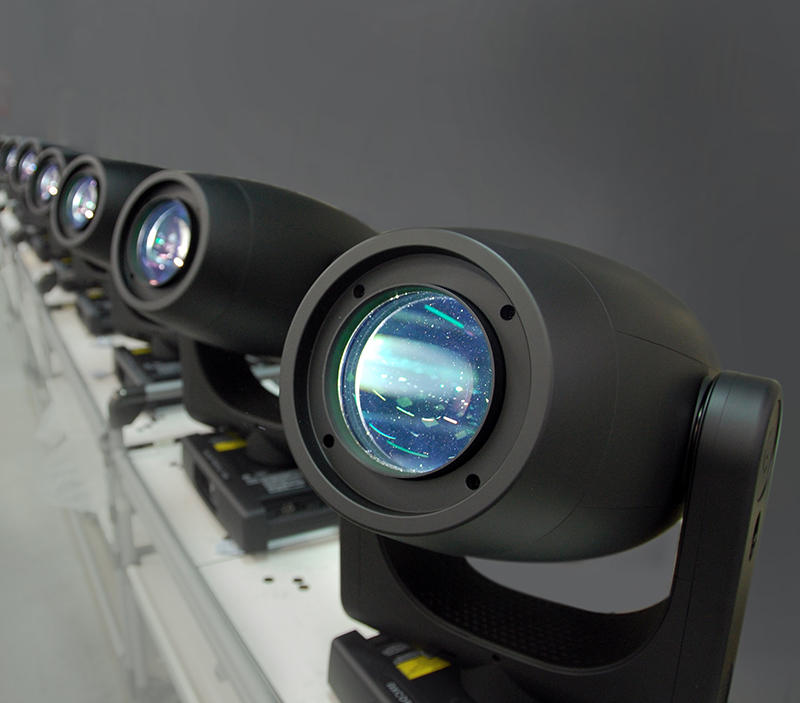 ‡‡         Light Source
The source for this fixture is a closed-box 300W white LED module, with a native color temperature of 6,500K. After passing through the optics of the fixture, that shifts down to 5,670K. (Claypaky also makes a version of this light with a higher CRI and lower color temperature.) This fixture came with its dimmer curve set to linear, though there are three other curves to choose from. Dimming was very smooth over nearly the entire range, with a small drop-off during the last 10 percent of the range. I measured an initial output of 4,050 lux at five meters at 50 percent zoom, and 3,688 lux after allowing the fixture to reach thermal equilibrium for 20 minutes, which represents a thermal drop of nine percent, which is relatively small for this class of fixture. Brightness consistency across the field was excellent, with no noticeable hotspots. Expected strobe functions are present, with random and other strobe effects, and they are synchronous up to 25Hz.
Pan and tilt ranges are 540° and 270°, respectively. A full-range pan movement takes 3.68 seconds, while a full-range tilt movement takes 2.25 seconds, and the fixture includes pan and tilt locks for fixture transport. Movement across the ranges was very smooth, even at slow speeds, with no noticeable judder or jumping.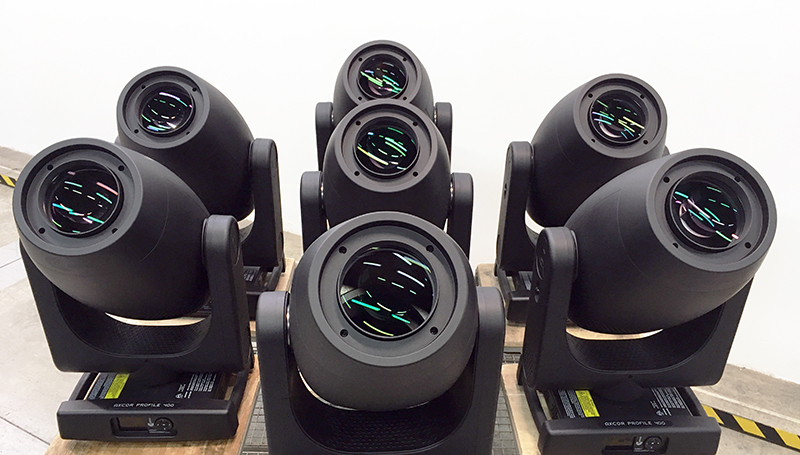 ‡‡         Color and Gobos
Immediately in line after the LED engine is the color and gobo effects module. The color mix system keeps with the method most other subtractive color system moving lights seem to be defaulting to these days: a flag system with the graduated dichroic filters closing across the beam like a pair of curtains. This system works well for snappy changes, which this light is certainly capable of. Claypaky has chosen a quite saturated magenta for this system, which results in deep mixed reds, which are generally challenging for white LED-based color mix systems. Lack of red energy in the source inevitably results in those mixed reds being less bright than other colors, but all color mix systems require compromise to achieve balance. A variable CTO channel smoothly adjusts the color temperature of the light down to 3,100K. The color mix curve in this light exhibits some noticeable lag at the bottom end, with nothing really happening until around 20% on the channel. Color evenness across the projected field and beam was good, with the expected variations depending on zoom and focus settings.
There is a fixed color wheel on the next module, which helps to fill in some gaps in the color mix system. This wheel has six colors plus open, with filters glued into place and therefore not user-replaceable. You can achieve split colors with this system, but the wheel is not smoothly indexable; the system only stops on whole and split colors. Claypaky tells me this will be addressed in the next software version.
Next in line is the gobo module, which also has the animation wheel and aforementioned fixed colors. There are seven indexable and rotatable glass gobos plus open, with a mix of patterns that would work well as both aerial effects and surface projections. Gobos exhibited very good center-to-edge focus, and rotation speed was very smooth down to the slowest speed, with changes between adjacent gobos being quite snappy. All patterns ride in a familiar carriage system, and can be easily replaced. This module also houses the animation wheel, which has a waves-like pattern, with insertion taking about 1.2 seconds. The wheel indexes and rotates, and can be used to build effective water or fire-like "organic" looks. A mechanical iris reduces the beam aperture, and comes with a variety of macros for easy programming.
Framing shutters are housed in the next module, with each individual blade able to cover the entire beam, and each moves very quickly. As with the framing shutter systems in Claypaky's other lights, the entire module can rotate ±45°, a move that takes approximately 1.4 seconds to cover its entire range. One feature I particularly liked here was the macro channel on the framing shutters — there are pulses, waves, and other interesting effects to be done with the shutters that quickly turns it into another effect, not just a way to mask unwanted light off scenery.
This light features a four-facet triangular prism, as well as a variable frost. The prism provides good image separation, and is indexable and rotatable. The variable frost is on a different plane than the prism, and so both can be used at the same time. This frost is moderately heavy, and leaves only a little of the gobos intact. While variable, it can be seen entering from one side of the beam, something to keep in mind if using it inserted halfway. Zoom adjusts smoothly from a punchy 5° to 43°, and covers its entire range in approximately 1.3 seconds. As a light aimed at smaller venues where noise might be an issue, the Axcor has three fan modes, one of which is a "silent" mode for noise-sensitive environments.
‡‡         Power and Control
The fixture accepts power in via a Neutrik PowerCON TRUE1 in, with no pass-through. Power draw is rated at 500 VA, and the fixture auto-ranges input power from 100-240V. Data is via 5-pin XLR ins and pass-throughs, there is also a single EtherCON port (with no pass-through) that accepts DMX via Art-Net. Fixture homing / reset from a cold start takes approximately 30 seconds, and the fixture begins outputting before it has reached its final pan and tilt positions, but Claypaky says that they will fix this in the next software version. Fixtures options and modes are set via the familiar Claypaky five-button battery-powered menu system, while rigging is via standard Omega brackets fitted with your choice of rigging hardware.
At a Glance
Compact, Yet Full-Featured
The Axcor 400 is an excellent midsize addition to the Axcor range, perfect for small theaters, houses of worship, or venues that need high-quality front light with framing capability. Like the other fixtures in the Axcor range, users have a lot to take advantage of, from the full-range framing shutters to the silent fan mode.
Axcor Profile 400
PROS: Full-range shutter system not frequently seen on lights in this power range. Fast movement.
CONS: No power pass-through
FEATURES
CMY + Linear CTO
One Color Wheel w/ 6 Colors
One Rotating Gobo Wheel w/ 7 Gobos
Rotating 4-Facet Prism
Animation Wheel
Motorized Framing System w/ 4 Focal Planes
Framing System Indexable over 90°
Mechanical Iris
Variable Frost Filter
16-bit Electronic Dimmer w/ 4 Curves
Electronic strobe @25 f/sec.
Three fan ventilation modes
STATS
Light Source: 300W White LED
Linear Zoom: 5°-43°
Color Temp: 6500K
CRI: 70+
Pan/Tilt: 540°/270°
Height: 25.5"
Base: 13.8 x 10.8"
Weight: 59.5 lbs.
MSRP: $9,400
Manufacturer: Claypaky
More Info: www.claypaky.it
Leave a Comment: