Pivot Cue 512 from Techni-Lux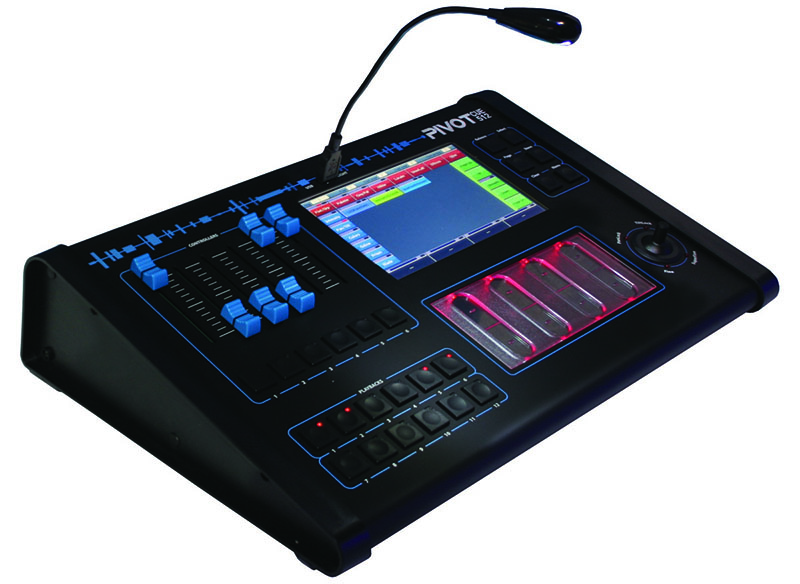 The Pivot Cue 512 is a standalone lighting controller that can handle whatever fixtures you decide to patch, either via the onboard library of pre-included fixture profiles or by using the offline software to build your own profile to manufacturer's specifications. The controller can handle up to 512 channels (one universe of DMX), but this can be expanded up to two more times by adding one or two Pivot Wing panels for a total of three DMX 512 universes.
‡‡         Structure
The Pivot Cue 512's build is solid, weighing in around 7.5 pounds. The encoder mechanisms, which are in the form of touch-sensitive pads, are actually quite responsive to human touch on both clean and dirty digits. The unit has a built-in, seven inch, touch screen where most of the user interaction takes place while programming, and there was no noticed deflection in the mounting of the screen or in the screen itself when interfacing through the menus. The screen is a bright thin-film transistor touch screen (TFT) with sensitive calibration, allowing accurate touch functionality. The screen can be calibrated through the Pivot Cue 512's menu system.
The main unit includes four touch encoders for access to fixture attributes, a pan and tilt joystick with coarse, fine and locking functionality and six access keys to critical functions in the menu. Pivot Cue's main unit also includes six playback faders that can be assigned cues, playbacks, or set as masters, all configured via the main touchscreen. There are six bump keys on the main unit that can become go buttons, flash keys or assigned DBO functionality. An additional 12 executor-type keys for instant cues and playback access are easily accessed. A white light 2-LED lamp with three settings (off, one LED, or both LEDs) is also included with the main unit.
‡‡         Expansion
To add a second or third DMX-512 universe to the Pivot Cue 512, up to two Pivot Wing devices can be mounted and connected to the main unit's sides by removing three screws and adding a strengthening brace, included with the Pivot Wing package. Each Pivot Wing addition, sold separately, adds one DMX-512 universe to the Pivot Cue, along with the six additional configurable playback faders, six assignable bump buttons and 12 executor buttons for access to cues and playbacks. The Pivot Wings connect to the main unit with CAT5 cables (RJ45 connector); with each wing having one 3-pin XLR that allows you to output your additional universe, from the wing itself. The added universes are plug-and-play with two screen touches for configuration. A wireless send/receive unit can be purchased as an accessory for the console.
‡‡         Operation
Pivot Cue 512 operates very much like its counterparts in the industry, allowing for palette-based programming of Intensity, Color, Gobos, Prisms, Positions and Blade palettes, all quickly recalled by touching the screen with a fixture or group selected. Techni-Lux has included a pre-programmed palette library for Lee, Gam and Rosco filter references for color choices when not using the picker or your own color palettes. When a fixture is selected, its editable parameters appear right above the four touch encoders for good workflow feedback. You can select and de-select fixtures or groups on the touch screen for storage of cues and playbacks. It doesn't take very long to get the hang of the Pivot Cue 512's workflow.
Techni-Lux has included quite a few features to the Pivot Cue 512 that give it easily accessible functionality beyond some of its competition. Some of the more notable functions include an RGB, CMY and HSB color picker that is changeable with a single touch, fixture control functions that aren't buried deep in a side menu (lamp on, lamp off, reset, et al), a functional effects engine that allows for live control of effects on the encoders without a fixture being selected, Remote Device Management (RDM) built into the system, diagnostic tools for the controller itself and input for a separately sold footswitch device that allows you to select a playlist and fire cues from that playlist. Functions like Patch are also simplified for fast setup and changes, going as far as giving you a separate window to name your fixtures and their systemic attributes. Pivot Cue 512 also has Highlight and Locate Fixture functionality for finding fixtures buried in your rig.
Users can have 12 cue lists running concurrently (or 24/36 with one/two Pivot Wings connected) and a maximum of 144 cue lists in 12 pages each for 999 total stored cues.
The unit features a USB port to back up and load files and load more fixtures profiles as needed. Techni-Lux is also continuing to add more fixtures to the thousands on their USB stick. The company is also continuing to offer software updates with new features and other improvements on a regular and ongoing basis.
‡‡         Accessories
Pivot Cue 512 has briefcase-sized flight case that secures the unit tightly and are configured for attached wings — there is a flight case for just the Pivot Cue 512 itself, a flight case for one attached expansion wing and one for the two attached wings configuration. Techni-Lux also has the foot switch available as a separate accessory, as well as the standard 3-to-5 pin XLR turnarounds.
At a Glance
Compact, Yet Powerful
Depending on your fixtures and your production, this is a solid controller for live events, corporate entertainment and small-to-medium clubs with an inventory of lower channel count fixtures. Pivot Cue 512 can handle a mix of moving heads, LEDs, conventionals and club fixtures with an easy-to-build effects engine and quickly recalled cues or scene snapshots.
Pivot Cue 512
PROS: Perfect for houses of worship, fashion shows and other events. Great color picker, loads of memory, cost effective. Impressive expansion wing capability. Sturdy road case.
CONS: Does not have 5-pin XLR connectors on back.
FEATURES
144 Cue Lists; each with up to 999 cues.
12 Pages of Playback
6 Playback Faders
6 Programmable Bump Buttons
12 Executor Buttons
7" TFT-type Touch Screen
2 Available Wings that Connect via Cat5
STATS
DMX channels: One universe per console/wing (3 total)
Size: 16.5" x 3.9" x 11.34"
Weight: 7.5 lbs.
Price: Pivot 512, $1,799 (MAP); Expansion Wing: $695 (MAP)
Available from: Techni-Lux
More Info: www.techni-lux.com
Leave a Comment: