The Ayrton Ghibli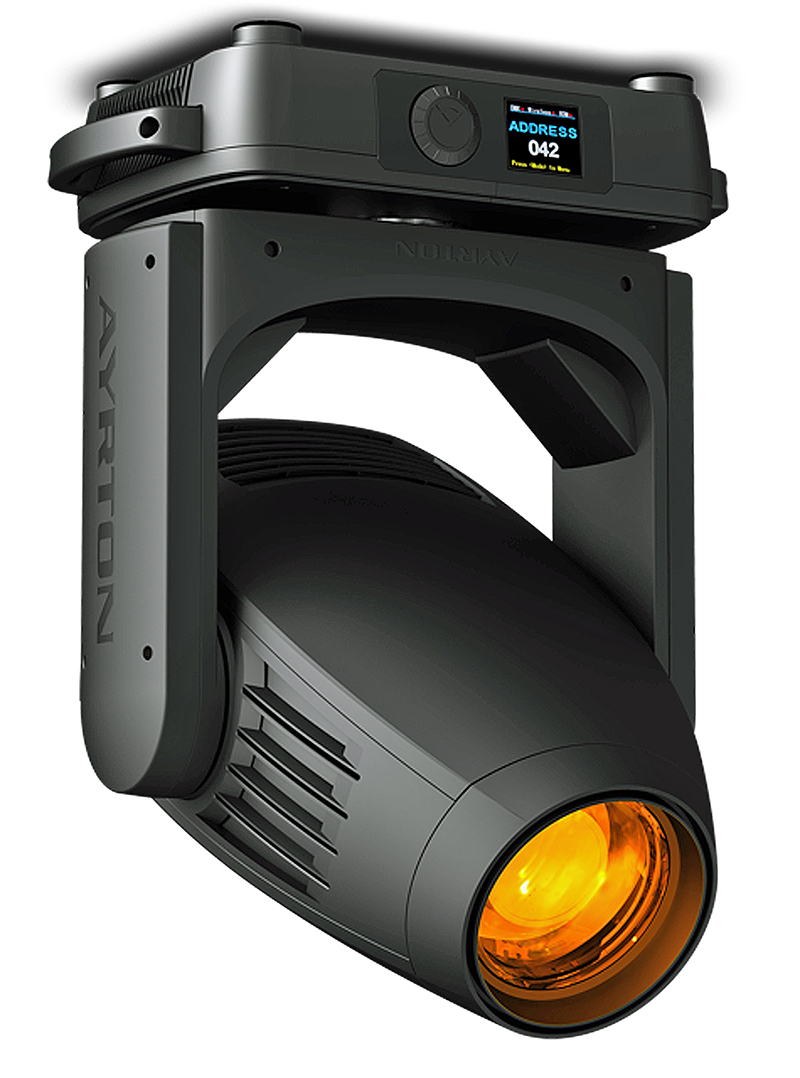 When Ayrton first showed their version of an LED sourced hard edged yoke light at LDI, most people went, "Huh?" Our industry has grown to expect major advances in LED technology through the many unique new light fixtures Ayrton seems to invent every year. So why did they design and manufacture a fixture to compete in a market with other manufacturers? Because they felt they could do it better. With my road test here, I have to agree. They have come up with an amazing fixture that lacks very little, if anything.
The Ghibli is not overly large, like similar fixtures from other manufacturers. It weighs in at 78 pounds, yet stands just under three feet in height. It will easily fit in most pre-rigged truss. While the skeleton is made of aluminum, the black exterior finish includes molded covers and heat sinks along with two handles for travel. There are eight mounting holes that allow two Omega ¼ turns to hold any clamp. It can hang at any angle. It has an IP 20 rating. It was simple to address the fixture through the LCD panel on the side, but note it can be done remotely through RDM.
‡‡         The Light Beam
The first thing I notice as I look at the beam projected on a wall 50 feet away is how even the edges are and how flat the field is at 50 percent zoom. Zero hotspots. The LED fixture spits out a reasonably bright 23,000 lumens, producing a monochromatic beam via a 30kW low-étendue white light engine. The intensity of the light source is guaranteed for 25,000 hours. From five meters away, I get a reading of 560 footcandles on my meter.
The beam is flicker-free for camera use, with a CRI up to 90. It is extremely white in color, with a natural 7200°K beam. The non-mechanical dimming is smooth and even all the way to the last fade. The usual random and sync strobe functions are available with a high rate of 25 fps.
The framing system offers four individual positioning blades with a head that can rotate ± 60°, which is more than most fixtures. The blades do move evenly, but they are not extraordinary fast enough to be used as snap effects. Each blade can wipe across the entire beam, making for clever reveals and fades on lit objects.
The optic system, on the other hand, is well-designed, with 13 elements that make up an 8:1 zoom ratio. It can zoom from 7° to 56° evenly and quickly through its motors. If you wish for the beam to snap in size, that is easily accommodated by the iris mechanism, which can snap or fade down to 15 percent of the beam size. The front lens has a 5.4-inch aperture suited for a spot fixture, with a bonus in that they are tempered anti-reflective lenses.
There is a frost system which allows the user to choose between two frosts — one that is light enough to take the edge off of any beam, and another that is a medium frost.
‡‡         Color Mixing
There is a CYM system that works fairly well in mixing most blues and lavs. Magenta is more on the rose side. As with any white light LED engine, the absence of a true deep red hue is noticeable when trying to mix the color. There is a variable CTO wheel that can step the native color temperature down to tungsten levels. It doesn't really help the color mixing get much deeper, but by itself certainly turns the native cool tone to a warm beam.
There is a seven-hole color wheel as well. It includes a good red and a dark blue. A unique color appears in the seventh slot, which is a high CRI filter. When placed in the beam, it gives the light a pinkish hue.
‡‡         Breaking Up the Beam
The Ghibli comes with two gobo wheels. One is an indexable/variable speed rotating wheel with seven slots for high precision glass gobos. The stock gobos make great aerial break ups, some of which are new to my eye. They include one gobo that mixes in a yellow dichroic with the normal white hue. It looks fairly cosmic when spun with various CYM colors mixed in.
The other is a static wheel with eight slots for the user to choose from. The gobos are interchangeable. Other than a standard cone gobo, the rest of them are made for texturing objects.
In addition, there is a graphic animation wheel that can spin at variable speeds in either direction. A rotating/indexable five facet prism is another feature that splits the beam.
‡‡         Control
The fixture can run in three separate modes ranging from 34-58 DMX channels. DMX can be fed to the fixture through 5-pin XLR in and outs or via Art-Net protocol through an RJ45 connector. The Ghibli comes equipped with an integrated DMX-RDM wireless receiver from LumenRadio.
The fixture ran smoothly at slow speeds, and I was very impressed with the high speeds in which it could snap from one position to the next. The fixture could execute a circle move flawlessly through an effects engine on the console, even at a pretty good speed. I ran it in 16-bit mode. Typical 540°/280° pan and tilt ranges exist, as does auto repositioning should the fixture get obstructed by anything temporarily. The fixture features stand-alone as well as master/slave mode options that I did not test.
AC is fed thru a Neutrik locking connector into a self-sensing power supply that can run between 110-240 volts at 50/60hz. It consumes 900-watts maximum. The fixture includes a new, highly effective phase-change liquid cooling system that utilizes a heat pipe. After being on at full for 20 minutes the outside of the molding felt quite warm, but I wasn't burning myself. The unit contains self-adjusting variable speed motors for quiet operation as well as selectable ventilation user modes.
A.C.T Lighting distributes the Ayrton line of fixtures in the U.S.
"Me-Too," Maybe, but Better
Instead of creating a revolutionary lighting fixture that no one's ever seen before – which is what you usually expect from Aryton's product development team – the Ghibli appears to be very similar to other lighting fixtures now on the market, but with a focus on doing things better. We were impressed with the result.
Ayrton Ghibli
PROS: Flat field. Good output with even dimming. Fast movement, good choice of stock gobos. All the bells and whistles including a framing system.
CONS: None
FEATURES
30K LED Light Source
7200°K Native Color Temperature
Wide Zoom Range (7-56°)
CYM Color Mixing + Color Wheel
5-Facet Rotating Prism
Light and Medium Frost Filters
Replaceable Static and Rotating Gobo Wheels
Animation FX Wheel + Iris
STATS
Size: 19.5 x 14 x 31.3"
Weight: 78.5 lbs.
Max. Wattage: 900W
MSRP: $11,800
Manufacturer: Ayrton
More Info:
Leave a Comment: