The grandMA3
Perhaps the biggest news on the floor at this year's Prolight + Sound show was the unveiling of the grandMA3 console, which will start shipping this summer. It was the most talked-about lighting product, and not only did they have a booth full of the desks for folks to get their hands on, there was a fully packed presentation every hour showing the basics of what the new desk offers. I sat down with Will Murphy from ACT Lighting, the exclusive distributor of MA products in North America, to get an overview of grandMA3.
‡‡         First Looks
The first thing I noticed is the "push to erect" function is gone. That's because the entire top display part of the console now folds all the way over on top of the desk for travel. Rest assured, you can easily grab the top from any side and move it into whatever position you'd like, and while you can do that with one hand, there's enough built-in resistance for this moving part to stay in position without any locking mechanism. The stop points while folded also prevent the screens from smashing against the surface of the desk. MA Lighting even offers a "Control Room Version" of the desk, which doesn't have the monitor wing. The user can connect their own touchscreens or monitors with the extra external Display Ports and mount them on a wall of said room if they wished.
While slightly smaller and lighter than the grandMA2 Full console, the full-size grandMA3 still includes 30 faders. As with previous grandMA desks, there are several models to choose from. The difference this round is that all of them now come with motorized faders, including the onPC command wing. What's immediately noticeable about the faders is that there are now more freely assignable buttons and new executor knobs located above them. Everything is lit with LEDs, and the faders, knobs and dual-encoder LED backlights are all color-programmable by the operator.
The playback faders are all RGB backlit with a thin line of LEDs. The logic for this is pure heaven for myself and anyone who likes to punt shows on their consoles. The user-defined theme options seem endless, but the easiest way I can explain this function is that one can choose a color, such as blue, and have any fader that is active be surrounded with a thin blue line of LED. Then, perhaps, any other fader that has info in it, but is NOT active, would be a different color. Perhaps if a fader only has movement values in it, that could be designated green. If the fader is empty, I would just leave the LED function off, signaling the user that there is nothing to be gained moving that fader. This is clever — the labeling of legends for each fader is the same as it's always been, but now on the new letterbox display screens above them.
The flash buttons have changed once again on this version. They now resemble caps from a keyboard that are narrower at the top, preventing the operator from fat-fingering two cues at once. Unfortunately, there is no click on these buttons like the grandMA1 had, so the operator cannot feel the actual GO through his finger except for the stop point at the bottom. But the new buttons are definitely an improvement considering the new cap design and lower travel. The cues are not activated until the button reaches the full bottom of the press as the bottom is the actuation point for the button. In the grandMA2, the buttons would execute the cue when only pressed down partially. Now a user can rest their finger on a button in anticipation of a cue and not be concerned with his jittery finger executing it early.
Speaking of keyboards, it is still located in the drawer on the right, but they have spaced it correctly in relationship to the playback and programming sections. In the grandMA2 there was some inconvenience with the location being farther to the right, and operators were bumping their hands on the keys inadvertently and twisting their backs. There are several USB 2.0 and 3.0 connections one can use, and the show is still savable on these external devices. One such location is in the keyboard drawer, and a USB stick can live in that slot forever if you wished. Unfortunately, we no longer have a junk drawer to throw our brushes, notes and general stuff in.
‡‡         Execution
The beauty of the grandMA consoles has always been that each user seems to set them up differently. There is no wrong or right way. That's why these new options for users are important. Above and below each fader are the usual assignable flash buttons we had on the grandMA2. Under the first small command screen on the right side are 16 assignable x-keys, like before, except they are minus four. Before users complain, they should note that the loss of four x-keys allows for a gain of 60 more buttons above the faders as well as these new knobs that have a push-to-click function.
Why would you throw an extra set of buttons above the fader? Because this company is genius. First of all, many programmers attach other cues to be activated through macros from a particular cue elsewhere. We stash these outboard cues somewhere. But too often in life, we end up reorganizing our playbacks and moving stuff around, often to new pages or buried in far off locations. For me, I would like to put these extra cues somewhere that I can always easily find them OR need to release them quickly if a client jumps around in their cuelist unexpectedly.
There are also two sets of little knobs above each fader. This immediately reminds me of the Celco Gold consoles in the 80's. You can use the knob as an inhibitor if you want, so the fader below it (or whatever you assign the knob to) can't go above a certain percentage. I will find myself using these knobs to adjust my size and speed of effects that may be in a fader. For those of us who work festivals and like to run our whole show from one page, we hated having to give up two faders for us to manually change attributes. I do notice an additional eight knobs above the 16 x-keys under the small command screen. The executor knobs are continuous; there are no end stops.
‡‡         Displays
On the full-size desk, we still have the three large touchscreens we are used to. There are no hard keys on the side to change views, but the on-screen View Buttons are still there. On the bottom are two Internal Multi Touch Command screens in the place where there used to be one display. My question — "Huh…why?" — was immediately answered by the operator showing me examples. For instance, you could be looking for a new color and pop open your options so that one screen has sliders for separate RGBW hues while the other screen may have a color picker. Or say you want your effects library on one page and your effects programmer on another. Basically, having two of these screens will eliminate a lot of page changing back and forth, speeding up programming.
The displays now act in a much cooler way. They are all multi-touch and have expanded functions, such as doing different functions when you use two fingers on the screen at the same time. The palettes also have much improved interactive functionality. You can select fixtures and store your presets faster by simply holding your finger on the screen. By easily putting your finger on a palette square, you can swipe on the screen and it opens a pop-up offering the user seven options of what you wish to do to that object (i.e., Move, Delete, Label, etc.). Speed and delay data can be added to palettes, and one can now use whatever scribbly text or color to label each individual palette.
MA Lighting has also addressed the issue of sunlight on screens. There are now different "themes" one can apply to the screen to make it easier to view. Particularly awesome is the Daylight theme, which adjusts the color temperature of the screen itself. You can even program your own themes if you want.
There are three smaller new displays on the full-size desk, located just under the main displays, that are referred to as letterbox screens. Currently, these screens show the Executor Title Bars and Encoder Bars. As for myself, I hope they become fully customizable so I could put timelines in place for film shoots and time-coded shows (Note: This isn't implemented yet, but will come in time).
A wonderful note is that the visualizer is now built into the grandMA3 software and renders on any screen, or could be in session with grandMA3 onPC connected to a big screen. The software will include a primitive media player for output to projectors, LED screens, and pixel mapping, but probably won't replace a full scale media server with warping and 3D mapping, etc.
‡‡         Encoders, Grand Masters, Odds and Ends
There are now five large encoders in the usual place for grabbing attributes. These are all now dual encoders that have an inner and an outer ring. They are user definable. The beauty of this can only be imagined until you got around to using them. Envision encoders where the outer ring moves the coarse values to rough in a focus or a color hue, then you tweak the inner knob to adjust the fine value. Or say you have a fixture with RGB as well as a color wheel and a variable CTO channel. They are all at your fingertips now. Nobody likes changing pages to hunt for those values.
There are a couple of extra faders and knobs located in the middle of the desk. They do not have a fully specified function yet, but MA has the foresight to look into the future and know more great ideas will come forward. Noticeably absent is a Grand Master fader, it's just a rotary knob now on the top right. (But users can still turn any fader into a Grand Master if desired.)
‡‡         Models
The full size and light versions of this desk will no doubt be the workhorses of the line. The light console has half of the playback faders and encoder knobs. It only offers two of each type screen. Both these desks come in a control room version (CRV), which lets users discard the top display section of the console, thus allowing for clear sightlines through a window or the back of the room. The missing monitors become extra Display Ports on the back.
The compact line consists of two models. The grandMA3 compact XT has 15 faders and many encoder knobs, but only two large displays, no letterbox or command screens. The smaller grandMA3 compact has one screen and ten faders. This looks like a command wing with a flip-up monitor and built in processor. Both of these desks offer use of 4096 parameters out of the box, but are expandable with PU's up to the 250,000 parameter limit of grandMA3 system. The grandMA3 onPC command wing offers 10 motorized faders and 5 dual-encoders that you can hook up to your Mac or Windows PC for operation (note: the Mac version cannot output parameters).
As noted earlier, the July 2018 issue of PLSN will feature a report on the new software. The functionality is improving for sure, but the fundamental syntax has been preserved. We leave you with a one-word teaser to pique your interest until then about this function — "phasers" — along with a promise that it will be a game-changer for lighting designers and programmers.
New and Improved
The grandMA3 preserves the syntax along with the 30-fader layout and three large touchscreens of the full-sized grandMA2. The grandMA3 also continues MA Lighting's emphasis on making it easy for operators to set up the desk to meet their individual needs.
Along with all this continuity, hardware tweaks include a slighter smaller and lighter-weight form factor for the full sized console along with more assignable buttons and new executor knobs and a thin line of LEDs that can be color-coded by the operator. The touchscreens are also multi-touch with expanded functionality including the ability to adjust the color temperature with the Daylight theme.
grandMA3 Console
PROS: More display screens, dual encoders, themed screen looks, LED lined faders, executors and knobs, 250,000 DMX parameters on one desk, new palette attributes, triple the number of executor buttons and the addition of encoder knobs. Better key board and thinner caps on flash buttons. Built in rendered version of MA 3D visualizer. Control Room Version available.
CON: There is no "click" feel to the executor buttons.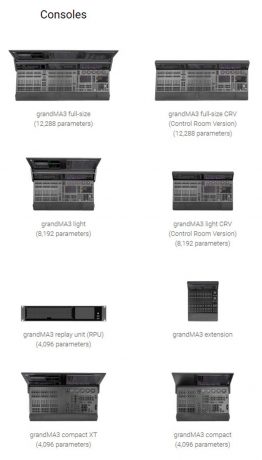 Console Options
As with the grandMA2, the grandMA3 family includes a variety of console options to meet individual user needs. They include:
The grandMA3 Full Size console. The flagship, with 12,288 control parameters via 120 physical playbacks and 16 assignable x-keys.
The grandMA3 Full Size CRV. The same as the Full, but without the monitor wing. Designed for control room use with external monitors.
The grandMA3 Light and Light/CRV. With 60 physical playbacks and 16 assignable x-keys. The Light has two main screens; the Light/CRV (like the full-size CRV) is designed for use with external monitors.
The grandMA3 compact XT. The larger of MA Lighting's two compact consoles still has two large multi-touch monitors, 5 dual encoders, 60 physical playbacks, 16 assignable x-keys and 4,096 control parameters.
The grandMA3 compact. A single multi-touch monitor, 5 dual encoders, 40 physical playbacks, 16 assignable x-keys and 4,096 control parameters.
Other grandMA3 products: The grandMA3 line of lighting control products includes the grandMA3 Extension, grandMA3 replay unit, and three processing units (XL, L & M). Also available: 8, 4 and 2 port nodes; grandMA3 onPC and onPC command wing; and onPC 8, 4 and 2 port node 4K options.
Manufacturer: MA Lighting
Distributor: A.C.T Lighting
More Info:
Leave a Comment: