Hall & Oates and Train 2018 Tour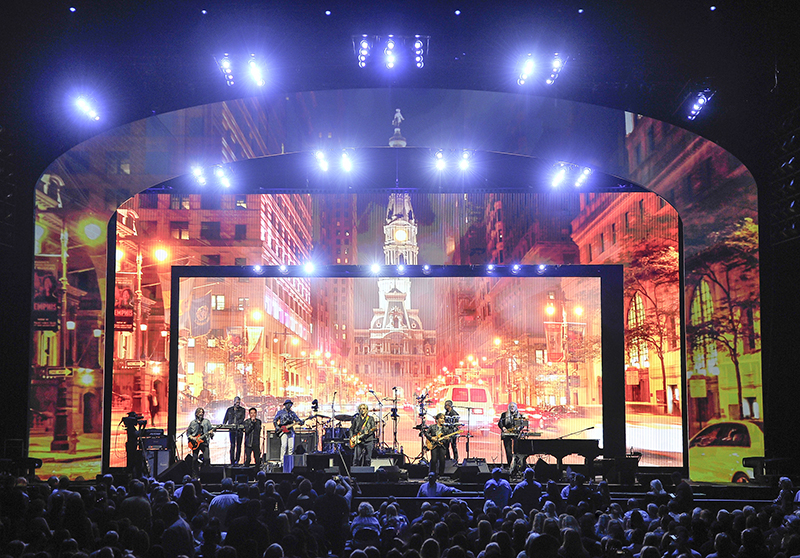 Lighting Co
Morris
Venue
Various (Tour)
Crew
Production Designer: Paul "Arlo" Guthrie
Lighting Designers: Paul "Arlo" Guthrie (H&O), Joel Wojcik (Train)
Programmers/Lighting Directors: Dave Carr (H&O), Joel Wojcik (Train)
Tour Managers: Rick Rosabella (H&O), Sam Mitcham (Train)
Production Managers: Jesper Luth (H&O), Doug Daishall (Train)
Production Assistants: Chris Leahy (H&O), KC Napper (Train)
Stage Managers: Chris Fuller (H&O), Tim Peffer (Train)
Lighting Crew Chief: Lucas Peterson
Lighting Techs: Ian Rehn, Gabriel Vejar
Video Director: Jesse Byrd
Video Crew Chief: Annie Hallquist
Video Techs: Peter Wells, Jorge Paredes, Brian Roberts
Automation: Michele Maglich, Christian Hindley
Riggers: Eric Keeble (Crew Chief), Jeffrey Carnegie, Charles Phillips (also carpenter)
Morris Account Rep: Joseph Logsdon
Video Co: MooTV/Travis Walker
Rigging/Automation: ARS/Jon Wismer
Gear
Lighting:
2       grandMA2 Full consoles
66     Claypaky Sharpy Wash 330's
51     Claypaky Mythos 2 fixtures
18     Robe BMFL BeamWashes
11     Portman Custom P1's
40     Elation Fuze Par Z120 IP's
4       Chauvet COLORado 1-Tri Tours
2       Antari F7 Smazers
Video:
1       Barco S3 JR Event Master processor
1       Ross Carbonite 2ME switcher
2       Barco HDX-W20 projectors
2       Barco HDF-W30 projectors
4       Novastar 4K LED processor
474  Gtek Innopix 5.9mm LED tiles
2       Da-Lite Fast-Fold Deluxe HD screens (25' x 14'7")
2       Green Hippo Hippotizer Boreal+ servers
2       Catalyst v4 media servers
Designer Insights by Steve Jennings
Daryl Hall & John Oates are back out on the road for another go around after last years successful arena tour with co-headliners Tears For Fears. This year H&O have teamed with another strong co-headliner, the band Train. We spoke with some key individuals from both band camps about the current tour – Jesper Luth, Production Manager for Hall & Oates, Joel Wojcik, Lighting Designer for Train and from the tour lighting company, David Haskell (President of Morris Light & Sound) and Joseph Logsdon (Sr. Account Manager at Morris Light & Sound).
Luth, who has been with Hall & Oates since 2003 says that working with the band and their management is always a great experience, a total non drama experience.
"Its been an exciting growth over the last four years where we've gone from 1 truck to 7, and a touring crew of 9 to 28. For the current tour we started the discussions in October last year, then went into design conversations with production & lighting designer Paul "Arlo" Guthrie in December. With renderings in January then approval for the design from Daryl and John at the end of February we then got things started in March with the tour vendors- Morris for lighting and MooTV for video."
Programming the lighting rig was done over 10 days at the Bridgestone Arena in Nashville. H&O programmed during the day, Train at night.
"We then loaded into Sacramento's Golden 1 Center arena on April 28th, rehearsed for 3-4 hours with Daryl and John on the 29th, Train on the 30th, with the start of the tour on May 1st.
"It's always a pleasure working with Arlo. I've known him for years and I love his design work. Dave Carr (H&O lighting programmer & director) is new to us, he was recommended by David Haskell with Morris Light & Sound. Jesse Byrd has been directing cameras for us for the last 3 years, MooTV introduced us to him. The 3 of them work well together to create a solid show.
"We were off to a slow start as we only had 1 load in day besides going into programing in Nashville. We only brought in lighting and video in Nashville. After the Sacramento tour opening date, there's always at least 1 day off in between shows. Finding a stride took a while."
Working with H&O is old school. They don't use any playback, click tracks, etc. says Luth. "The tour getting bigger every time has been an exciting experience. Working with Train is an absolute pleasure. Many times a co-headline tour can become a silly battle of egos, the ole alpha dog scenario. Not with these guys, I'd tour with them any time!"
This was the first time I had working with Arlo, says Wojcik. "I have to say it was great. His methodology to how the lighting and video was laid out is amazing. Its hard to swallow using the term "Old School" without it singling us out as getting older. But it has the mentality of the glory days of Rock N' Roll with large par can rigs and forethought into what each look needs to be. Sure we can use every light at every given moment, but thats the easy approach with less drama and surprise. Its good to challenge your senses. To add depth."
For the Train portion, Wojcik came in with a less is more approach. "We didn't have any gimmicks or additional lighting. We stuck with the trusses in a static position and really let the band dictate the energy and have the lighting and video complement it.
"Rehearsals were incredible. It was just lighting and video with no artists. Arlo, Dave (Carr) and myself worked 12 hour split shifts in Nashville for a little over a week. Arlo and Dave had the early shift and I had the night shift, we were literally ships passing in the night. We were "hot racking" the consoles, lighting and video- to put it into Navy speak. But this test spoke wonders for the lighting and video crew. The gear was running non stop for 10 days.
"Dave did an amazing job of putting together a 3D file and layout for me to start from. It's always great to pick up tricks from other LD's. Just when you think you have all the tools you need someone comes along with another macro or plugin that changes the game. Dave and I have a good relationship that way. We are always watching each others backs. When I walked into rehearsals I had my layouts set and felt I knew my way around the rig which saved time to jump in and program.
"It was great to be around Arlo and listen to his advice as he was directing the Hall & Oates cueing. For me I was coming in blind on Train. I had one show under my belt to draw a story line from. Train has 10 albums of material and I was stepping into the shoes of great designers before me… No pressure!"
Both H&O and Train have given LD's Wojcik and Carr challenges along the way, be it new songs, new video… "We're kept at our "A Game"… says Wojcik. "But I like that, it keeps things fresh and we both have a calm demeanor that extends to others around us. A large arena can get small if things aren't going well.
"I really want to say how great everyone is out here. The vendors on this tour (Morris, MooTV, and ARS) have their hands full from start to end every day but they keep a rhythm and make it happen. I love them for it. I have made a ton of new friends. Its tours like this that make touring enjoyable. It gives you a sense of purpose and pride.
"The great thing about Hall & Oates, and Train is that they want a night of fun for everyone. It wasn't a matter of you get this and we get that. It was about giving the audience a night out to forget about the outside world and let go. I would like to think we have achieved that."
The previous Hall & Oates production manager, Ed Wannebo connected Morris Light & Sound with Jesper Luth back in 2015. Since then they've provided the band with a lighting package that continues to enhance each year, notes Haskell.
"During our preliminary discussions about the 2018 tour, Arlo gave us a suggested list of fixtures. We then worked with him on our available inventory and came up with a final equipment list that was suitable for both the production and the artists' needs."
Arlo's production design is outstanding, says Logsdon. "It's a seamless arc of stunning video content and tasteful lighting that elevates every song to the next level. The selection, placement and programming of the lighting package transports the audience to different places as the bands cycle though a string of hits. I've attended several of the tour dates and am proud to say that the experience from the audience has never looked better. The production design takes that artistry to the next level.
"I've had the pleasure of working with Jesper (Luth) since the fall of 2015 and his passion and keen eye for production has shaped an experience that's not only been fun, but has fostered an environment promoting technical excellence and artist growth. We are very thankful for our relationship and are excited for what the future holds."
More 2018 Hall & Oates and Train photos by Steve Jennings:





















































































Leave a Comment: