Honda Masters Circle/Kenny Loggins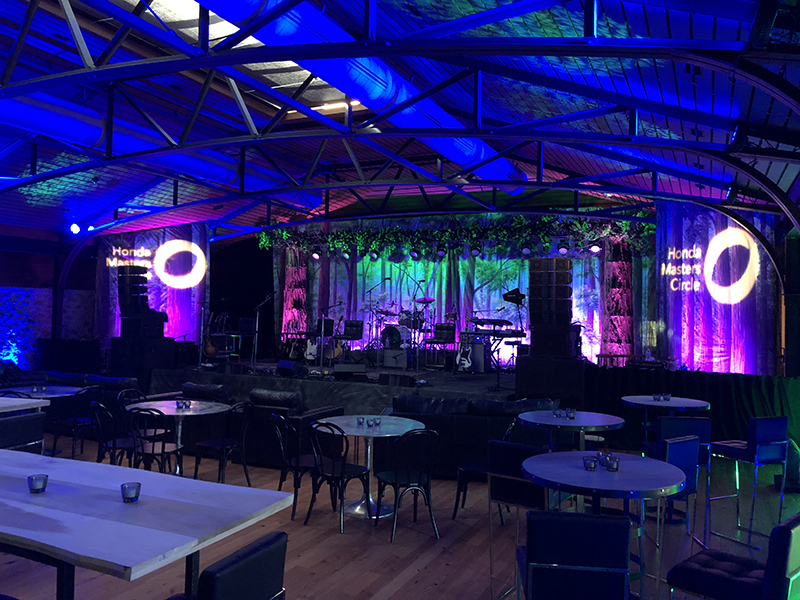 Lighting Co
LD Alliance
Venue
Freemark Abbey Winery,
St. Helena, CA
Crew
Production Manager/LD: Rick Raymond
Lighting Director: David Chance
Promoter: Marketing Factory Inc.
Lighting Tech/Rigger: Dan English
Staging Carpenter: Ken Fisken
Set Design: ASHOWGO, Inc., Rick Raymond
Staging/Set Construction: Argent Event Productions
Gear
1          grandMA 2 Full console
16       Martin MAC Auras
8          Elation Rayzor Q12 fixtures
9          ETC Source Four Ellipsoidal 10°
1          Vari-Lite VL2500
7          Philips Color Kinetic ColorBlaze 72 (backdrops)
24       Philips Color Kinetic ColorBlast 12's (uplighting)
20       Chauvet COLORdash Par-Quad 18 (roof truss)
6          Chauvet COLORado 1-Tri Tour (tree uplights)
10       Martin MAC 250 Entours w/custom leaves gobo
13       12"x12" truss sections (8 x 10,' 1 x 8,' 4 x 2,')
15       Argent 8' x 4' decks w/3 step units
1          Custom "forest" stage cover
2          Custom "redwood tree" vertical truss covers w/branches
Event Details
Inspiration for the set design came from the client's decision to use a Northern California location, and from having Kenny Loggins as the featured artist. 2018 marks the 25th Anniversary of Loggins' Northern California Outside — from the Redwoods (Live) album and DVD.
Leave a Comment: