The Pixies 2014 Tour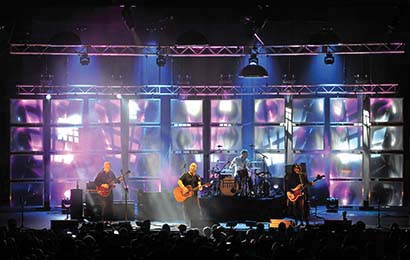 Lighting Co
See Factor
Venue
Various (tour)
Crew
LD/Lighting Director/Programmer: Myles Mangino
Lighting Crew Chief: Robert Fuller
Lighting Tech: Christopher Pedersen
Production & Tour Manager: Simon Foster
Band Manager: Richard Jones
Trucking Co: Upstaging
Gear
1 MA Lighting grandMA2 console
1 MA Lighting onPC Command Wing
15 Martin MAC Viper Profile
12 Martin MAC Aura fixtures
4 Martin Rush MH 3 Beams
6 Color Kinetics ColorBlast IW fixtures
3 Martin Jem K1 hazers
More Pixies tour photos by Steve Jennings at www.plsn.me/Pixies2014
LD/lighting director Myles Mangino has been with the Pixies since their inception, almost 27 years now. PLSN had a chance to speak with Mangino about the current Pixies design for their 2014 tour.
Myles Mangino
Lighting Designer & Director
"In lighting the current tour design, I'm thinking… lights produce beams, video screens and fabric hold images… I was looking for a set piece that would both hold an image in daylight, and produce a beam in the shape of the image. So I began experimenting in the See Factor shop with shining beams through large Fresnel lenses from a distance of 10-20 feet. I was able to produce some very unique effects. Then in my research I discover there was a guy in the Deep South who was collecting up old rear projection TVs, breaking them apart and selling the front Fresnel lenses as solar cookers. People in rural areas build wooden stands and keep these lenses in their yards to boil water or light their barbecues, using the sun. They are basically giant magnifying glasses. On a sunny day they can melt through an iron pipe in seconds! There are also loads of YouTube videos of people doing 'scientific experiments' with these TV lenses. Basically timing how fast they could melt or blow things up. I managed to wrangle up 48 of these old rear projection TVs, pull out the lenses, and build frames onto them. That became the foundation of this set.
"The second element are the mirrored domes. Originally these were giant Christmas ornaments that were hanging in New York City that had been discarded. When they were opened up, we discovered they were mirrored on the inside. Those wound up getting smashed up on the first two European legs of the tour, so I replaced them with the current domes. These were manufactured by a company that makes those hemisphere mirrors you see when backing out of a driveway. We simply inserted mirrored plexi sheets in the moulding machine upside down and got a parabolic reflector. One of these hangs over each band member's head, and the primary key lighting comes from a Martin MH3 beam on the floor behind them reflecting through each of their domes. Sometimes it produces this Star Trek transporter-type beam, depending on where you hit them. For the Pixies, I am always looking at ways to key the band that is different than what is normally done, yet satisfies the audiences need to see their performance clearly and feel a connection.
"On this show all of the upstage lights must travel through the TV lenses (or through the spaces between them) to hit the stage. These lenses were originally designed so that the RGB projectors in the TV sets could produce a 180-degree-wide image from a projector that was less than 12 feet away. So they have tiny vertical Fresnel cuts in them. When a sharp edged beam is shone through them, it outputs at the opposite angle it entered the lens and produces these bizarre beam-bending effects. If you hit them out toward the far left or right edges of the lens, the beam make a right angle on the output. It looks quite amazing. And since you see the shape of the beam on the lens, and then the beam emanating from it, it also gives the appearance that the source of the light is moving around back behind the lens wall.
"The strongest element, and my current favorite fixture, are the Martin [MAC] Vipers. To me, the speed and responsiveness are unmatched. The Pixies are completely live, they knock out 33 songs in an hour and a half and barely leave a second between songs. We never know what song is coming next. Charles (a.k.a. Black Francis) just starts a song, and everyone has a second or so to figure which of 70 potential songs it may be. Including the band! I can generally guess what is coming next by what guitars they are playing, or even the musicians' positions on stage. I then need about a second to switch executer pages, slam up the Mark cue, and start jamming.
"To keep the Pixies shows looking as alive and organic as the music is, I run everything off of temp faders. Never hit a go button, no cue lists. This allows me to push, expand, saturate or open the lights dynamically with how the band might be playing the song this time. It's all quite live.
"The second fixture type are the Martin [MAC] Auras. It's my go-to for general washes, because I really like the deep saturated colors, and for an LED, they can output a pretty good CTO. Martin asked me if I would try the MH3's on this tour in place of the Sharpys I had been using in Europe. They worked flawlessly on this run. And I was a bit less worried about setting the backs of guitar amps on fire, as they do not produce the same level of heat at close range. (Not like I have ever done that….lately…)
"For each tour, I draw up a proposal, do 3D renderings and make videos of experiments with the set pieces, which I go over with RJ, the band's manager. Primarily to figure out how we can keep a consistent look in different size venues and how we can transport it all to different parts of the world. I come up with a unique look for each tour, and then we'll take that core look out on the road for a couple of years and adapt it to the different regions. I've been using a grandMA2 for the past few years. Love it. It feels very creative, and I've never come across anything I want to do that it can't.
"I have two techs, Robert Fuller and Chris Pedersen that handle the U.S. tours. I wish I could take them everywhere with me. They are amazing. They have this rig up in three hours, and on this last 35-show run, I never had a moment during any show were it was not running at 100 percent. No failures. The next few legs are all festivals. So I am on my own for a few months, doing my best to adapt our set and cues into the festival rigs.
"The Pixies tours are like a family. We have all worked together for many, many years. And like their music, everything is tight, simple and enduring. We have the smallest possible team on the road. Everyone is sharp and on their game. The band plugs guitars into amps and they bang out songs. No fluff. No tricks. So I design the shows to reflect that. Simple and powerful. I am constantly looking at ways to use less and less fixtures on increasingly bigger and bigger shows. So I am always on the lookout for the most powerful and versatile fixtures, and how to present them to audiences in ways they have never seen before."
Leave a Comment: