Big Gigantic's Rowdytown 7
Electronic Duo Cracks the 3D Video Barrier with 3D Live at Red Rocks Amphitheatre
Big Gigantic is an electronic duo based out of Boulder, CO. Their music ranges from funk to jazz and hip hop. One member focuses on playing the saxophone and producing the music, while the other is primarily the drummer. Both have extensive backgrounds in music and have been recording together for ten years. Along with their music, they have become known for creating dynamic live performances with evolving lighting, video and musical forms. Each year they play some special shows at Red Rocks, the world famous natural amphitheater located outside of Denver. They returned to Red Rocks on Sept. 28-29 for their seventh annual Rowdytown shows, made all the more memorable this year with 3D glasses handed out to the audience who put them on, when prompted, to see the different 3D video effects that were incorporated into the shows' visual design.
"The band has their own festival that they have held since 2012, including two sold-out shows at Red Rocks this year," says Ben Dalgleish about the Rowdytown shows. A lighting and video designer, Dalgleish is originally from New Zealand and now based in Los Angeles. He has been Big Gigantic's lighting and video designer since 2016.
"Each night, the band played for over one hour and 45 minutes, with both nights having completely different set lists," Dalgleish adds. "The first 30-minutes of the show featured standard 2D video and lighting. After a brief blackout, a visual instructing the audience to 'Put On Your 3D Glasses' was played, then the 3D LED wall come to life. With both nights being completely different music, we ended up with over three hours of edited 3D content."
‡‡         The Video Setup
L.A.-based video supplier 3D Live has been pioneering the use of augmenting 3D LED in concerts, theme parks and virtual reality programs. They are known to deliver immersive experiences based on their patented "holographic" 3D LED display hardware. At Red Rocks, the video setup started with 3D Live's 38-foot-wide, 16:9 ratio LED wall upstage center, flanked by two 5mm portrait-configured I-Mag screens, with additional video lining the top and bottom of the stage. 7thSense Design media servers, which are often found in theme parks, were deployed for playback during the show.
"The 3D content was built by 3D Live under my creative direction," Dalgleish says. "We try to make the show fun and light hearted, not really too serious, with the content designed to be exciting and interactive." Dalgleish was given considerable latitude by the band to optimize the visual design. 3D Live helped conceptualize and storyboard the show content, working with Dalgleish to bring it all to life. And that's where it gets interesting.
"The first night's content was centered around the story of two characters — a hero saxophone and an evil astronaut. A dramatic multi-round fight scene was the encore, and that section was the greatest audience reaction to a visual moment I have ever seen. On the second night, the band played more emotional songs. We created different worlds that the audience traveled through to bring the crowd together," Dalgleish says.
"With each new song, we often heard an audible gasp from the crowd as the new visuals played. A lot of our 3D effects happened behind the band at the top of the song, then all of a sudden the band was both behind and immersed in the video itself as it shot out into the crowd."
The visuals took the audience on a journey, and with so much music over two nights, that was no small feat. "While this 3D technology has been used before for live music, I really wanted to present it with a story, cohesive themes, etc. — which is something I do not believe has been done before. We wanted a moving experience for the audience. There's nothing better than doing something original and succeeding, and I think we achieved that with this 3D show."
Helping to achieve all this within the time constraints was 3D Live, longstanding proponent of using game engines for 3D media production to rapidly iterate content without requiring a lengthy rendering process. For this show, as with previous projects such as the Mass Effect attraction at California's Great America theme park in Santa Clara, CA and VR projects for clients like Dell, 3D Live used Epic Games' Unreal Engine.
‡‡         Balancing the Visuals
Because moving beams of light and 3D video do not play well together, lighting this show was tricky, Dalgleish says. "During what we refer to as 'negative-z content', the 3D video goes out into the audience," he explains. "We had to keep the light beams out of the way of the 3D view, or there was a chance the audience could experience motion sickness. Because the eye can only focus on one plane of depth at a time, it would make the crowd seasick if lights intersected with the video. But in the positive-z scenes, when the video is playing behind the band, we had no issue projecting standard beams of light."
There was still plenty of lighting to go along with the show. Much of the lighting was dialed in to match the visuals by timecoding 70 percent of both nights. "I didn't want a lot of lights flashing on and off," Dalgleish says. "We chose instead to instill big looks. I only chose two moving light types because of this. The [Martin] MAC Axioms gave me great beam as well as wide gobo looks. I could just concentrate on iris, zoom and gobo changes for lighting effects."
Lighting vendor Clearwing also supplied Philips SL Nitro 510C and Chauvet Strike 4 blinders to light the audience when necessary, and also provided Claypaky B-Eye K20 LED wash lights. "I ran a lot of pixel effects from their built-in macros," the LD says. "We would have an amazing visual scene going on and out of nowhere we would turn on these K-20's, and the crowd was in shock and awe with the impact from the moment. The effect they gave with the beam shaper active matched the 3D video perfectly." Although staged outdoors, "smoke played a big part in these shows," Dalgleish adds. Six Jem ZR44's and three Base Hazers helped the 3D images and song lyrics float in the air as the duo performed their hits.
Big Gigantic was joined onstage by special guests at times, including an occasional horn section or vocalists. The camera setup for I-Mag consisted of three manned and four static cameras. The video crew also ran Resolume to add some effects to the imagery. The band brought their 3D show to California in December and will be touring with this show in 2019.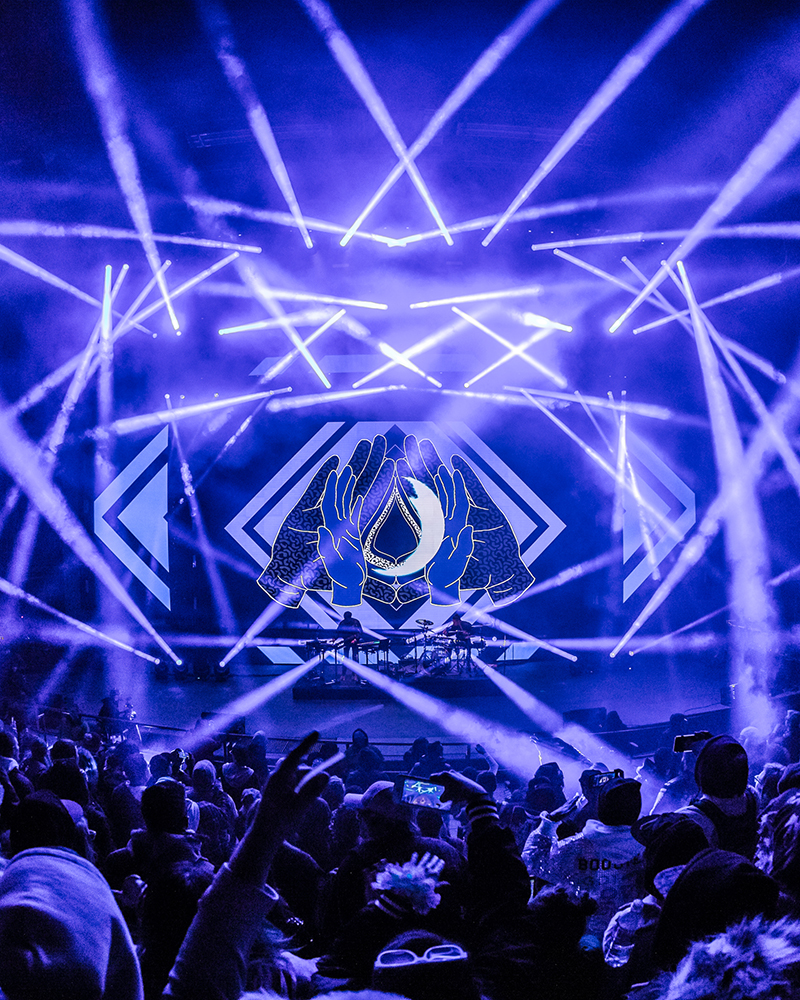 Big Gigantic Rowdytown 7, Red Rocks Amphitheatre, Morrison, CO
Crew
Video Co: 3D Live
Lighting Co: Clearwing Productions
Creative Director/Production, Show, Lighting & Video Designer: Ben Dalgleish
Manager: Ben Baruch
Tour Manager: Whitney Wangsgaard
Production Manager: Sean Mullen
Lighting Programmers: Jacopo Ricci, Blake Addington
Video Programmer: Victor Murillo
3D Live Creative Director: Ian Valentine
Blacklake Editor: Matt Cummer
3D Live Crew: Ryan Pardeiro, Ivan Ceron, James Eyers
Clearwing Productions Crew: Justin Beneke (Rep), Todd Stokes (Lighting Crew Chief), Andrew Davidson, Brian Fletcher, Sarah Hopp, Matt Beadenkopf, Brian Hollyrod
Encompass Event Group Crew: Dave Jensen (Rep), Mark Payne, James Rosa, Travis Roth
Leave a Comment: