Dispatch 2018 Tour
The Indie/Roots Band Tours Again with a Creatively Efficient Design
Dispatch is a trio of guys who first met and played together while in college at Middlebury, VT, a part of the country that has been known to produce some great indie bands, many of them considered to have mastered the jam band genre. They wrote songs that reflected the mantra of "Be kind and decent to one another."
The band relocated to Boston after graduating to make their mark in the music business, and performed until 2002 when they went on hiatus, working on solo projects. Come 2011, the band regrouped to do some shows and release an EP. It wasn't until 2017 that they decided to commit to being a band again and released their first original album in 15 years with America Location 12. Since then, they have been touring with a leisurely schedule that allows the band and crew to spend a month on the road at one time before heading home to family life. They have added a couple of musicians for the live shows as well.
‡‡         Abstract and Efficient
Production and lighting designer Marc Janowitz of E26 Design (e26design.com, Instagram: @e26design) is responsible for creating the looks for this year's tour. When not designing for concerts, Marc's been staying busy doing a lot of work in the television genre, with several comedy shows he lit for Netflix and HBO as well as work on designing a new series for comedian Hasan Minhaj. He's also quick to point out that Dispatch is not a jam band in the sense that they go off on tangents that lead to other songs. "They may go off on an extended jam at times, but they always return to finish up the original song they started." He explains how he came up with the motif behind his looks.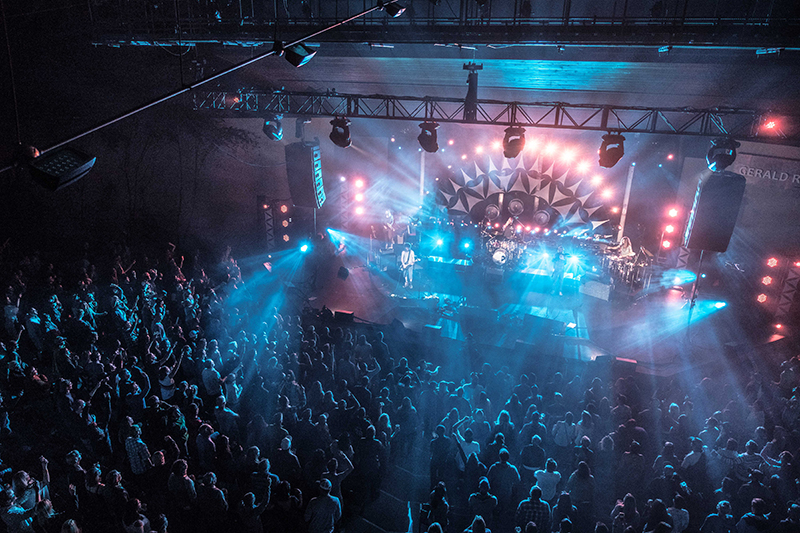 When the band decided to tour, they reached out to a few designers to see who could come up with a stage design that could match up with their artwork. The act sent out a packet of images inspired by Native American artwork. "While it was easy to consider a design that referenced typical dream catchers and headdresses, the band was more interested in shapes than in feathers." Janowitz expands, "The band approached me with some artistic references, to see how I could incorporate them into my design. In my exploration of their thematic references, I noticed that much of this artwork took on triangular shapes and interesting polygons."
In homage to the band's tour logo, the designer settled on a half-moon design that incorporated geometric shapes, while also emulating a sunrise sort of view. He designed an arch that could hold a bunch of transformits — fabric structures which, in this case, were made of stretchy material that is wrinkle free when attached at opposite points. The arch would be lined with Robe Spikies around the outer circumference while the inner circumference of the structure would hold five Mole-Richardson SkyPan fixtures. "I was looking for something that had a sunrise feel. The tungsten glow from the big round SkyPans is a beautiful look in itself. The warm color temperature brought about a glow, a silhouette of the band-at-sunrise sort of look, while the Spikies created a ring of endless beams." Marc explains.
"The band is playing every type venue from theaters to outdoor venues like Red Rocks Amphitheatre in Colorado, drawing between 5,000 to 15,000 fans per night. I was looking to design a structure that could be used at every venue. Because the majority of the gigs are outdoors I knew I couldn't just count on haze and beams of light every night. So, I designed a structure that could make a visual statement by itself. My desire was to frame the band," something this design did well. "Once the band signed off on the renderings I submitted, the next thing was to figure out how to take my design and make it feasible to erect and stand it alone should need be. That's where the folks at Rose Brand came in."
‡‡         Some Assembly Required (But Not Too Much)
Looking at the diagram from Rose Brand (see Fig. 1), they figured out a way that they could break the 30-by-15-foot (WxH) structure into six sections that can easily pin together. The production could use a straight 12-inch box truss to rig guy wires from and lift it up in sections, pinning additional segments to it as it rose. "The engineering and fabrication was well-thought-out by Rose Brand. They took my drawings and rescaled the various triangles so they fit in place perfectly. The outer perimeter of the structure is lined with Robe Spikies, a lightweight, superfast LED wash light. Anyone who's ever mounted lights on a curved structure knows how much of a pain it is to get them perfectly hung every day and update all the focuses. Rose Brand solved that issue by building a structure that allows us to leave the fixture clamps on the curved pipe permanently. The lights I spec'd are light and easy to attach daily."
Everything on stage was well-thought-out, to facilitate using the system in festival slots or setting up in theaters. "Production manager Matt Guice and I spent a considerable amount of brainpower strategizing how best to execute a touring package that was diverse, budget conscious and able to deliver the band's vision, regardless of the challenges presented when touring in such a myriad of venue styles," Janowitz says. Besides the mini-beam to help erect the set, the tour called for three straight trusses that traversed the stage. "We can individually hang these lights on any festival truss or house pipe in a theater if need be. I chose the Vari-Lite VL4000 Spots for their powerful looks and gobos. I light the transformits from every angle. The gobo textures, the colored gobos in the Vari-Lites were really what I needed. I have seven of these fixtures whose primary function is texturing the stretch shapes. I was pleased with the framing shutters, which was a mandatory choice, as I needed to control the beam from spilling all over the rear of the stage. I use them on the downstage truss as key lights as well."
Another smart idea the design called for was a 30-foot straight truss made from Tyler GT, that rolled onto the upstage floor area. It's packed with Robe Pointes and GLP X4 S wash lights. It keeps the stage clear for changeovers and can roll on and off stage rapidly for a festival date. The designer uses the X4 S fixtures to light the stretch shapes and matching art serving as truss borders.
On the side stage are four vertical truss towers. Each one contains three GLP X4 L fixtures (the larger version of the S units) and simply roll out in place and flip up onto its base plate. A VL 4000 sits atop each tower. All the trusses are lined with printed truss borders, which mimic the triangular artwork. Along the way, a decision was made to hire 4Wall out of Nashville to look after the tour. "Cathy Lloyd from 4Wall worked tirelessly with us to come up with the best and most affordable system solutions. She was invaluable to the success of the production."
‡‡         Previz, Rehearsals, Showtime!
Janowitz enlisted Chase Nichols to share programming duties and serve as the tour's lighting director. It was the first time either had worked with the band. Their choice of console for this tour was a Hog 4 Full Boar with two playback wings. Janowitz reasons, "I usually defer to the lighting director to use whatever console they prefer. In this case, it was helpful that both Chase and I were familiar with programming the Hog, and he agreed to use it on the road."
Making the most of the time they had before the first gig, "I was able to start doing a little previz at my home studio in Baton Rouge," says Nichols. "Building palettes, and looks for each song. The main creative session was done over a few days in Marc's New York studio."
"We had a few days to previz on my Light Converse system in the studio," adds Janowitz. "I switched to them as my visualizer of choice about eight months ago, and they've been great. Besides being a stable platform, the software is included with Hog consoles."
"We have 35 songs ready to go at any given time," says Nichols. "Some are just a starting look with other page-specific cues and effects for that song. We have a few songs that have a cue stack of 20+ cues. And most are somewhere in between those two categories. The band has been adding songs, and I start those by punting. After I feel I have something usable, I start storing those ideas into a page for that song."
The tour is carrying two trucks of gear, and it takes about five hours to erect and focus everything on a normal day. The band wraps up their summer tour this month, with two sold out shows in Boston on Sept. 20-21.
Dispatch 2018 Tour
Crew
Lighting & Production Designer: Marc Janowitz
Lighting Director: Chase Nichols
Tour Manager: Seth Loeser
Production Manager: Matthew Guice
Lighting Co: 4Wall Nashville
Lighting Crew Chief: Jon "Kooz" Cousineau
Lighting Tech: Sam Wiener
Gear
2       Hog 4 Full Boar consoles
2       Hog 4 Playback Wings
36     GLP impression X4 S fixtures
12     GLP impression X4L fixtures
7       Mole-Richardson SkyPan 2kW
18     Robe Spikie fixtures
26     Vari-Lite VL4000 Spots
10     Robe Pointes
12     Solaris Flare Q+
4       LeMaitre Radiance hazers
4       Tyler GT truss sections (10')
1       HES DP8K DMX processor
Leave a Comment: