Jethro Tull 50th Anniversary Tour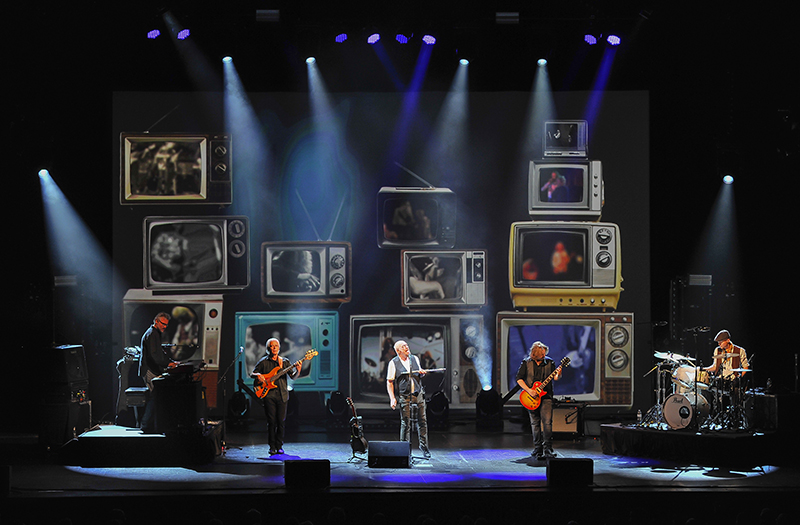 Mark Wheatley has been touring since 1996, starting as a rigger on smaller scale musical tours around the U.K. working for a local lighting company. That type of touring gave him a wide range of knowledge that helped make him more employable, and he worked as a rigger/dimmer man with acts like Motörhead. He learned more about lighting design and programming, eventually moving on as LD for Leo Sayer, Paul Carrack and Gary Moore. Then, Jethro Tull's production manager, Chris Archer, called saying Tull's Ian Anderson wanted to do a more "theatrical' type of show. Wheatley did the Thick as a Brick 40th anniversary tour in 2012 and has been with Ian/Tull ever since.
When Ian (Anderson) has an idea for a tour concept, it often seems that he has a vision for the presentation even when he's writing the songs, says Wheatley. "He writes conceptually rather than musically; as a longtime listener of Jethro Tull, I think that's always been the case. He has so many different styles — blues/jazz through prog/folk rock to mainstream rock. Knowing that the 50th anniversary was coming up, we sat down to discuss ideas for this tour around the middle of 2017 along with James, his son, who is responsible for the video content," Wheatley says.
"Essentially, it's a look back over the Jethro Tull journey — not just at the music that was produced, but a celebration of the 36 other members of the band who have been part of that journey. Various former members and famous friends would be asked to record a request or introduce their favorite Tull tracks. The design of the show lighting is dictated by the type of touring that Ian does now. He's still full of energy and creativity but he has no desire to be on the road for months at a time.
"The key thing is to have continuity so far as the production is concerned. We travel light, we can't be freighting show-specific set pieces and equipment around the globe. For me, the only things I carry are my ChamSys PC Wing and the Media server gear. For everything else, we are reliant on local suppliers, whether we are doing a full production tour, as we do in the U.K., Europe and the U.S., or flyer shows, as we do for the rest of the year."
From Wheatley's point of view as LD, this tour is about the journey from those early days at the marquee and the U.K. TV shows (Top of the Pops) where Tull started, using static lighting looks and tungsten based color palettes, through the years of Par Can rigs, saturated colors and ACL fans, where he cut his teeth, to where they are today, with plenty of movement, audience sweeps and color fades.
‡‡         A Flexible Rig, and Console
"With so many looks to re-create in a fairly limited sized production, my fixture choices are dictated largely by their flexibility. I also have to bear in mind the fixtures I am likely to see wherever we are in the world. My ChamSys board is fantastic for morphing from one fixture type to another, and that's a big part of the reason I use it on this tour, but the more you can rely on getting the fixtures you request and the ones you programmed the show with, the more satisfied you will be each day."
The current tour is heavily reliant on video content, so whatever fixtures Wheatley uses need to be powerful enough to compete with the projection screen. "Ian is not a fan of haze, so if I'm looking for beam definition, I need strong fixtures like MAC Vipers, which are workhorse profiles — they're powerful enough to give me beams when I need them. The GLP X4s are powerful enough to give me all the front light I need, and the zoom on them means they're flexible enough to either wash out the stage completely or, given the way I've grouped them in the rig, I use them quite heavily to create the ACL fan looks I like. I use Robe Pointes this time for gobos and zoom functions."
Ian is not a fan of strobes, notes Wheatley. "I use the Atomic LEDs pretty sparingly for their primary function, but I'm using them now more just as color highlights around the screen."
Wheatley's one constant, no matter where they go in the world, would be his ChamSys board. "As far as I'm concerned, you need the right tool for the job you're doing. If I'm doing a theater show, then I'll need cue stacks. If I'm busking a rock show, then I'll need executors and plenty of playbacks.
"The current tour is pretty well structured, so I've cue stacked all of the songs individually with a couple of faders set aside for all my manual stabs," Wheatley continues. "I'm triggering the media content directly from the cue stacks. The added advantage of being in control of the media is that, for specific, time-critical cues, I can use the internal timecode at the start of the song. No matter how jet-lagged I am, I won't miss that rare but crucial strobe cue. If I'm programming the show from scratch, then I'll request one of the bigger ChamSys desks just for the convenience of the touch screen and hardware. But once the show is up and running, then it's just me, my laptop and the PC Wing, traveling around the world. I do still enjoy the looks on the faces of crew unfamiliar with the ChamSys when you ask them to take the board to FOH for you and then hand them a large backpack."
Bandit has been a main supplier for years, chosen in part for their worldwide supply network, and for the current tour, Wheatley works with Bandit rep Dizzy Gosnell. "I am really well-looked-after by their team. They have provided us with continuity where crew are concerned. Patrick Cowden and Jon Houle have been our first call whenever possible. Their expertise, knowledge and willingness to adapt to any situation has been fantastic. We are not a big production crew, and we spend an awful lot of time together and travel to some pretty far flung places."
‡‡         Lighting and Video Play Nice
Video is an important part of the show, not only for the guest introductions, but for setting the scenes for many of the tracks. "We used this for the first time on my first Ian Anderson tour about six years ago, and it was quite a learning curve for all of us at the time. We use Green Hippo Rackoon servers along with six-channel sound cards.
"Since that first tour, we've been using projectors for all of Ian's shows," Wheatley adds. "This always means that there is a pale backdrop to the show which, of course, plays havoc with beam definition for lighting. The design of the rig has developed now from the earlier tours to enhance the video content rather than fight against it. James (Anderson) and I now work closely with regard to color, content and image positioning.
"My job here is to interpret and enhance the songs. The fans have come to see and hear their heroes, who they've stayed faithful for 50 years. It's their names on the poster, not mine!"
Jethro Tull 50th Anniversary Tour
Crew
Lighting Designer, Programmer & Director: Mark Wheatley
Lighting Co: Bandit Lites/Dizzy Gosnell
Lighting Techs: Patrick Cowden & Jon (Neppy) Houle
Video Director: Mark Wheatley
Video Co: Digital Console Rental Inc.
Video Content: James Anderson
Production Manager: Chris Archer
Trucking Co: Stage Call
Gear
1       ChamSys PC Wing lighting console
12     Martin MAC Viper Profiles
24     GLP X4 LED Washes
8       Robe Pointes
12     Showtec Active Sunstrips
4       Martin Atomic LED strobes
1       DF50 Hazer w/ DMX Control
1       30K Barco HD Projector
2       Green Hippo Rackoon media servers
More Jethro Tull 50th Anniversary tour photos by Steve Jennings:
JETHRO TULL 50th ANNIVERSARY TOUR 2018 © Steve Jennings
JETHRO TULL 50th ANNIVERSARY TOUR 2018 © Steve Jennings
JETHRO TULL 50th ANNIVERSARY TOUR 2018 © Steve Jennings
JETHRO TULL 50th ANNIVERSARY TOUR 2018 © Steve Jennings
JETHRO TULL 50th ANNIVERSARY TOUR 2018 © Steve Jennings
JETHRO TULL 50th ANNIVERSARY TOUR 2018 © Steve Jennings
JETHRO TULL 50th ANNIVERSARY TOUR 2018 © Steve Jennings
JETHRO TULL 50th ANNIVERSARY TOUR 2018 © Steve Jennings
JETHRO TULL 50th ANNIVERSARY TOUR 2018 © Steve Jennings
JETHRO TULL 50th ANNIVERSARY TOUR 2018 © Steve Jennings
JETHRO TULL 50th ANNIVERSARY TOUR 2018 © Steve Jennings
JETHRO TULL 50th ANNIVERSARY TOUR 2018 © Steve Jennings
JETHRO TULL 50th ANNIVERSARY TOUR 2018 © Steve Jennings
JETHRO TULL 50th ANNIVERSARY TOUR 2018 © Steve Jennings
JETHRO TULL 50th ANNIVERSARY TOUR 2018 © Steve Jennings
JETHRO TULL 50th ANNIVERSARY TOUR 2018 © Steve Jennings
JETHRO TULL 50th ANNIVERSARY TOUR 2018 © Steve Jennings
JETHRO TULL 50th ANNIVERSARY TOUR 2018 © Steve Jennings
JETHRO TULL 50th ANNIVERSARY TOUR 2018 © Steve Jennings
JETHRO TULL 50th ANNIVERSARY TOUR 2018 © Steve Jennings
JETHRO TULL 50th ANNIVERSARY TOUR 2018 © Steve Jennings
JETHRO TULL 50th ANNIVERSARY TOUR 2018 © Steve Jennings
JETHRO TULL 50th ANNIVERSARY TOUR 2018 © Steve Jennings
JETHRO TULL 50th ANNIVERSARY TOUR 2018 © Steve Jennings
JETHRO TULL 50th ANNIVERSARY TOUR 2018 © Steve Jennings
JETHRO TULL 50th ANNIVERSARY TOUR 2018 © Steve Jennings
JETHRO TULL 50th ANNIVERSARY TOUR 2018 © Steve Jennings
JETHRO TULL 50th ANNIVERSARY TOUR 2018 © Steve Jennings
JETHRO TULL 50th ANNIVERSARY TOUR 2018 © Steve Jennings
JETHRO TULL 50th ANNIVERSARY TOUR 2018 © Steve Jennings
JETHRO TULL 50th ANNIVERSARY TOUR 2018 © Steve Jennings
JETHRO TULL 50th ANNIVERSARY TOUR 2018 © Steve Jennings
JETHRO TULL 50th ANNIVERSARY TOUR 2018 © Steve Jennings
JETHRO TULL 50th ANNIVERSARY TOUR 2018 © Steve Jennings
JETHRO TULL 50th ANNIVERSARY TOUR 2018 © Steve Jennings
JETHRO TULL 50th ANNIVERSARY TOUR 2018 © Steve Jennings
JETHRO TULL 50th ANNIVERSARY TOUR 2018 © Steve Jennings
JETHRO TULL 50th ANNIVERSARY TOUR 2018 © Steve Jennings
JETHRO TULL 50th ANNIVERSARY TOUR 2018 © Steve Jennings
JETHRO TULL 50th ANNIVERSARY TOUR 2018 © Steve Jennings
JETHRO TULL 50th ANNIVERSARY TOUR 2018 © Steve Jennings
JETHRO TULL 50th ANNIVERSARY TOUR 2018 © Steve Jennings
JETHRO TULL 50th ANNIVERSARY TOUR 2018 © Steve Jennings
JETHRO TULL 50th ANNIVERSARY TOUR 2018 © Steve Jennings
JETHRO TULL 50th ANNIVERSARY TOUR 2018 © Steve Jennings
Leave a Comment: