Lynyrd Skynyrd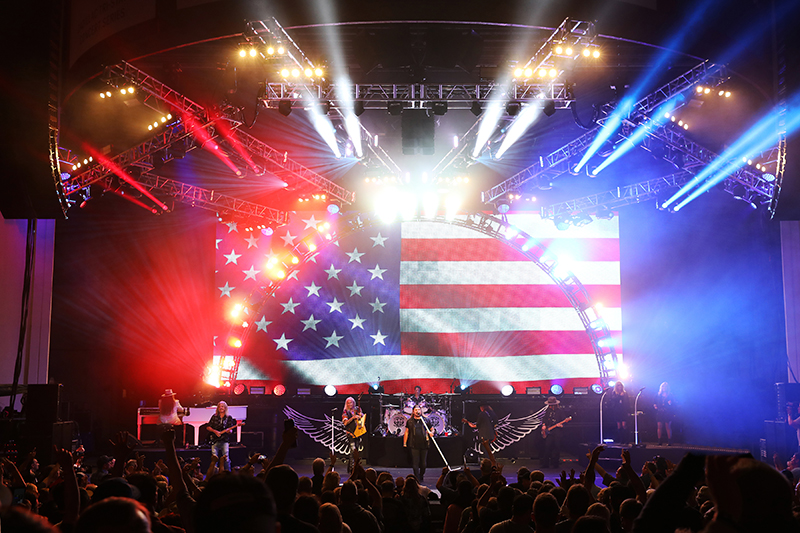 Farewell Tour Kicks Off in Style
Next year marks 50 years since a group of Jacksonville kids adopted the name Lynyrd Skynyrd (though they first formed in 1964), based on the name of Leonard Skinner, the school basketball coach who, as the story goes, kept telling its members their hair was too long. They came on strong as a major influence of the southern rock sound that became popular in the late 60's and 70's. Their music is still regularly played on many rock radio stations, and their Skynyrd Nation may just be at its largest scale ever as the band is packing sheds this summer with a Farewell world tour.
At the helm behind the lighting desk is Tosar (pronounced Toss-er), short for Jonny Tosarello, their LD since he took over the reins in 2009. At that time, Tosar was running Kid Rock's lights, and Skynyrd was performed on some of those shows. LD Steve Owens had been Skynyrd's LD and asked Tosar to cover some shows for him, then eventually ended up handing him the designer role. Says Tosar, "I never considered myself a designer. I was a lighting director on shows for years. It wasn't until this band asked me to design a cool lighting look that I actually could lay claim to being one."
Tosarello was asked how he got his break to be a board operator. "I've always associated colors with songs and have pretty good timing," he says. "I love 'running' lights, and have, ever since the first time I had my shot back in 1992. It was after a few years of doing this I then realized I should learn how all of this stuff works, so I stepped back from the console and got a job with a lighting company that taught me the trade. I worked my way up that steep ladder (no pun intended), and went from the fourth guy on the crew to the crew chief. Then one day, my mentor and friend Papa Nook came up to me and said, 'I heard you want to be an LD. Here ya go buddy, have at it.' Then he put me behind the console that night to push buttons. The rest is history."
Saying "Farewell" In Fashion
Being that this was their farewell tour, the band that has been consistently touring for their whole career decided they wanted to do something very special and play all of the major buildings in each town.
"Lord knows, this band has played every type of venue, from Madison Square Garden to private events," says Tosar. "For years, we would carry a mid truss full of lights, a bunch of MAC 101's on pipes, a floor package, a console and our obligatory big ass mirror ball for Freebird, and add it to the house lighting system of the day. This way, we always had 'our' lights to make 'our' core looks, which the band was very intent about."
It was certainly a welcome call when lead singer Johnny Van Zant and management told Tosar to ramp it up this year so they could say farewell in fashion.
The singer has been influential in explaining to Tosar how he envisions the band's show. When the two first met, Van Zant asked Tosar if all those lights in the rig moved. Tosar assured him they did. "Good. Because when we start rocking, I want all those lights dancing and lighting up the fans so they know they're part of the show."
The singer gave some instructions to Tosar for this high profile tour, saying he wanted something big and bold and different than what they had been doing in recent years — a circular video wall upstage and something other than your standard straight trusses. "I wasn't too sold on the circular video idea. We have a lot of guitar players that line up in I-Mag shots, and the band's name and artwork wouldn't look too great," figured the LD. But he compromised and worked with the band, drawing up a design that featured a 40-by-20-foot (WxH) video wall, with a half moon made of 40-foot (outer diameter) circular truss standing on end in front of it, packed with 28 Martin MAC 101's, 10 Elation Cuepix WW2's and truss toners.
"I fly this about six feet off the ground, just over the band members' heads. It's wide enough to feature wide camera shots. While I mask the video so it fits inside the half circle for much of the show, there are other times when I will use the whole screen. Like when they play 'Simple Man' or 'Red White and Blue.' I use the entire wall for a waving American flag. The content is all playing back from the Catalyst media server. I do gotta give kudos out to the folks at Moo for making incredible media. They did a creat job of building us some custom content."
The Nashville Connection
All of the video gear is from Moo TV out of Nashville. "I'm glad to have these guys out here again. As always, their gear and guys are solid. We are using Elation tiles, a Catalyst server for content and I-Mag. Moo has done an outstanding job."
Several of the band members and crew reside out of Nashville. Running the production is the band's longtime tour/production manager Steve Voudouris. He was essential in locking up all the vendors being used on the tour. In the end, it was not shocking that they found a lot of production equipment required was located in Nashville.
After picking MooTV to look after their video, they were in search of a lighting vendor. "I talked to about four companies in the Nashville area and looked at all the options," says the designer. "I had known Creech (Steven Anderson) over at Premier Global Production as a friend for 15 years. He had always said he would love to be able to submit a bid for the tour. So, this year, he got a chance, and he sure did make things happen."
The all-silver truss rig consists of six separate, different length fingers of truss that radiate out in a fan from upstage just above the half circle video wall truss. Tosar loaded each finger with two Martin MAC Vipers, two Claypaky B-Eyes, two Sharpys, two Atomic LED strobes and six ColorBlasts as truss toners. He also has 46 Elation Cuepix WW2 fixtures to light the audience.
"Audience response is huge to the band," Tosar says. "They feed off their energy. When I first started with the band, Van Zant asked me why he could see most of the crowd, but not always the people in the first few rows, the high dollar seats. I realized his dilemma and started to 'always' place mole lights on the mid and upstage areas. Problem solved."
A Broken (and Effective) Rig
The downstage is broken up into three individual 20-foot sections of silver GT truss and is packed with a total of 24 Rogue R2 washes, 12 WW2's and four Atomic LEDS. "Having all of the trusses throughout the entire rig being broken up allows us to reconfigure things in some of those more challenging venues with low prosceniums or width issues. I'm often pleasantly surprised with how cool the rig looks even when it's a low trim day. No matter what, Skynyrd gets every light, every night."
Another helpful design idea is the floor light truss Tosar mentions. "We actually did this years ago, and it really helps with the production flow, especially during set changes. We have 12 players on this tour, and that takes up a lot of real estate. We also have several revolving guest artists that often have a large amount of backline, so we put all the floor lights on an upside-down, 40-foot-wide GT truss. This way, we can raise the truss up in the air so there are no floor lights in the way of a set change, then lower back down into place right before Skynyrd hits the stage."
Tosar strives to make the most of the fixtures available. "I learned long ago, less can really be more, especially if you do it right," he says. "This rig looks pretty big and doesn't have a ton of fixtures. One thing I always require for this band is a punchy front wash light because, let's be honest, Skynyrd fans come to 'see' the band."
Tosar says he found Chauvet's Rogue R2 wash to "work great as a wash and a key light. They have the punch and zoom, which seem better than most of the other small pancake style lights out there.
"When Premier Global Production offered to invest in the R2's for me I was flattered," Tosar continues. "Then they went and bought all new Viper Profiles, 240 feet of silver Tyler GT truss and 80-something ColorBlasts to tone the new shiny new truss. That pretty much sealed the deal. I had Creech and all of the gear I wanted at an affordable price. Not to mention a bit of a bonus. My old buddy 'Geddy' [Anthony Kordyjaka] happens to be the lead project manager at PGP, and wow, did he do a amazing job of helping put the system together and generating all of the plots and paperwork.
"My crew chief Ben [Bearden], along with Adam [Gray] (dimmers) and Trey [Colvin] (tech) are not only really good guys but are also doing a really good job and just get better everyday," Tosar adds. "As I've always said, 'You can get gear anywhere, its about the guys.' These guys are young and will go far. PGP really has been a full-service lighting company and I couldn't be more pleased — thanks guys!"
Tosar was able to previsualize the show at Premier Global's large facility and had three days of production rehearsals in Florida to start the tour. "I went down to rehearsals in really good shape, programming wise. I gotta give a shout out to Kevin the VP, Casey the shop manager, Reggie, James and of course ole Biff Wade. The guys (and gals) in the shop down there were all great and very accommodating."
In closing, we asked Creech how he felt about PGP getting a chance to work with these southern rock legends. "One of the first shows I saw as a kid was Skynyrd in 1976," Anderson says. "The coolest thing about my business is getting to work with a band that I have idolized since childhood," he adds. "PGP is proud to be involved with the Farewell Tour. This is history in the making, and we are all just glad to be a part and do whatever we can to back the band. Tosar does a great job for these guys."
The tour is out all summer with shows booked into December.
Lynyrd Skynyrd Farewell Tour
Crew
LD/Lighting Director/Programmer: Jonny Tosarello
Lighting Co: Premier Global Production
PGP Rep: Steven "Creech" Anderson
Lighting Crew: Ben Bearden (Crew Chief), Adam Gray (Dimmer Tech), Trey Colvin (Lighting Tech)
Video Co: Moo TV
Video Crew: James Mortimer (Video Director/Crew Chief), Cole Duddleson (Head LED Tech/FOH Camera), Patrick Abell (Video Tech/Handheld Camera, Dan Knight (Camera Op/Set Carpenter
Tour/Production Manager: Steve Voudouris
Road Manager: Tom Fischer
Production Assistant: Sonja Stevenson
Stage Manager: Brian Evors
Riggers: Jamie Rowell (Lead Rigger), Austin Haigler
Set/Risers: Accurate Staging
Audio: Special Event Services
Soft Goods: Grosh
Bus Co: Breeze Coach Leasing
Trucking Co: Special Event Transportation
Gear
Lighting
2       grandMA2 consoles
16     Martin MAC Viper Profiles
28     Martin MAC 101's
18     Claypaky K20 B-Eye's
12     Claypaky Sharpys
28     Chauvet Rogue Washes
20     Martin Atomic LED strobes
60     Color Kinetics ColorBlasts
46     Elation WW2 Cuepix moles
4       Base Hazers
1       Motion Labs 200 AMP power distro
Video
183  Elation 20mm LED video tiles
3       Hitachi Z-HD5000 cameras
1       Fujinon 70x long lens
1       Panasonic AV-HS450 switcher
1       Barco Folsom Image Pro-II
Leave a Comment: