32 Hundred Lighting Light Vivid with Flare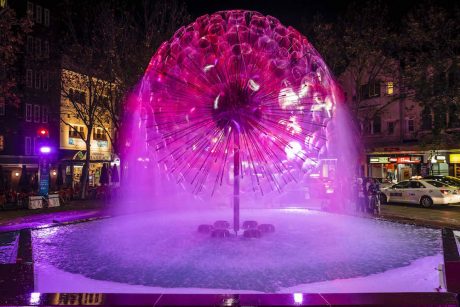 SYDNEY – Hundred Lighting's managing director Iain Reed has been a busy man; he's recently overseen huge installations he created during Vivid, including the gigantic 'Harbor Lights' project that used GPS to coordinate lighting changes on commercial ships and Sydney ferries covered in LEDs as they move through the harbor.
More details from Lexair (www.lexair.com.au):
He also collaborated with artist Joe Cox on 'Colors of Remembrance', lighting King's Cross's El Alamein Fountain as part of the multiple installations and sculptures in the precinct. Both projects made excellent use of the dazzlingly bright TMB Solaris Flare IP, the IP65 rated wash that kicks out (appropriately) 32,000 lumens!
The imposing Crimean War-era tower of Fort Denison was lit by two Solaris Flare IPs, while the El Alamein fountain's 12 by 12 meter footprint was covered by one. "The most important thing for an outdoor wash is punchiness," says Iain, "and the Flares are punching straight through. You need to get over all the ambient light in the city, and at the El Alamein Fountain, the Flares are so bright you can hardly see the Claypaky Mythos that are working with them."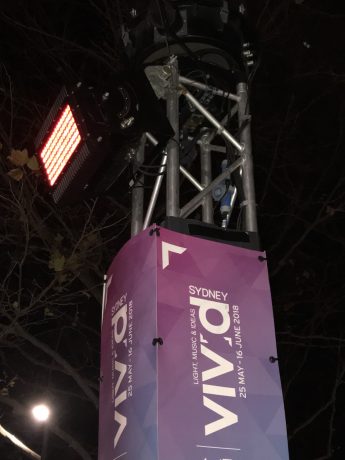 Over at Fort Denison, the Flares more than held their own against six Claypaky Sharpies, all controlled via a timer. "They're just so bright," continues Iain. "When we first bought them into the factory, I aimed one at the side of my truck and it melted! But seriously, since we took these fixtures on to evaluate, I've been incredibly impressed. They were simple to set-up and get running, and they've now been out in the wind and rain for almost two weeks and they're working perfectly."
The TMB Solaris Flare IP features Cree LEDs and carefully selected reflectors, delivering an incredibly smooth and even field of light. Full RDM implementation provides easy setup and monitoring in a tamper-proof design. Silent, passive cooling makes Flare IP ideal for noise-sensitive applications such as theatre and classical concert venues. Their IP65 rating ensures dependable, long-term use outdoors.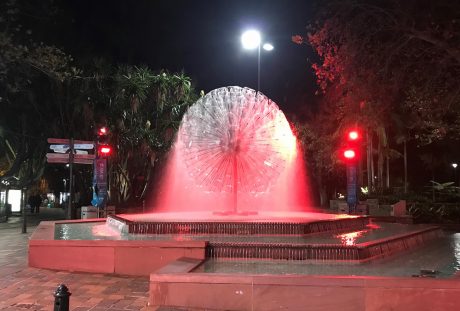 'Colors of Remembrance' at Kings Cross's El Alamein Fountain sees a series of patterns projected slowly onto the central sphere of water. Each pattern represents the various theatres of war in which Australians have fought. The designs that represent the North African theatre are given heightened emphasis, reflecting the fountain's commemorative focus. The work is part of Vivid KX which incorporates modernist design in a series of light sculptures and installations displayed throughout the Cross.
32 Hundred controlled the entire Kings Cross area with a High End Systems HedgeHog 4 lighting desk via wireless DMX. Iain also purchased four High End systems Hoglet 4 compact wings for control of other projects across Vivid.
Both TMB lighting products and High End Systems lighting control are distributed in Australia and New Zealand by Lexair. With two million people set to visit Vivid, Lexair make sure that everything will run smoothly and look fantastic with unbeatable service and support. "Lexair are fabulous, and I would recommend them to anybody," concludes Iain. "They're great people supporting great products."
Leave a Comment: