Acclaim Lighting Introduces Ai Flex Interior LED Circuit Strip eith Intelligent Dimming Technology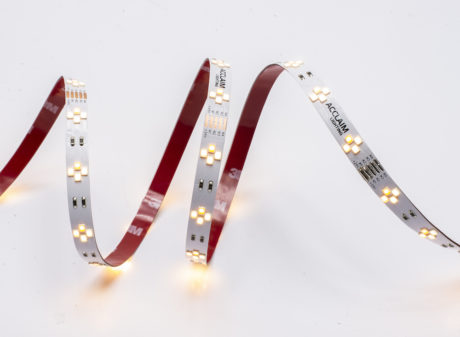 LOS ANGELES — A leader in innovative and advanced solid-state lighting technology, Acclaim Lighting introduces the Ai Flex Interior™ LED circuit strip. Offering a best in class dim to warm system, with a color temperature range from 1800K to 3000K, Ai Flex is unique in its form factor and function.
More details from Acclaim (www.acclaimlighting.com):
With its combination of high efficacy, low profile and precise dimming capabilities, Ai Flex can be cut in 6.5-inch increments for specific applications including a wide variety of cove, millwork, signage, and many other interior applications. The interior LED circuit strip consumes a mere 3.1 watts per foot, with a 124° beam angle, and operates at 24 VDC. The dimming protocols include DMX, 0-10V, and DALI when used with Acclaim's flexible AL Driver Series.
Ai Flex is available in a 16.4-foot (5 meter) spool. It comes with a 3M VHB adhesive backing and optional aluminum channels for easy installation. It is IP20 rated for dry locations and performs in temperatures from 32°F to 104°F (0°C to 40°C). Ai Flex maintains 70 percent of their lumens at 50,000 hours at 25°C and has a limited three-year warranty. For more information on the Ai Flex, contact Acclaim Lighting at 323-213-4626 or visit http://www.acclaimlighting.com/products/product-detail/product/ai-flex.html
Leave a Comment: