Antari Lighting and Effects USA Expands DarkFX Line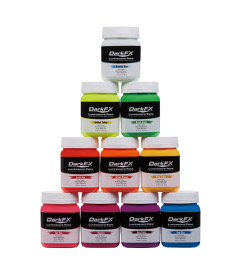 LOS ANGELES – Antari Lighting and Effects USA has recently expanded their DarkFX product line. The arrival of this expansion coincides with Antari's recent launch of US operations, which will keep Antari closer to its customers with the goal of improving service and product availability.
More details from Antari (www.antari.com):
"We're expanding the DarkFX line as a way of celebrating our launch into the US," said Ray Villasenor, Antari USA's General Manager. "It's our promise to provide high-quality customer service while continuing to create innovative entertainment products."
The new DarkFX products features UV paints.  Also, known as  fluorescent or black light paint, when applied to articles, this paint will react to a UV light source and glow in vibrant fluorescent colors. The paints come in Bright Green, Bright Orange, Brilliant Yellow, Deep Blue, Deep Violet, Deep Yellow, Hot Pink, Magenta, and Invisible Blue, and is available for purchase in six fluid ounce, one-quart, and one-gallon containers. The DarkFX UV paints were recently used by famed LA street artist Black Light King in his first solo art show this past November in Los Angeles, CA, which also featured an array of Antari's DarkFX UV Fixtures.
Another impressive new Antari product is the Antari Dark FX Strip 1020. This is a high output, low power UV LED bar that delivers a peak wavelength of 365nm and radiant flux output of 9000mW at full intensity with minimum visible light.
The line also offers the DarkFX Wash 2000 IP, a high-efficiency IP 65 LED fixture that features a digital display with practical functionality. The panel delivers a peak wavelength of 365nm and a whooping radiant flux output of 24,800mW at full intensity with virtually no visible light.  It is weather resistant to withstand harsh conditions, making it a quality fixture for theme parks, outdoor concerts and festivals.
Also recently introduced is the DarkFX Spot 1750, a high output low power consumption UV LED spot delivering a UV wavelength of 365nm and an incredible radiant flux output of 19,080mW. Designed for long throw applications, it features a 20-degree beam angle, 600 Hz LED refresh rate, and a 4-button LED control panel display.
"Antari's ever expanding DarkFX line has a UV product for everyone from artist to lighting designers, from theme parks to theaters, and for indoor and outdoor applications," said Villasenor.
Leave a Comment: